How much does a clawfoot tub weigh? This is either a question you NEED answered, or a question you have never thought about. There is no in between. We were in the latter group until 2 years ago when we fell in love with a 150 year old home that had a gorgeous original clawfoot tub. The weight of that tub was a factor in our renovations…and we have since learned a lot, so I wanted to pass along that knowledge!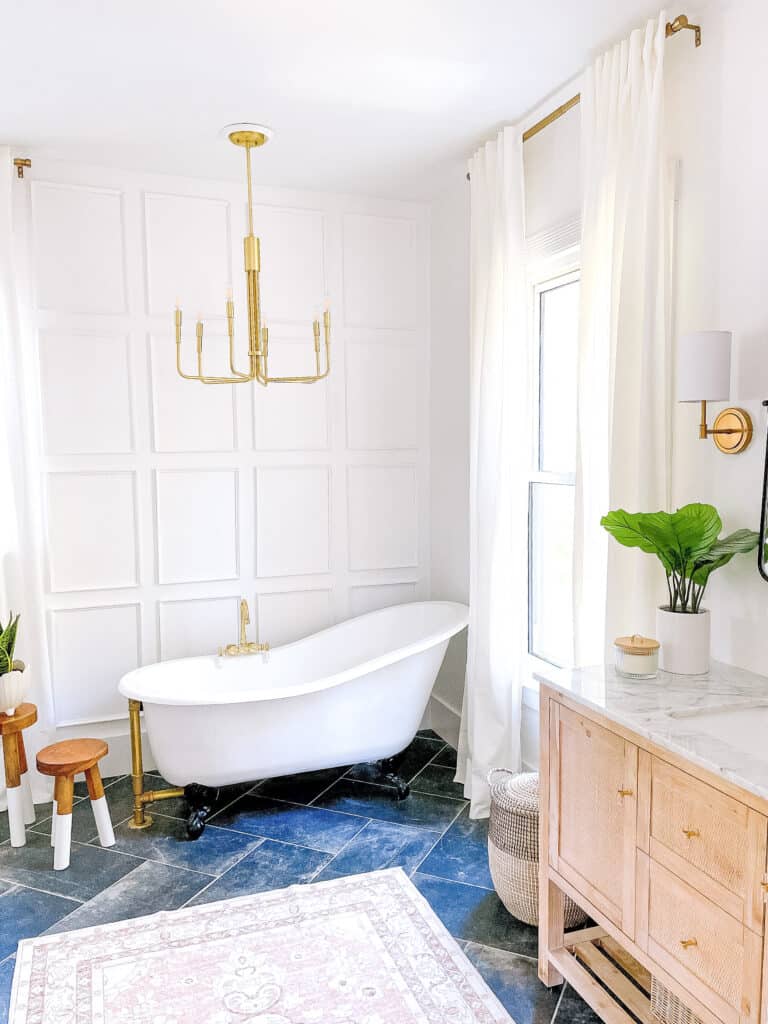 This post may contain affiliate links
It Weighs How Much? How Much does a Clawfoot Tub Weigh?
When we first bought our 1860's historic home in Kirkwood, I couldn't help but see all the potential. Of course there were walls falling down, stained carpets, and hideous wallpaper, but there was also a ton of character- cozy nooks, beautiful archways, and a clawfoot tub!
As soon as I saw that claw-foot tub in the upstairs bathroom, I couldn't help but think of all the long soaks I could take after a crazy day of wrangling my four kids. If you've ever dreamed of taking a hot bath in a classic clawfoot tub and wondered how to make your dream into a reality, I'll walk you through some considerations for clawfoot bathtubs to keep in mind.
Ultimately, we hit the jackpot when it came to our antique clawfoot tub. Our vintage tub was original to our 1860's home and was in really good condition. We painted the claw feet black, refinished the traditional cast iron surface, and updated the faucet hardware to help it reach its full potential.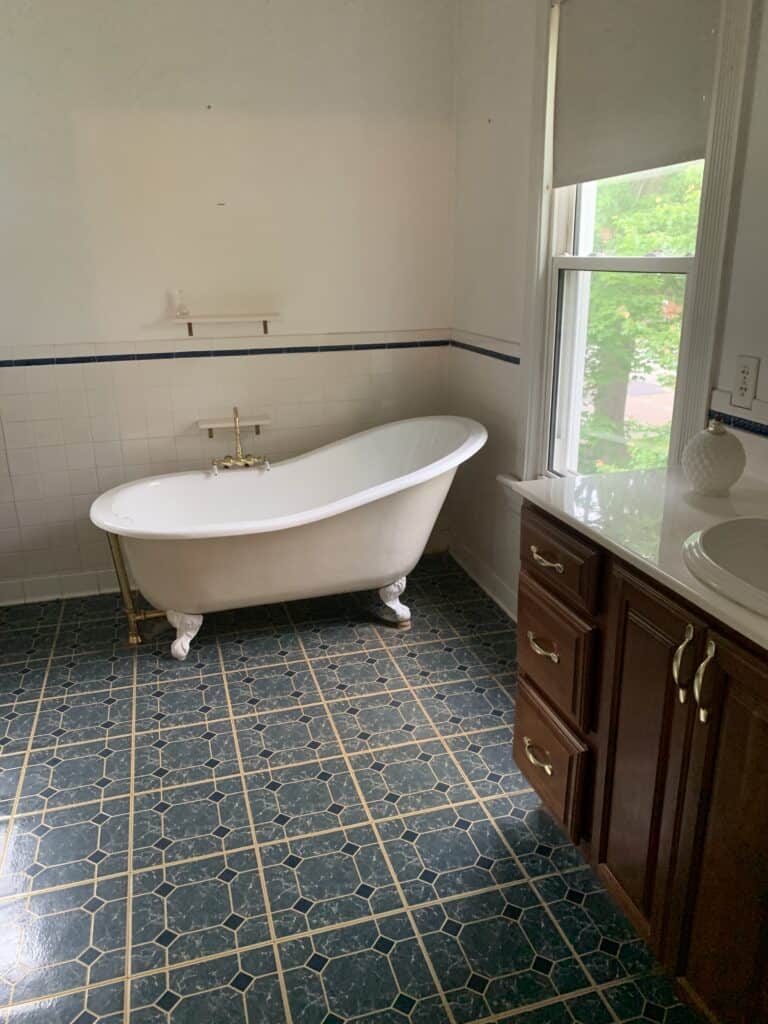 Here is a photo of our primary bath when we purchased our home. The bathroom was one of the nicer areas of the home, and the bathtub was a must keep.
Because we had it in the bathroom already, we knew our bathroom floor could support the weight of the tub. Keep in mind that knowing the size and weight of the bathtub is crucial before purchasing one. We'll touch on the importance of why later in this post. In the meantime, you'll need to know a bit about the different styles and types of tubs.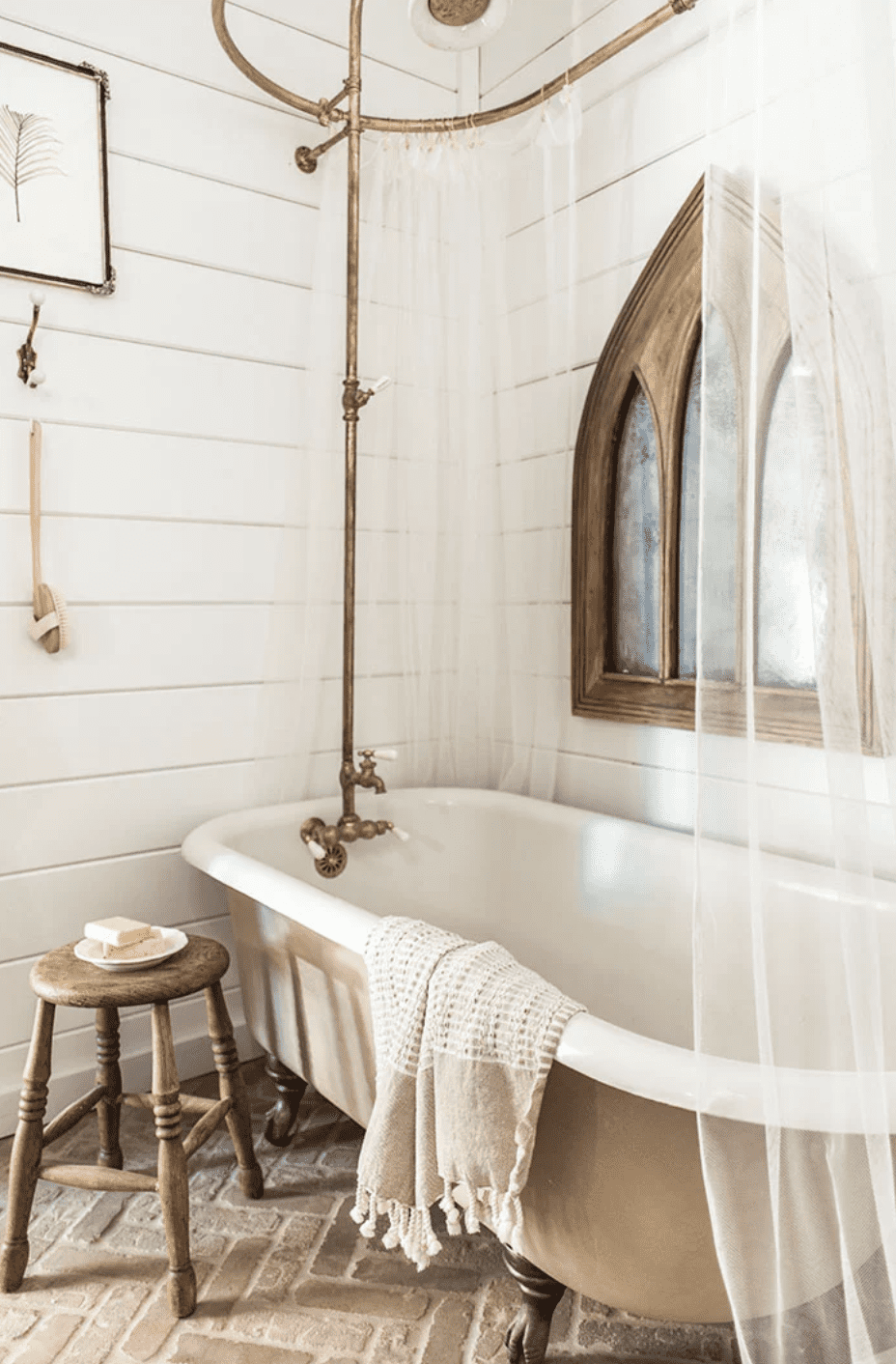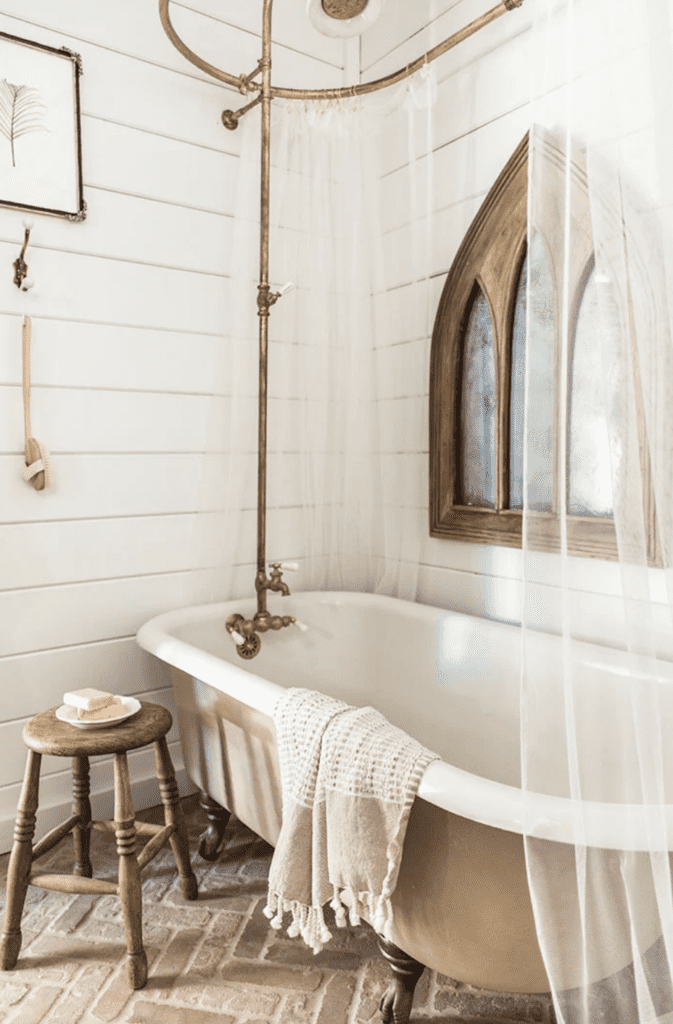 Check out this incredible bathroom reveal here complete with a restored clawfoot tub.
Type of Bathtub Materials
Clawfoot tubs originated in 19th century Holland and quickly gained popularity as a luxury item. Original clawfoot tubs were made from cast iron with a porcelain glaze.
These old cast iron bathtubs are not only durable and retain heat well, but they are also extremely heavy. If you have your heart set on an antique cast iron clawfoot tub, then make sure you look for one that has had the proper care, otherwise, expect to pay to restore it back into good shape.
In general, you should expect to pay a hefty price tag for a new tub. The average cast iron tub costs about $4,000.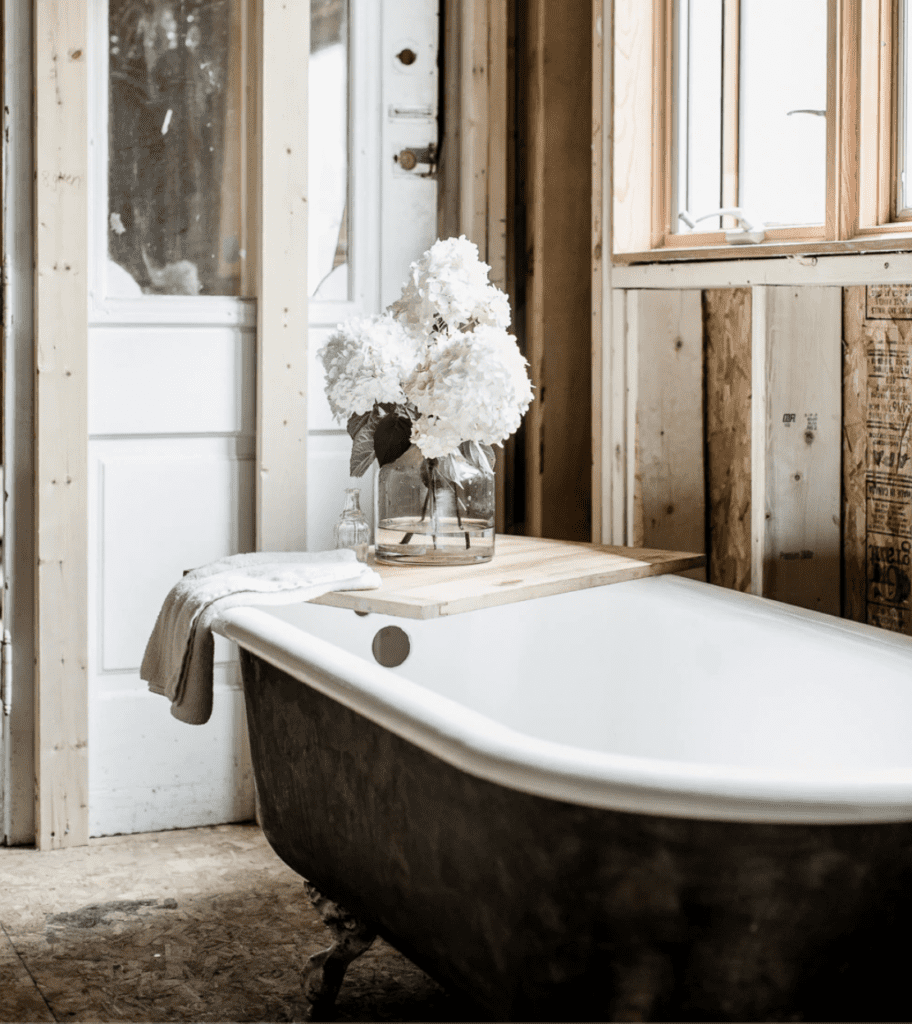 Check out this post for before and after pictures of this refinished cast-iron tub surface.
On the flip side, the average cost for acrylic tubs is anywhere from $700 to $2,000. One of the reasons cast iron tubs are so beloved is because of their durability. Acrylic bathtubs tend to be less durable and prone to scratching, but are much more budget friendly.
If you want that antique look, acrylic clawfoot tubs are a great alternative. You can expect to spend roughly $1,200 on average to install a clawfoot tub, plus expect to pay up to $300 per joist if additional floor support is needed due to the weight of a cast iron bathtub. On the flip side, an acrylic tub is about $500 to install and because of its much lighter weight, floor support is usually not an issue.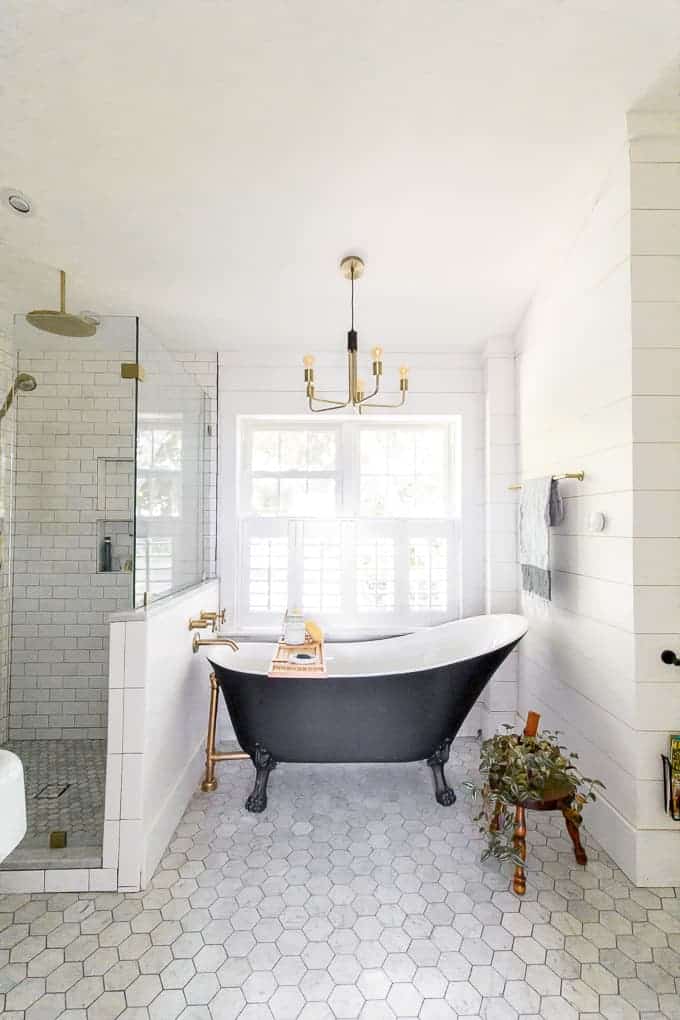 This is a great example of an acrylic clawfoot tub. You can still get vintage vibes without having an antique.
Different Designs of Clawfoot Tubs
Once you've decided on your tub material, you'll need to pick out the style of your clawfoot tub. Depending on the look you want for your bathroom, you'll need to decide between three main styles: a slipper-style tub, classic roll top clawfoot, and double-ended tub.
A single slipper clawfoot bathtub has a raised backrest on one end with the drain and faucet at the opposite end. Double slipper tubs have two raised ends to create backrests for two people to bathe and have the faucet and drain centered.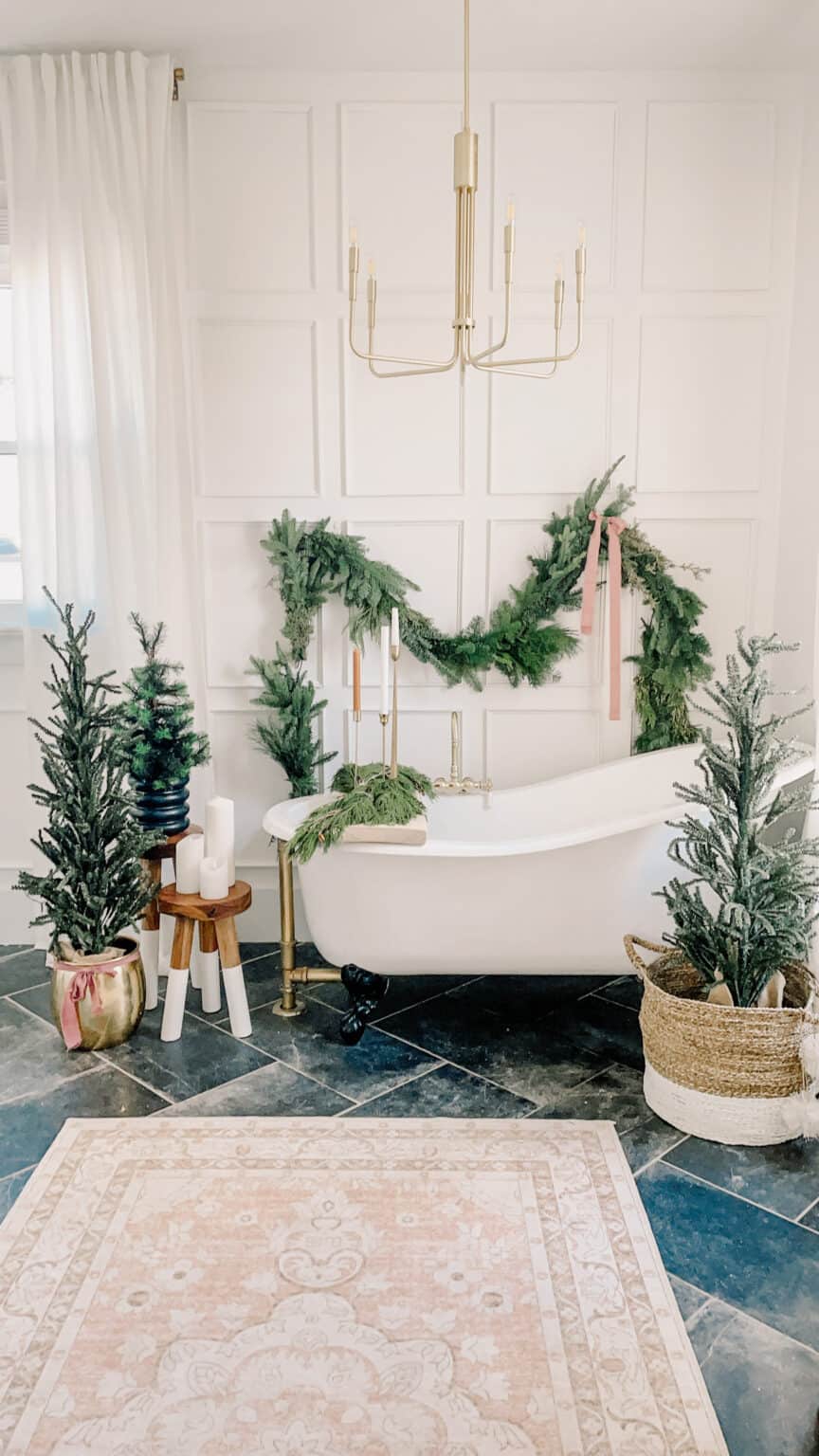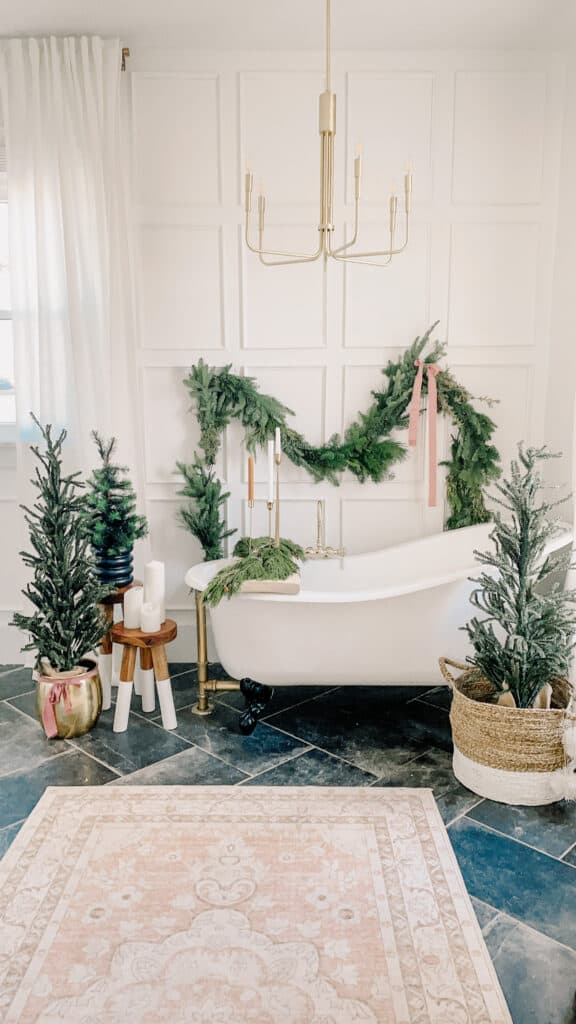 The traditional style clawfoot tub has a rounded end on one side and a squared off end on the opposite side. You'll see that the top is rolled over with a ridge and the faucet and drain can be at either end.
The double ended or french double-ended clawfoot tub is similar to the classic style, but rather than having a squared off end, both ends of the bathtub are rounded. The drain and faucet are then centered.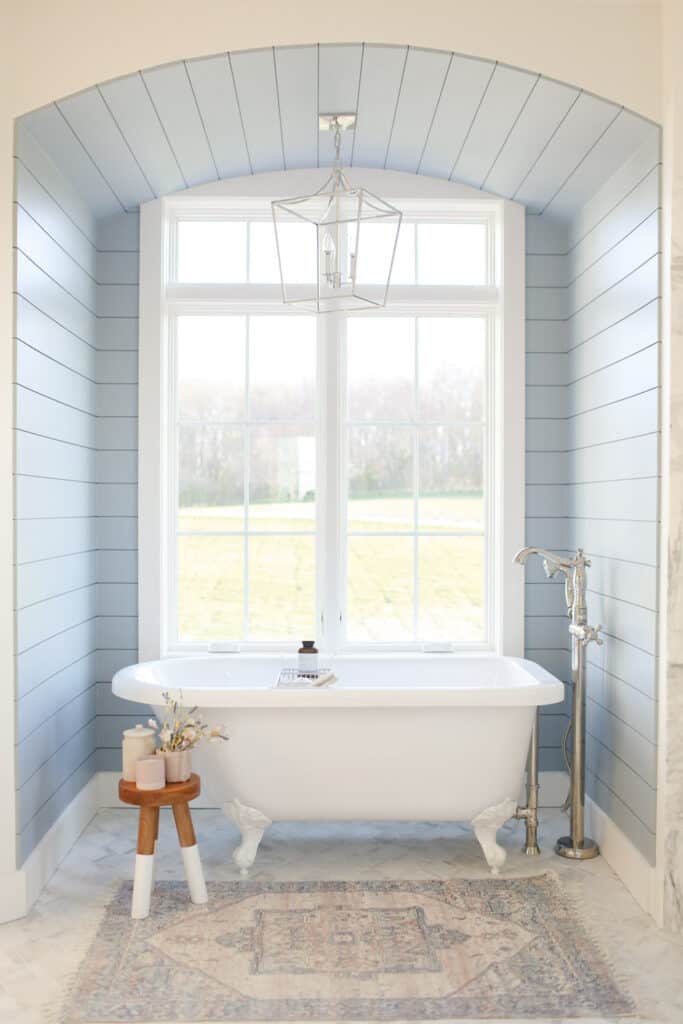 Check out more pictures of this beautiful claw-foot bathtub reveal here.
We have a single slipper clawfoot bathtub and I love the support of the raised backrest. Each style has different pros and cons. If you need more support, then a slipper style tub would be a great choice. Ultimately, it comes down to looks. If the squared and rounded ends bother you in the traditional tub, then the double-ended tub is a great symmetrical choice. Ultimately, you have to decide on the look that is right for your bathroom.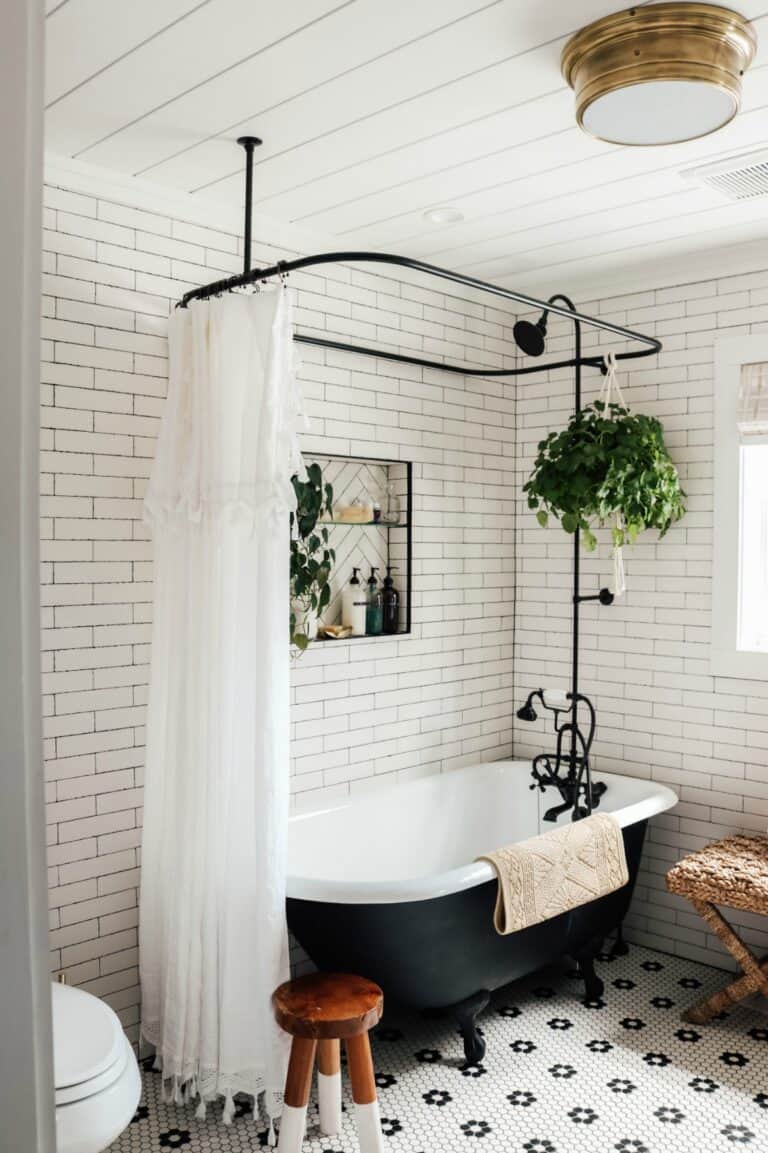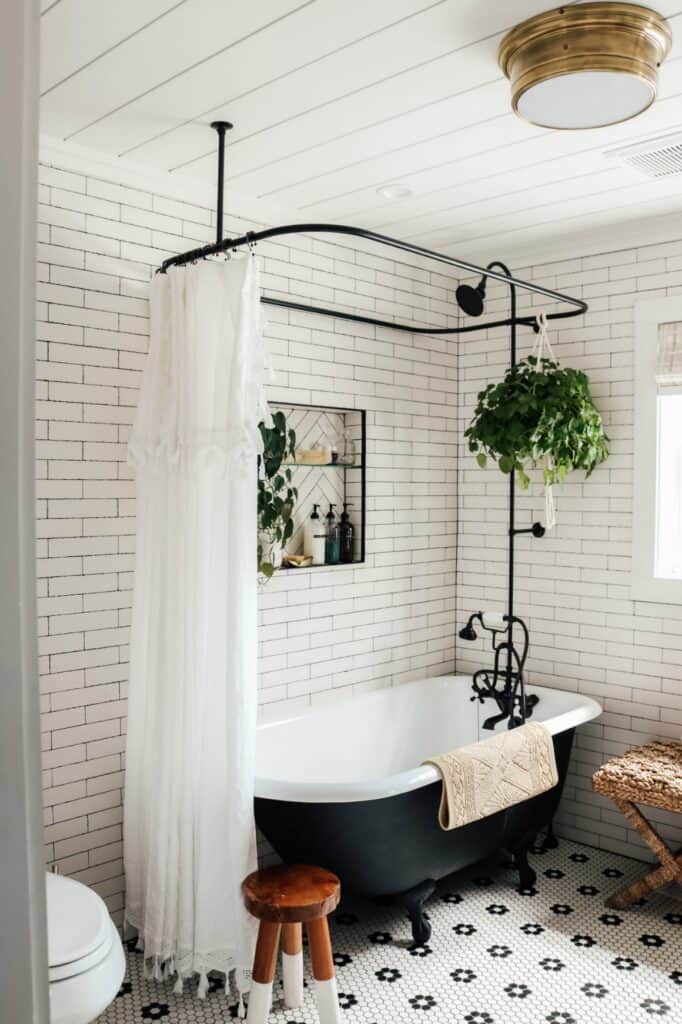 Check out this bathroom reveal and how they created a clawfoot tub shower for their space.
Keep in mind that most iron clawfoot tubs are traditionally freestanding bathtubs. Meaning, they aren't built into a wall or space and are finished on all sides of the tub. That means you are able to see more of the plumbing features than you would in a standard bathtub. If you have a freestanding bathtub, it will take a bit of creativity to have the option to shower.
You do, however, get a vintage vibe with claw feet. These claw feet can come in different styles as well. You'll need to pick between cannonball, paw, and ball and claw for the claw design.
The ball and claw design is very ornate with either a lion's paw or eagle's talon holding a pearl. On the flip side, the cannonball design is simple with a ball shape, yet vintage feel. The paw design is an animal's paw serving as ornate feet to the tub.
Modern cast iron tubs have different options for claw feet designs and can range from the traditional styles to more modern designs. The feet can come in bronze, iron, brass, or acrylic.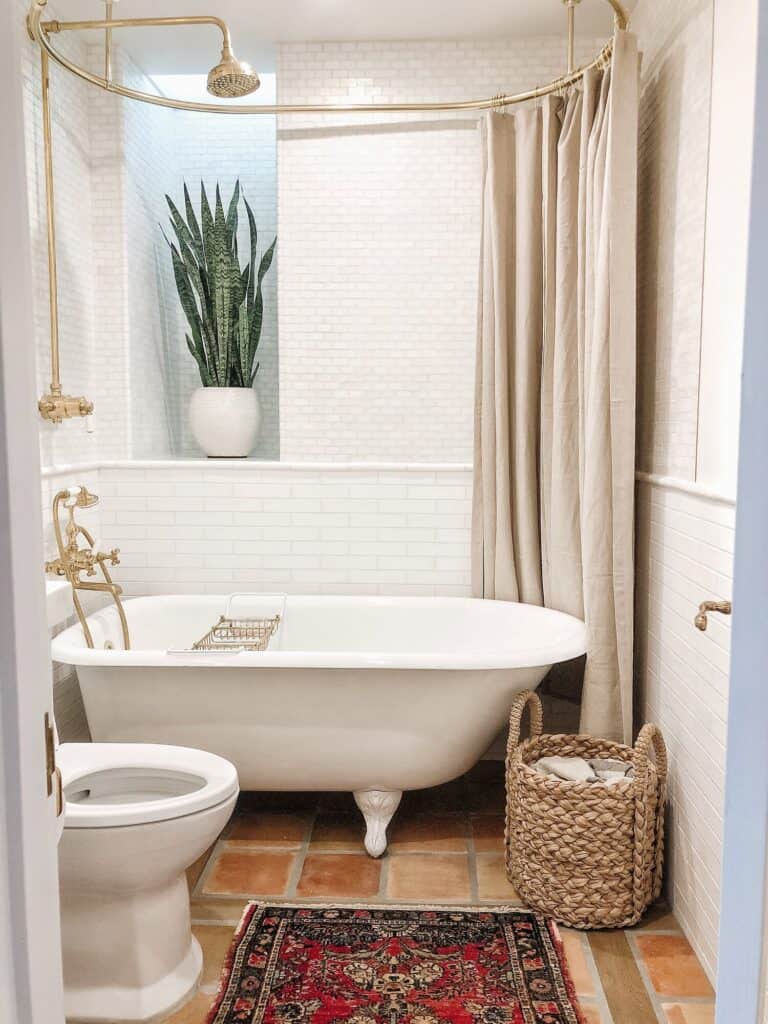 This bathroom shows how to make a clawfoot tub work in a small space.
There are options available for alcove cast iron bathtubs for those bathrooms that warrant that space requirement. Alcove bathtubs are built around three walls and only finished on one side. Because of the wall space, you have the ability to input a shower head and hide the plumbing within the walls. This gives you a bit more flexibility in using your bath space.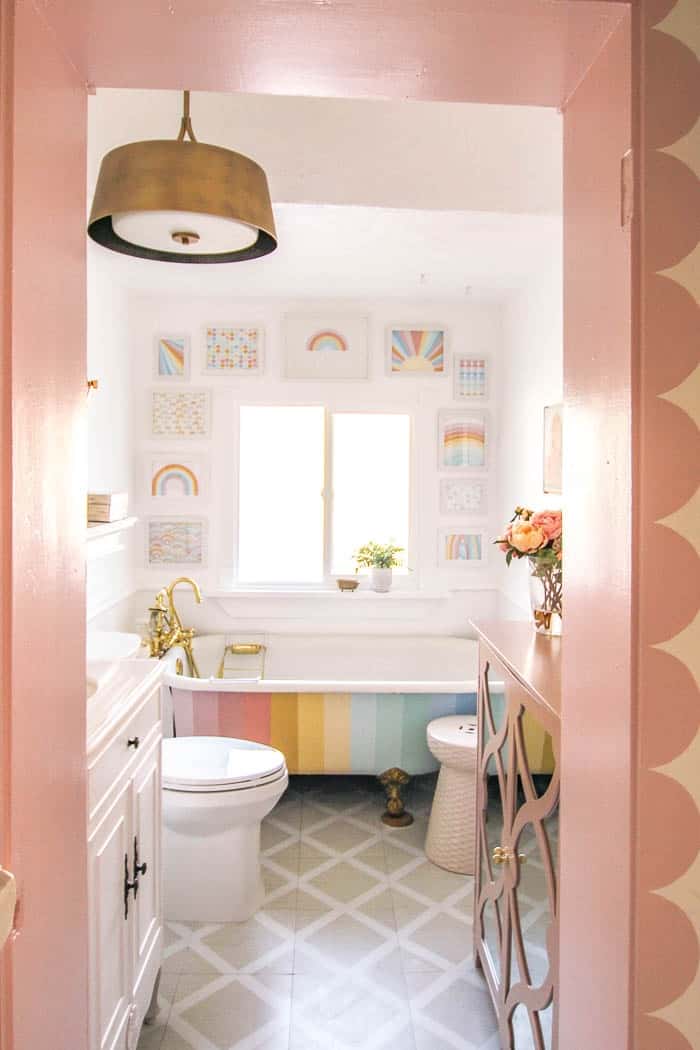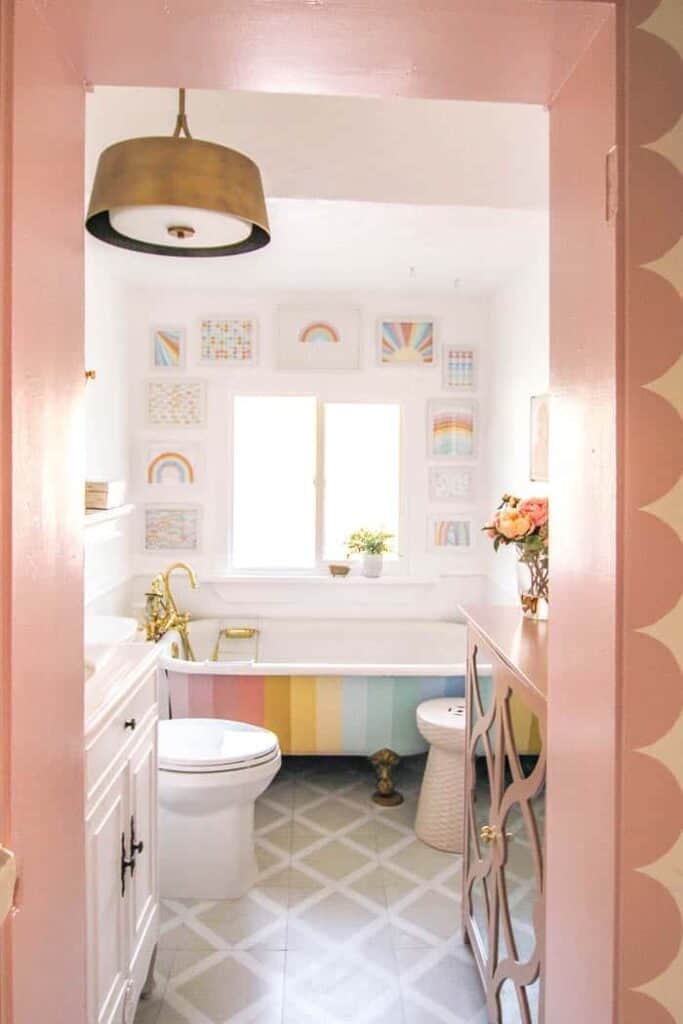 This bright and colorful space can be viewed here.
The Importance Of Math – Calculating the weight of your clawfoot tub
While the style and design of your clawfoot tub is an important factor, you'll need to know how much your bathtub weighs before you install it. I mentioned that cast iron tubs are extremely heavy.
An empty cast iron tub weighs a lot less than that same tub with a bather in it that is filled with water. Because of the weight of the actual tub itself, the weight of the bather, and the weight of the water, you are putting your floors under a tremendous amount of stress.
It is a good idea to know if your floors can actually handle the stress of the weight before you end up sailing through your second floor in your expensive tub. If you need a visual of this, feel free to check out the movie, Money Pit.
Such a dainty and bright bathroom!
Calculating the Answer to How Much does a Clawfoot Tub Weigh
So how do you determine if your floors are strong enough? Contrary to what I believed as a kid, the only way to know for certain is by using math.
To know how much stress is on your floors, you'll need to know how much your tub weighs, how many gallons of water it can hold, the weight of water, and the weight of your largest bather. I'm all of a sudden back in my high school algebra class.
I should have spent more time paying attention and less time writing notes to my friends. But who didn't love getting a note passed in class in the shape of a mini triangle and the results of MASH inside?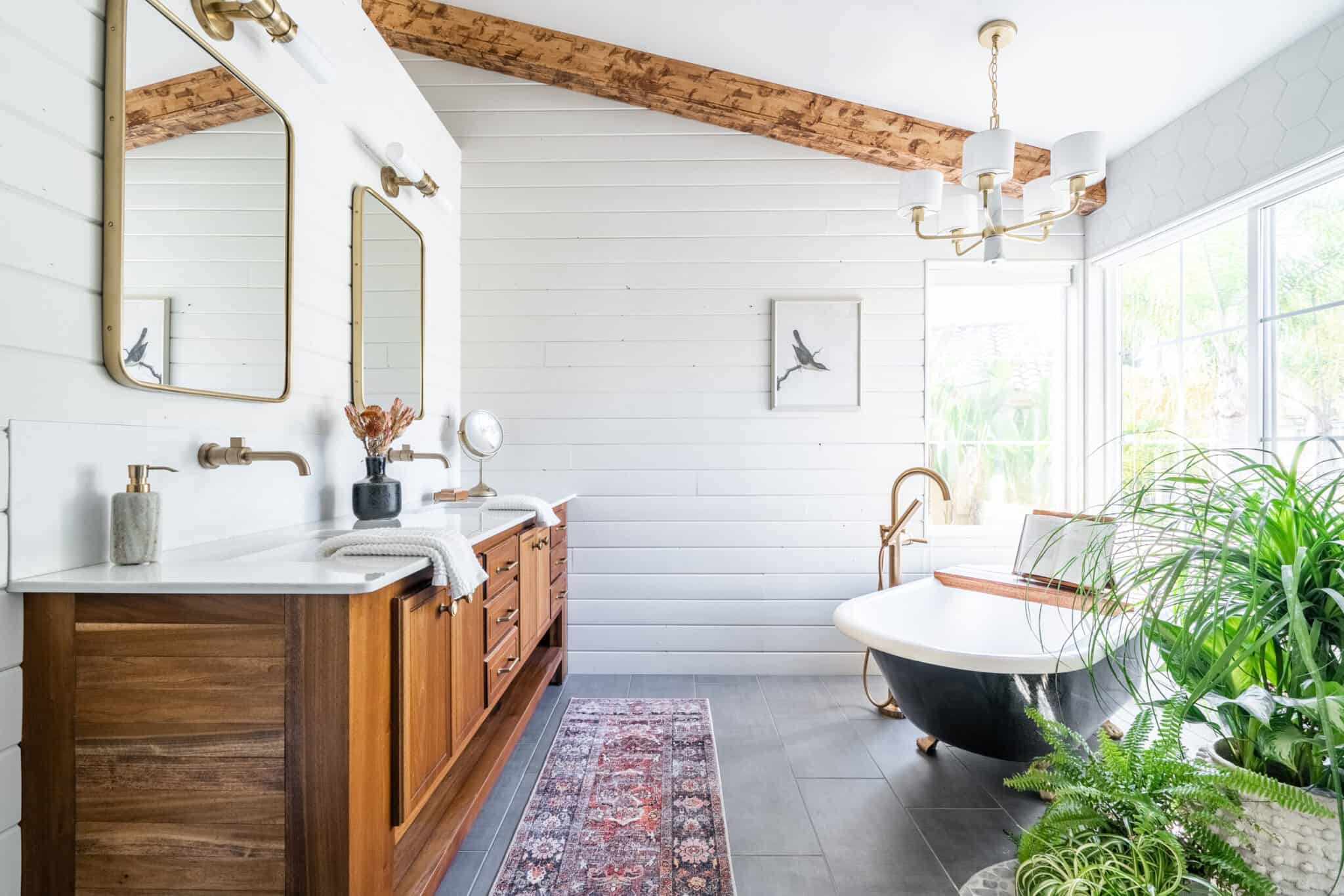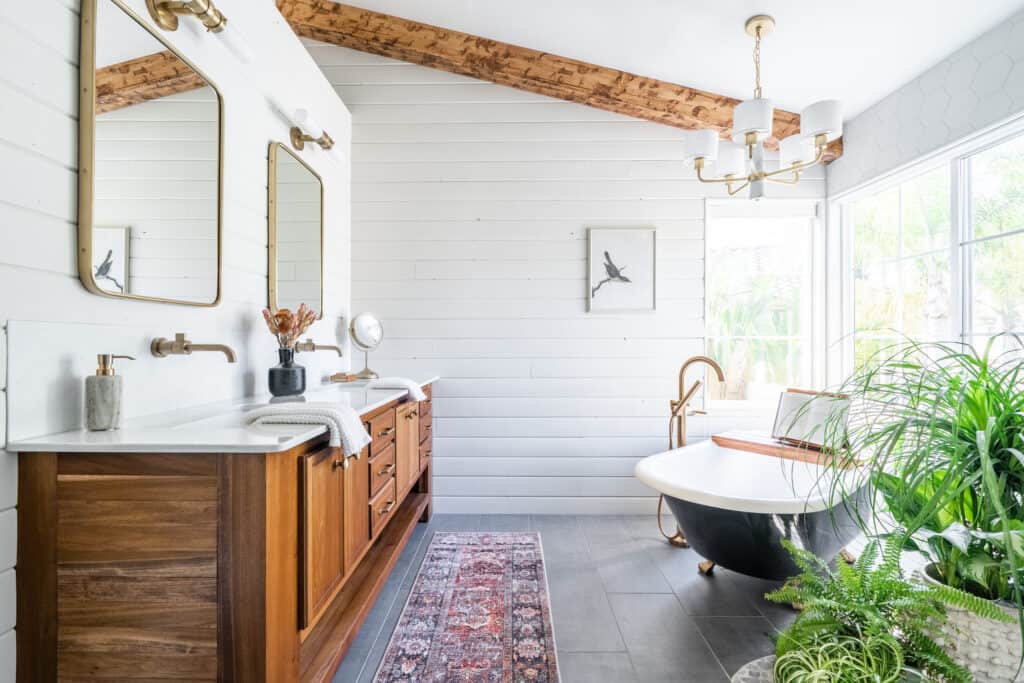 Excuse me while I move into this modern vintage bathroom with a clawfoot tub.
To solve for X, or the total amount of weight on our floors, we need to know how much our tub weighs and how much water it can hold. The average cast iron tub weighs between 250 to 500 pounds and can hold up to 82 gallons of water.
On the flip side, an empty acrylic bathtub weighs up to 120 pounds and generally holds around 32-40 gallons of water. The specifications will vary depending on the type of tub you have: freestanding baths versus alcove baths.
Keep in mind that water weighs 8.34 pounds per gallon. To solve for X let's take the following scenario: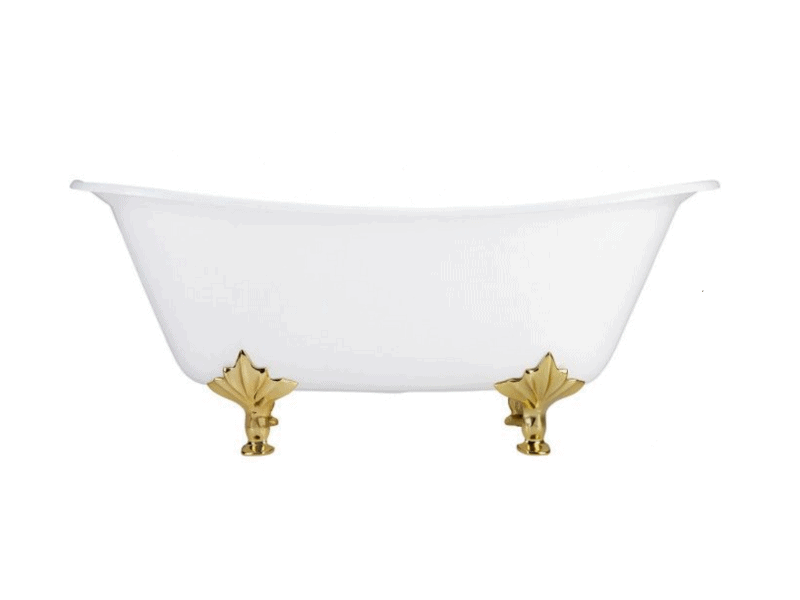 This double slipper tub from Signature Hardware weighs 440 pounds and holds 46 gallons of water.
I want to install this beautiful tub in my master bathroom. To know how much weight will be available on my floors, I'll take the information I obtained from the website and plug it into our equation:
Total Weight Floors Hold = Weight of Empty Tub + (Gallons Held *8.34) + Weight of Heaviest Bather
X = 440 + (46 * 8.34) + 220 lbs
This means that my floors need to be able to hold 1,044 pounds. You'll want to check with a contractor to determine if your floors can handle that weight or if you'll need to add additional support. This is less of a concern if you have a main floor master bathroom and plan on installing it there since you have a concrete foundation to support it.
The concern arises when you have to take your tub to your second floor or beyond. Floor joists may need to be added to help support the load. Your best bet is to consult a professional to ensure you have the support needed to handle the weight.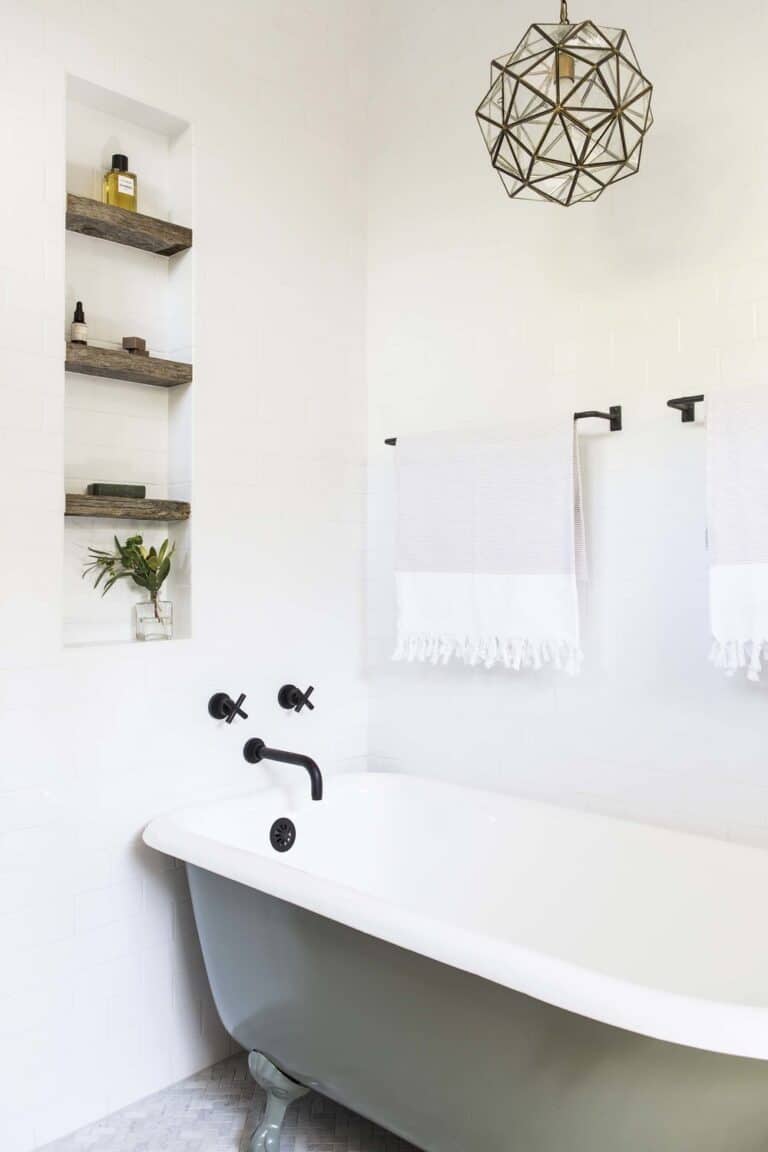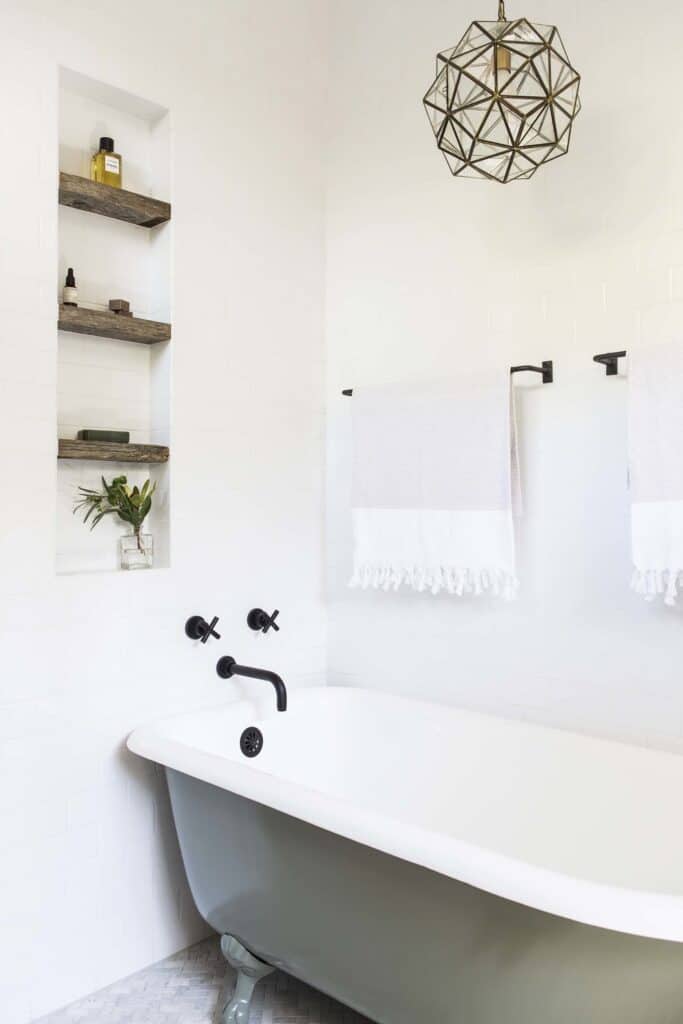 This bathroom takes a vintage tub and adds a modern twist.
Keep in mind you'll also need to check your bathtub's specifications for the depth, length, and width. You want to make sure your tub can actually fit through your spaces to get into the bathroom without having to knock down walls or remove doors.
That would not be a fun surprise to discover you have to either return your tub or knock down a wall for it to fit. You also don't want to get your tub into your bathroom only to discover that your space is too small for the large tub. Small bathrooms may struggle with this and it would be beneficial to make sure you have outlined your space prior to installing it.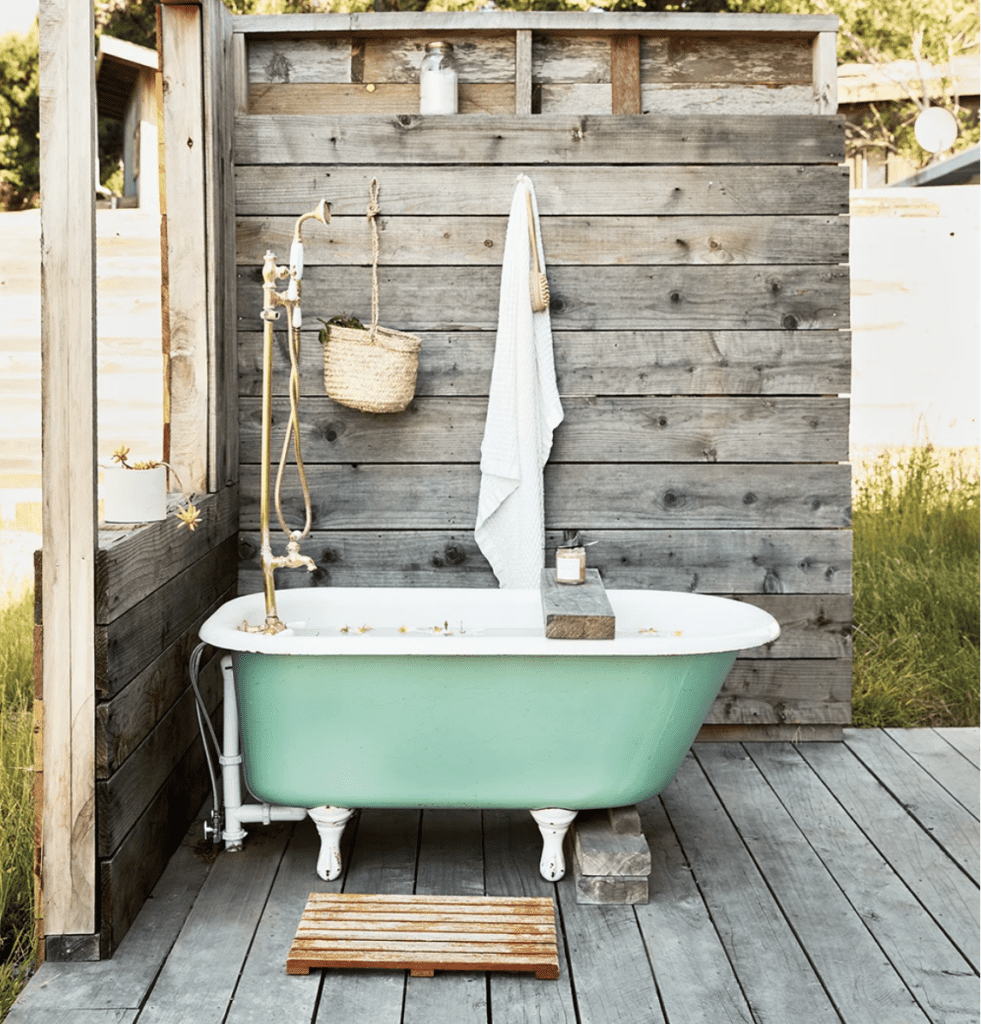 If all else fails, you can always have an outdoor soaking tub like this incredible space!
Other Posts You'll Love
Best Shower Wall Materials | How to Paint Cabinets | Boys Bathrooms | Linen Closet Shelving Ideas
Pin This Photo Below For Later
I hope this post provided you with some great factors to consider before you buy a clawfoot tub, and you fully understand the answer to 'how much does a clawfoot tub weigh?'. The weight and size of your tub can have a big impact on your plans for installing it in your bathroom. Fortunately, you can still get a vintage cast-iron tub look for less. Acrylic tubs are a great alternative and not only cost less but also weigh less too. Whatever tub you go with, I hope you are able to grab a glass of wine, light a candle, and enjoy a warm relaxing bath sans kids. If you have any questions feel free to leave them in the comments section, and follow me on Instagram @arinsolange and TikTok for more home, decor, and DIY.