Mothers Day is just around the corner, and as a mom myself, I can't wait.  I wanted to put together a guide with Mothers Day gift ideas for you when you're shopping for friends, sisters, or your mom, or even better – to pass along to your husband!! Sending them out their shopping without tips never ends well, does it?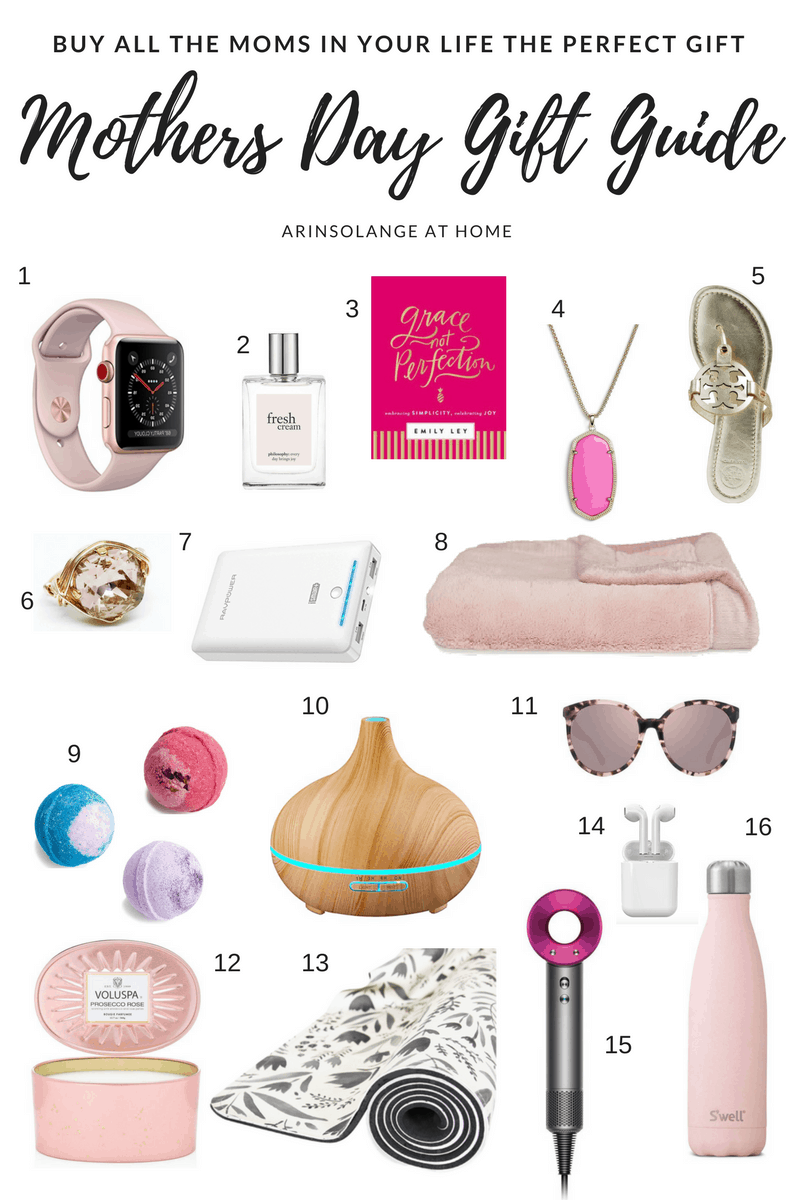 Mothers Day Gift Guide
1 // 2 // 3 // 4 // 5 // 6 // 7 // 8 // 9 // 10 // 11 // 12 // 13 // 14 // 15 // 16
I have owned an Apple Watch for the past 2 years and actually got it for Mother's Day.  I can't say enough great things about it!
Perfume is always a great gift in my opinion. This is a great mild scent.
I have been dying to read this book. All of my friends that have said its wonderful!
I think any Kendra Scott jewelry is a great gift idea.  It's a high quality costume jewelry option.
I normally am a Target sandal type girl, but I have several pairs of these Tory Burch sandals are worth every penny!
I just got this ring and love it!
A good external charger is a great gift!  I try to keep one on me for safety if nothing else!
Saranoni Blankets are SO SOFT.  I have said it before and mentioned them several times on my blog, but you guys….they really are that good.
I almost always get a few bath bombs for holidays from my husband and love them as a little something extra!
I have been eyeing this diffuser for a while, and think it would make an awesome gift!
Diff Sunglasses are so cute and they give back to those in need, so it's a win win.
A great candle is always a go to gift for me.
The new Gathre yoga mats are so darn cute.  You can get matching ones for mom and mini, or just one for mama.  A great gift if they do yoga or workout at all.
Air bud headphones.  Not a cheep investment, but such a useful gift.
Okay this would be such a splurge, but I have been dying to get one. The new Dyson hairdryer is a game changer for all of my friends that have it!
Can't go wrong with a swell bottle.
I hope you love these Mothers Day gift options and find some great options you were looking for.  If you need more options be sure to check out my friend Chelsee's post here,  and my friend Navy's post here!I also have a guide for expectant moms if you have a pregnant mom in your life that you're shopping for!
SaveSaveSaveSaveSaveSaveSaveSaveSaveSave
SaveSaveSaveSave