Swing chair. Hanging chair. Whatever you want to call it, they are all the rage! Since we clearly love Serena and Lily hanging chair enough to own two, I figured it was time I wrote a review.
this post contains affiliate links
Hanging Chairs
I know that hanging chairs are a bit of a splurge item, so when we were going back and forth on ordering one for our daughters nursery I did a lot of research to be sure we would love it!
My assumption is that if you are looking for a hanging chair for your home you are in the same boat!
Some FAQs about Hanging Chairs
Before we get into a review on the chair we personally purchased, I thought I would answer a few FAQ's about hanging chairs in general.
Are Hanging Chairs Comfortable?
When I get questions about our chairs the number one thing I am asked is 'are hanging chairs comfortable?' I honestly didn't know if they would be comfortable and was going simply for style.
Once we got it hung in Goldie's Nursery we realized it was really comfortable and we loved sitting in the chair – enough so that we purchased another one for our older daughters room.
How Much Weight Can a Hanging Chair Hold?
This is another common question – and I can only answer for my chair which is the Serena and Lily hanging chair – which has a weight limit of 300 lbs. You also have to check the weight limit on the caribeaner and eye bolt you get for hanging the chair!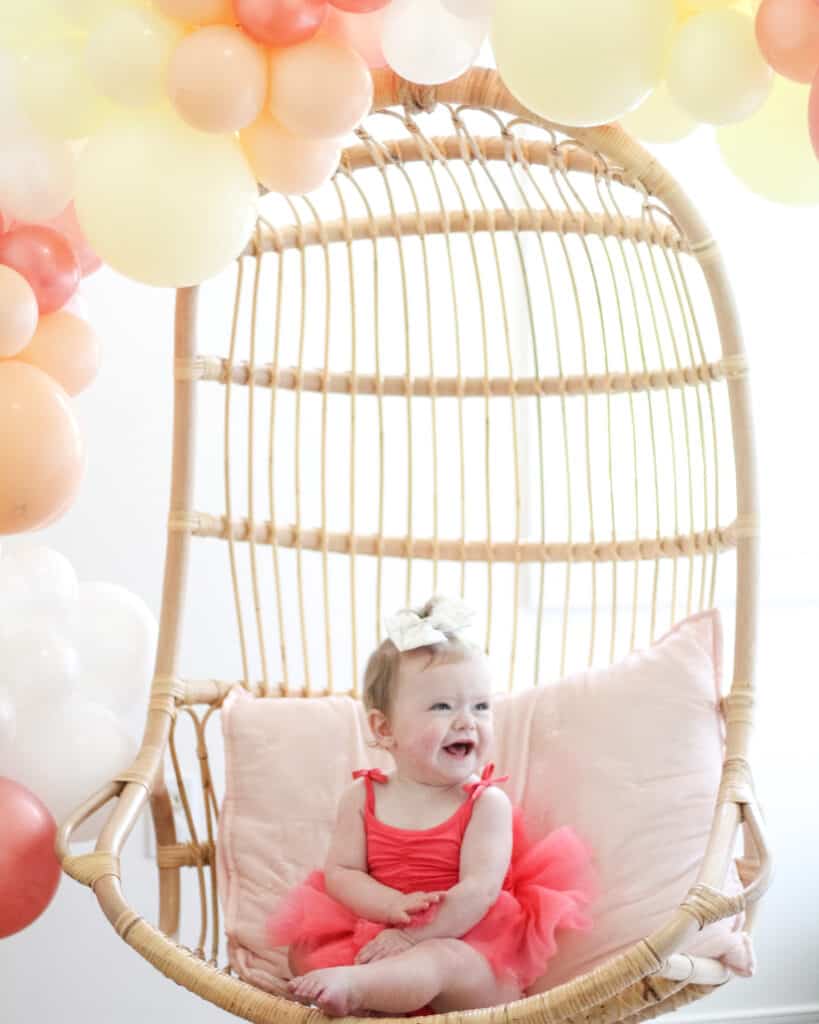 Serena and Lily Hanging Chair
Incase you don't know what I am talking about – this whole review is on the chair in the photo above. We currently own the white version as well as the natural rattan version – 1 in each of our girls rooms.
We purchased the natural rattan color for our baby girl's nursery initially. It was one of those items that my husband gave in on even though he thought I was nuts in wanting it. (But, you know – who was he to tell his super pregnant wife that?)
Fast forward to nearly a year later and he LOVES it. It was actually his idea to update our older daughter's room and give her own as well.
Why we chose this hanging chair
Rattan chairs are really popular right now…so popular that I am rounding up some other options in this post incase a hanging chair is not your jam haha. I personally decided on the Serena and Lily version partially because I love the company.
Everything else I have owned from Serena and Lily has been beyond high quality and when it came to a chair I was about to hang from my ceiling and sit in with my newborn daughter I wanted quality even if it meant spending a few extra dollars.
I also love that the Serena and Lily version of these chairs is a pretty timeless look. It isn't really ornate or swirly, so I felt like I wouldn't get tired of it quickly.
If a hanging chair isn't your thing, or you live somewhere where you can't hang it be sure to check out the round up of other great options towards the bottom of this post with some great free standing options.  
Also – you can buy stands to hold these chairs so keep that in mind if hanging it makes you nervous!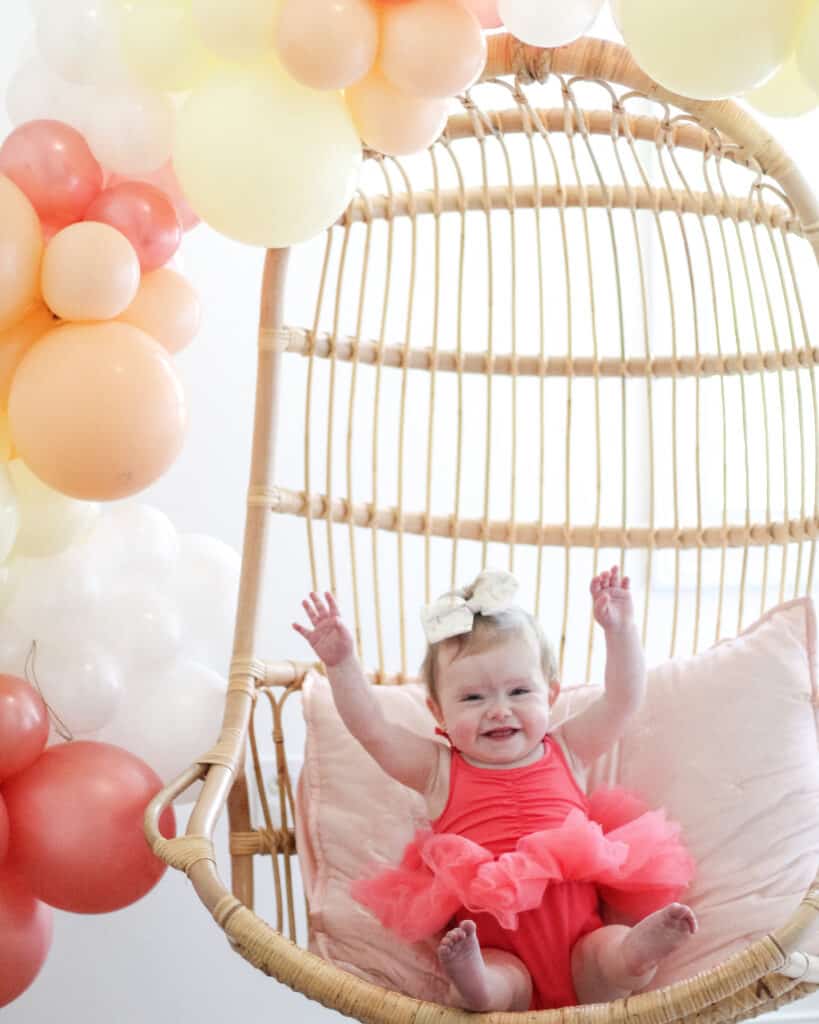 Hanging the Serena and Lily Hanging Chair
When we got the swing chair we went back and forth with how to hang this chair – I will say LOUD AND CLEAR – they recommend it being hung professionally.  If you are not REALLY confident I recommend following that protocol.  I am sure you could get a contractor pretty inexpensively to come hang it.
What you will need is a large eye bolt, and possibly a caribeaner – make sure that both are approved for high weight bearing loads.
For us personally – we used a large eye bolt and used our stud finder. I highly recommend THIS one because it shows you where the center of the stud is so you can be sure you are all the way in the stud for safety. We then hung it using a fancy knot that my husband looked up.
Once the knot was secure we sort of tucked the hanging rope to hide the eye bolt.
My biggest tip is when you pick your height to hang it, pick it just a bit higher than you think. As you hang it and it settles it will settle down just a bit.
The Pro's to the Serena and Lily hanging chair –
So far these have been so durable.  We have 4 little ones and I wasn't willing to get something that I thought they would break apart like a wicker basket haha.
They are so well made and durable and I have no doubt they will be beautiful in the girls' rooms for years and years to come.
They are comfortable and large enough for an adult or child.
I did add throw pillows to each of them and these white faux fur throws that make them even more comfortable. I don't think you will want to sit on them without something like that. – those two things make them sooo comfortable and I have dozed off in Goldie's many a time!!
The Cons of the Serena and Lily Hanging Chair
There aren't many cons to these chairs – I know for some the price is a con, however in my opinion if you buy it on sale it really isn't over priced.
One thing I don't love about the white is that there is a section towards the top that is a slightly different shade of white.  You can see that in the picture below.  It isn't something that ruins the chair in any way – and I would buy it again totally, but I didn't expect it.
You do need to add cushions, throws, or pillows for comfort – or you don't have to, but I won't say they are super comfortable straight out of the box!
Otherwise my only other con would be that I wish they would send the items to hang the chair with it. Hanging a chair is nerve wracking for anyone, and I think that can add a level of nervousness – being worried you will purchase the wrong thing.
I think this sort of goes for most all hanging chairs, but regardless that would be a small con.
Other Gorgeous Rattan Chair Options
Although I personally don't think you can beat the Serena and Lily hanging chair (clearly – that's why I purchased two). But I also know sometimes when you want to do a rattan chair in a space hanging it isn't an option, or it is out of the budget.
I rounded up some other great rattan chair options for your space below so you can add that touch to your room no matter what your style is!
1 | 2 | 3 | 4 | 5 | 6 | 7 | 8 | 9 | 10
Other Posts you May Love
Avé's room with white chair | Goldie's Nursery
Pin the Photo Below for Later
Hopefully from this post you have a better idea of if the Serena and Lily hanging chair is the right chair for you, and you have found some other swing chair and rattan chair ideas if it is not! I have loved them in my home, and hope if you decide to add one to your home you will love it too. Be sure to leave me any questions in the comments below or dm me on Instagram!