Another week, and more Amazon finds.  This week I wanted to share some lighting and hardware from Amazon after sharing my kitchen reveal.  We just re-did our kitchen and all the hardware and lighting came from Amazon – so it seemed like a great, organic fit to share that this week.
This post contains affiliate links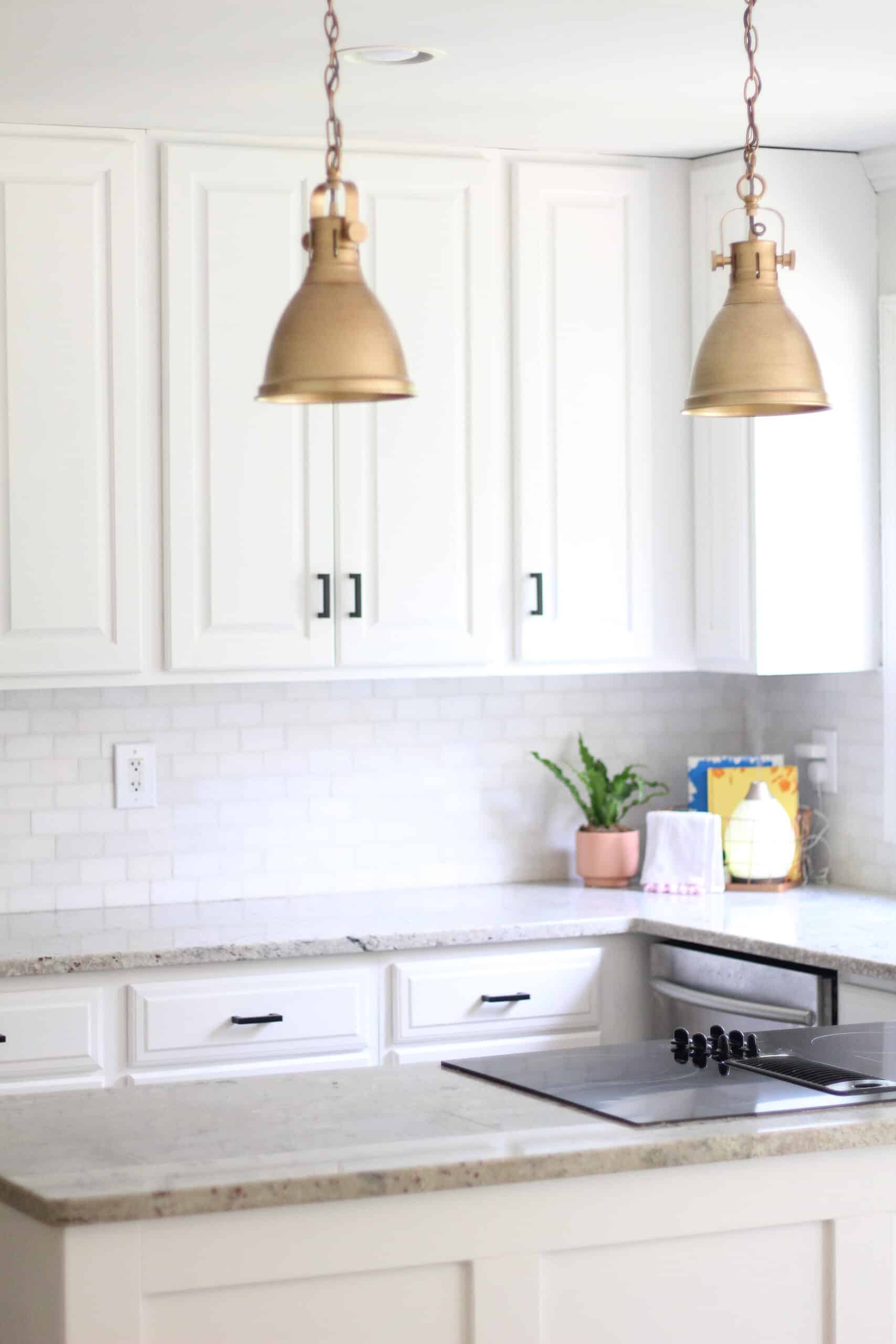 Lighting and Hardware from Amazon
When I am working on a room to update – you guys probably already know that Amazon is my go to for unique finds.  With 4 little ones at home I don't have time to run to a lot of the little stores, so the convince that Amazon offers is my go to.
We recently updated our kitchen as well as our powder room on our main floor, and for both spaces I chose to use hardware from Amazon for the cabinets, and in the kitchen I also went with lighting from Amazon.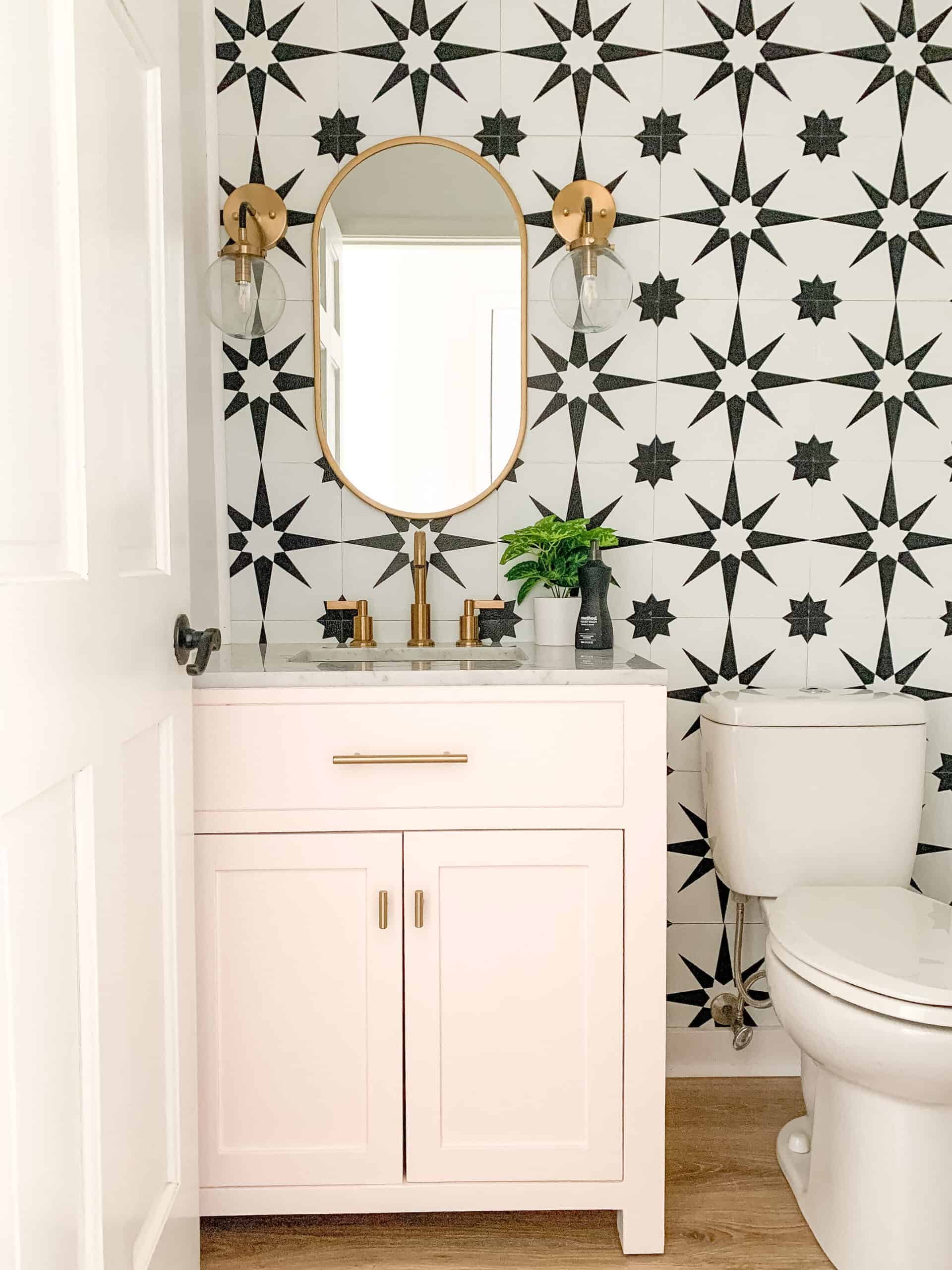 The only reason I didn't do lighting from Amazon in the bathroom above was because I was in a hurry and didn't want to deal with returns in the shade of gold was off.
Check out all my other Amazon Finds
This video gives you a glimpse at a few of the other Amazon find round ups I have done! Search them all here!
Mixing Metals
When I put together this round up I tried to design it so that you could kind of pick and choose and mix anything on the post.  I love the idea of mixing metals and think it opens up opportunities for decorating as time goes on.
Right now brass and black are both really in, so I stuck to that color way for this post, as well as my kitchen, and have been so happy with the end outcome.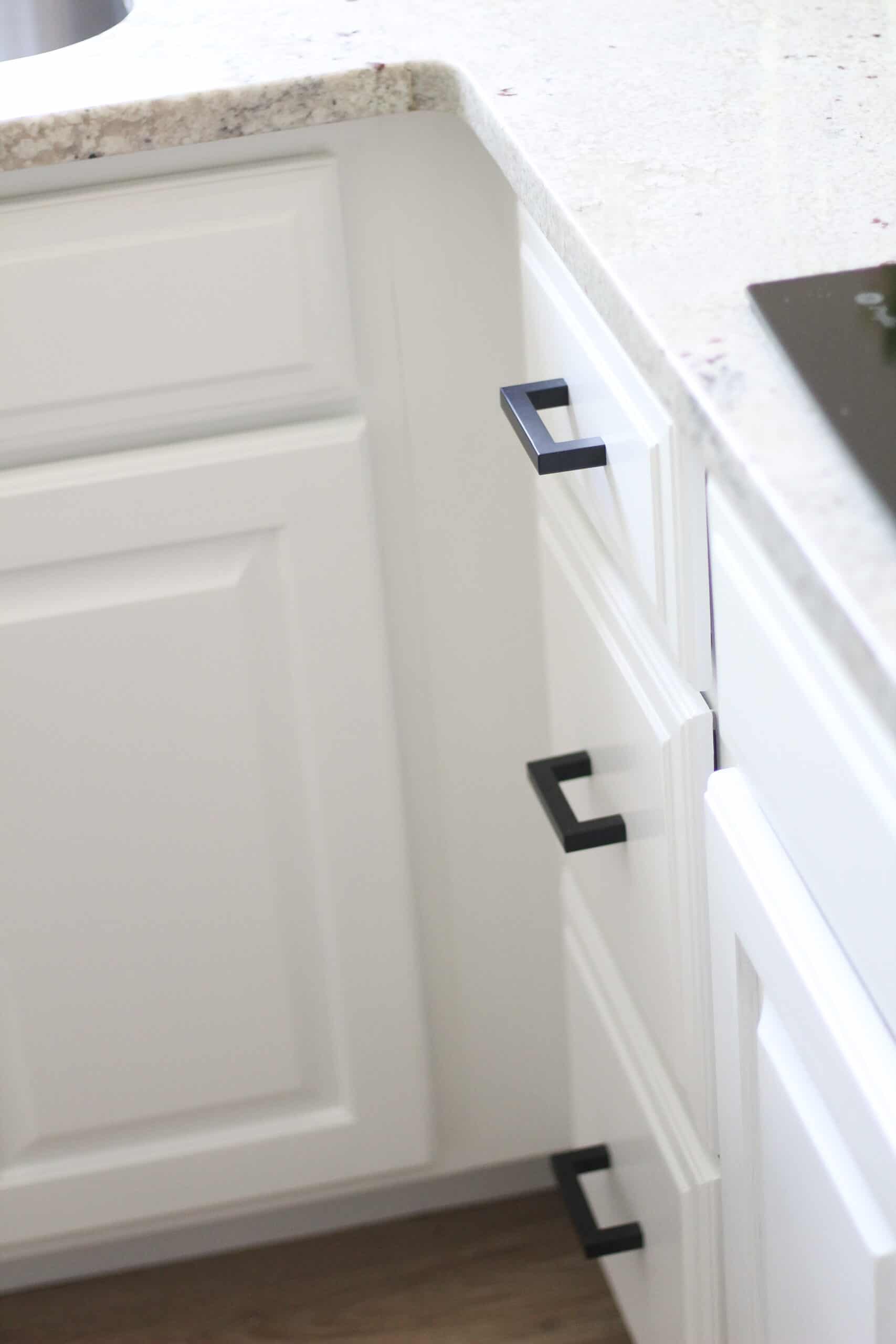 Be sure to check the sizes for many of these, most of the hardware I have purchased from Amazon comes in several different lengths which is great.  When you are measuring you need to measure from the center of the drilled hole to the the center of the drilled hole – sometimes even the slightest miss measurement can end in the wrong hardware.
Using Hardware to Update furniture
Another reason I source hardware so often from Amazon is to update furniture we have.  I have changed out the existing hardware on a majority of our furniture in our house.  For Avé's room we switched out the drawer pulls to the sliced stone looking ones in the image below.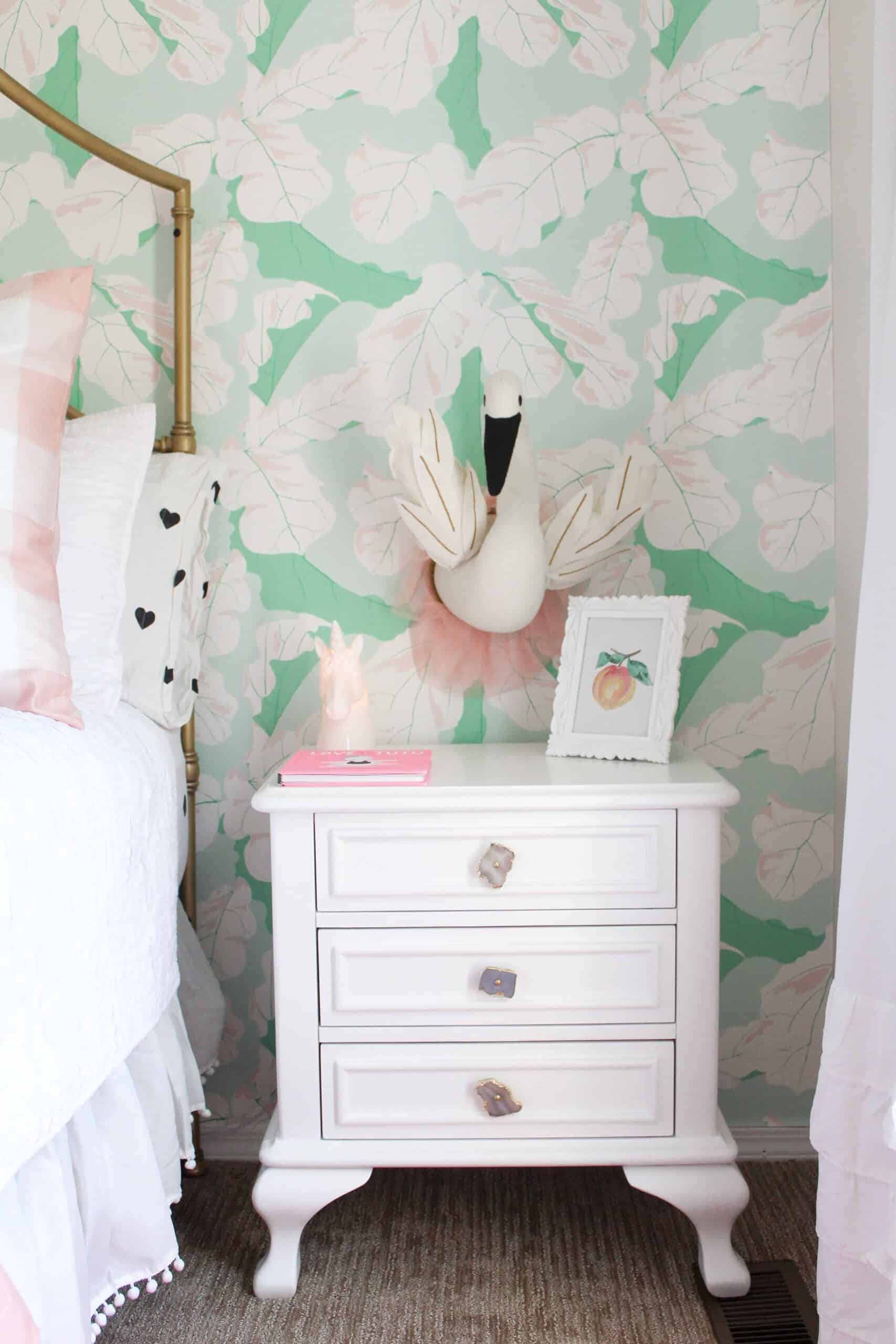 We also used hardware from Amazon for Goldie Dresser – which is an IKEA hack (check out the post here).  I loved that with the pulls we got for Goldie's dresser we had the option to get them really long!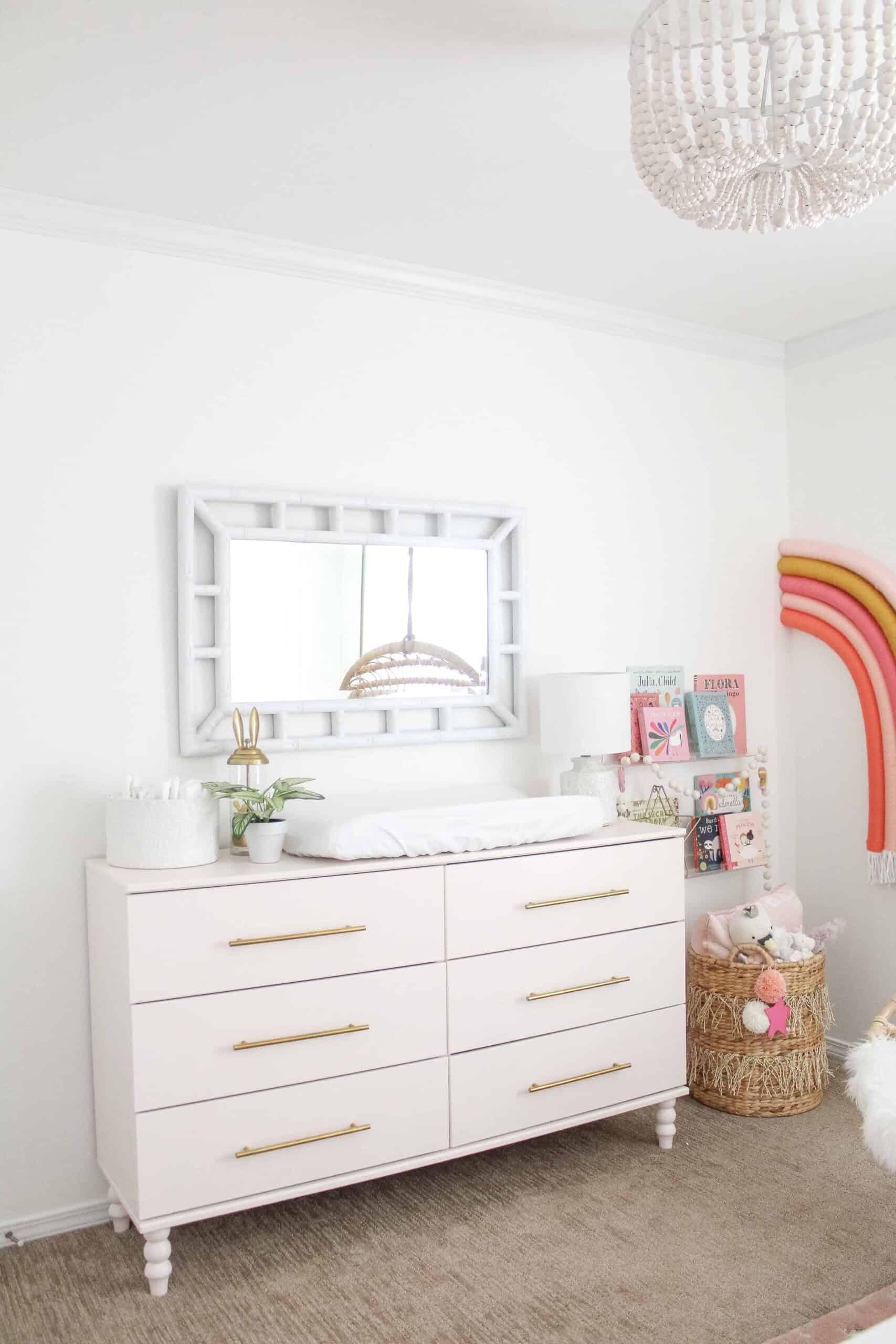 Find all the hardware from the images above, and lots more in the image below!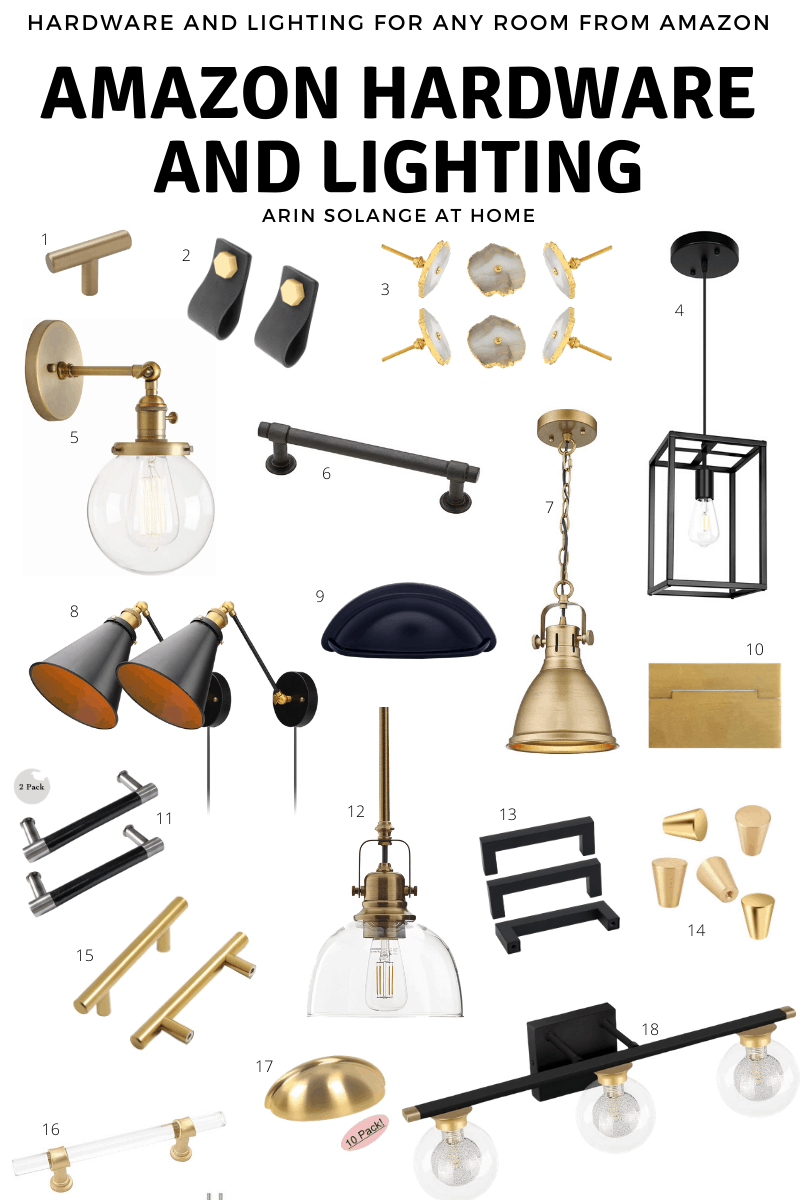 Amazon Hardware and Lighting
1  |  2  |  3  |  4  |  5  |  6  |  7  |  8  |  9  |  10  |  11  |  12  |  13  |  14  |  15  |  16  |  17  |  18
Overall – all of these are super fun, and gorgeous options for your home.  Right now, while we are all stuck at home, getting creative with finding home decor on Amazon can be so helpful!  I have several other Amazon posts with Decor from Amazon that I will link below incase you are looking.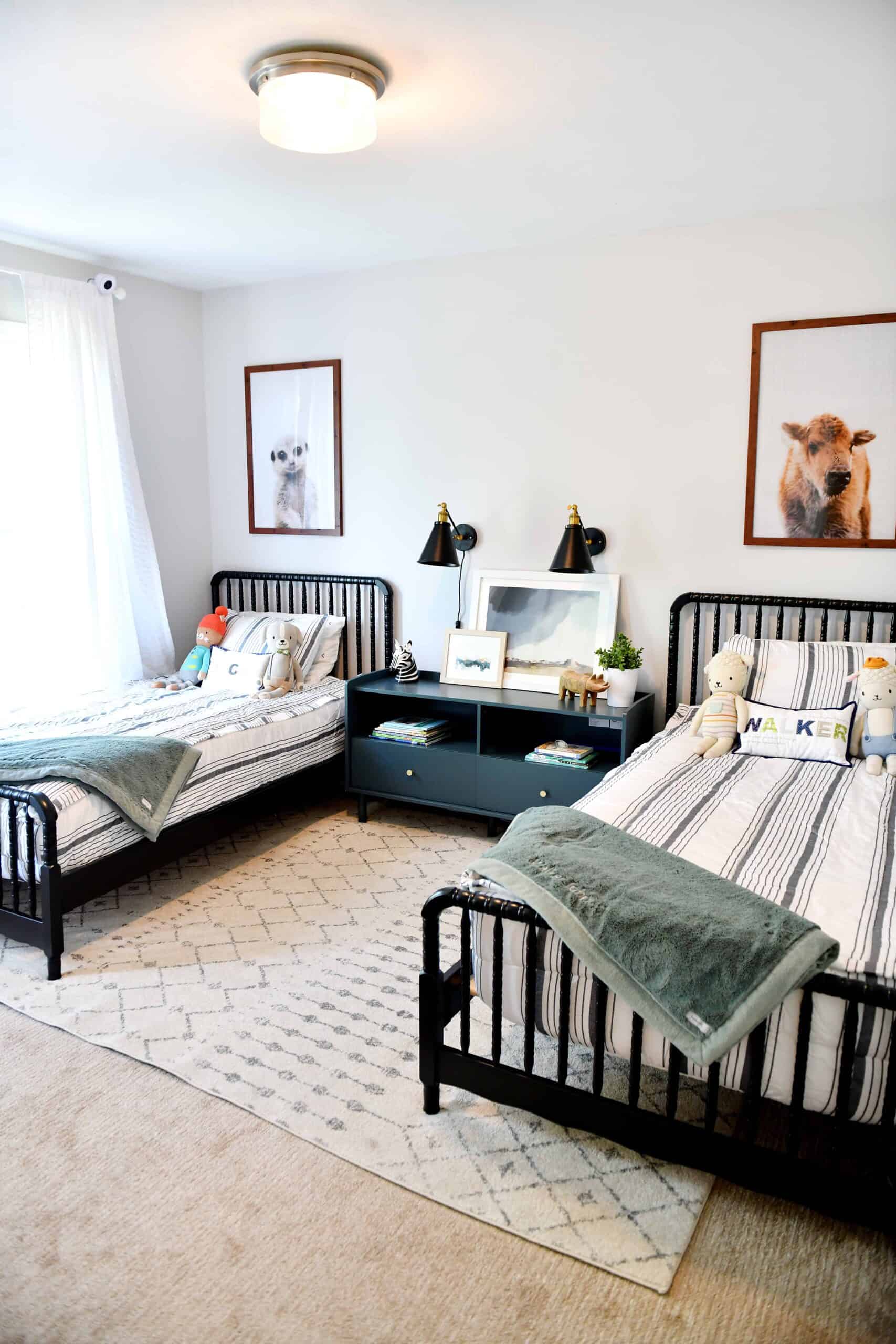 Other Amazon Home Posts
Brass Pendant Lights |   Affordable Amazon Home Finds  |  Lighting from Amazon  |  Outdoor Decor and Furniture from Amazon  |  Boys Nursery  |  Girls Nursery  |  Girls Room  |  Boys  Room 
If you have any questions on any of these items, I love to connect via DM on Instagram (@arinsolange),  or in the comments below!! Hopefully you find some hardware and lighting from Amazon that you Love and inspires you to make your space just the way you want it!
Pin the Photo Below for Later