I have been thinking about boys wallpaper recently. I guess because I only have 1 boy room for 2 boys I tell myself I can redecorate the room twice as often, and I want to go bold this time.
I thought I would round up some of my favorite boys rooms with wallpaper in this post to give you all the Inspo going forward!
This post may contain affiliate links\
Unique Boys Wallpaper Inspiration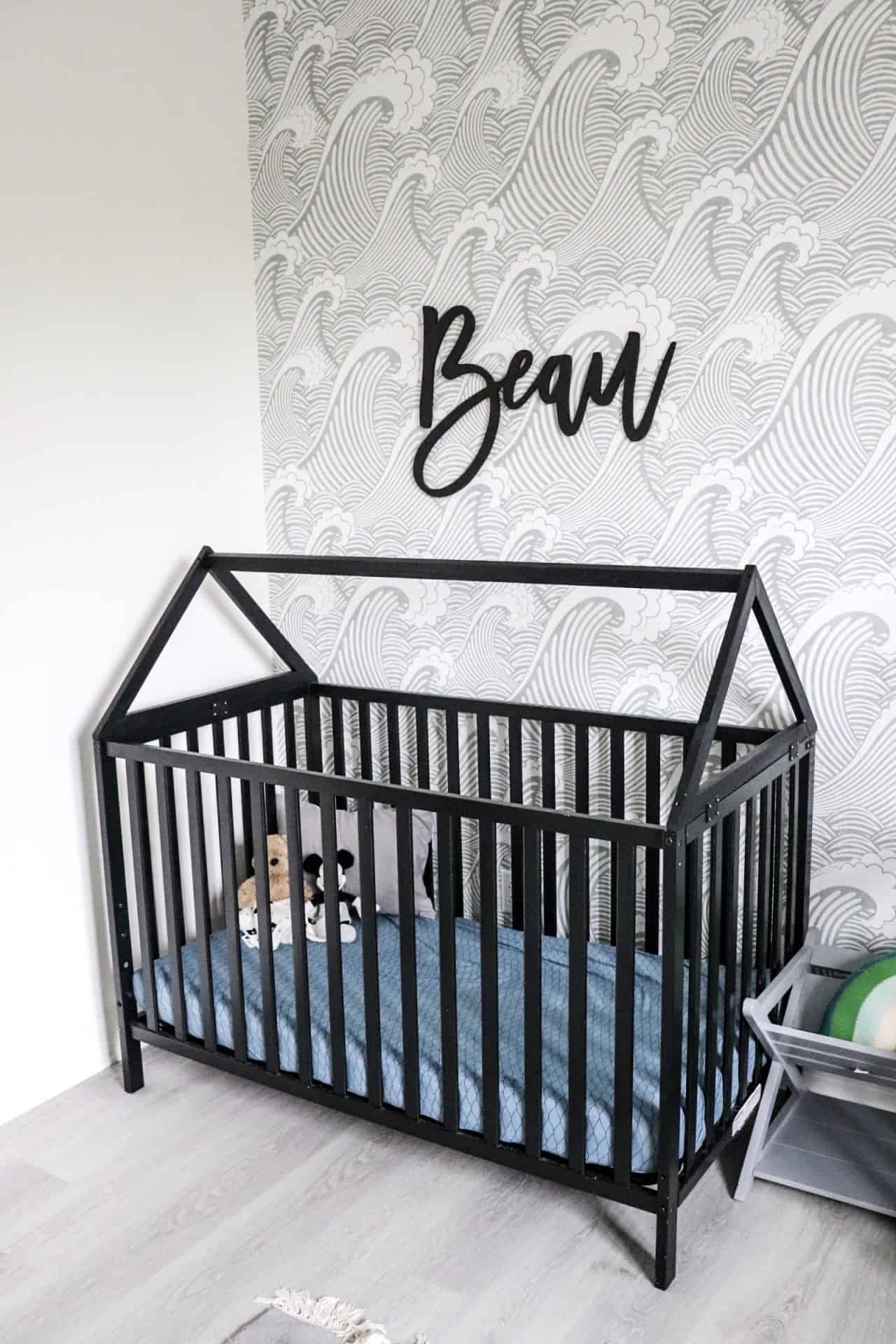 When it comes to my boys rooms I tend to stay on the more neutral side of things. Which is pretty funny because I LOVE color in my girls rooms.
I had picked out wallpaper for Walker's nursery and never pulled the trigger – which in hind site I should have because I am still obsessed with it and want it somewhere in the house.
Finding wallpaper is easier than ever with SO MANY options. I have shared Avé's room with you all 2 times over where I have done wallpaper from Spoonflower which I LOVE, but now you can even get peel and stick wallpaper that is gorgeous and trendy at places like Target.
My suggestion with wallpaper is to make sure you love it and can change the room a bit with your child as they grow if you decide to get it. It tends to be an investment, and you clearly can't take it with you if you ever move, so you want to make sure you love it and get use out of it.
If you decide to go the spoonflower route I have a full blog post on hanging theirs – SO EASY.
Neutral and Gorgeous Wallpaper for Boys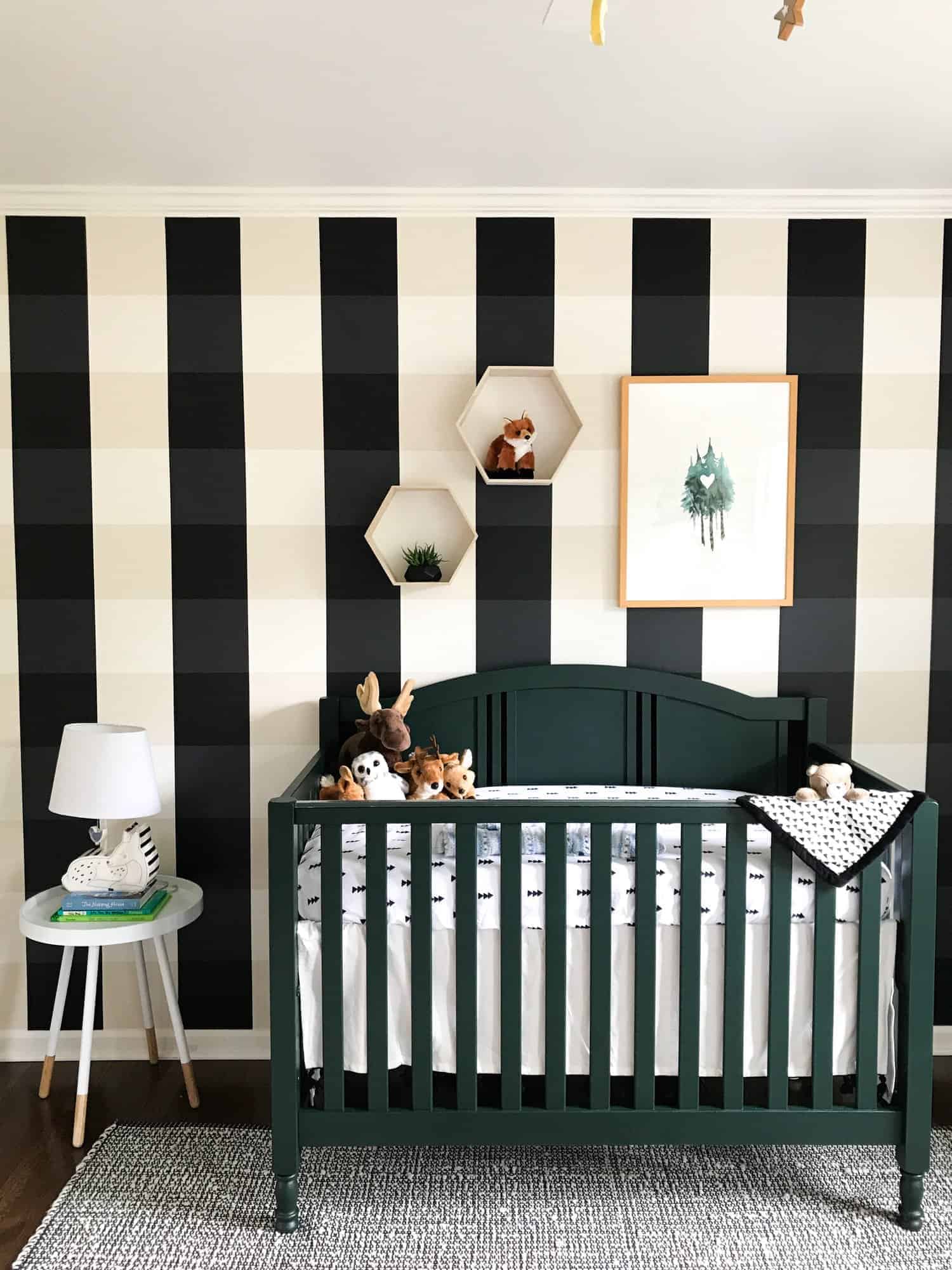 I am obsessed with this nursery – the black and white plaid is so in and would grow with any boy from nursery to college.
I am all about buffalo check being transitional with farmhouse and modern – and this is a perfect example of how it can be gorgeous in a modern room (which is so my style) – See that room here and more modern nurseries here!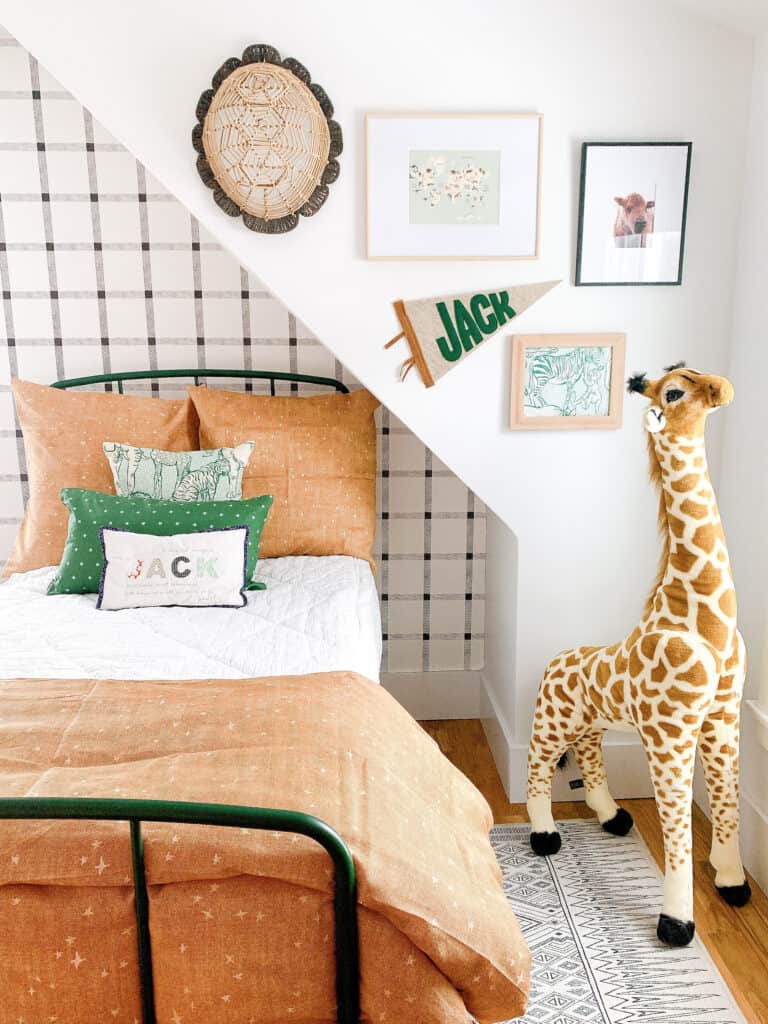 I also was so inspired by the picture above that I went with very similar colors in my oldest sons room. Check out his perfect little space, and be inspired to make a classic too with black and white plaid wallpaper for your son!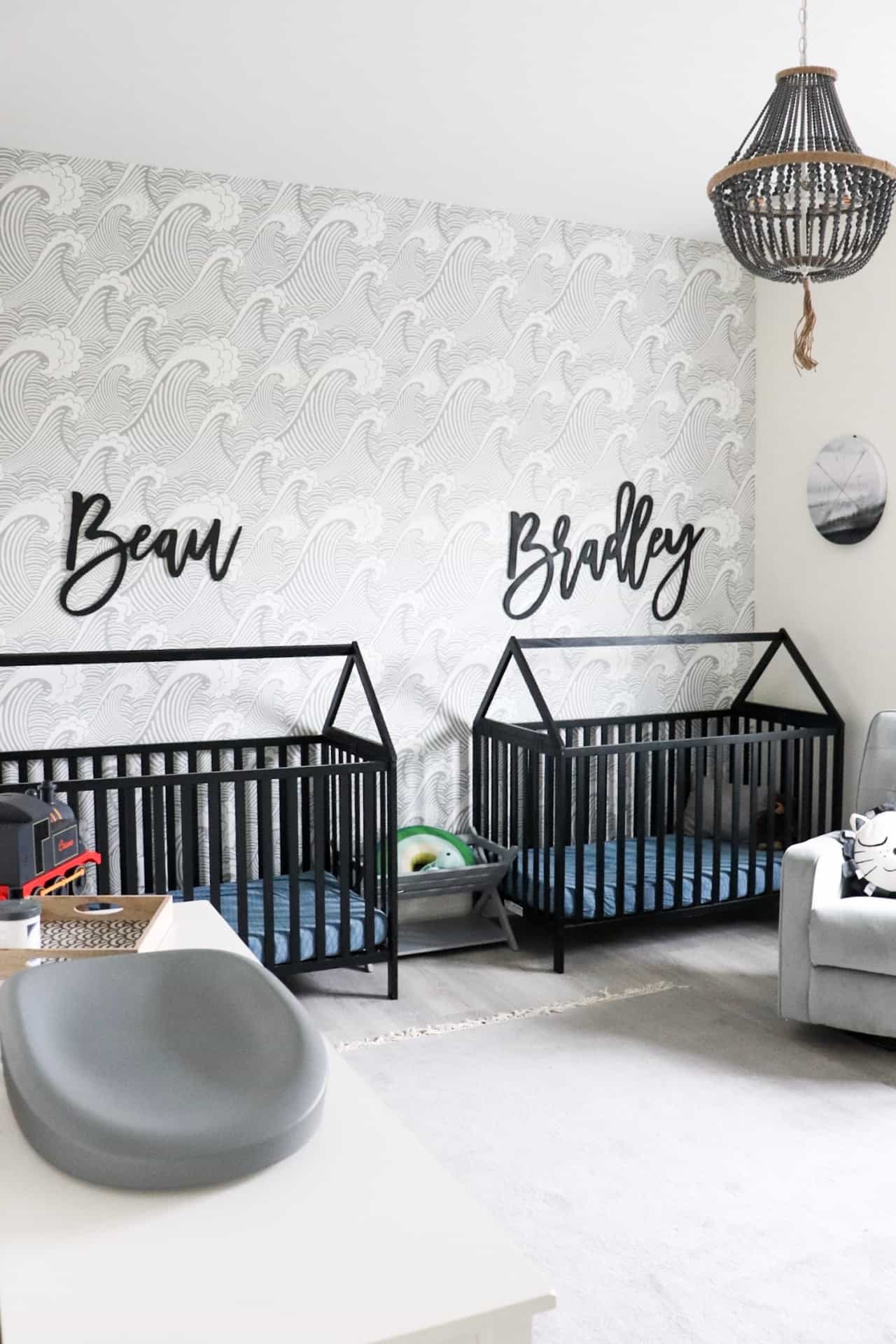 Another fun neutral option that is seriously mind blowingly gorgeous is this fun wave print that my friend Noelle did in her twin boys nursery. The whole room is probably one of my favorite boy nurseries I have seen, so you need to check out the rest of the details.
Boys Wallpaper with a Pop of Greenery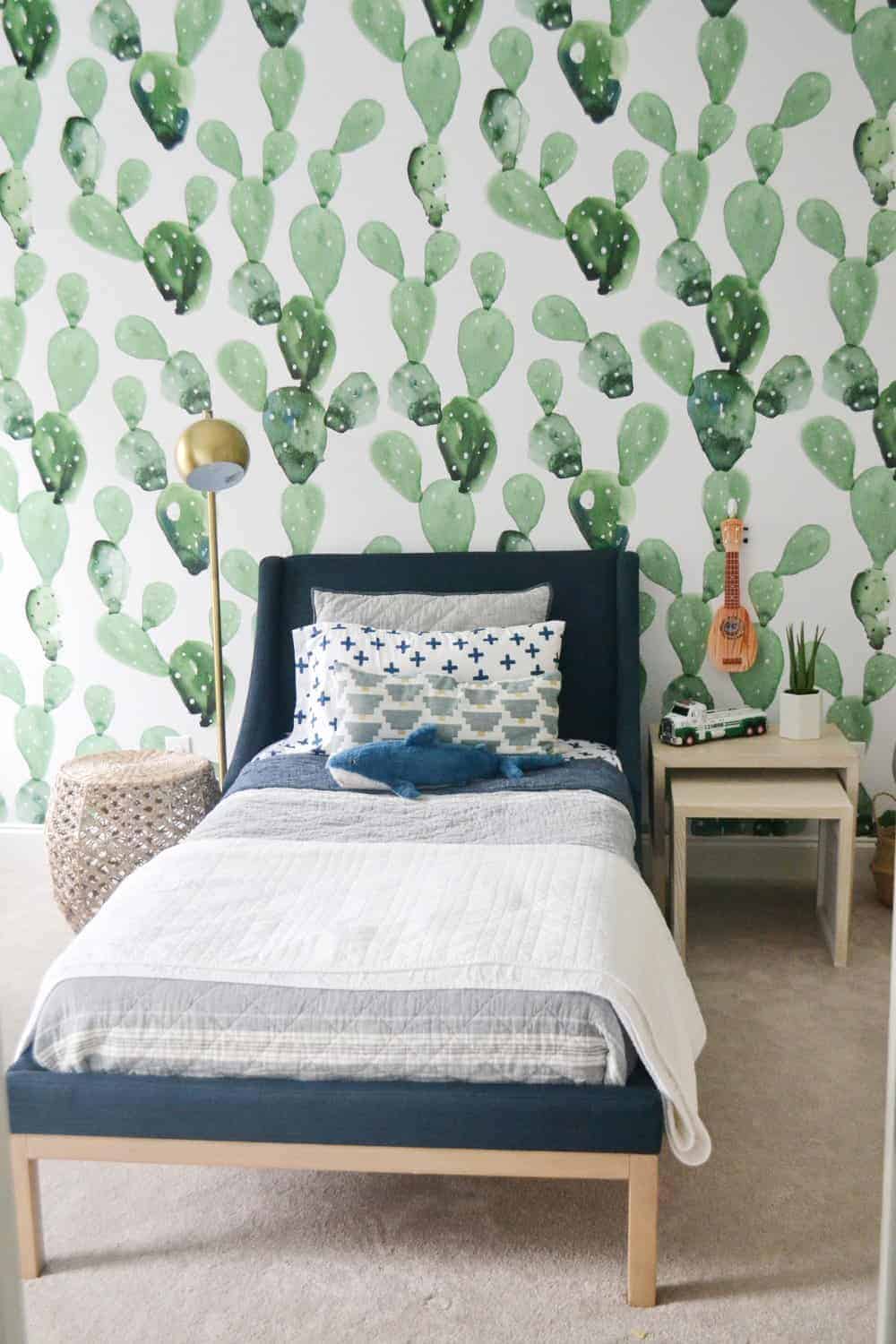 If you have been following me for very long you probably know that a pop of greenery is possibly my favorite thing in a room.
My friend Chrissy made that happen with wallpaper instead of plants and it is seriously stunning!! Check out the rest of that room here!
Whimsical and Fun Boys Wallpaper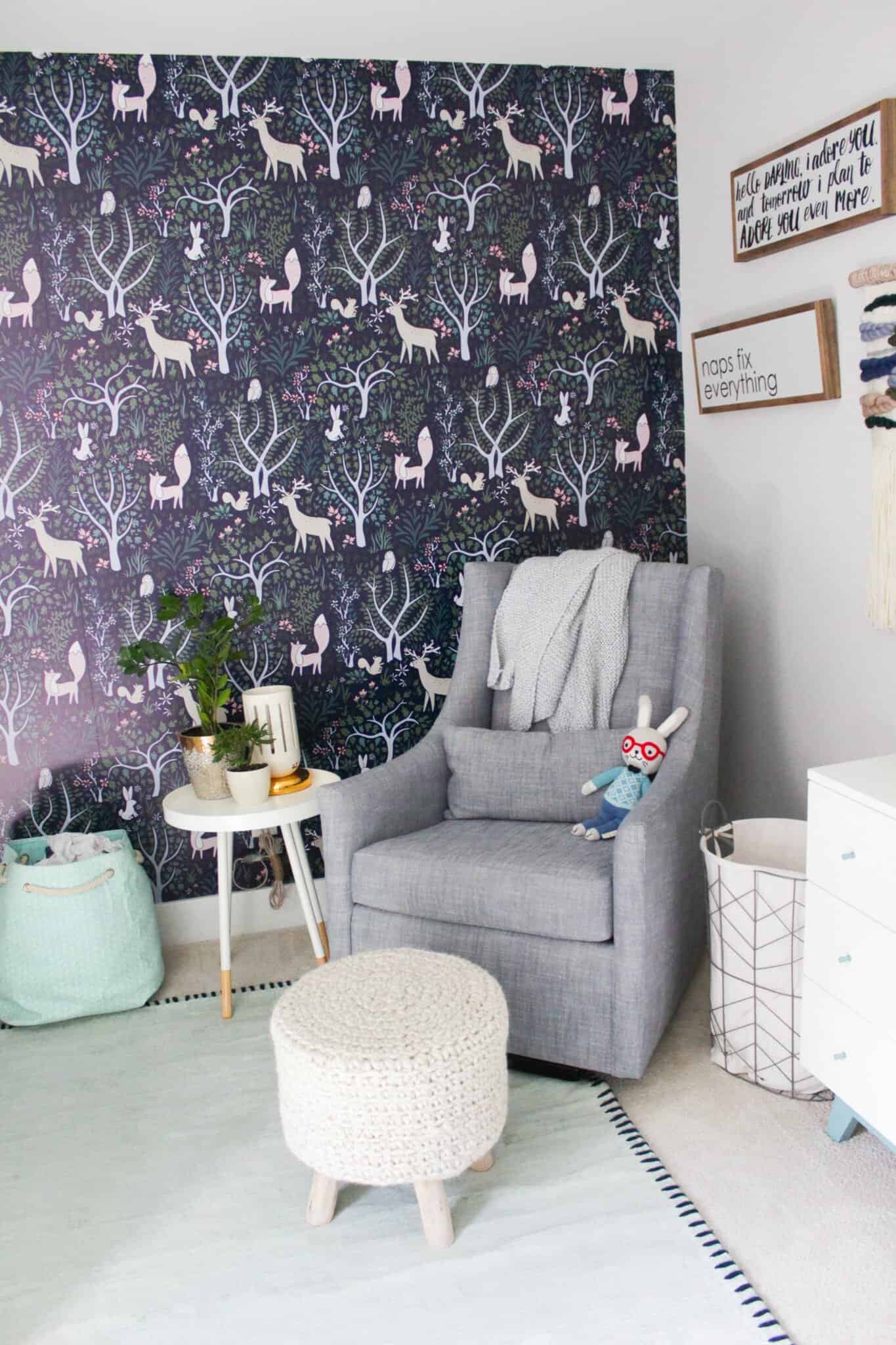 I am all for some whimsy in a kids room, and one thing I love about the room my friend Jen created for her son, Miles, is that to me it was a gender neutral wallpaper option that added so much fun and brightness to the room without actually adding a bright color.
She went with this woodland animal print and it is beyond gorgeous in the space! Just goes to show the wallpaper doesn't have to be super plain!!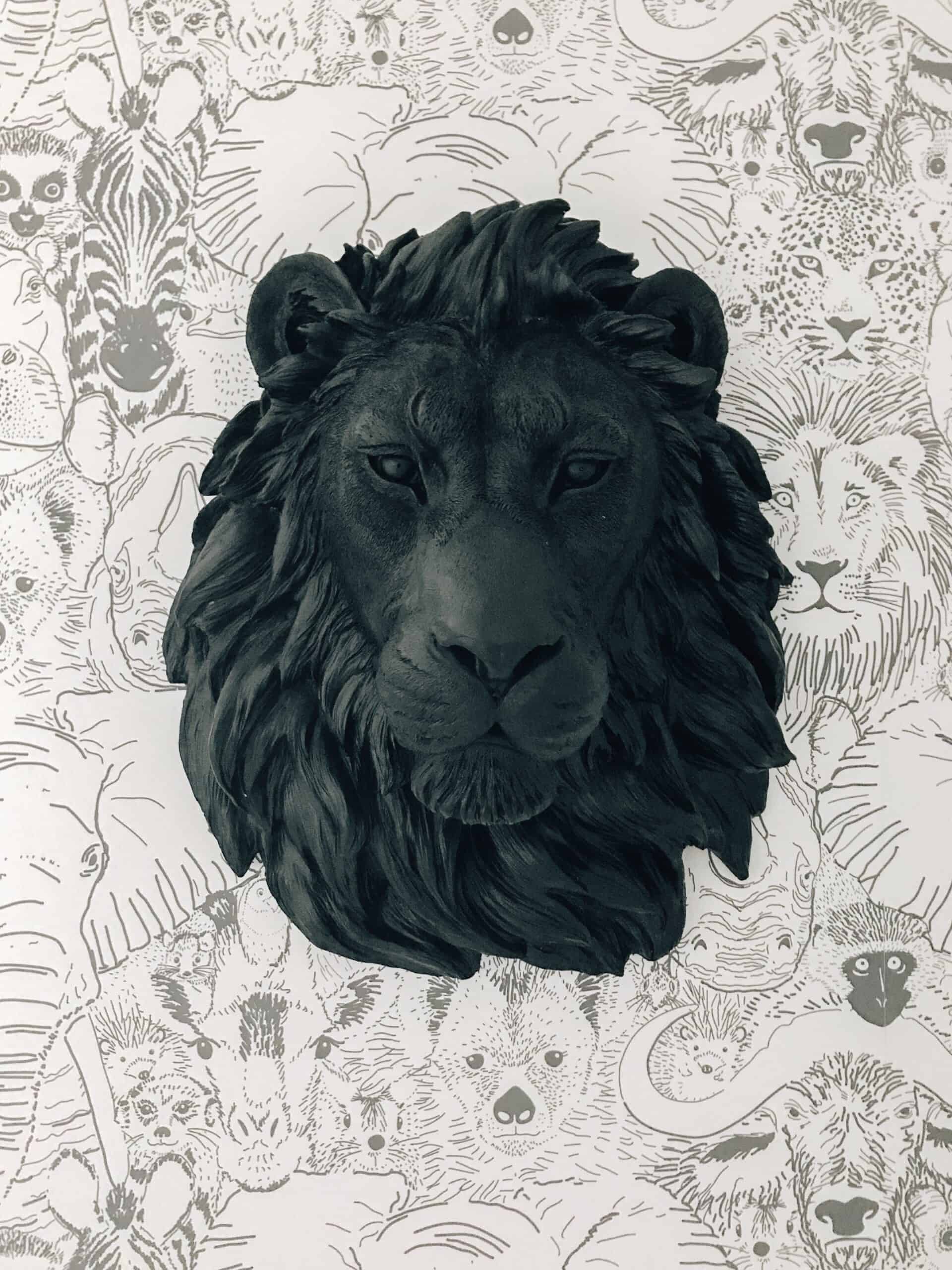 Miranda, from When Life Gives you Lehmanns hit it out of the park with her incorporation of the exact wallpaper I have been eying for years haha. I LOVE how she showed that you don't have to invest in doing the full room – you can make a huge impact by just wallpapering a small space.
Blue Hue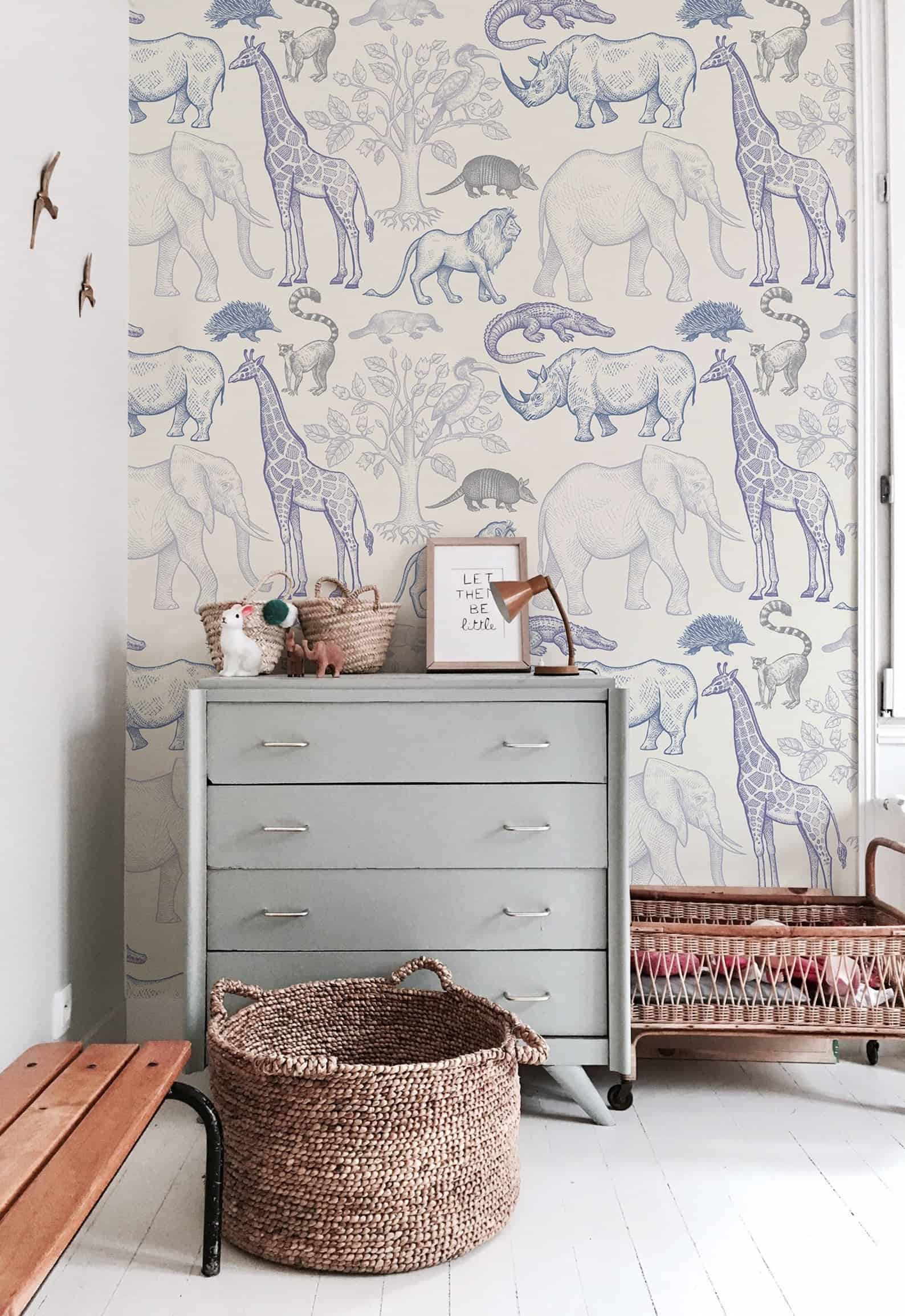 Blues are timeless in a little boys room. Finding fun ways to incorperate blue into the room is easy with these options. Bellow are two perfect examples. The first is this gorgeous animal print – this would be gorgeous in any boys room, and I would LOVE to incorporate it for my older son!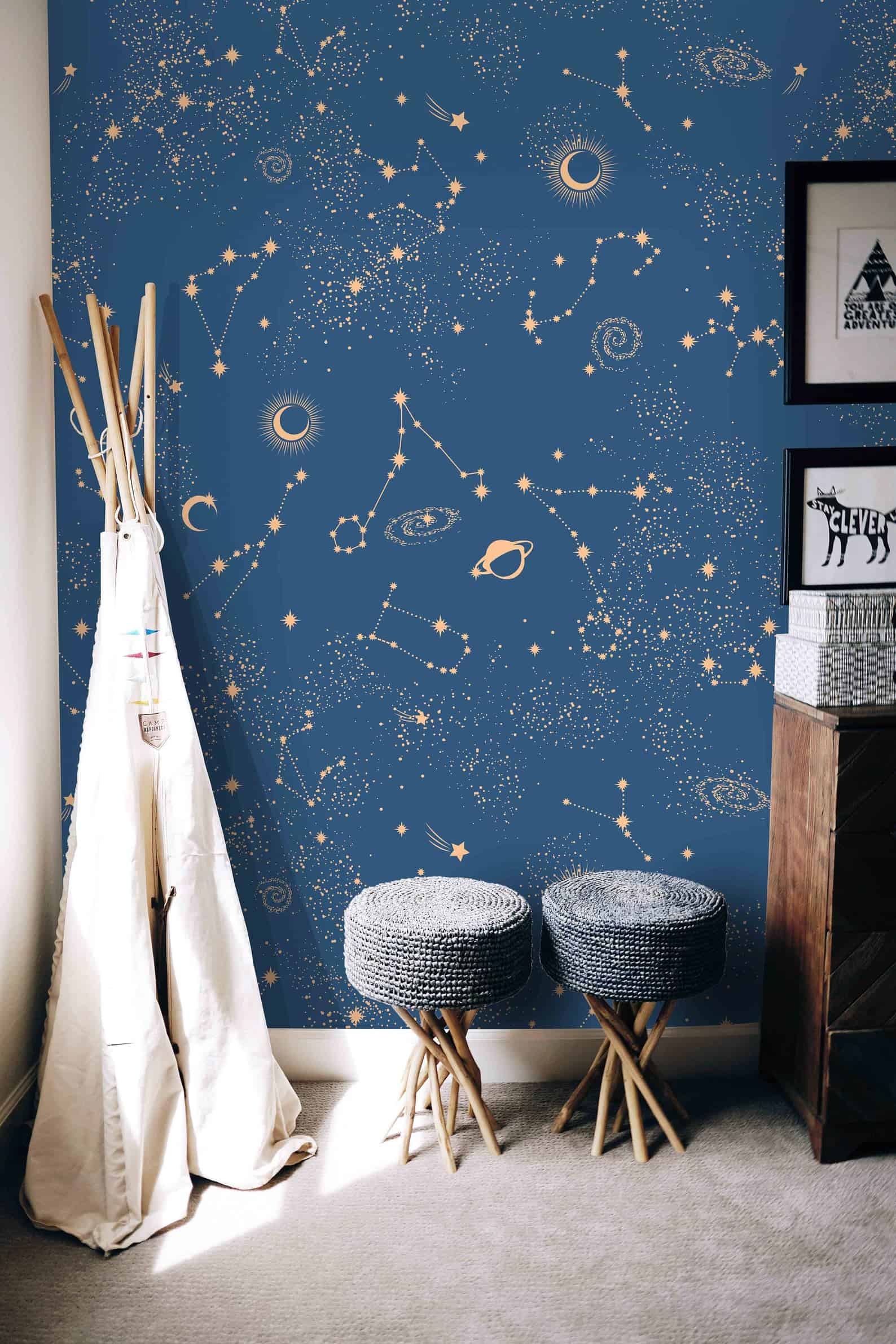 This blue constellation one is also sooo gorgeous and perfect for any age boy. I love that it has a moody look to it!!
Other Posts you May Like
Light Blue Bedroom | Hanging Spoonflower Wallpaper  |  Boys shared room  |  Modern Boys Room  |  Neutral Boy's Nursery  |  Girls Room with Pink and Green Wallpaper  |  Girls Room with Daisy Wallpaper
I don't know what I will decide on for the boys room – but I can tell you that this blog post made me want to give them their own rooms so I can do two haha.
Pin the Photo Below for Later
Hopefully this helped give you boys wallpaper inspiration for your space, and if you have any questions be sure to leave me a comment below! Be sure to follow me on Instagram – I have some fun boys room designs coming up soon!