Who does a spooky basket for their kids for Halloween? I swear that Halloween is every kids FAVORITE holiday – so as much as I try not to go over board on holidays, Halloween has become a favorite for me to play up for my kids because the magic for them is so big. I am sharing Halloween baskets for kids that you with both love.
this post contains affiliate links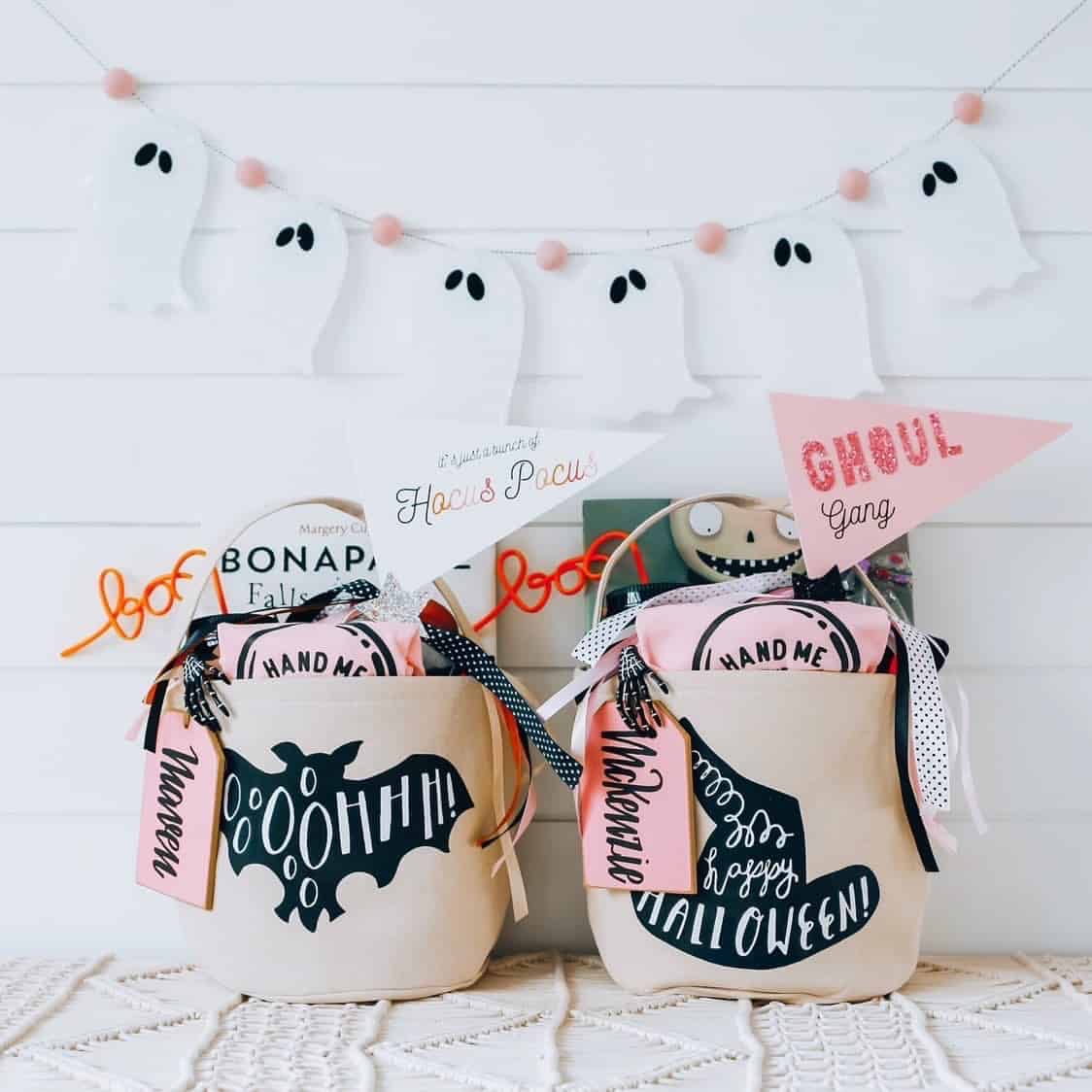 Spooky basket above is by my friend Stephanie from @stephaniehannablog and she is no doubt one of my favorite people and most creative friends!
Spooky Basket Ideas
I am actually NOT the mom that goes big with baskets and gifts for every holiday and occasion. I love teaching my kids that those days aren't about that – but let's face it – Halloween for most families holds no religious meaning, and is just about FUN, so it has become a fun time of year to really just celebrate with my kids.
I think sometimes it is fun to tie in fun things that aren't all candy bars and sugar. This post will share some fun ideas you can put together to make Halloween so much fun. Whether you decide to give your children the basket on Halloween night or October first – it will be magical for all of you.
What Should I Put in my Kids Halloween Baskets?
This blog post will share some fun ideas for a basket of spook, but always remember that you can always grab some halloween goodies at the craft store to make the perfect gift.
Kids are SO EASY to please. In my opinion these are similar to Easter baskets. A fun little way to share in the season with your children, but it doesn't have to be fancy. (plus…we get all the credit because who wants to tell their kids that a ghost left the basket??)
Halloween gift baskets can be simple or the big boo baskets you'll see in this post. Both (or neither) are great! If you decide to go down the Boo Basket trail just put together a fun gift that will get you and your little ones in the halloween spirit.
One thing that is really fun to add to each years basket is a book and pajamas – actually if you wrap that up cute you have a complete spooky basket in those two items. If that is on your radar, be sure to check out the two posts below that will show you the best Halloween Pajamas and Halloween Books each year!
Halloween Books | Halloween Pajamas
What Makes a Spooky Basket?
Okay – a good spooky basket in my opinion isn't necessarily spooky but is more of a fun way basket to get your kids into the season. For me WHEN I do baskets like this for my kids I try to do them early (in this case likely Oct. 1) so they can enjoy the items all season long.
This isn't necessarily always the best way. I know some moms that do a Halloween Candy basket for their older kids that don't trick or treat anymore too.
I also think that if you do holiday specific items that won't be used year long it would be smart to use them then store them in a bin for the next year, and incorporate some fun or useful items they can use up by Halloween, or that can be used year round! Kids are excited to see fun things. whether they are new or not. The spooky details can bring joy year after year!
The spooky basket from the first picture in this post was from my sweet friend Stephanie who HONESTLY kills it on all holidays, but Halloween is my ultimate fav with her.
She does the sweetest job of making things fun, simple, and useful for her kids, and setting it up in a magical way!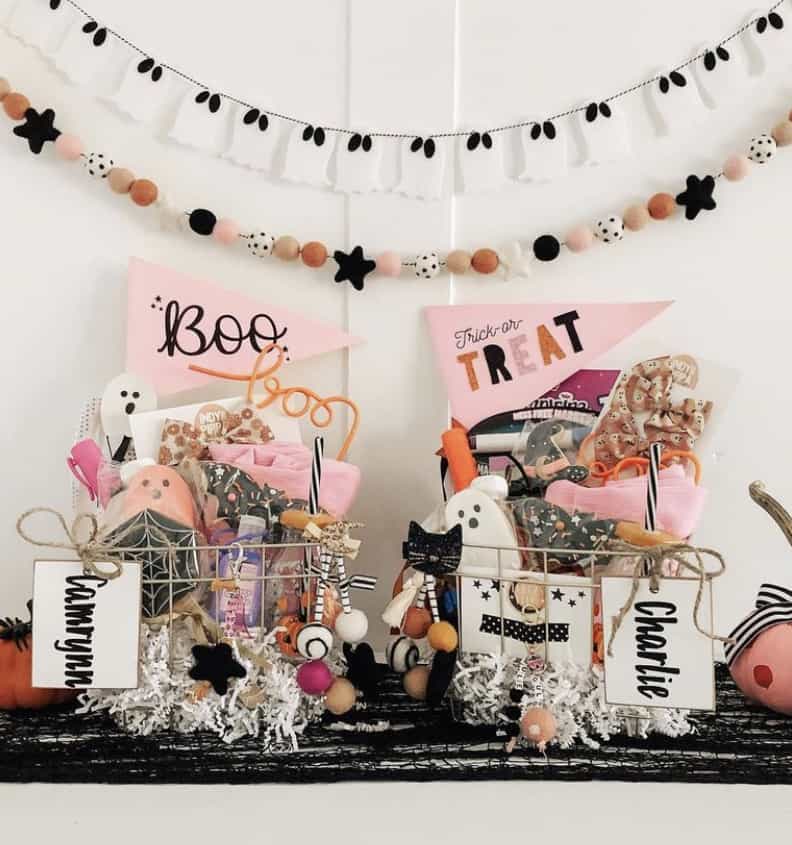 Above, my friend Valerie did the CUTEST baskets for her girls that were both spooky and sweet. I loved the mix of useful and fun, and I guarantee my kids would LOVE this. Follow her at @chasing_nostalgia on Instagram!
Other Halloween Fun!
While you're here and grabbing all these spooky goodies be sure to check out the rest of my Halloween posts below and gain snack, costume, and decor inspiration! You just might find the perfect match for your Halloween baskets.
My picks for Halloween Basket fillers
Now onto the fun – below is a round up of some fun, unique items you could grab to create our own spooky basket for your kiddo! Grab a few of these items and add some of their favorite snacks and you will be ready to go.
As a reminder – these are fun ideas. By no means do I think you need to do any of this or all of this. Just some fun little ideas.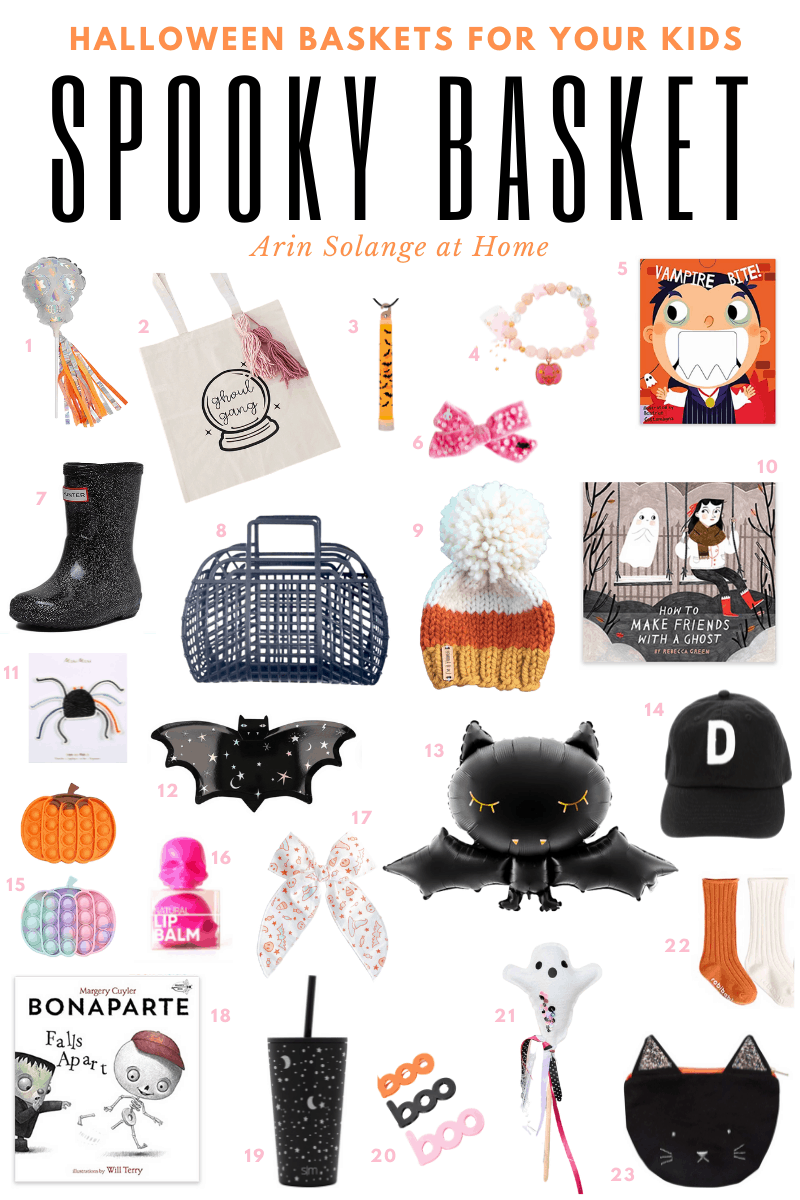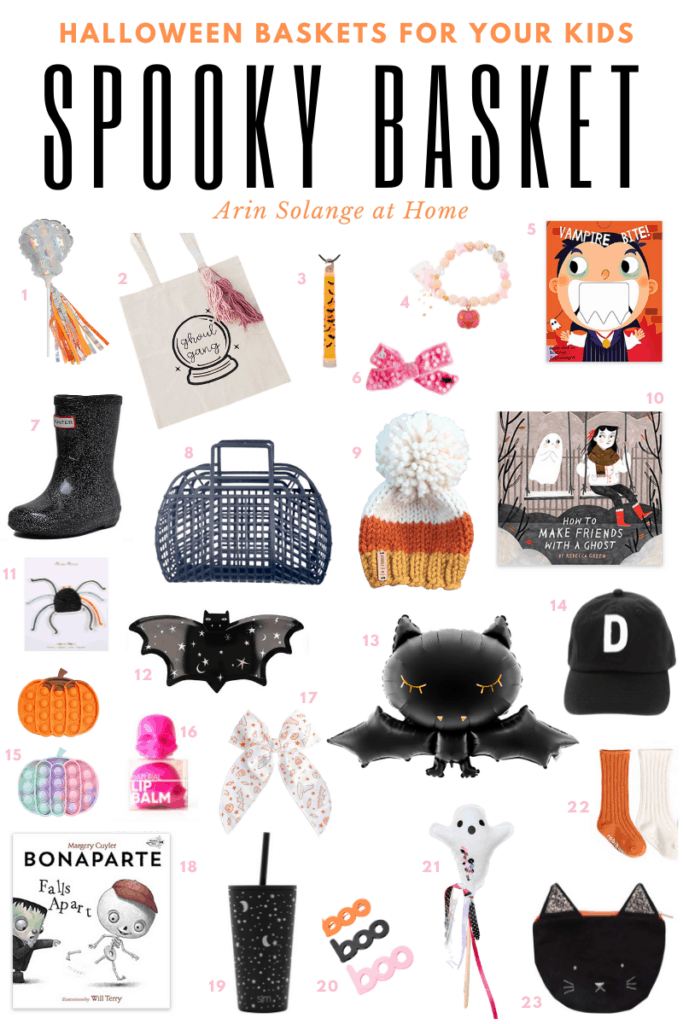 1 | 2 | 3 | 4 | 5 | 6 | 7 | 8 | 9 | 10 | 11 | 12 | 13 | 14 | 15 | 16 | 17 | 18 | 19 | 20 | 21 | 22 | 23
Shop Spooky Basket Fillers Below
Hopefully these items got your brain thinking about some great ideas you could add to your spooky basket, and make for a Happy Halloween. Just a reminder – as a mom there is so much pressure in todays culture to do it all. Find your traditions that fit you and do them.
Never feel bad if you are 'extra' and gifting is your love language with your kids. Never feel bad if the idea of a basket for Halloween make you cringe. Also never second guess if one year it makes sense for your family and the next it doesn't.
As mom's we can set the tone for our families. We get to decide what is best and what will shape our kids to be the best humans they can be. So do whatever you think is best for them this holiday season (HALLOWEEN INCLUDED), and enjoy this time with them.
Other Posts You'll Love
DIY Halloween Wreath |All Gift Guides | Black and White Wallpaper | Halloween Pajamas
Pin the Image Below for Later
If you have any questions on how to make a spooky basket, or these Halloween basket ideas, be sure to shoot me a DM on Instagram (@arinsolange) or leave a comment below! Happy Halloween.