I can't believe we are finishing out the third week of the One Room Challenge! I wanted to share where I am at in the room, and my plans for this next week.
This post may contain affiliate links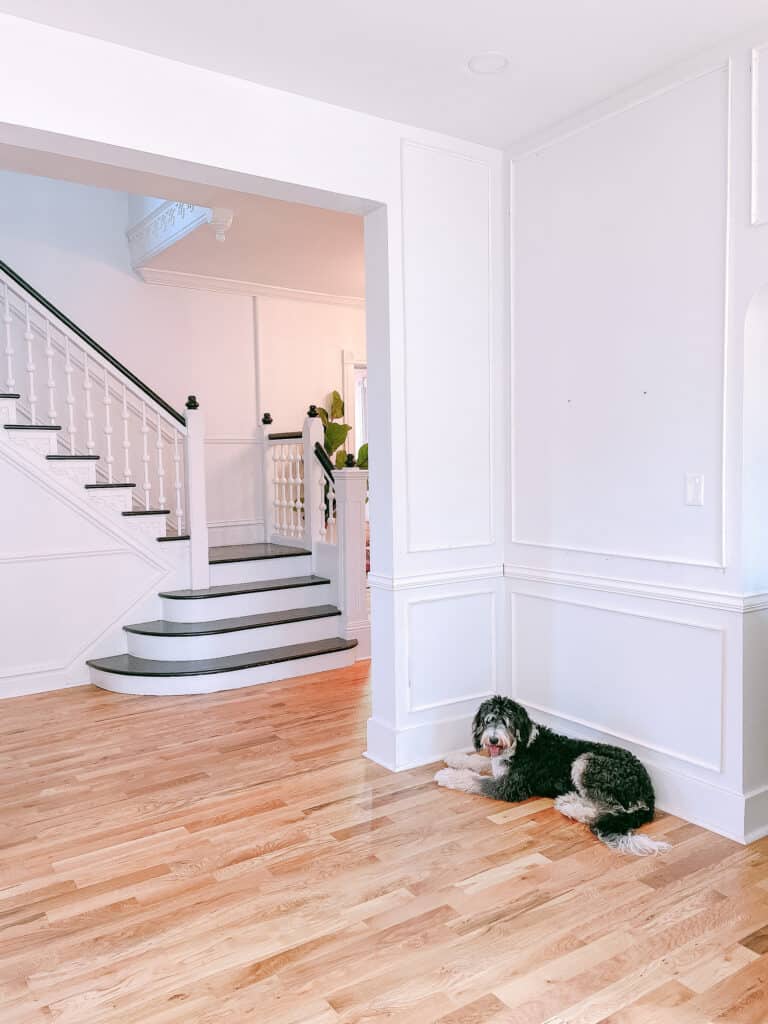 Week 3 One Room Challenge
Week 3 was a TRUE CHALLENGE. One reason it is so fun to do something like this with a time challenge is because it pushes you to move forward with a project even when there are busy seasons in life
October for us is jam packed with 3 birthdays, lots of Halloween prep and so much else, and it tends to make the month CRAZY over here. Because of that we had a little bit of delay on getting this room looking perfect, but these weekly updates kept me going forward!
This week was our big wainscoting week, as well as final decision making week, so I could make orders of everything we needed in the room. So that is what I will be sharing with you this week!
What's the One Room Challenge?
Before I get to the updates for the week – I wanted to share what the challenge was one more time as well as show you have to follow my progress.
This blog post shares much more about what the challenge is, and you can find the other participants here.
I obviously set out to update our dining room for this 8 week challenge, and you can track the progress on Instagram in my 'ORC' highlight, as well as on my blog here.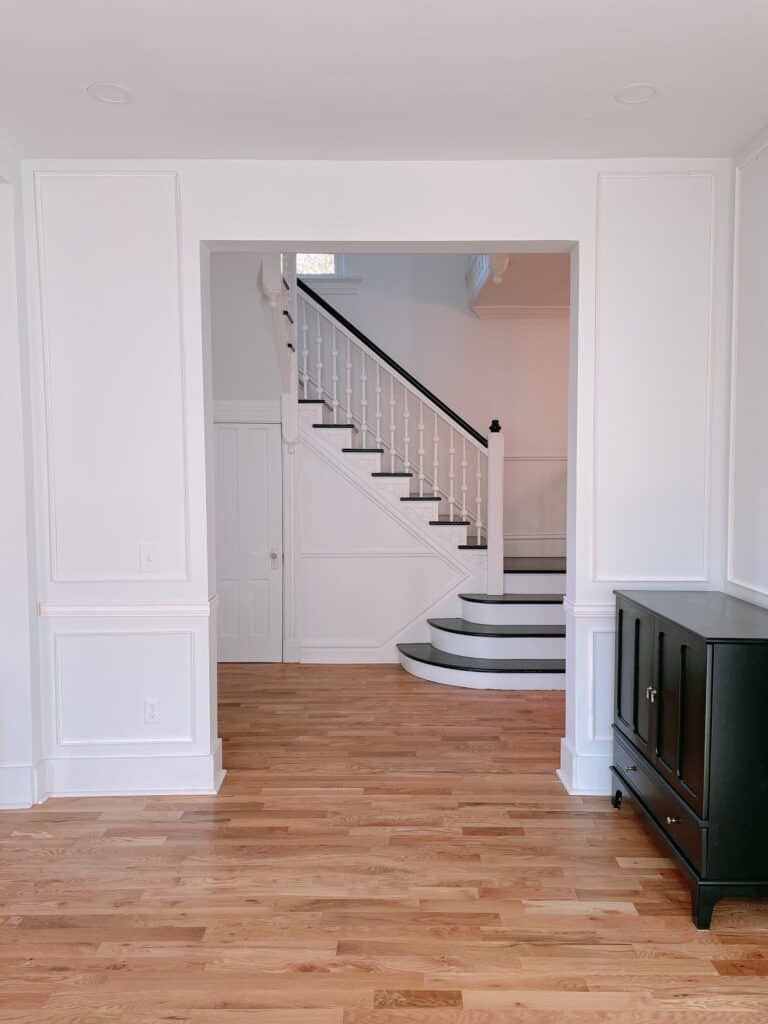 Wainscoting the Walls
This is not your tutorial…maybe this week that will happen. Maybe it won't ha. But none the less IT DID HAPPEN. And it is SO GOOD. I have been back and forth on 'how much' to do in this dining room. It is open to the rest of the house, but still definitely framed out to be it's own room as well.
When a room is open, you have to be more careful not to over do it in terms of being bold..because no one wants to look at 400 things as once. I also think it was a room that was dying for a bit of romance and elegance, but know that too formal isn't our style….so we will tone that down with the details.
We went with a fairly traditional chair rail with wainscoting in this space because we already have some chair rail through the main floor that is original so I wanted to play off of that.
The trim is UP. But now it needs to be caulked and painted…so this next week this room should look a whole lot cleaner.
Final Room Choices
Now that the wainscoting is up, 90% of the purchases and decisions have been made for the room so the next few weeks will be more assembly than major DIY's.
Below you can see the final choices I made, and shop them if you are interested. One thing I went back and forth on in the bringing stages was whether or not to add a bench in the bay window. I decided NOT to. That isn't to say I will never do that down the road in this space, but for now I loved the idea of the long drapes.
The other decision I went back and forth on was the ceiling. I actually ordered tin ceiling tiles thinking that was going to be my plan, but as of today I decided not to.
I know I am going to get some flack on that. Because honestly…lots of you have been around since this dining room, and loved the bold! I TOO LOVE BOLD this old home…it has so much fighting for attention that is so deserving.
If we didn't have big bold stairs I would likely not worry about the ceiling too much, but I think allowing the wainscoting be the only bold architectural element is the right choice.
Final Mood Board
Below is the final mood board for the dining room. I am 100% on everything aside from the chairs – those are a maybe.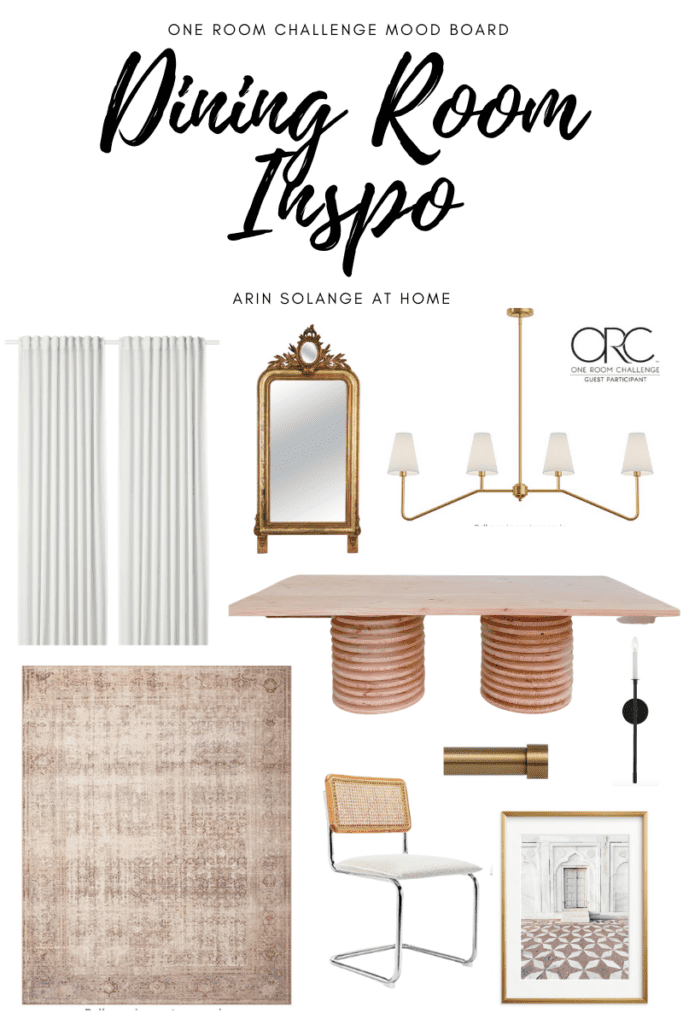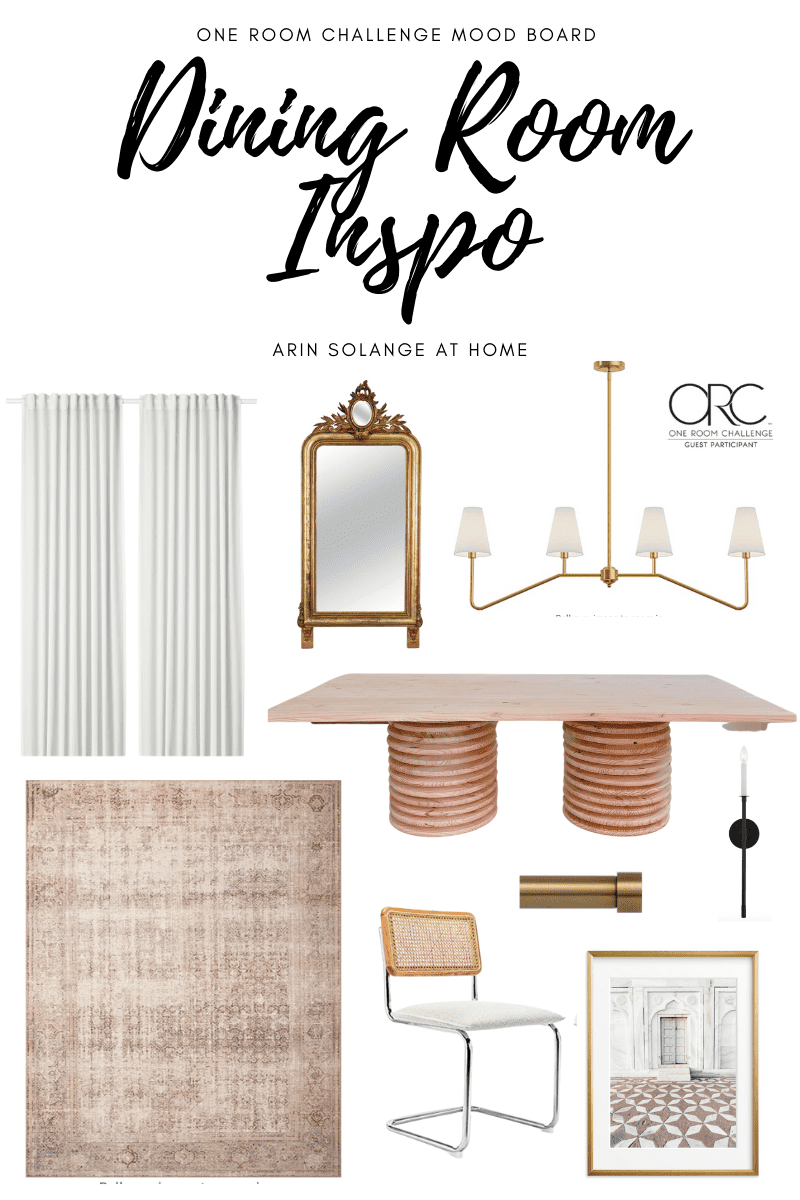 Shop the Items Above
Curtains – I am torn between some from IKEA and Amazon – I will let you know where I end up
Gold Curtain rods – these are the same as the ones from Avé's room
Vintage mirror
DIY dining table and bench – see my tutorial here
Chairs – this is my up in the air item. If I do them I will rub n buff the legs gold.
Black sconces – I love how small these are
Other Posts You'll Love
DIY Dining Table with Less Modern Look | Kitchen Backsplash Ideas | Brass Pendants
Pin the Photo Below for Later
Hopefully you love the progress this room is making! Be sure to pin the photo below for later, and I hope you continue to follow me on Instagram (@arinsolange) for the rest of the progress.