Last years Toddler girl fashion post was such a hit with you guys that I have been so excited to do another. I LOVE dressing Avé in clothes that I won't see all of her peers in, so really pride myself on finding affordable toddler girl fall fashion from unique places. I think if you mix and match and add the right accessories, you can create such fun outfits on a great budget.
This post contains affiliate links
Styling The Pieces
I will totally admit that Avé has more "stuff" than my boys, but I am also not the blogger with hundreds of bows and such. I try to buy some fun accessories and layering pieces that can switch up her closet easily without breaking the bank. I have added bows and clips to this post that are really affordable (and all bows are from my favorite bow shop – so I can attest to their quality!).
I think if you do some fun patterns on dresses and shirts, plain cardigans, and fun tights you can make a million outfits with way less clothes. I try not to spend a ton on tights or leggings because they are something that will likely not be passed down due to getting ruined.
As the season goes on I will add to this post with some fun pictures of how I style and dress Avé, but its a little early right now to make the poor girl put on sweaters and layered clothes in this heat. Happy shopping, and I hope you find some great unique pieces for your sweet girl!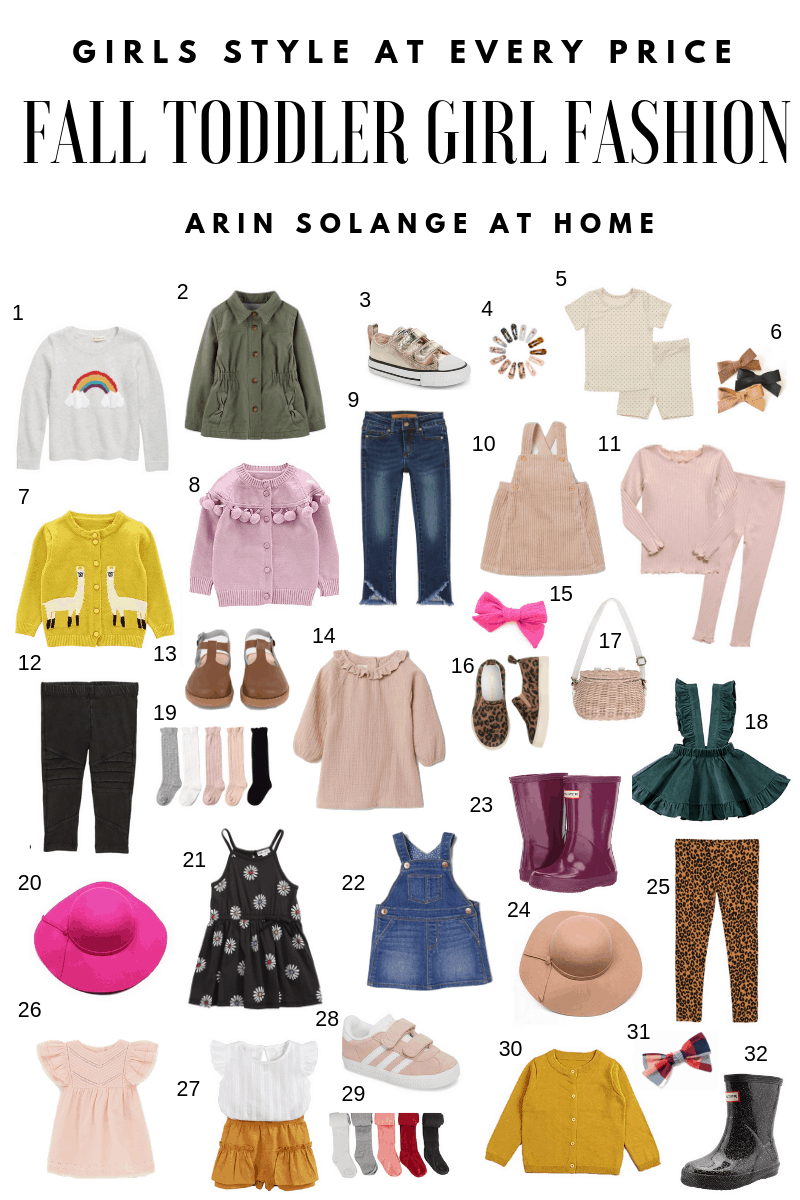 Affordable Toddler Girl Fall Fashion
1 | 2 | 3 | 4 | 5 | 6 | 7 | 8 | 9 | 10 | 11 | 12 | 13 | 14 | 15 | 16 | 17 | 18 | 19 | 20 | 21 | 22 | 23 | 24 | 25 | 26 | 27 | 28 | 29 | 30 | 31 | 32
Rainbows are the big thing right now for little girls – this sweater is so dang cute and such a fun way to make her happy and you happy all at once!
A great utility jacket for layering.
These converse are one of my go to pairs of shoes every year for Avé – they are easy for her to put on, and the leather makes them easy to keep clean!
Hair clips are super on trend right now – these are affordable and the bonus is mom can use them too!
Obsessed with these pajamas – they are super affordable and come in SO many colors.
Leather Bows – Avé can be seen wearing these on my Instagram all the time. I like that she can't get them as dirty at school and they are such a fun fall accessory.
This sweater comes in several colors and is so fun and cute!
The same sweater as #7 but in a different color and variety.
Jeans – If you're going to do jeans, how fun is the hem on this pair? Plus when you do a fun hem like this they last longer because can be worn shorter!
Pair this jumper over several colors or prints for different outfits!
Ribbed Pajamas – these are so cute too and come in several colors for such a steal.
Motto leggings – I got these for both of my girls this year and I love them
These Mary Janes are a bit more of an investment than some but Avé has had them in red for 2 years and they still fit and are in great condition. A really good option for school or church!
Hot pink bow – I love the idea of doing neon pink with some of the neutrals or animal prints in the fall.
I just got these for Avé in pink (only because this color was sold out in her size) and I LOVE them!
Straw bag – this bag is adorable and a fun way to accessorize.
I have seen so many little girls in this dress – comes in several colors and is such a deal!
These felt wide brim hats are super in right now, and the hot pink is SO FUN.
Daisy dress – this will transition well through the warmer fall to cooler temps with a sweater or jacket!
Denim jumper – aka the most versatile outfit for a toddler girl.
Hunter Boots – okay these are clearly an investment, BUT they truly do not wear down and can be passed down or resold. I always make sure Avé has at least one pair to wear in the gross fall weather. (as a suggestion – plain black/green/navy are great if you have both genders because they go with everything and can be worn by all siblings!)
Felt wide brim hat in a more neutral color
These cheetah leggings are such a great quality for the price
Unique set thats perfect for the warmer fall days!
These tennis shoes are some of our favorites for Avé
Ribbed tights – these are my favorite for cooler temps.
Mustard cardigan – this one comes in SO MANY COLORS
Plaid bow – If you have a daughter that wears uniforms I love that this shop offers lots of prints that match uniforms.
Other Toddler Girl Fall Fashion Posts
Last years Fall Toddler Fashion (some is still very much in style!) | Navy's Toddler Girl Fashion Post
If you have any questions let me know in the comments below, and happy fall shopping!