Are you trying to decide between the Cricut Maker vs. Silhouette Cameo 4? The past few weeks I've highlighted some of my favorite Cricut machines, and have been walking you through the ins and outs of each machine, so you can find the best one for you. Hopefully this last post of the series helps you make that decision.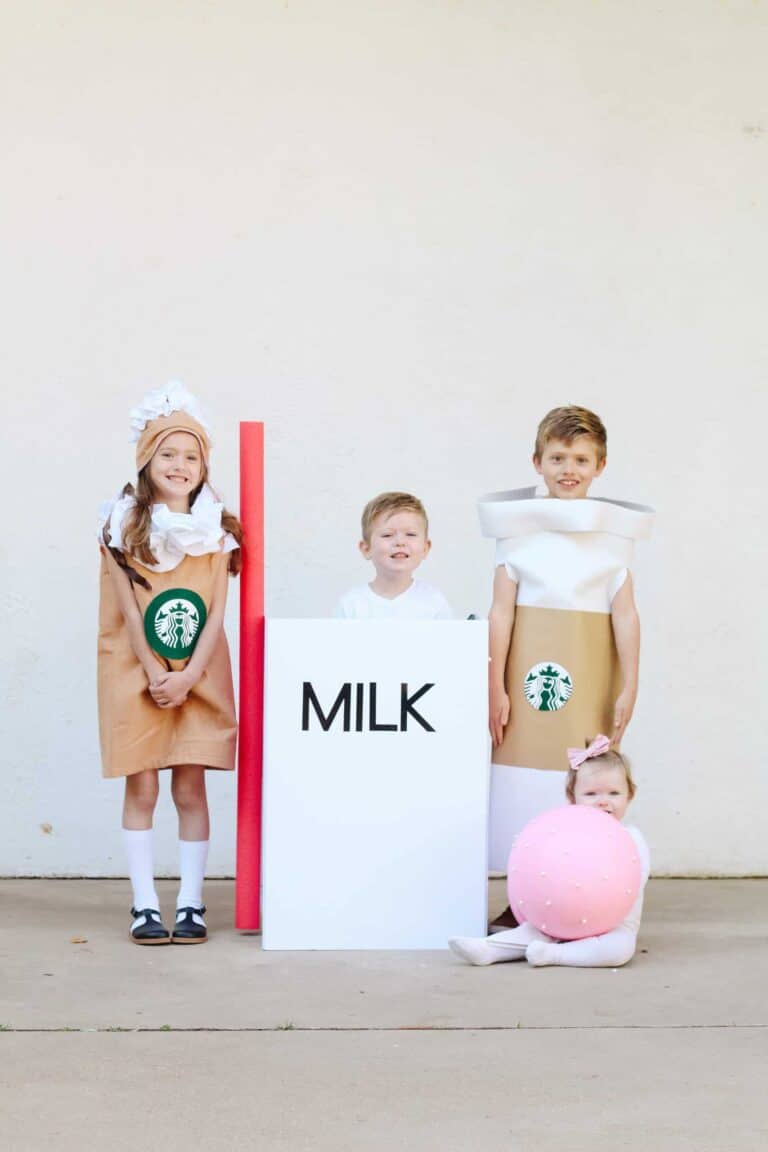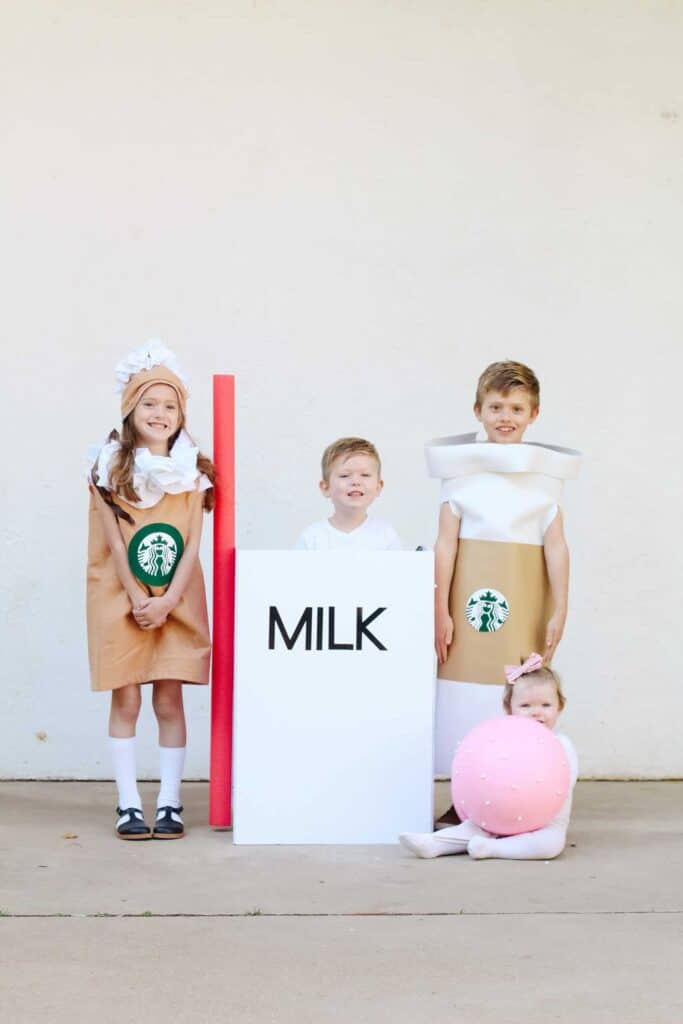 This post may contain affiliate links.
Cricut Maker vs. Cameo 4
If you're in the market for an electronic cutting machine, make sure you check out my review on the Cricut Joy and an overview of the Cricut Explore series. Now that I've started this Cricut journey, I feel that it is only fair that I discuss the Cricut Maker as well.
In this post, I'll not only give my own Cricut Maker review, but I'll also compare it to the Silhouette machine's similar model, the Cameo 4.
If you've been in the market for the best cutting machine, then chances are you've heard of both the Cricut and Silhouette brands of electronic cutting machines. With so many makes and models between these two brands, how do you know which is right for you?
Furthermore, how do you know which brand to choose for your new machine? Ultimately, it comes down to your own personal preference and how you intend to use your newest machine.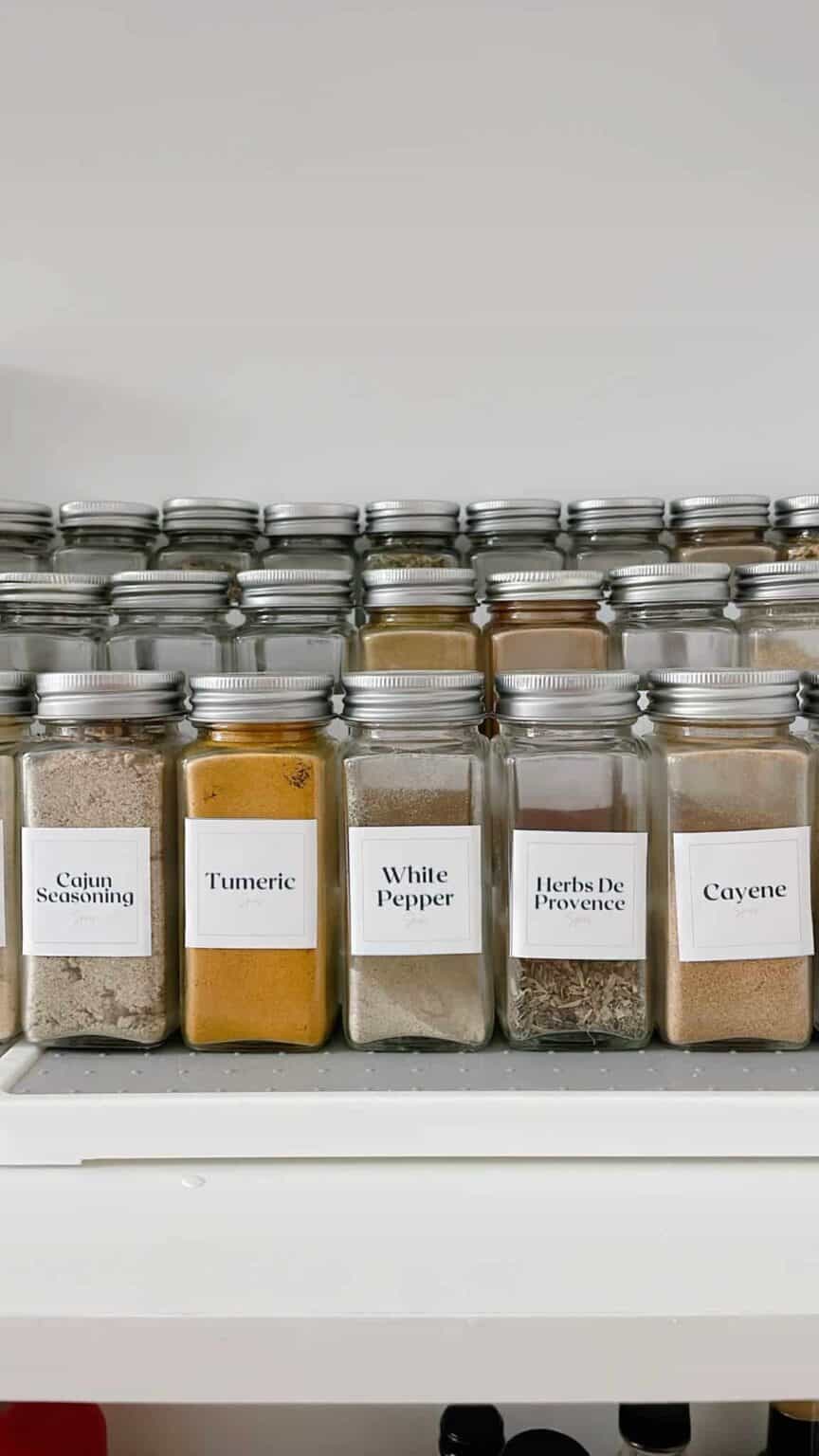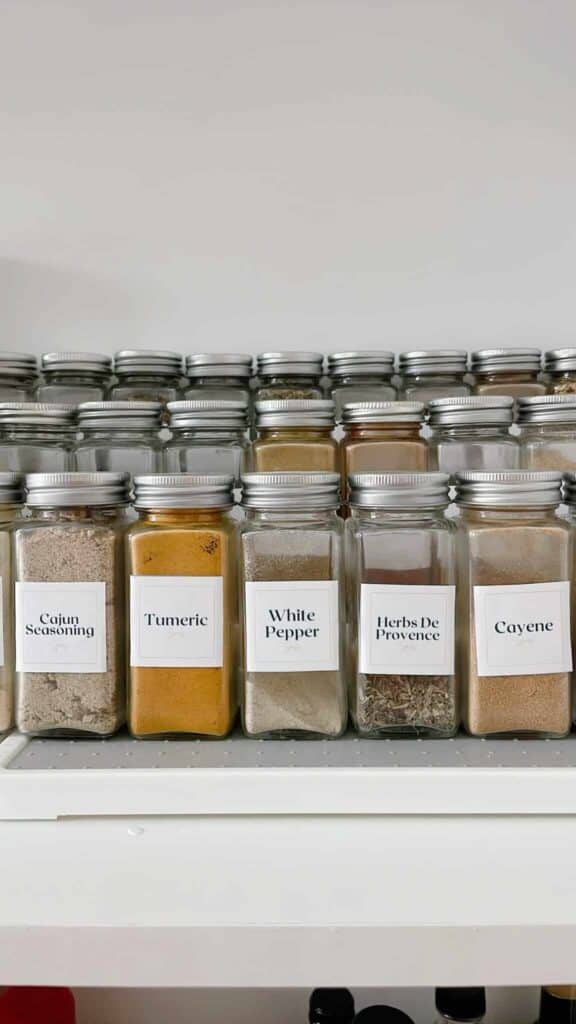 A Full Cricut Overview
As I've mentioned in my previous posts, the Cricut line of products is similar to that of a printer. Rather than printing ink to paper, your Cricut is cutting, drawing, scoring, or creating foil effects with its range of tools to different materials.
Cricut has come a long way from its very first machine. Currently, Cricut sells three main series of products: The Cricut Joy, Explore, and Maker.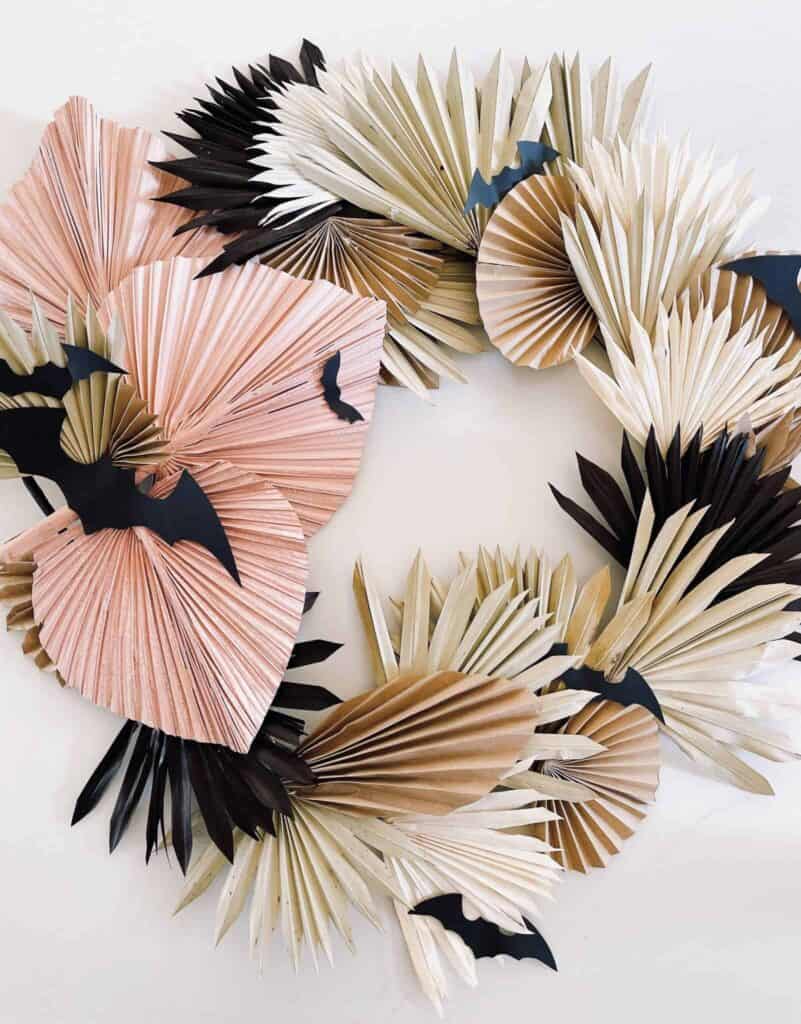 The Cricut Joy was created as a compact, easily transportable device that is perfect for the beginner level DIYer. With only one tool holder, the Joy is limited in its capabilities, but does not fall short for those who want to do simple cardstock, vinyl, and cardboard.
With its limited capabilities, it won't overwhelm you and is meant to be extremely user-friendly. This is a great choice for people who are interested in Cricut but may not need all the other bells and whistles that the Explore and Maker series offer. As an added bonus, the Joy is so lightweight that you can easily store it away and pull it out when needed.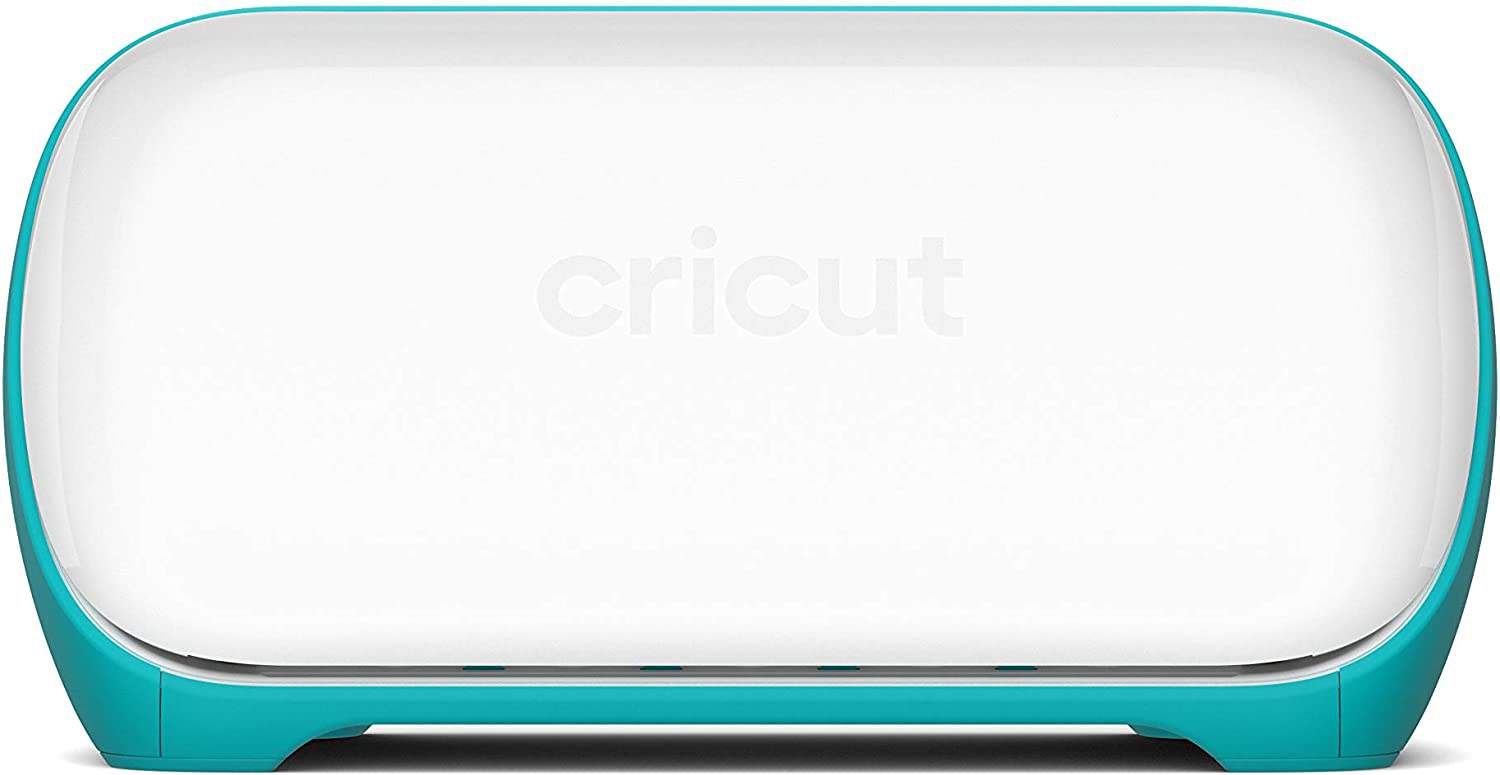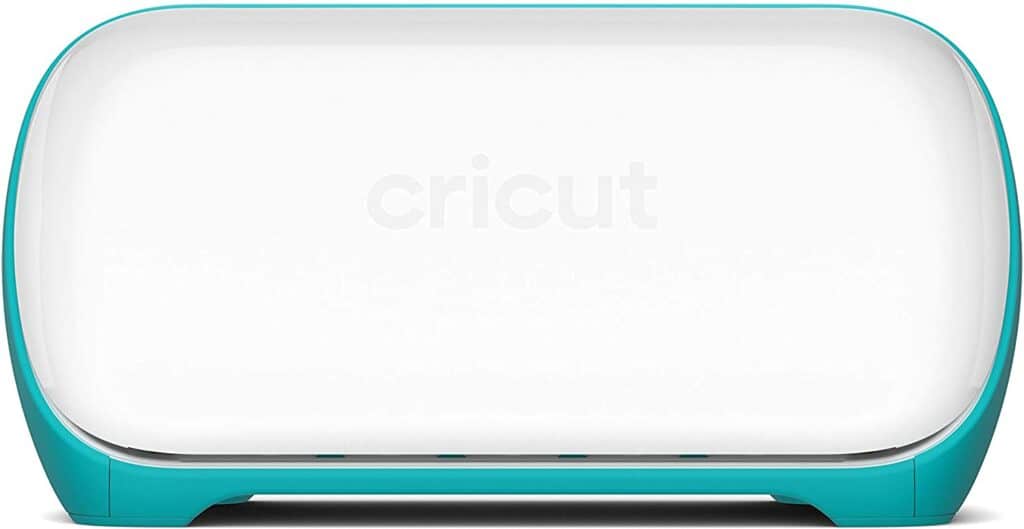 The Cricut Joy is a great user-friendly first Cricut machine.
At $179, it packs a powerful punch, but it is limited on the size of what you can create. Keep in mind that because of its smaller size, you'll only be able to cut up to 5.5 inches wide. However, it can handle cuts up to 4 feet long or repeated cuts up to 20 feet long!
The Cricut Explore series includes the Cricut Explore 3 and Explore Air 2 models. The Explore series was created to allow the user the ability to create even more projects. The Cricut Joy has access to over 100 materials and 3 tools -writing, cutting, and foil effects. The Explore series, on the other hand, has access to 100 materials and utilizes 6 tools ranging from writing, cutting, scoring, and foil effects.
There is not a significant difference between the Explore Air and Explore 3 models. The biggest difference is that the Explore 3 series has a faster cutting speed and can utilize smart materials. Rather than using a mat to feed your materials into your Cricut machine, smart materials can be fed directly into the machine.



The Cricut Explore 3 & Cricut Explore Air 2 are great options.
At $249 (Explore Air 2) and $319 (Explore 3), you'll be spending more for the additional features. Keep in mind that the Explore Air 2 can handle maximum cutting at 12 inches wide and 1.9 ft long, whereas the Explore 3 can cut from 12 inches wide up to 12 feet long. Due to the matless cutting ability with the smart materials, the Explore 3, Maker 3, and Cricut Joy can handle cutting longer lengths.
The Cricut Maker vs Cameo 4 – All about the Maker
If you are looking at opening your own small business, or you want the capability to deliver professional results, then the Cricut Maker series is the clear winner. The Cricut Maker and Cricut Maker 3 are the two models that a Cricut user can choose between. The Cricut Maker series can handle larger projects with over 300 materials using 13 different tools.

The Cricut Maker is a professional crafter's dream.
If you are wanting to have the versatility to make projects using leather, balsa wood, vinyl, cardstock, and fabric or have the ability to cut with a knife blade, fine point blade, or rotary blade, then the Maker series is the best choice.
With the Maker models, you can choose from the following tools: fine point blade, deep point blade, knife blade, rotary blade, wavy blade, perforation blade, pens for drawing, scoring stylus, scoring wheel (double and single), foil transfer tool, bonded fabric tool, debossing tool, and engraver tool. All of these tools are available to purchase separately for your Maker.
If all this tool talk is overwhelming, I've put together my recommended list of essential Cricut tools.
Shop Recommended Cricut Tools Below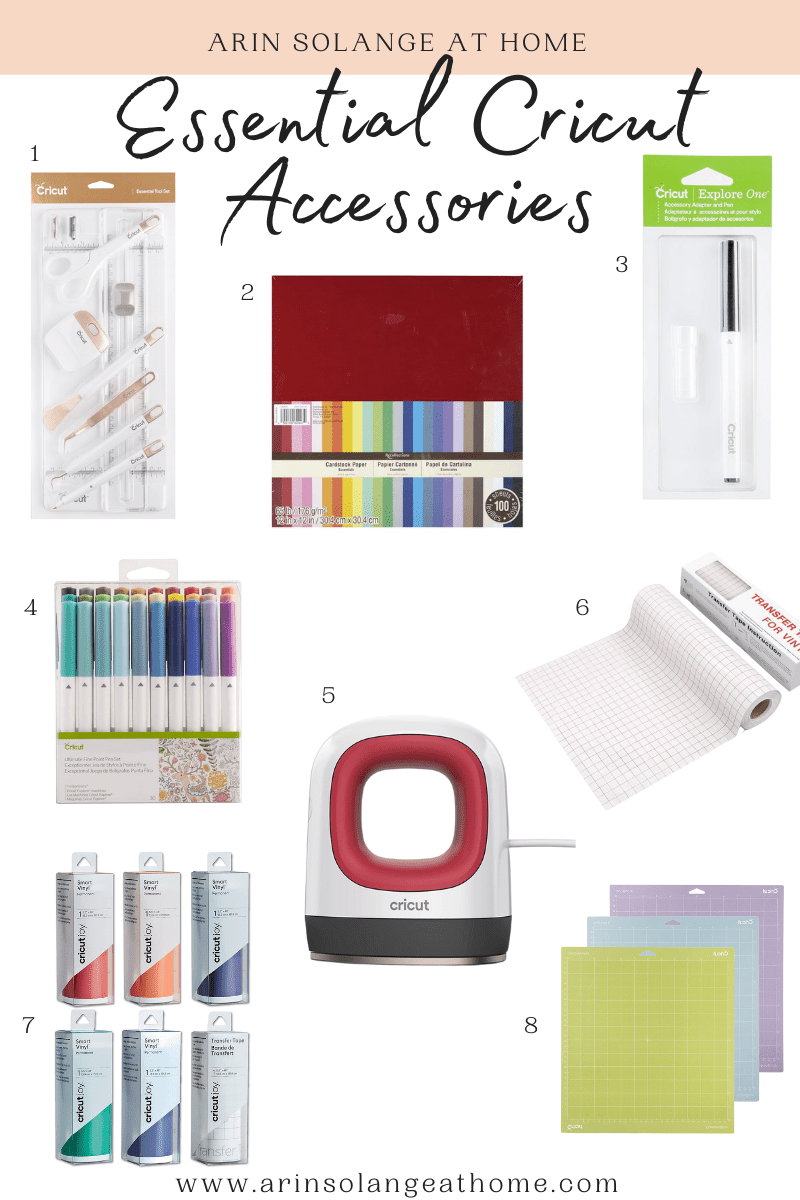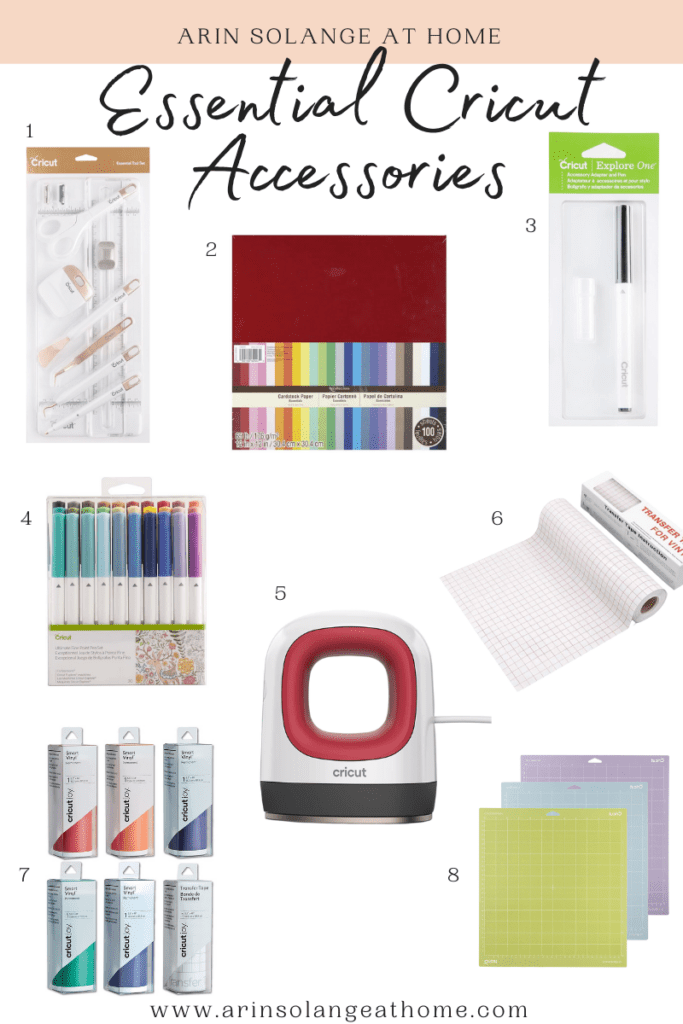 Unique to the Maker series is an adaptive tool system that sets it apart from the Cricut Joy and Explore series. The adaptive tool system in the Maker series utilizes smart technology to place the blade in the best position for optimal cutting which results in the ability to perform more intricate designs.
It will also alert you if you do not have the correct tool in your machine for the project. If you are needing to use the knife blade, but have your fine point blade in the machine, the machine will alert you of the discrepancy.


The Cricut Maker 3 is the ultimate cutting machine.
The main difference between the Maker and Maker 3 is that the Maker 3's cutting force and speed is 2x faster than that of the Maker. Additionally, like the Explore 3, the Maker 3 can also use smart materials. With the use of these smart materials, no mat is required. As a result, the Maker 3 can cut up to 12 inches wide and 12 feet long, while the Maker can only cut up to 12 inches wide and 1.9 feet long. At $399 (Maker) and $429 (Maker 3), you are paying for the premium bells and whistles.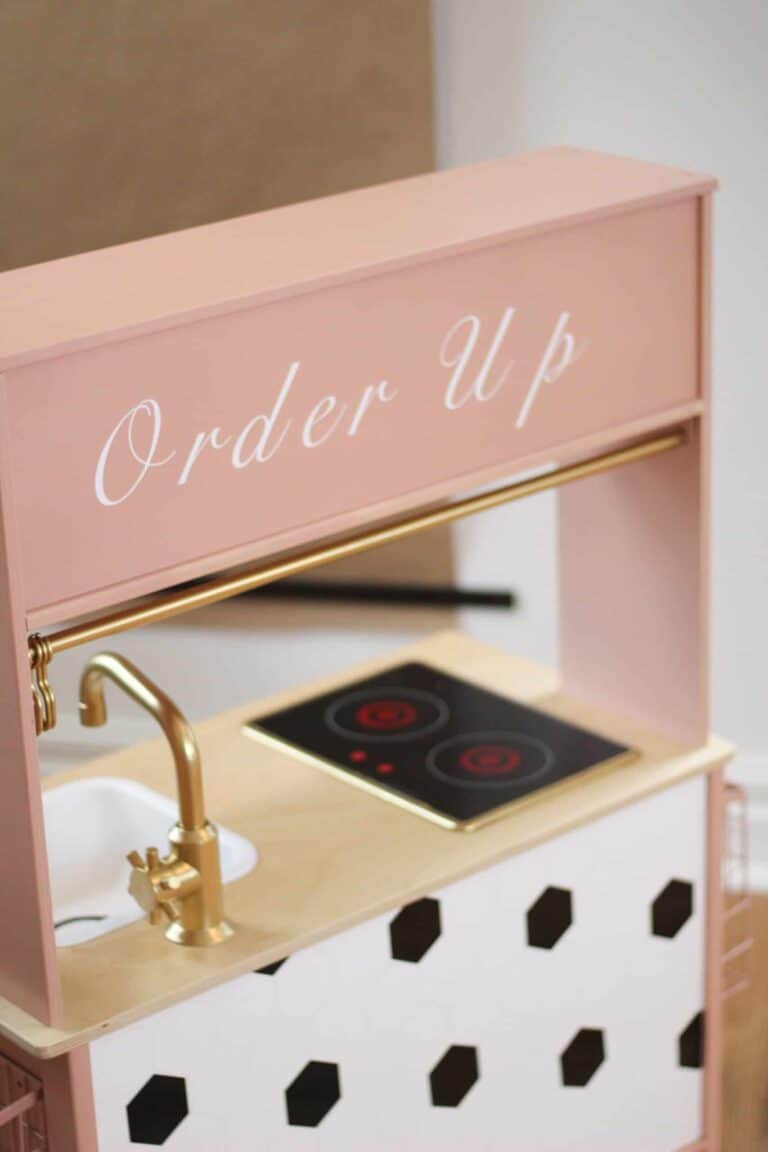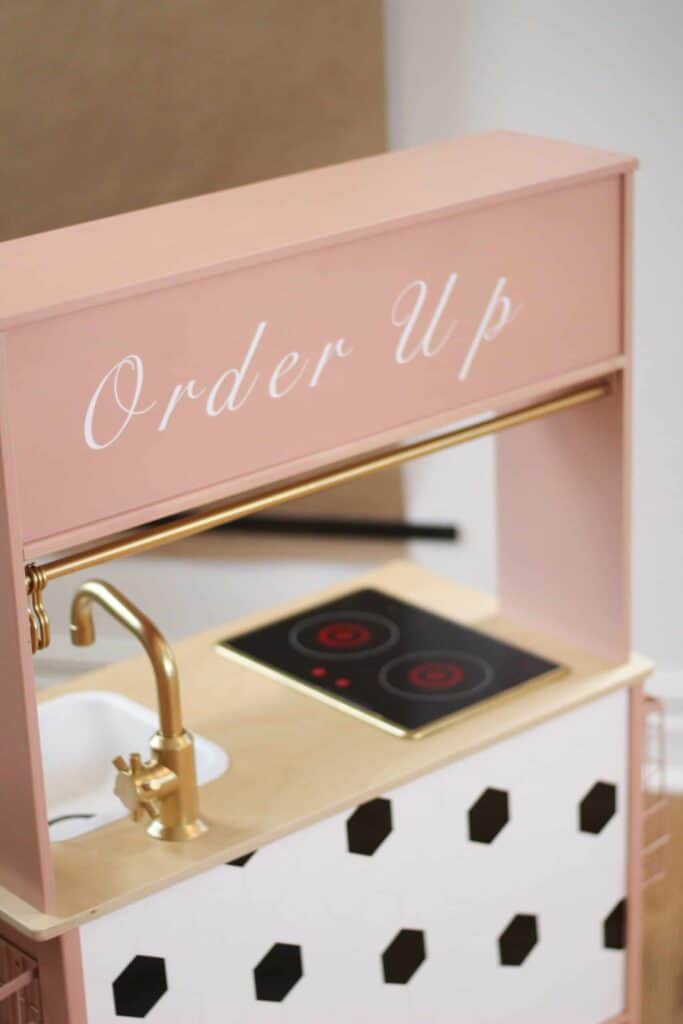 While the Maker series offers over 13 tools, I do want to say that you have to be mindful of your expectations for how you intend to use your machine. If you are purchasing the Maker with the intention of using the knife blade to cut out balsa wood for wooden signs, then you may be disappointed. Owners of the Maker have stated that one of the cons of the knife blade is that it does not handle intricate cuts of wood. Rather, you need to stick to more basic designs.
If you want to cut out wooden letters, you'll need to keep your font simple (nothing overly cursive) and your font needs to be large and thick. If you have thin and intricate cuts, your wood will split or not cut all the way through.
Keep in mind that wood cutting can take a long time too. This is a great example of just how important it is to do your research and have clear intentions on how you intend to use your machine.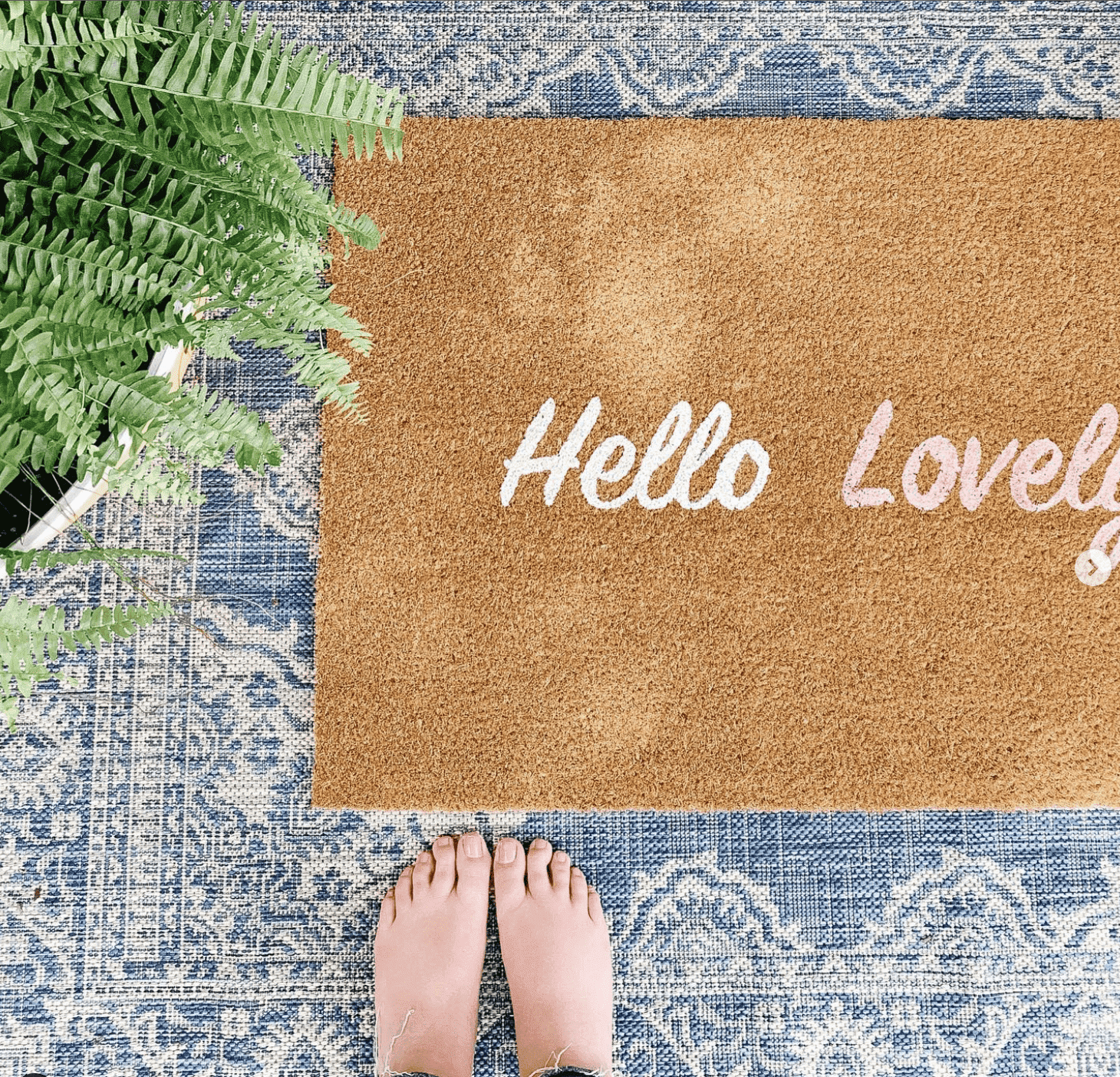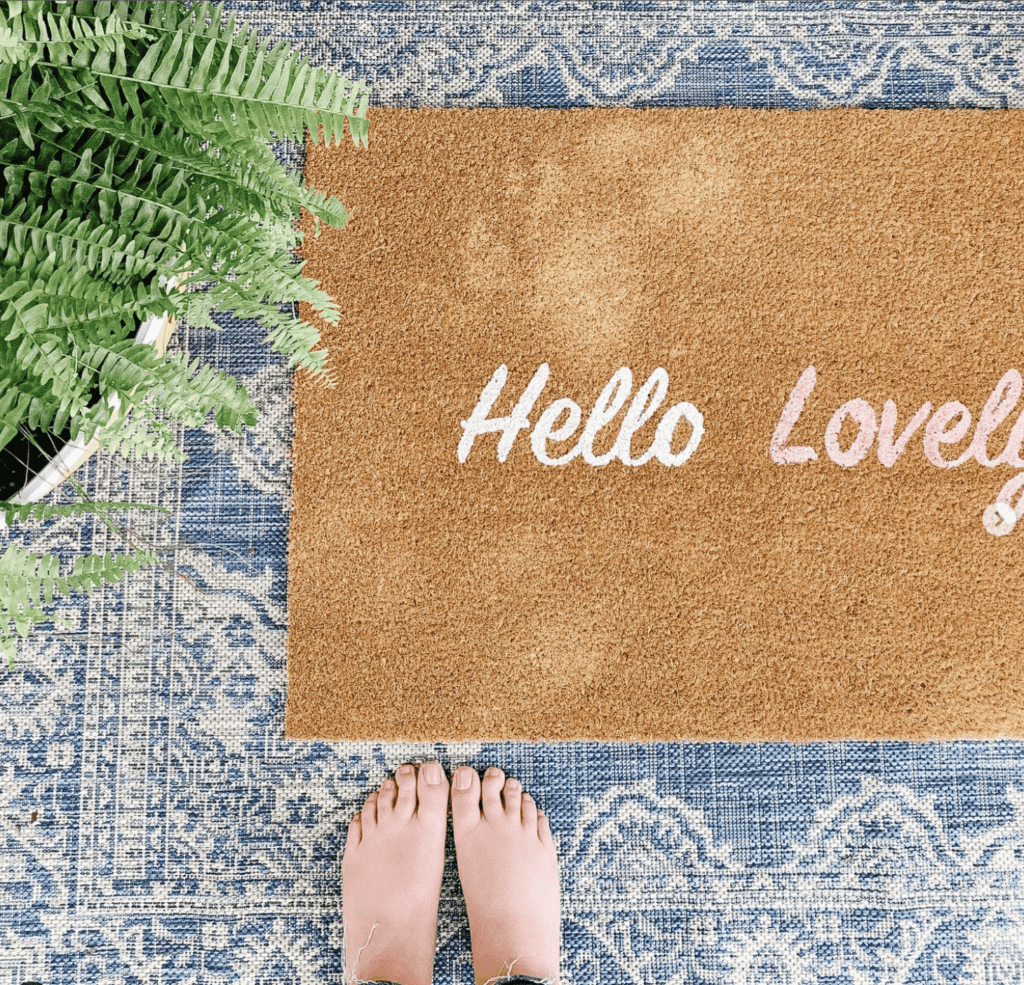 Cricut Design Space & Cricut Access
One thing that doesn't change when looking at the Cricut Maker vs. Cameo 4 is the Design space. All Cricut machines use Cricut's Design Space, a free software that requires an internet connection to access.
The Cricut Design Space software can be utilized on a computer or mobile devices. Once the design software is downloaded, there is an "Offline" feature that allows the user to perform work in the event that internet access is not available.
The Cricut software is an application platform where the user can design and upload content to be created with their Cricut machine. Different fonts, images, and projects are also available within the Cricut Design Space Library free of charge.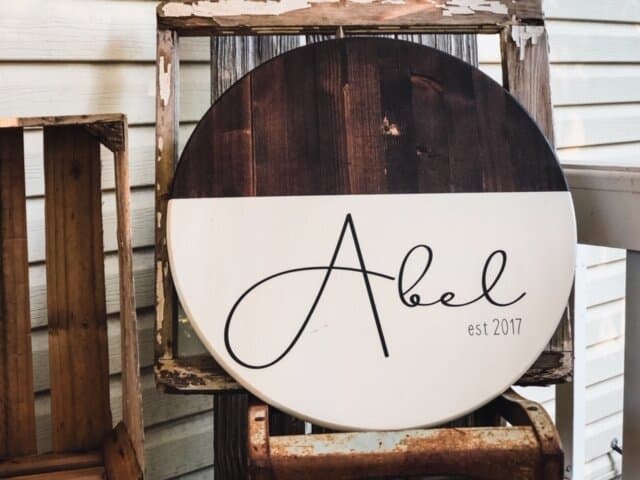 Learn how to make this amazing DIY wooden sign with your Cricut.
If you are interested in creating vinyl decals of your monogram for water bottles, you could go into Cricut Design Space, search for projects with a Monogram, and have access to a template for your own Monogram. Cricut Design Space allows you to edit and create your own layout and versions. If you want to start from scratch and create your own designs, you are able to do that as well. There is definitely a learning curve with using Design Space, but there are many great tutorials available online that can help you get comfortable and familiar with the software.
Keep in mind that all of Cricut's current models have bluetooth technology. If you have an Iphone, you can download Cricut Design Space on your phone and theoretically use your phone to create any design you'd like. As an added bonus, the Maker models also have a USB hub that serves as a charging station for your phone!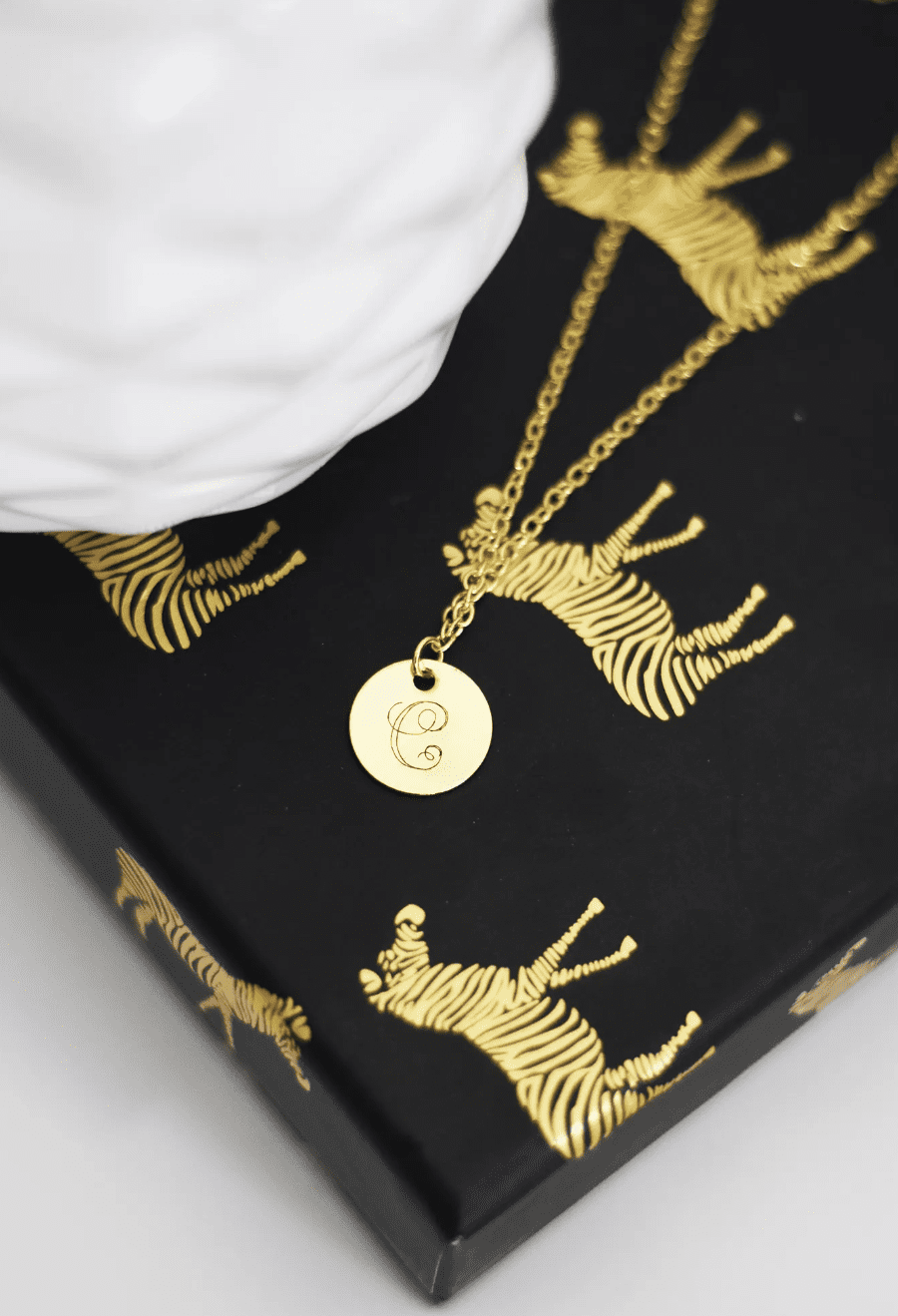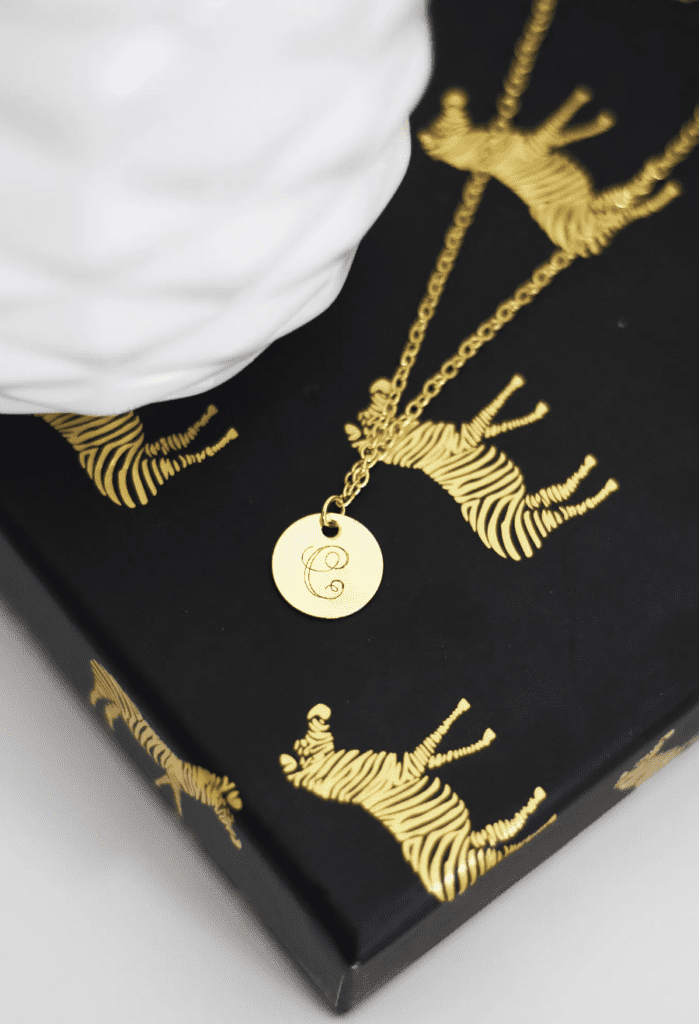 Looks like I may need to invest in the engraving tool to make this DIY necklace.
Don't confuse Cricut Design Space with Cricut Access. Cricut Access is a monthly subscription service that is optional. Cricut Design Space is not optional. With a monthly fee of $9.99, Cricut Access gives you access to thousands of free projects, fonts, and images and additional discounts.
In my honest opinion, I don't think Cricut Access is necessary. I'd say start by what is already available in Cricut Design Space's free library and go from there. If you are looking for a specific font of image, you can always purchase svg files via Etsy of what you are specifically wanting to have for your project. Svg files are just a technical term for what the Cricut uses to tell your machine what to do.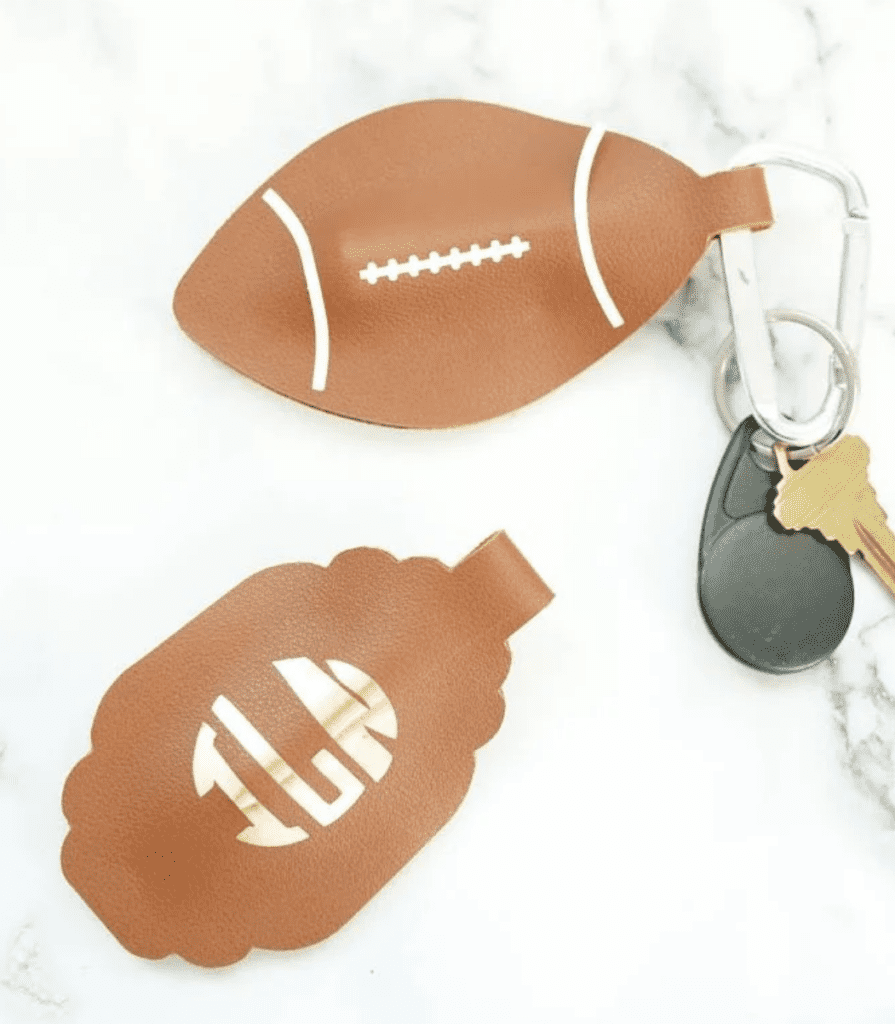 This DIY no-sew leather chapstick holder would be a great gift idea.
Silhouette Overview – Something Else to Consider
Before I ever became a Cricut owner, I was a Silhouette owner. And I think it is worthwhile to talk about that machine so you can make a fully informed choice.
While Cricut may have a larger footprint, they don't necessarily hold a monopoly over electronic cutting machines. Silhouette is another electronic cutting machine that has different models with varying capabilities.
Like Cricut, the Silhouette cutting machines also use a design software to cut, draw, score, or create foil effects on similar materials. The Silhouette Portrait and Cameo are two electronic cutting machines that are on par with the Cricut's line of cutting machines.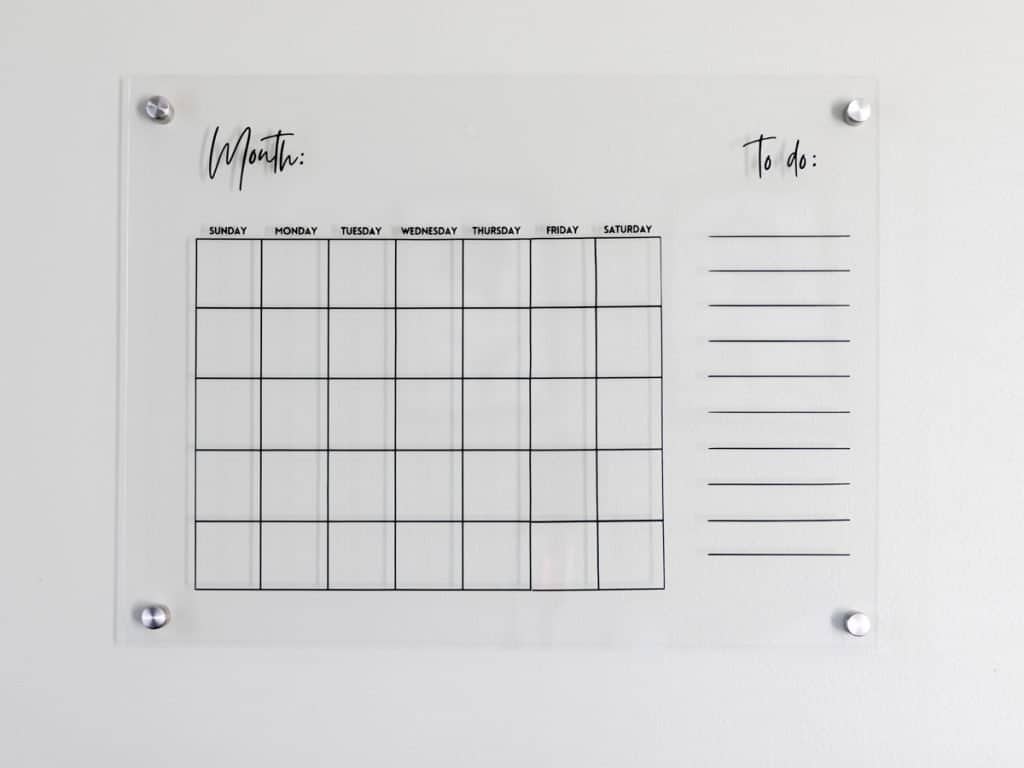 Check out how to make your own family calendar with your Silhouette or Cricut.
The Silhouette Portrait
The Silhouette Portrait cutting machine can be compared to the Cricut Joy. This is Silhouette's portable model that is so lightweight (under 4 lbs) that you can take it in and out as you wish. Currently, the Silhouette Portrait 3 is the latest model on the market. This model has bluetooth technology and wireless capability (like the Cricut Joy).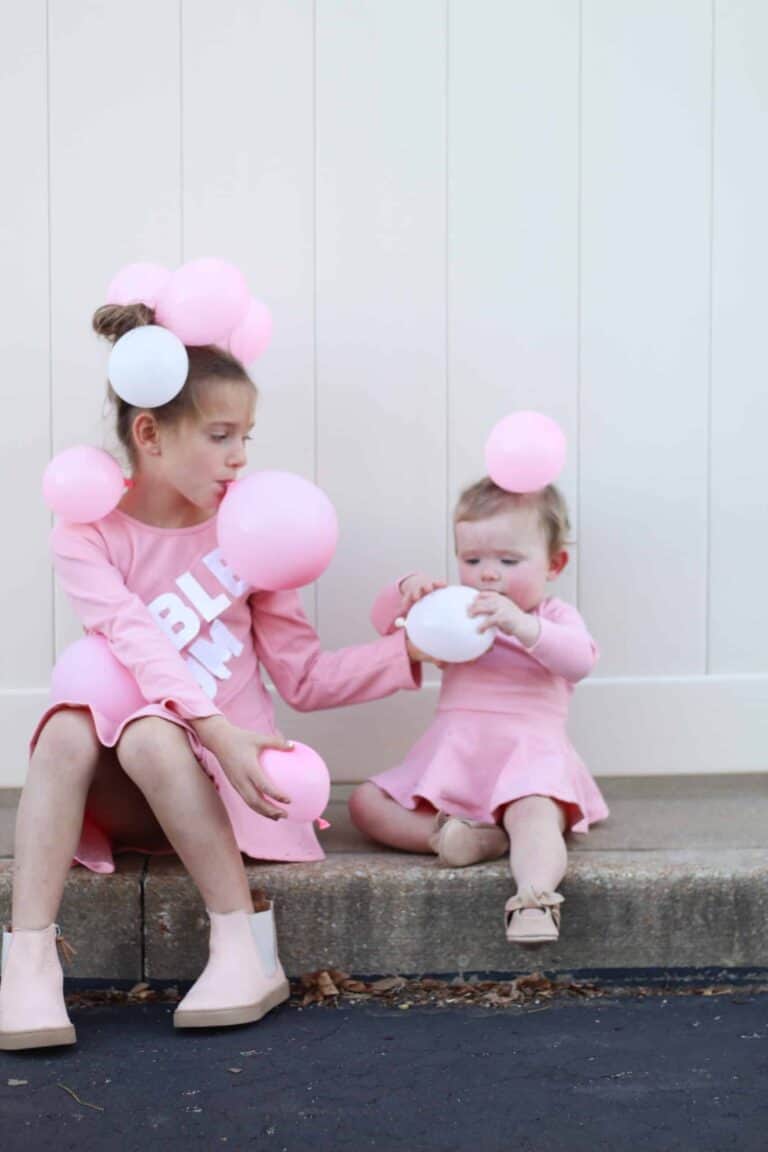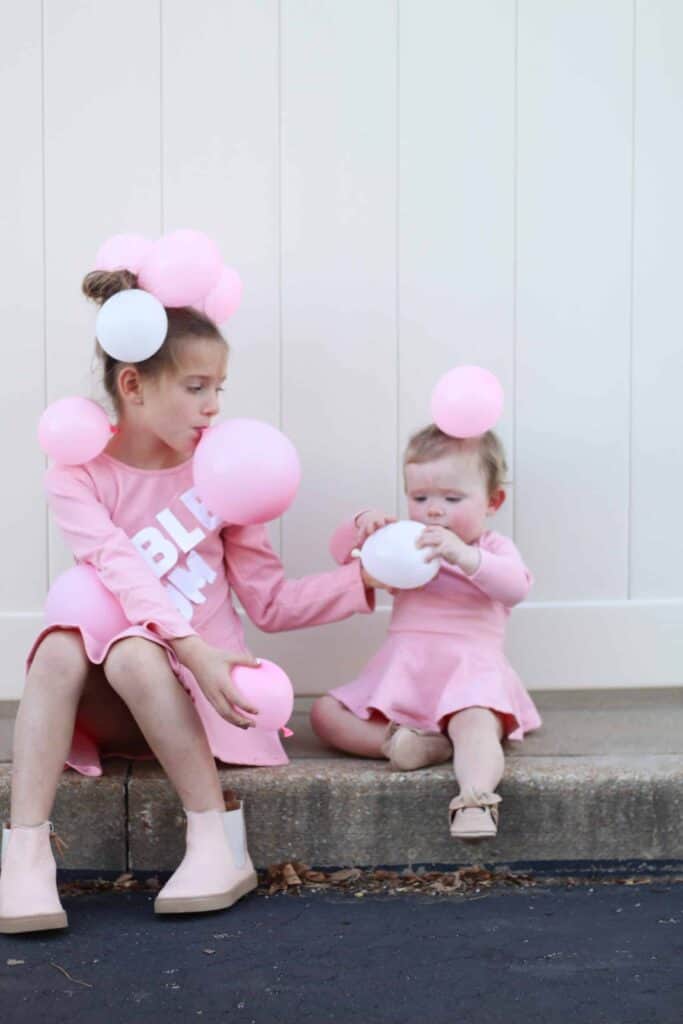 It only has one tool holder, but does have an adapter to allow you to switch between blades to pens for drawing. The Silhouette Portrait comes with one tool: the auto blade. Other tools are available for additional purchase.
Like the Cricut Maker's Adaptive Tool System, the Silhouette Portrait has a tool detection system that identifies what tool is used and adjusts your settings according to the tool.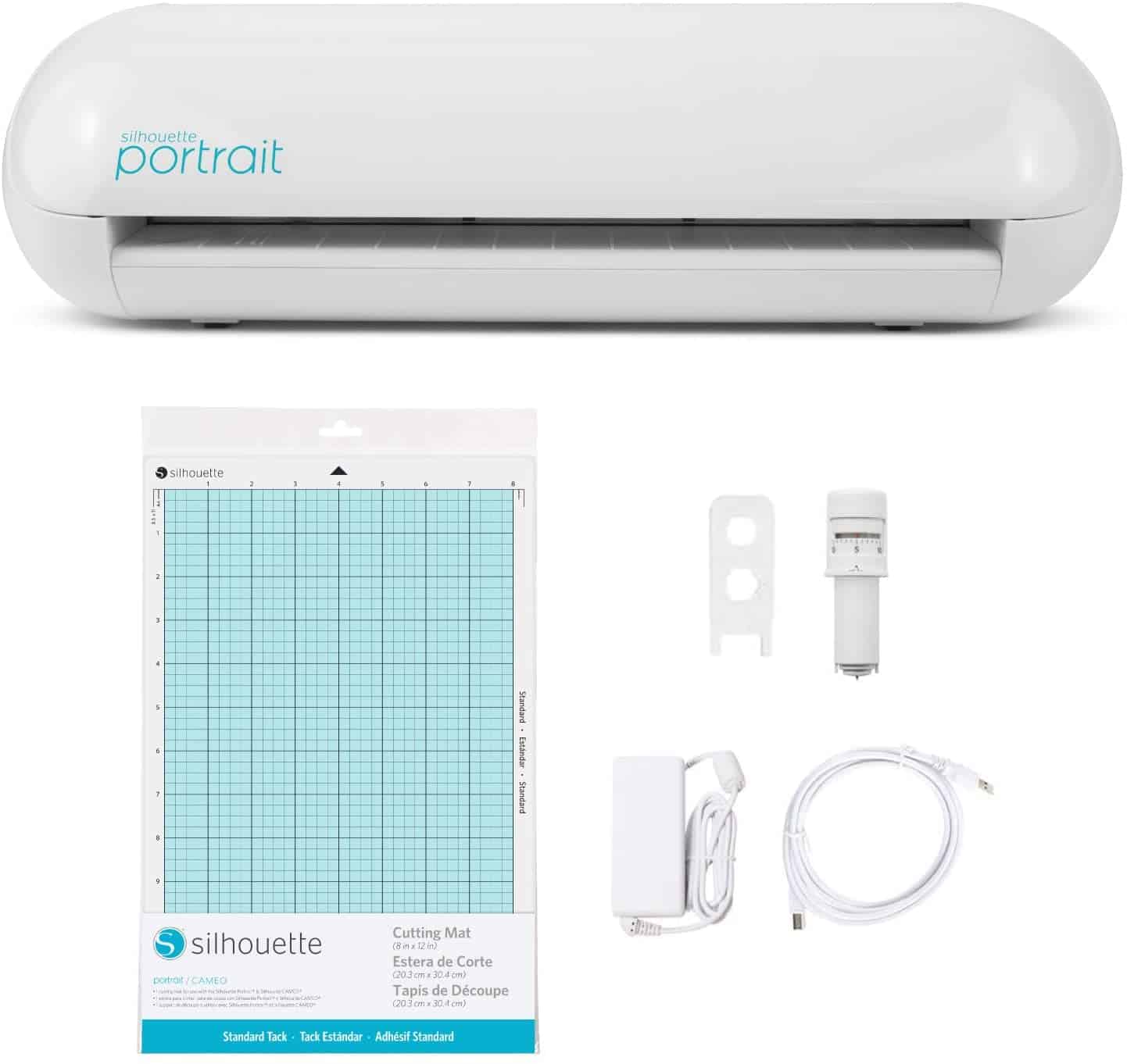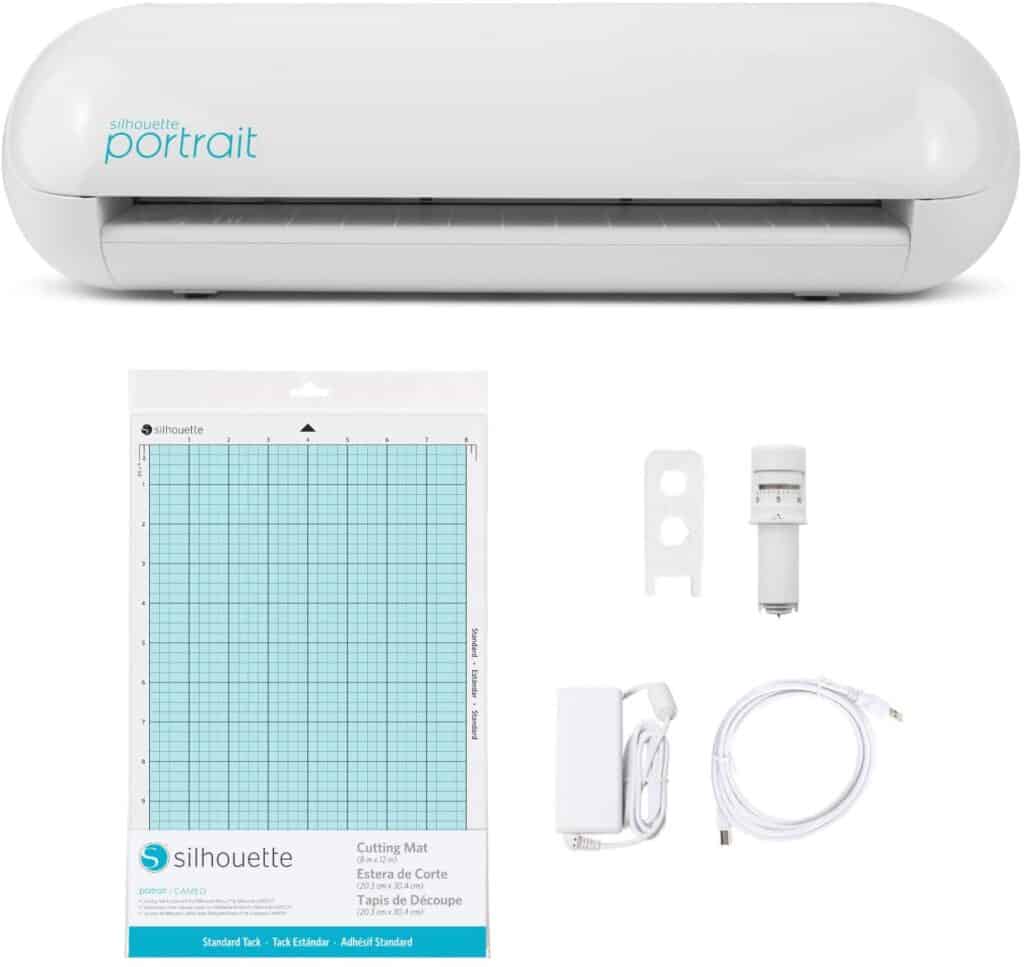 The Silhouette Portrait is available on Amazon.
You can create projects using vinyl, stickers, cardstock, and craft foam. Like the Explore 3 and Maker 3 models in Cricut, the Silhouette Portrait does not need a mat for certain materials. Materials with liners and backing don't need to be fed into the machine on a cutting mat.
Rather, they can go directly into the machine using the roll feeder. The roll feeder is similar to Cricut's roll holder tool. A special "pop out" cutting feature is also available for paper crafts where a cutting mat is not necessary. At $199, the Silhouette Portrait is another great option for those who want to dive into the DIY world without being too overwhelmed with so many options.
The Silhouette Cameo
The Silhouette Cameo is a more robust machine than the Silhouette Portrait. The first Cameo was created in 2011. Since 2011, there have been several different models of the Cameo.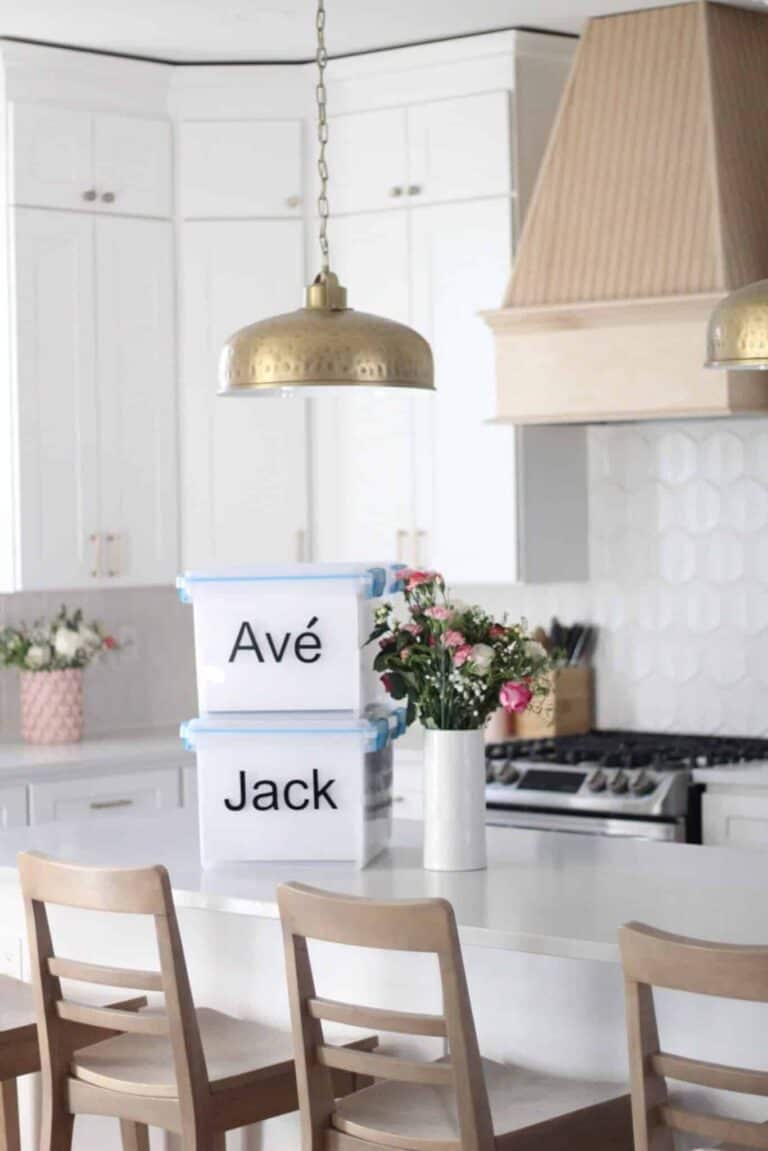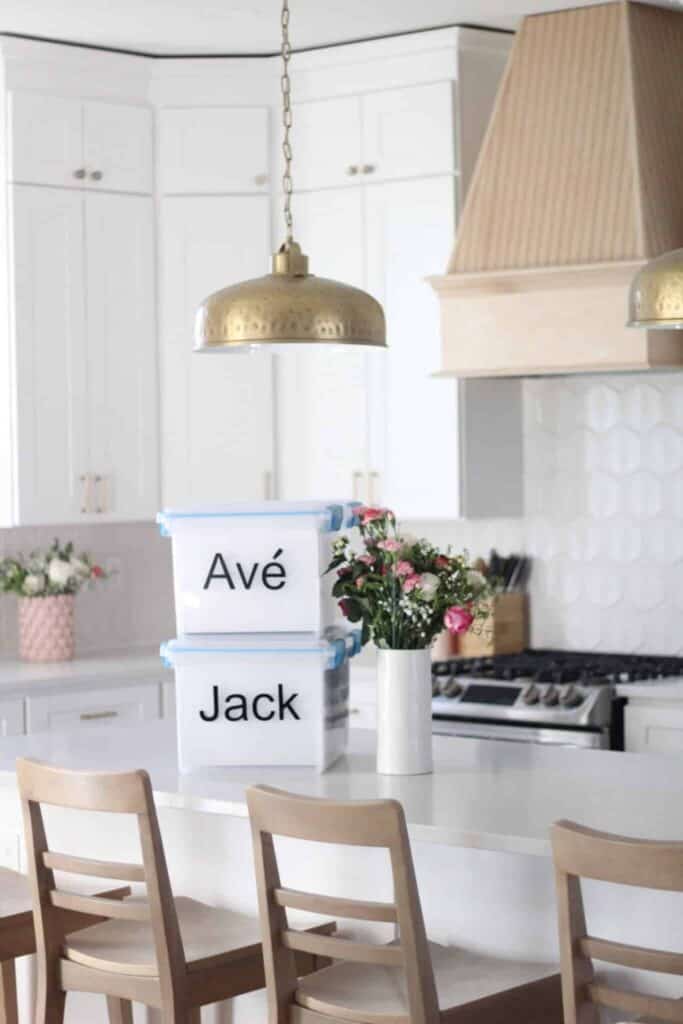 Previous models include: Silhouette Cameo, Silhouette Cameo 2, and Silhouette Cameo 3. Presently, the Silhouette Cameo 4 is the latest model on the market. Of the Silhouette Cameo 4 series, you can choose between the following models: Silhouette Cameo, Silhouette Cameo Plus, and Silhouette Cameo Pro.
The difference between these models is their size at 12 inches (Cameo), 15 inches (Cameo Plus) and 24 inches (Cameo Pro), respectively. The Cameo model can cut 12 inches wide and up to 10 feet long, while the Cameo Plus can handle up to 15 inches wide and 10 feet long, and the Cameo Pro can handle cuts up to 20 inches wide and 10 feet long.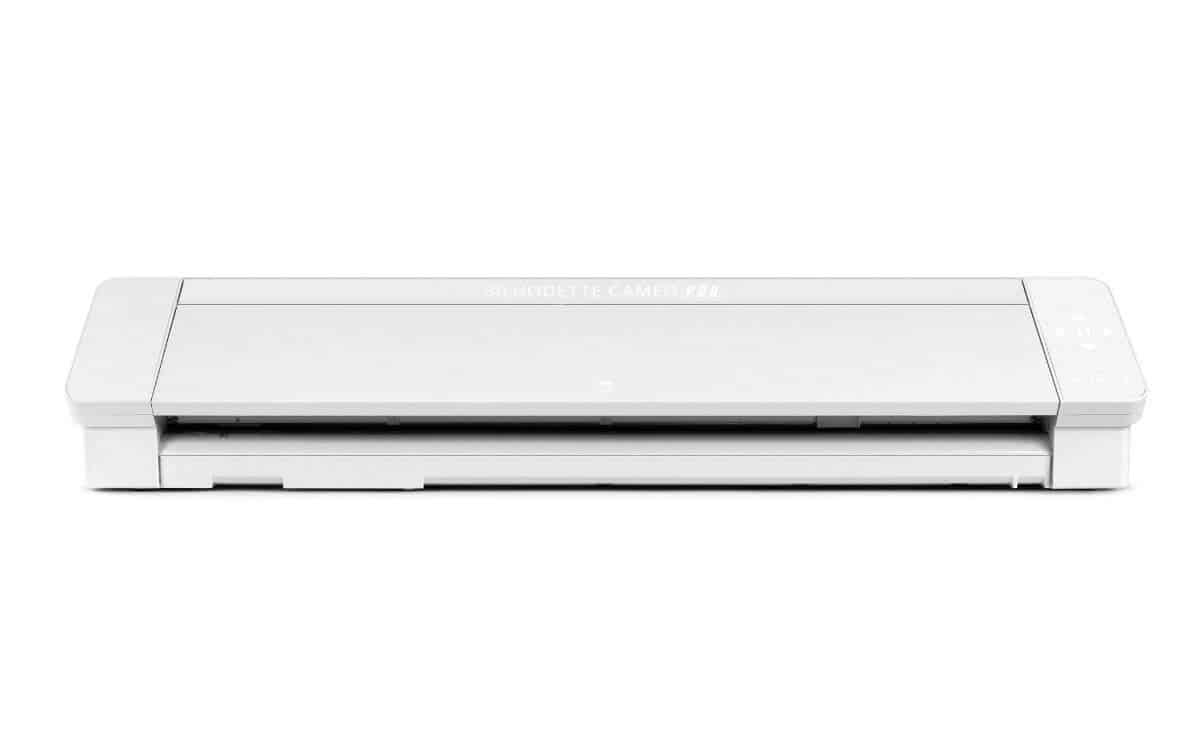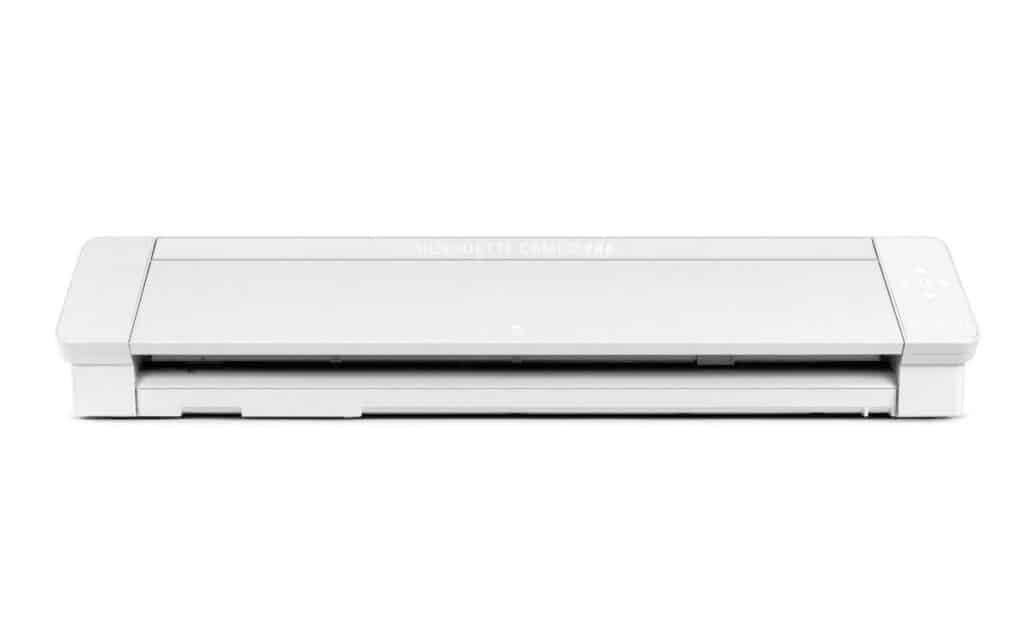 The Silhouette Cameo 4 Pro is the top of the line cutting machine.
The new Silhouette Cameo 4 has a dual carriage, like the Explore and Maker series in the Cricut brand. This dual tool holder allows the user to have precision cuts with materials that range from fabric, vinyl, stickers, cardstock, to wood, leather, and chipboard.
In carriage 1, the auto blade can be used for standard cutting, while carriage 2 offers more power for specialty blades. These specialty blades include the following: rotary blade, kraft blade, and punch tool.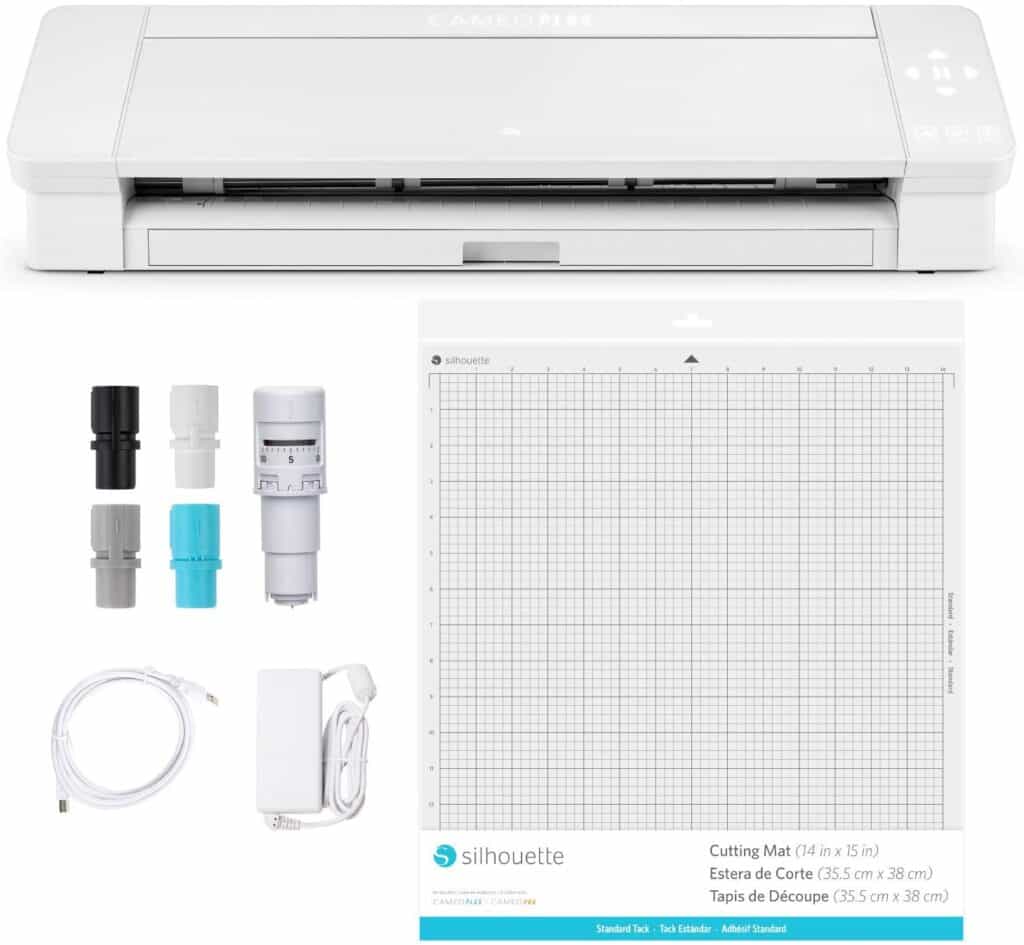 The Silhouette Cameo Plus is slightly smaller than the Pro version
The Silhouette Cameo 4 also has bluetooth technology and a tool detection system. Like the Maker 3 and Explore 3 series in Cricut, the Silhouette Cameo 4 has the ability to go matless with certain materials. Materials with backing (heat transfer vinyl and stickers) can be fed directly into the machine. The roll feeder can also be used for an easy way to load and cut material. With a cutting mat, you can have materials that are up to 12 inches wide and 60 inches long.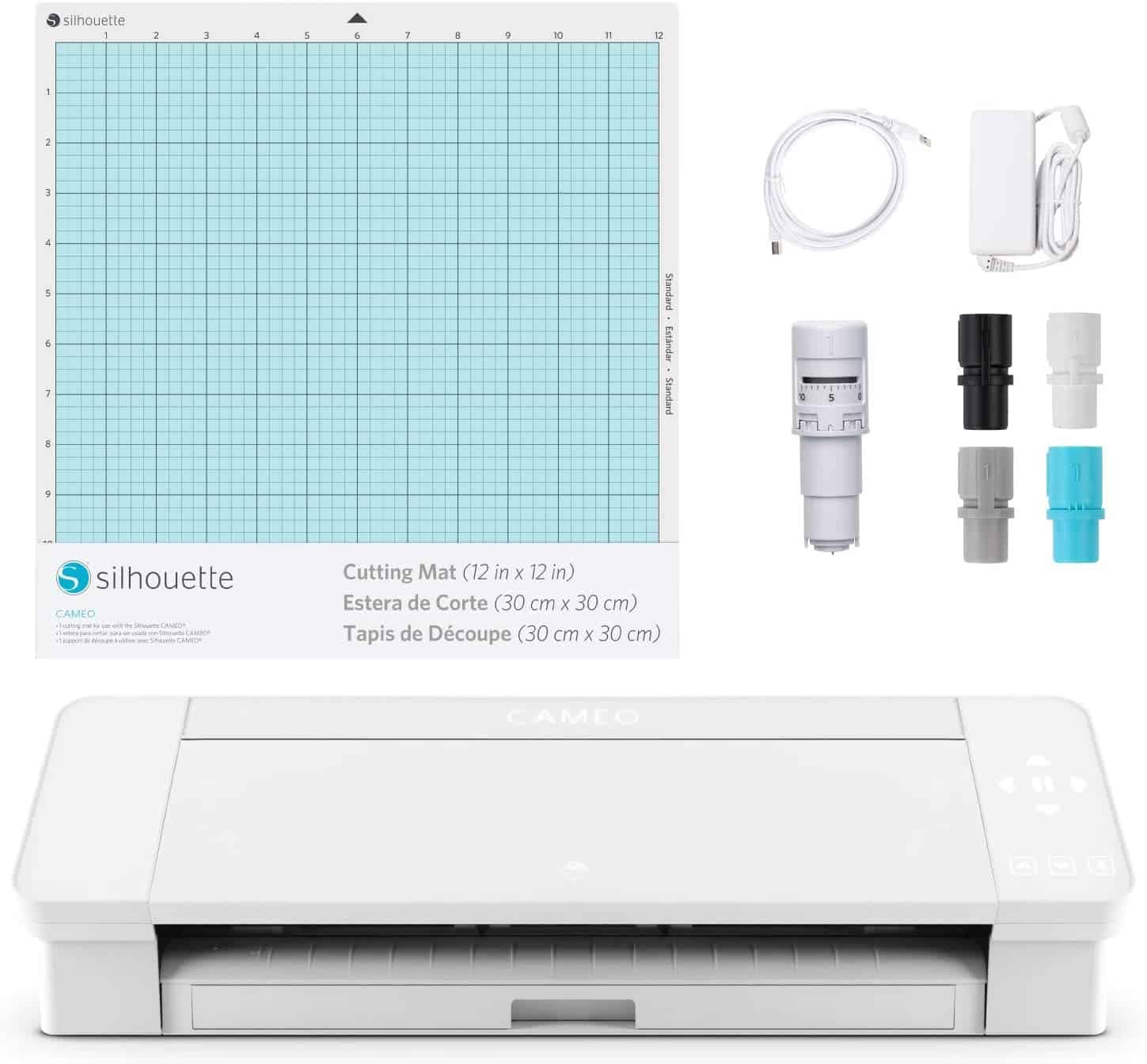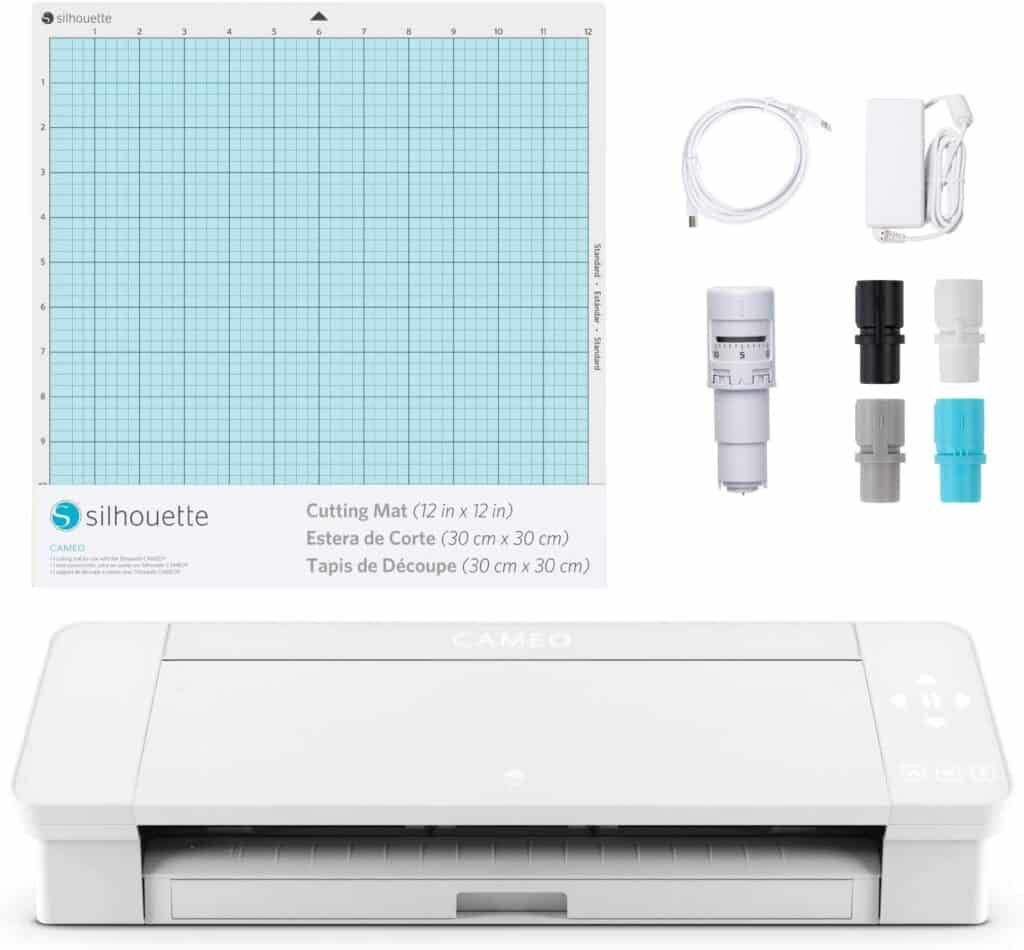 The Silhouette Cameo 4 can cut up to 12 inches wide and 10 feet long.
The Silhouette Cameo 4 comes with an auto blade and adapters for the standard blade, premium blade, deep-cut blade, kraft blade, and sketcher pens. The standard blade, premium blade, deep-cut blade, kraft blade, rotary blade, punch tool, and sketcher pens are all available to purchase separately.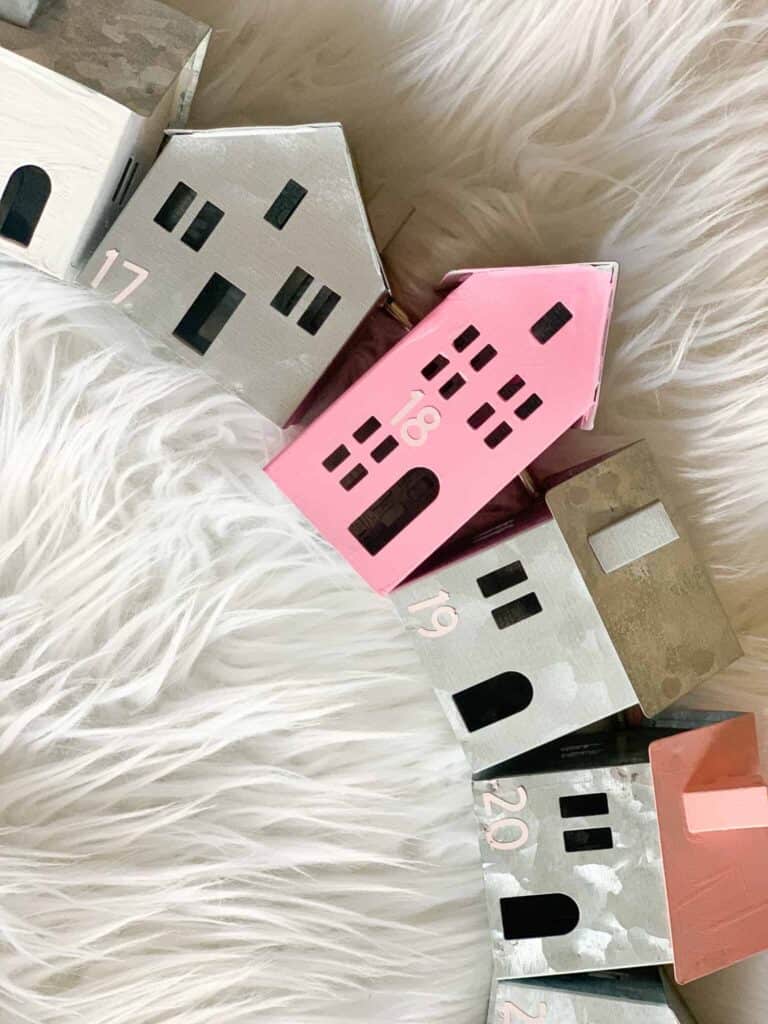 The kraft blade is used on thicker materials like leather, chipboard, acetate, and other specialty materials up to 3 mm. Like the Cricut rotary blade, Silhouette's rotary blade is used for precise cuts to fabrics that includes cotton, felt, wool, and leather.
The punch tool is unique to Silhouette. This tool actually assists you with weeding your vinyl. Before you cut your project out, the punch tool can be used to weed the space that will not be used and create weeding points to make it easier for you to weed your vinyl. For intricate designs, this can be very useful as it can be difficult to weed those small details.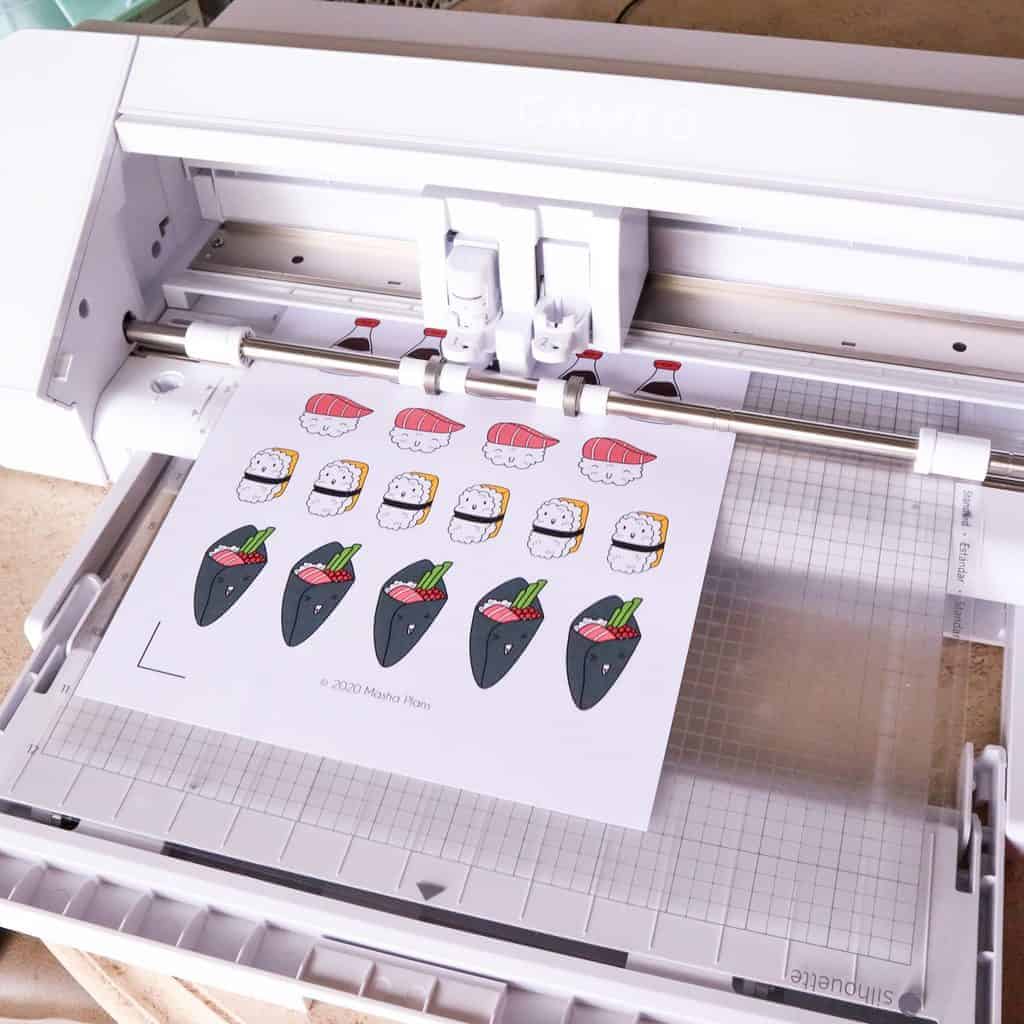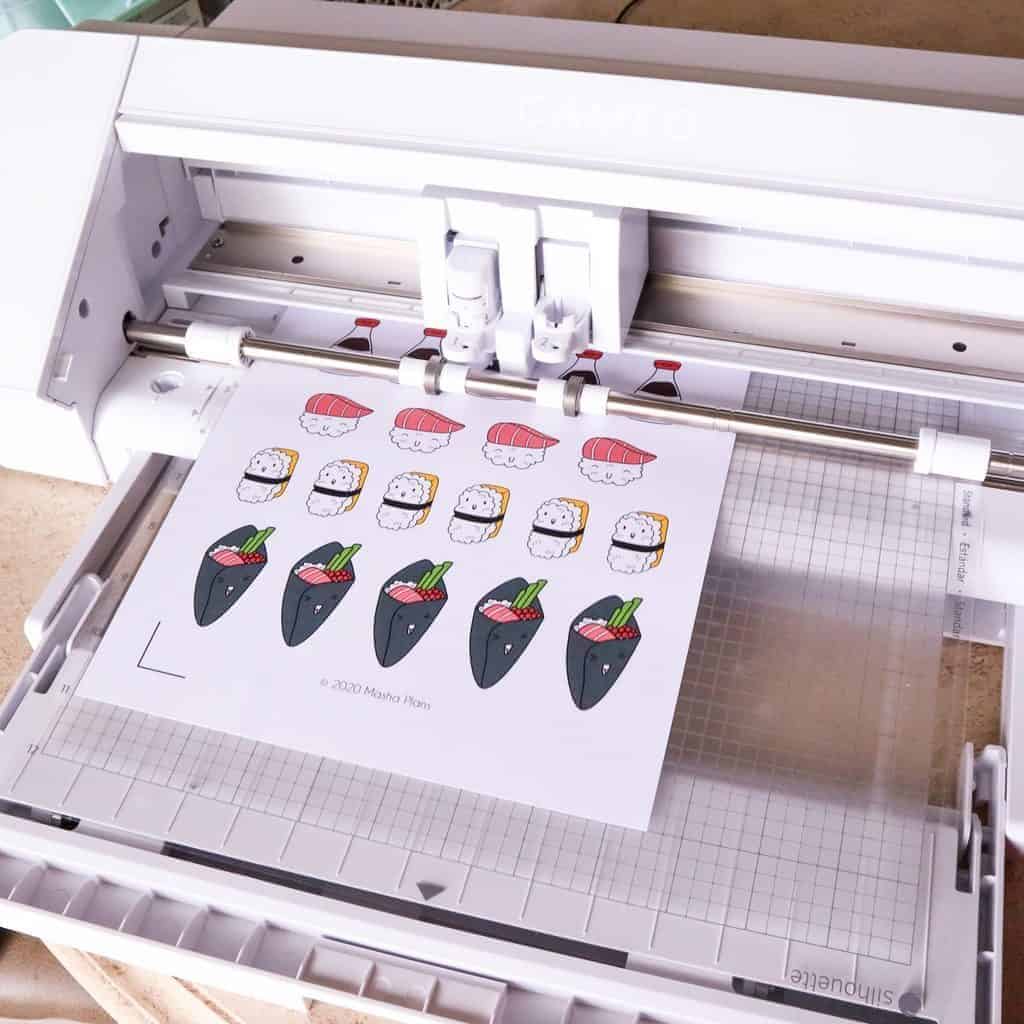 Check out how to make your own stickers for your day planner with your Silhouette Cameo 4.
The Silhouette Cameo ranges from $299 for the Cameo 4 to up to $499 for the Silhouette Cameo 4 Pro.
Silhouette Software, Plug-Ins, & Subscription
Like Cricut's Design Space software, Silhouette Studio software works much in the same way. The Silhouette software allows the user to design or access pre-made designs to send to your machine as cut files which will then tell your Silhouette machine what to make.
You would use the Silhouette Design Studio with your Cameo or Portrait machines. The basic free version is available free of charge to anyone even if you don't have a machine.
Of course, if you want to take your designs up a level, you'll have to access a paid version which includes three levels: the Designer edition, Designer Plus edition, and Business edition of the software. Each level offers more bells and whistles and the price increases from $50 up to $100 for Business access.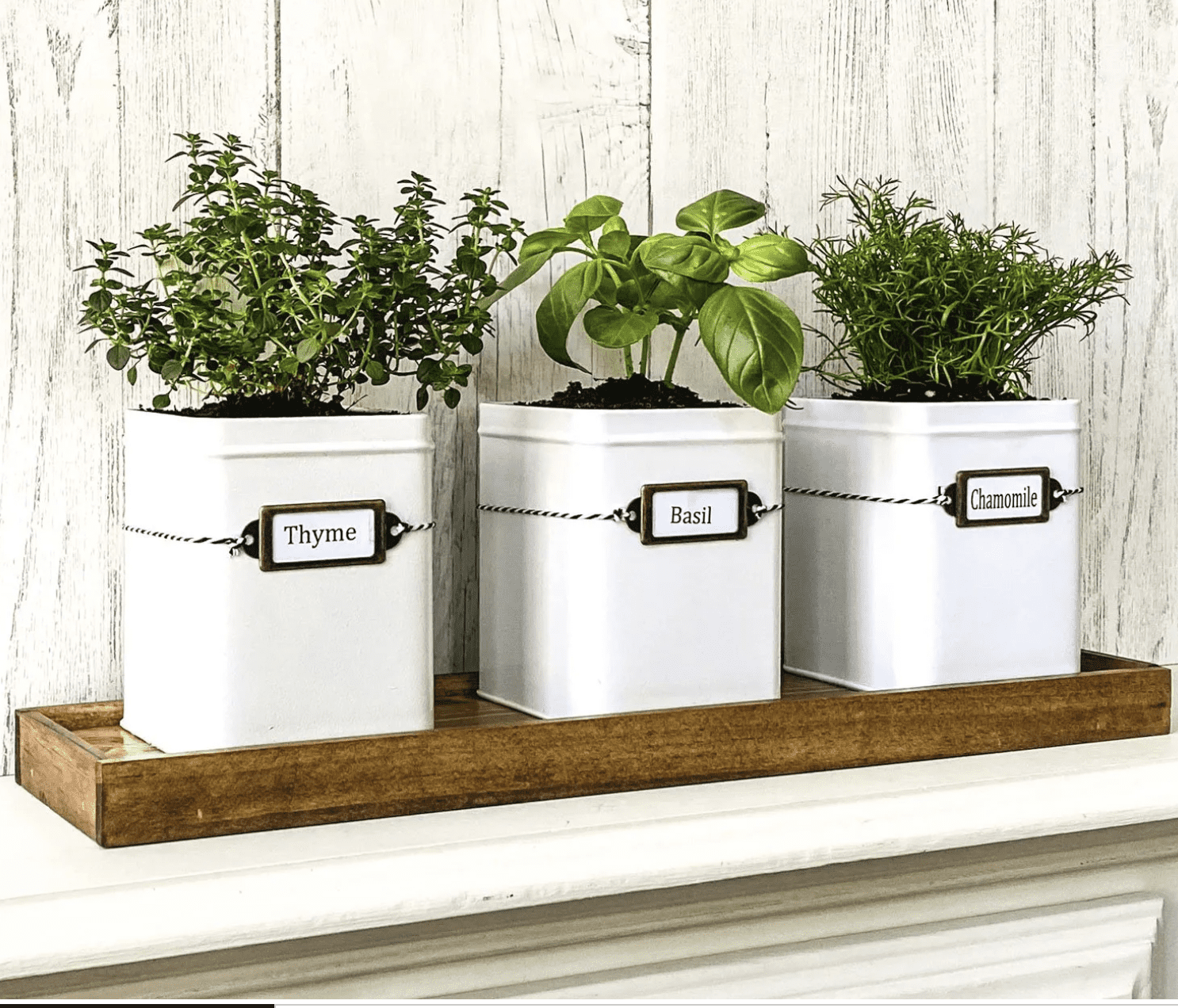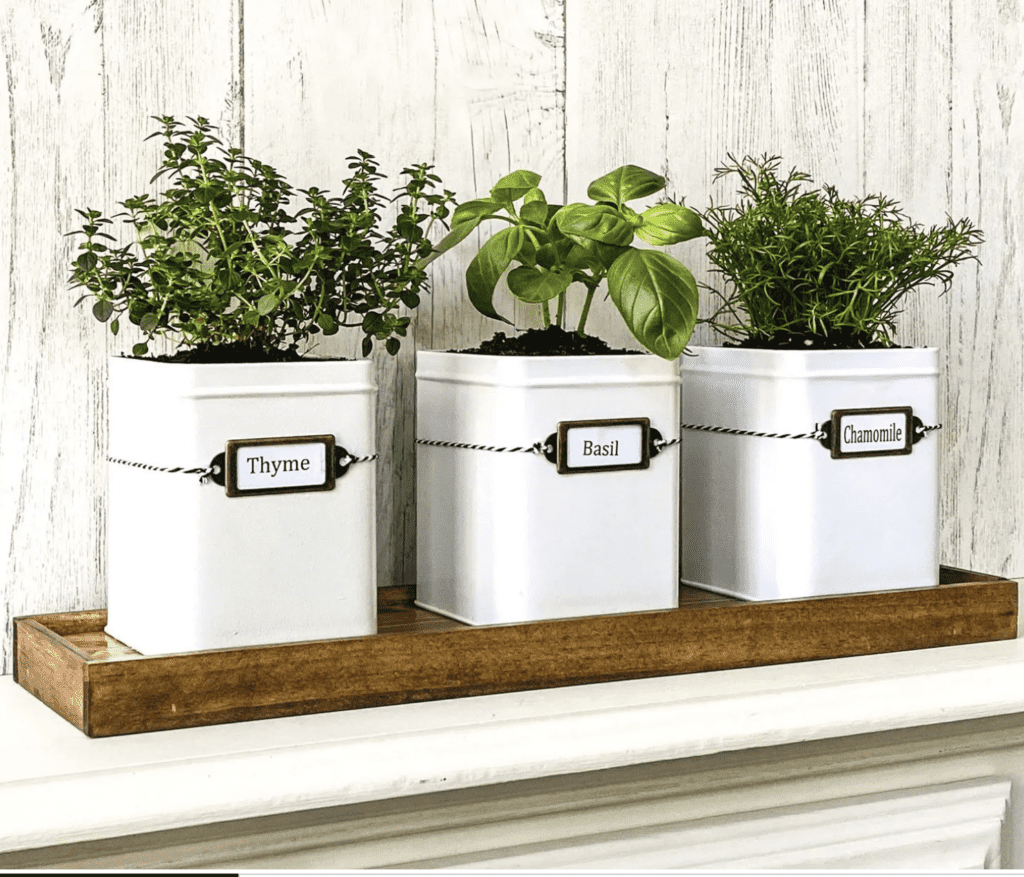 Check out this DIY on how to make your own herb garden labels out of tea tins with your Silhouette Cameo 4.
Unlike the Cricut, the Silhouette does require a separate plug-in if you choose to use the print to cut functionality. The plug-in, Silhouette Connect, is used with Adobe Illustrator and Corel DRAW, and is $40.
Rather than designing in Silhouette Studio, you are able to design, print, and cut all within this plug-in. If you are more comfortable working within Adobe Illustrator, then this plug-in would be beneficial for you. You can send your work directly to your Cameo or Portrait, rather than starting over in Silhouette Studio.
Similarly to Cricut's Cricut Access subscription service, Silhouette also offers a subscription service called Club Silhouette. Club Silhouette gives you access to even more designer content for $9.99 per month.
In exchange for the monthly subscription fee, you'll get discounts, free shipping, and free products a few times a year throughout your membership. You'll also be able to access designs that are exclusively made for Club Silhouette.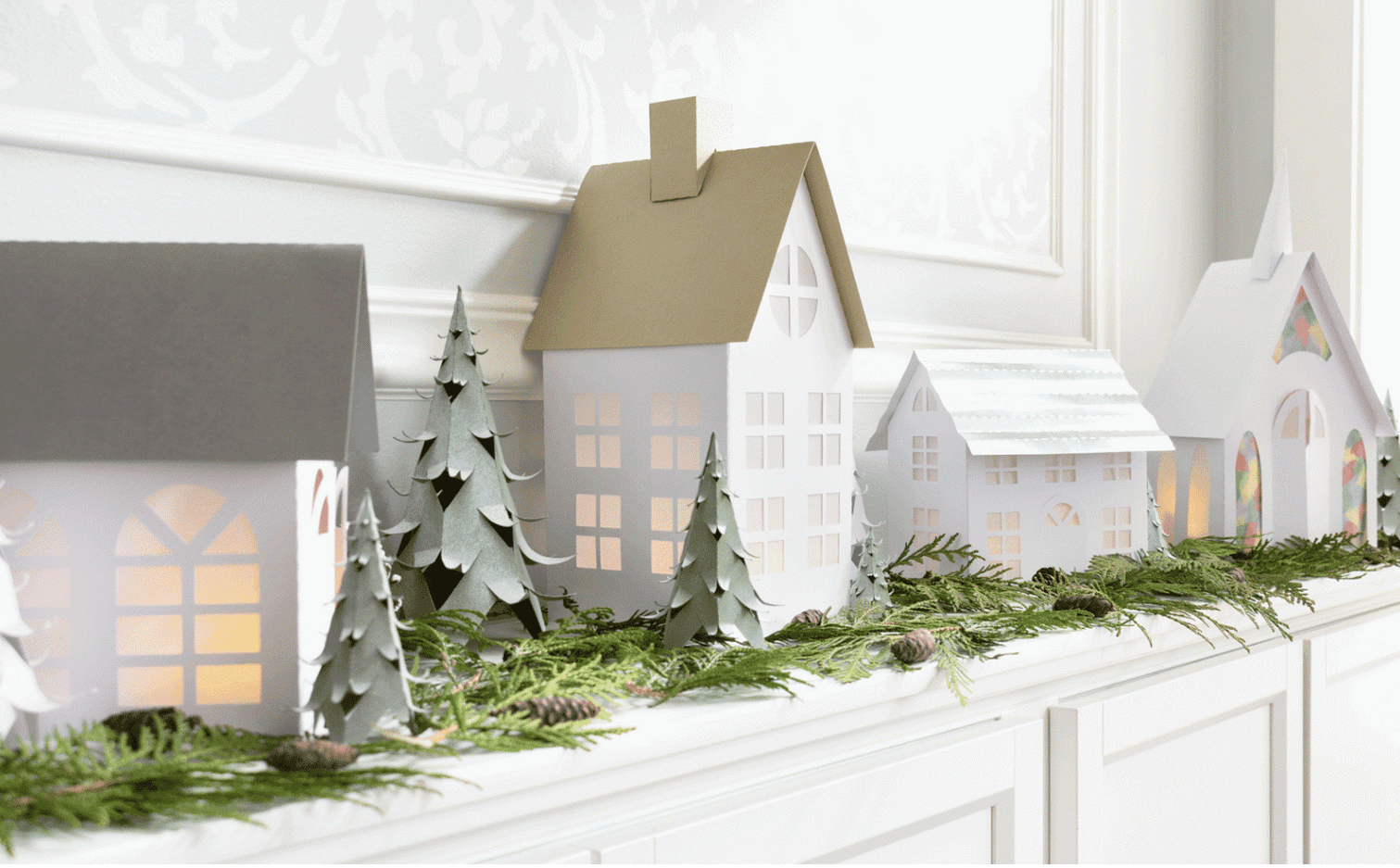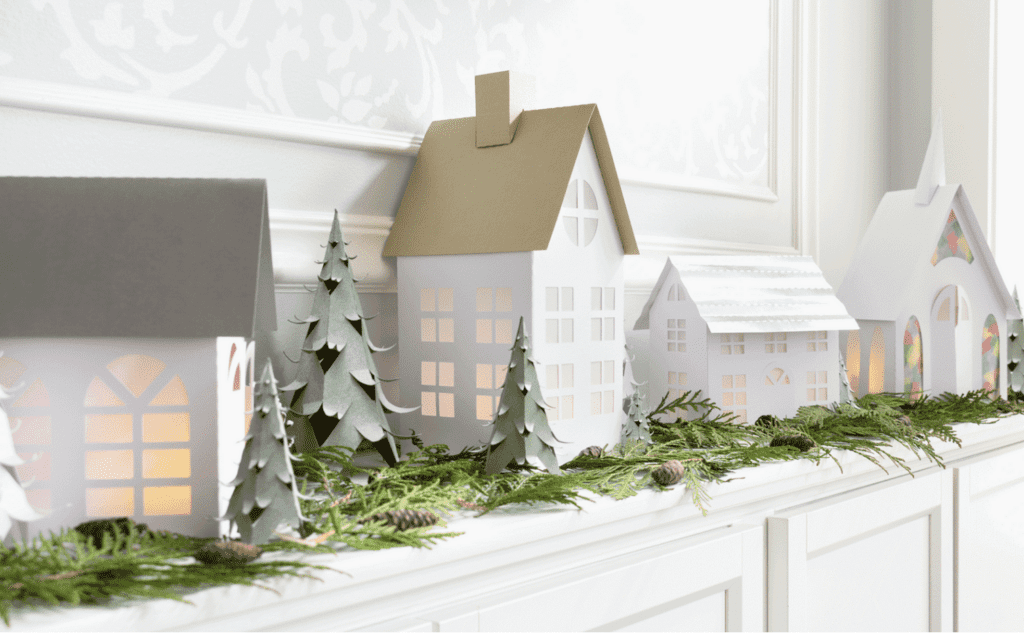 Create this beautiful DIY winter village with your Silhouette Cameo 4.
Cricut vs. Silhouette Comparison
Now that you've had a brief overview of both the Cricut Maker and Silhouette Cameo 4 models, you can make your own determination in which you think is the clear winner.
The bottom line is, both are great and powerful machines. They both offer you, the creator, tons of options and bells and whistles. While the Maker series is more expensive, it also has more options to choose from in terms of additional accessories and tools to purchase, proving to be a bit more versatile than the Silhouette Cameo 4.
On the flip side, the Cameo 4 is actually a bit more powerful in terms of cutting force with over 1,000 extra grams of cutting force over the Maker. However, the dual tool holder and adaptive tool system is a clear winner for the Maker, whereas the Cameo 4 is still perfecting this functionality.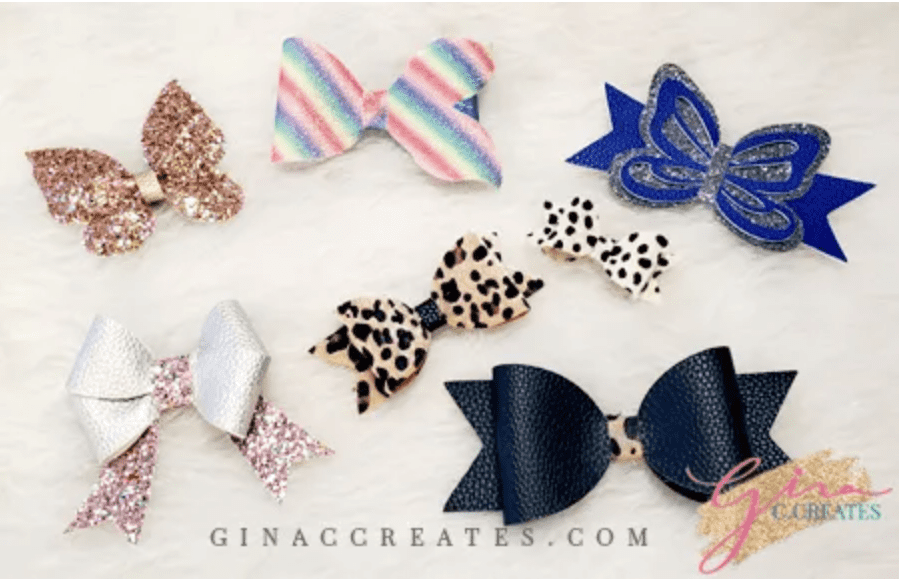 Make your little one her own leather hair bows with your Maker.
Both machines have the ability to have matless cutting, but the Maker is still limited in its cut size being dependent on the mat. Because of this, the Cameo 4 does have the ability to cut wider and longer materials.
However, the Maker series has the ability to cut more materials due to the tools available. For most people, the length and width of the Maker's specifications are plenty, but the Cameo 4 does offer that additional space.
Both the Cameo and Maker have similar software and bonus subscription services for additional designs. The Maker, however, does have access to more designs and features.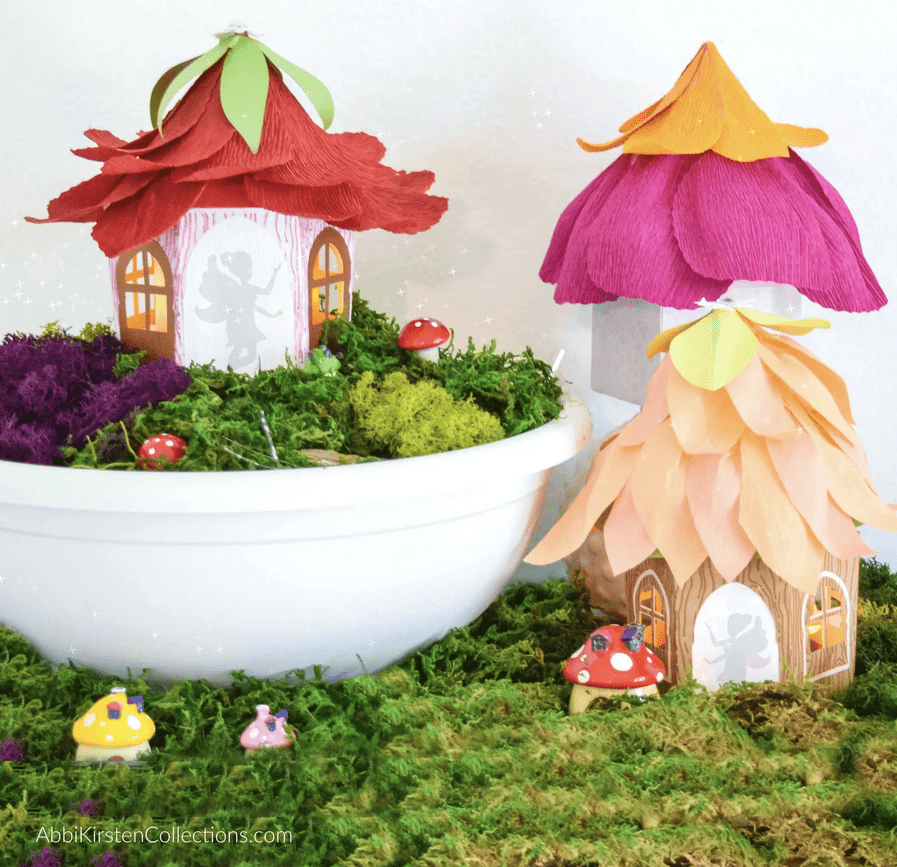 If you have a little girl who loves fairies, these DIY fairy house luminaries are the perfect project for a summer night.
While the Cameo 4 is cheaper, more powerful, and allows for longer cuts; the Maker series has more tools, access to more designs and features, and has the versatility to make more products.
What you want in a cutting machine and what you find as an important feature in that cutting machine, will ultimately determine which machine is the better option. In my opinion, I don't think you can go wrong with either machine as long as you have clear expectations.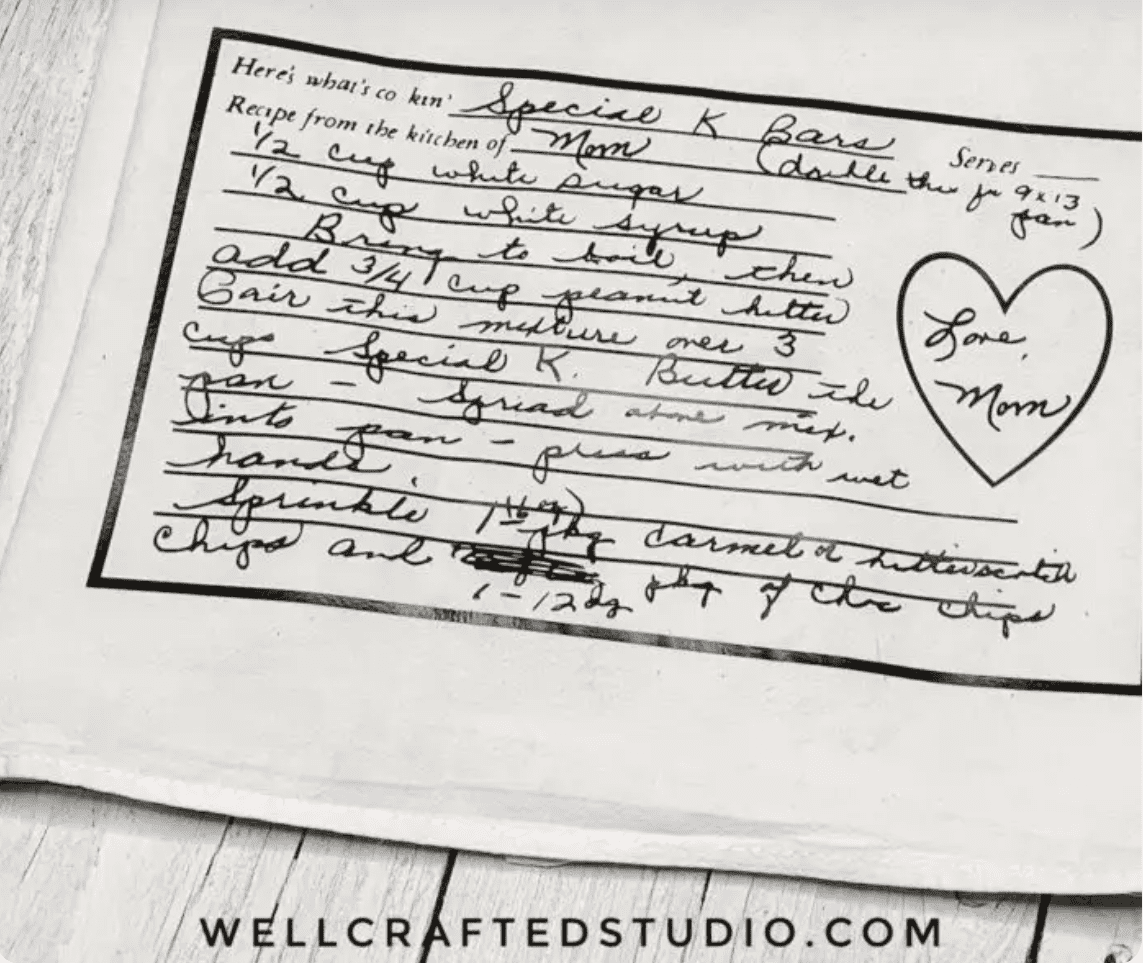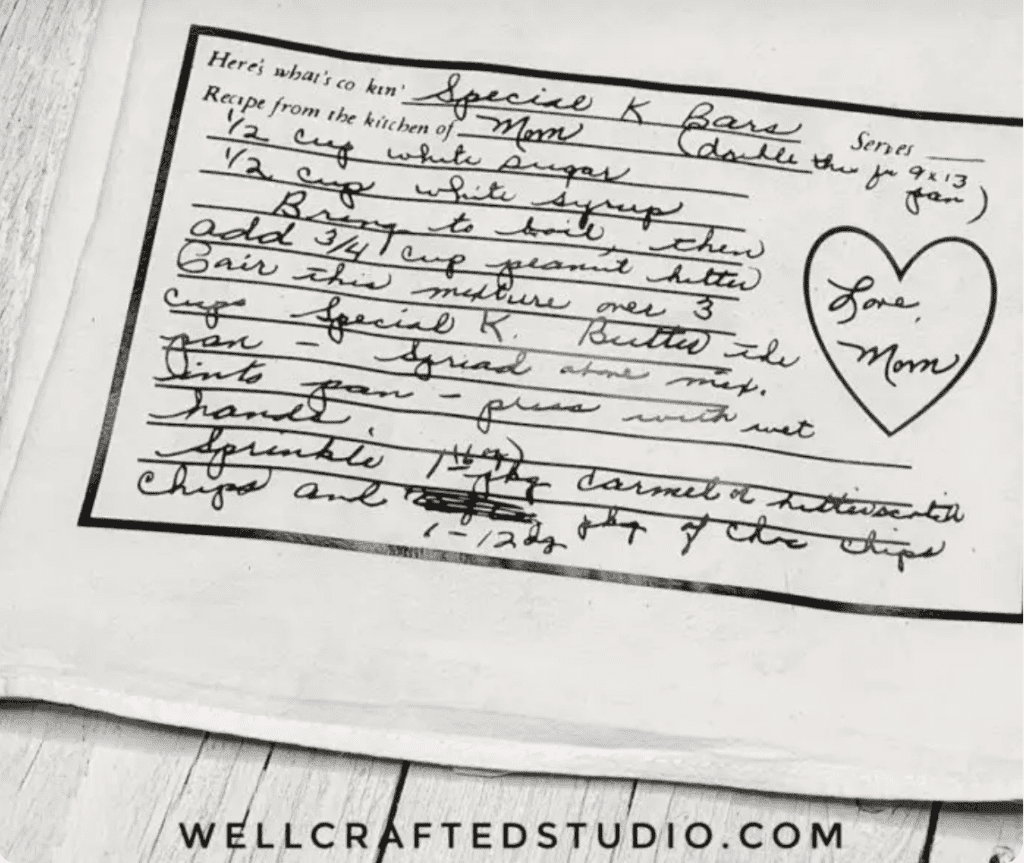 Learn how to print family recipes on tea towels.
Other Posts You'll Love
Cricut Joy Reviews | Cricut Explore Series | Free Printable Pantry Labels | Ikea Play Kitchen
Pin This Photo Below For Later
I hope this post has helped you understand the differences and similarities between the Cricut Maker vs Cameo 4. Both machines are powerful and can help you create whatever your heart's content. There are many similarities between both brands, but the key differences seem to lie between price, versatility in tools and materials, and maximum size of materials to cut. The features you decide you need are important will ultimately determine what your preferred brand and machine will be. If you have any questions or reviews of your own on the Cricut Maker and Silhouette Cameo 4, feel free to leave them in the comments section, and follow me on Instagram @arinsolange and TikTok for more home, decor, and DIY.