For the past 3 or so years I have had Beddy's Bedding in Jack's room, then in the boys shared room, and it is something I get questions about frequently, so I wanted to weigh in and give a little review of the bedding, plus share a super generous Beddy's Bedding discount code with you all! I have been meaning to write this for probably 1.5 years, but here I am finally getting it done.
This post contains affiliate links
Beddy's Bedding Discount Code & Review
Like I stated above – I have now owned a total of 4 Beddy's Bedding sets, over the past 3 or so years. I have had them on bunk beds in Jack's room (I know…for some reason I thought I could leave a room alone for years, and that someday that would be fun.
Jokes on me…I change rooms and add kids yearly!) I also have Beddy's Bedding twin size on single beds in a share room for the boys now, so feel like I have truly give them a good try in several spaces and manners so I can give an honest and thorough review.
Beddys Bedding Discount Code
I will go into the review below, but also wanted to give you a discount code in case you fall in love before the post is over – Beddy's was gracious enough to offer you all 20% off if you use the code ARINSOLANGE at checkout!!
BUY BEDDYS BEDDING 20% OFF HERE
What is Beddys Bedding?
If you're here reading this post you may already know – but if not, Beddys bedding is essentially a fitted sheet that zips to the comforter.
Think of it a bit like a sleeping bag where the bottom is a a fitted sheet. You can do minky lined or just a normal cotton comforter, but it cuts out the difficulty of making your bed!
What's the best bedding for bunk beds?
Why we tried it…
Like I said before – we originally decided to try out Beddy's bedding for Jack's room with bunk beds. The idea of making a bunk bed made me cringe, so I wanted to see if Beddy's was worth the hype, and the best for bunk bed bedding.
I had seen so many bloggers share about it, but you just never know…is it being shared because they love it, or because they love the owners, or because its free? (I know that might not be the popular thing to say, but sometimes it is reality!)
I also loved that due to how the bedding is made and the over-all structure of it there wasn't any over hang; definitely an advantage to zipper bedding. Jack's bunk beds had the bottom bunk on the floor and I didn't want to deal with extra fabric hanging on the floor all the time.
It was a really logical choice for that space – so I set out to give it a try and really decide if I loved them, or if they were overrated….below is my review.
My Overall Thoughts On Beddy's Bedding
First off I think I need to preface a few things and give sort of my over all thoughts before I dive into more about the bedding. We obviously liked it enough to get it again when we moved the boys into beds of their own that weren't bunk beds, so clearly they are a win for me with kids' bedding sets. There are only a couple of draw backs, but I want to share that side too so you know what you're spending your money on.
Fabric
As stated as a reason I wanted to try them, the LACK of fabric is amazing (this could probably also make Beddy Bedding a good option for RV bedding). Especially for kids. That is probably my number one love when it comes to beddy's bedding. If you like things to look clean and tidy then this is perfect.
Because of how it's made you don't tuck anything in at the end of the bed, so that lack of fabric, as well as the fact that the comforter isn't falling off on both sides, and there is no sheet is a huge win for me!
But fabric is also where my 2 negatives come in. In Jack's room we went with the black buffalo check and the dash for the bunk beds. When we washed them the black bled onto the white SLIGHTLY. I am a perfectionist and it wasn't enough for me to really be bothered, but it did happen.
I don't know if we washed them wrong (I want to say that the first wash, luck would have it, was due to a middle of the night throw up), or if a color catcher would have caught it, but none the less, it did happen.
I also wish there were just MORE fabric choices. I initially almost didn't go with Beddys for the boys shared room simply because I have seen the fabrics in use so many times that I wanted something a bit more unique. So that would be a downside for me.
That said as a blogger I am accustomed to seeing more of those brands with friends than most people.
I also think it's worth noting that I DID end up using Beddys again…so clearly the Pro's out weighted even for me…and I am pretty big on going unique.
How Do Beddy's Beds Work: Making the Bed
First off – you are buying this because of how easy it is to make the bed
with it being zipper bedding.
And it is EASY. It is a great option for younger kids you are teaching to make their own beds, and we will likely get this for Avé so she can work on making her own bed too. So if for no other reason than that I will say they are WORTH IT.
That said – something that I didn't think about, that is LIKELY A NO BRAINER, but for me got me frustrated was that it is still a pain in the butt to make the bed after washing – especially if its a bunk bed.
I was hoping this would be some sort of cure all on that, but the reality is you still have to put on a fitted sheet essentially, and on bunk beds that still sucks haha.
Why We Love Beddy's Bedding
The biggest reason I went with Beddy's bedding a second time around was for the clean and simple look it provides in a room.
I am pretty minimalist with decor, so I love that even when the beds aren't made there isn't extra fabric at the end of the bed coming un-tucked, and hanging off the sides.
I was also really impressed with the quality – especially concerning the zipper. When we first ordered I honestly had my doubts that a zipper could withstand Jack. I was worried he would break the zipper and I would be ticked, but they are really well made and industrial zippers, so that hasn't been an issue.
We personally have done the minky lined ones each time, and the boys LOVE how they feel. I like that they can use the comforter with the comfort of a blanket instead of needing that extra layer.
So To summarize why we love Beddys Bedding:
It is durable – extra large zippers make it withstand rough kids and easier for little hands
Zip Closure means making your bed in a few seconds flat
Comfort – My kids LOVE sleeping in it.
FAQ
Q: Are Beddys Worth it?
A: Yes! For me they have been. I will say I have purchased them personally for young kids (age 8 and below). But I don't see me swaying from them as they get older. (personally I actually think they would be AMAZING for college).
Q: Do You Still Need Sheets with Beddy's Bedding?
A: NO! Unless you want throw pillows or extras for decor you ONLY need the buddy's set.
Q: Who is the Owner of Beddys Bedding?
A: Beddys was created by Betsy Mikesell. She was a mom who wanted a solution to her boys' messy rooms – and she came up with a solution. She joined with her friend Angie White and Beddys was born!
Q: How do you Wash Beddys Bedding?
Unzip your top from the bottom and wash on cold ALONE. Tumble dry on low. ONE THING TO NOTE: one of my negatives was that one set had color bleed – they state that if you add some white vinegar to that first time around it will set the color!
Q: Why is Beddys Bedding so Expensive?
A: It is an investment – but if you use my discount code below I have found that putting them in my kids rooms has been no more expensive than buying the comforter and sheet set most of the time!
I think for a high quality bed in a bag type situation where you are getting it all you would be paying this same amount.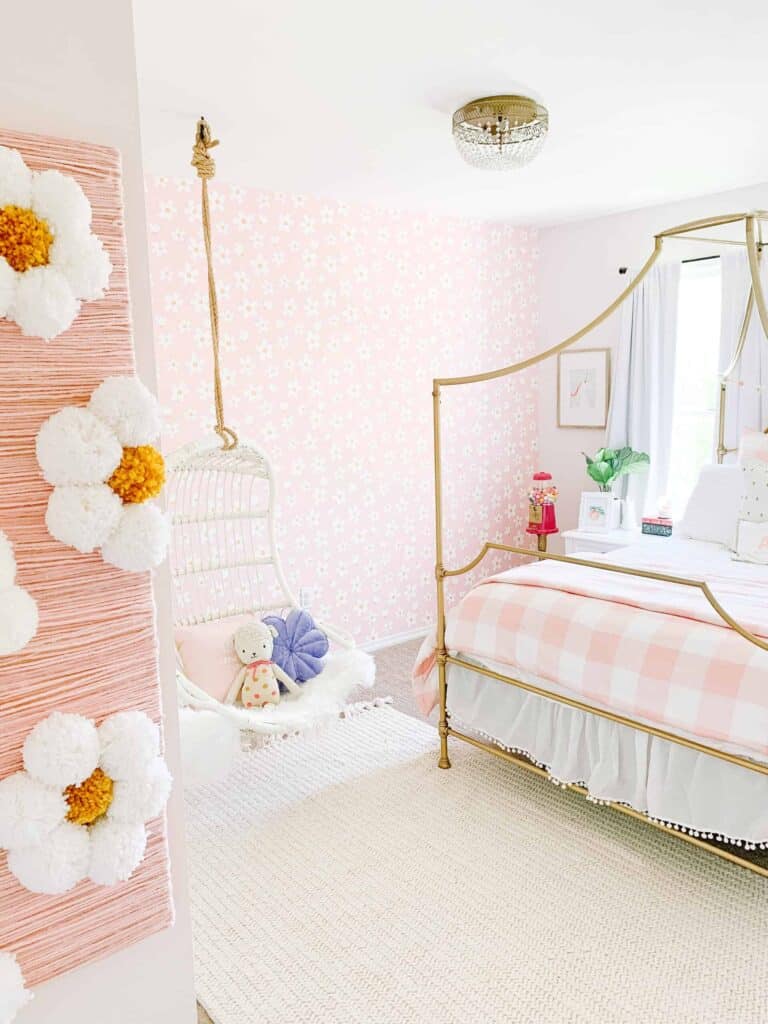 Overall – I would HIGHLY recommend Beddys bedding especially if you are decorating a Childs room and looking for a way to make their room clean and help teach them to make their bed. Don't forget if you decide to get purchase it, you can purchase through my link and use my Beddys Bedding Discount code of ARINSOLANGE for 20% off your purchase!
If you have any questions be sure to DM me on Instagram, or leave me a comment below, and enjoy your bedding!
For more info on the rooms in this post:
Bunk Bed Room | Shared Boy Room | Review of the black beds in shared Room | Daisy Bedroom
Pin the Photo Below for Later