We officially hit 3 years in our house and we FINALLY finished Goldie's Grand Millennial toddler room. No surprise here, it is the room of my dreams.
When we moved in I made a point to move through each kids room one by one, and worked oldest to youngest so sweet Goldie was last, and in my opinion it was worth the wait.
This post contains affiliate links. All opinions are my own. All Spoonflower pieces were graciously gifted in exchange for inclusion in her room.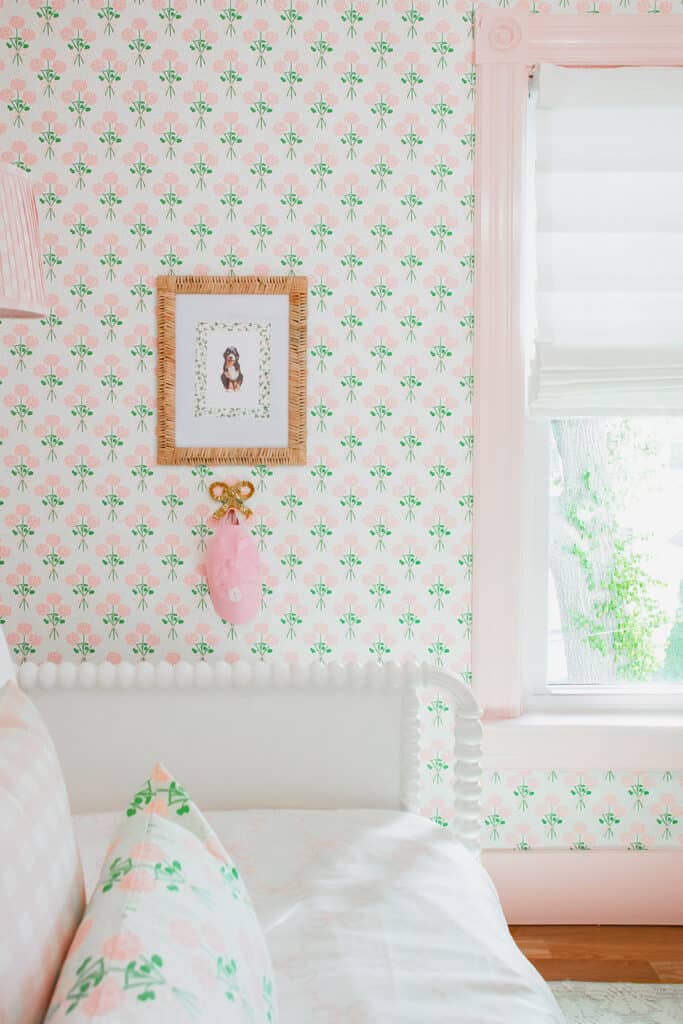 Goldie's Grand Millennial Toddler Room
Let's rewind 3 years to this room in this house. Goldie's sweet room took the biggest hit when it came to adding a much needed upstairs hallway. Although the end result is still a room that is plenty large for a child – it is certainly not huge.
I knew when creating the space we would do a daybed along the one wall. Fortunately, we already had a daybed from Ave's room since she recently upgraded to bunk beds for sleepovers.
I was so happy to repurpose this daybed for Goldie. It is the prettiest bed and it truly fit the theme of her room so well.
When picking the overall theme of the room I wanted to lean 'grand millennial' because it A: makes me happy, and B: fits the time period of our home so well.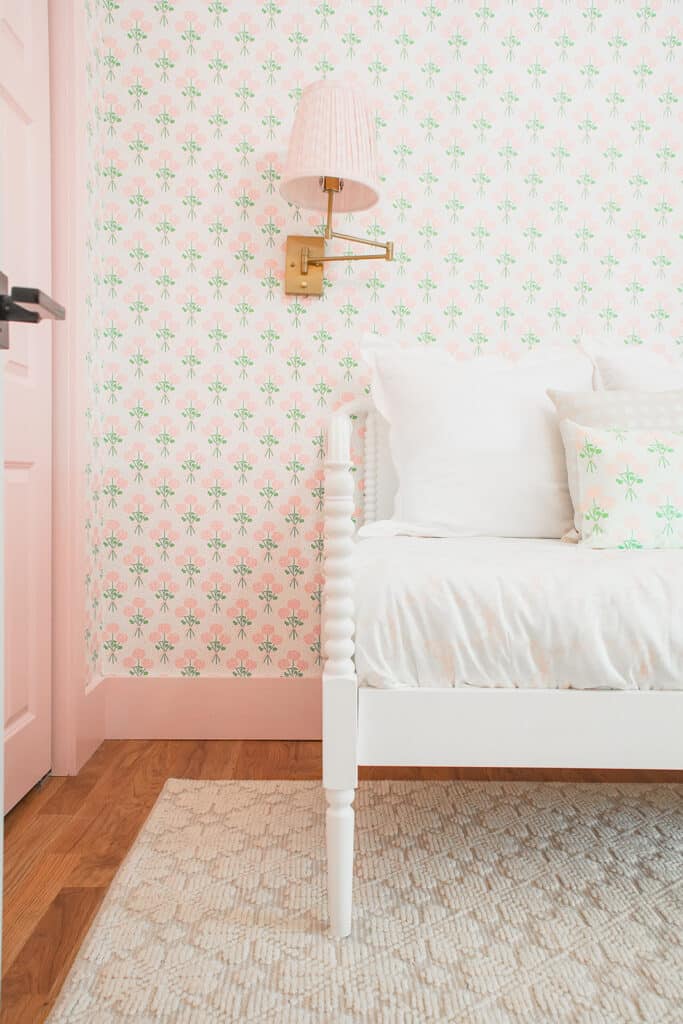 Textiles and Pattern
For a grand millennial style, there are a few basic tips to achieve the look. First, you should use natural materials like rattan and wicker. Second, you need to incorporate a lot of intricate patterns and textures throughout the room. The "grand" part of this comes into play if the pattern looks like it could come from your Grandma's house.
To achieve that heavily pattern and textile look, I went with 2 patterns for 90% of the room.
I picked wallpaper from Spoonflower, and some bedding from Spoonflower – both of which I repeated throughout the room.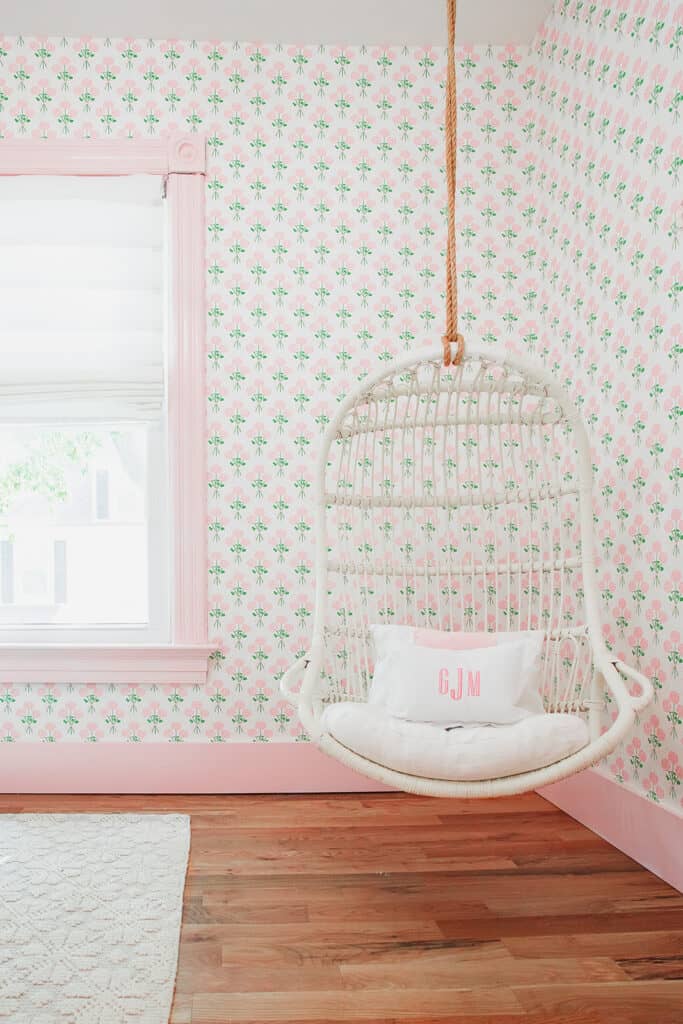 I love that although I repeated patterns and textures it still came out feeling airy and open because her room is small. We originally planned to add curtains in the pink gingham and when we started that it was just too much so I pulled back. Always remember to be willing to pivot.
We also aded some of the same pattern in the sconces which was SO FUN. I bought the sconces on Amazon, but for the shades I did a DIY to make pleated shades with the same pattern from Spoonflower.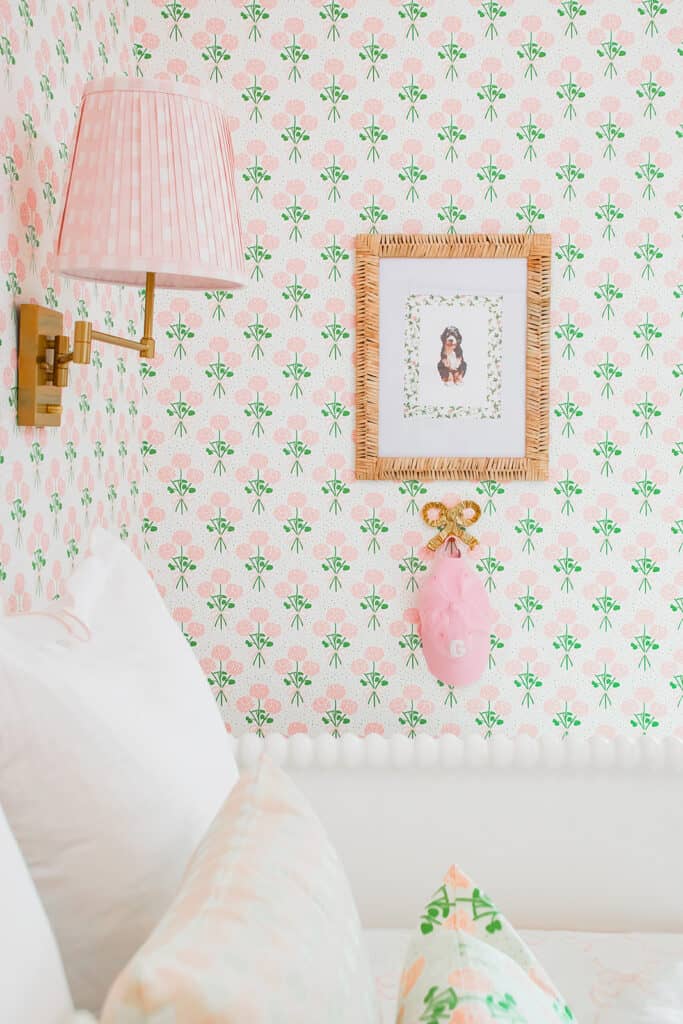 Room Details
My goal was to create an open and inviting room. To achieve that, I didn't want to go overboard and make the space feel too cramped. So we kept it simple. However, at the same time, I wanted to incorporate some meaningful pieces that scream "Goldie."
The 'Drop of Golden Sun' sign was from Goldie's Nursery. It is VERY subtle in her room now but I am so in love with it.
I went with a hanging chair for her room as well. We had 2 colors of hanging chairs from both Goldie's nursery linked above as well as Avé's room from our last house, and I just love it for a little girl.
I also added wall art and a small antique gold bow hook to one wall. This was super simple because her room didn't need much for art – but I wanted something to draw the eye in.
For the trim and doors we went with a high gloss paint in Benjamin Moore Honey Nut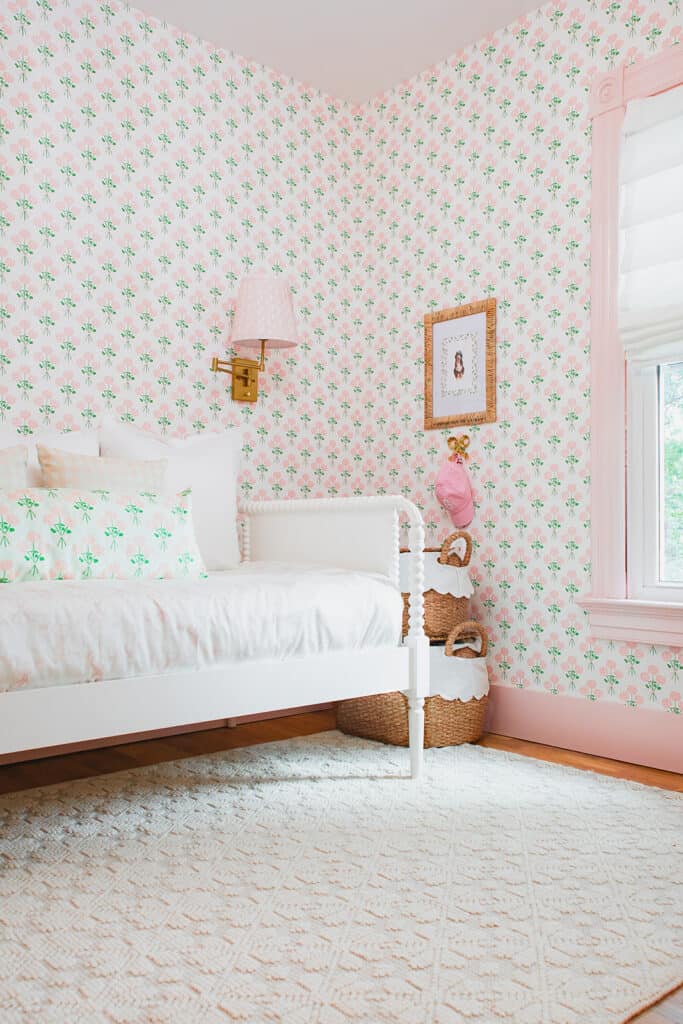 Storage
As always, I had to add storage. Most of this in Goldie's room was in her closet, but I also added 3 nesting baskets for her stuffed animals, books, and toys.
The other issue we had with removing her dresser was the lack of place for her Hatch Sound machine. We added this outlet shelf to store the outlet shelf and it was one of the best decisions we made in the room. The shelf hides the cord and keeps the hatch off the floor.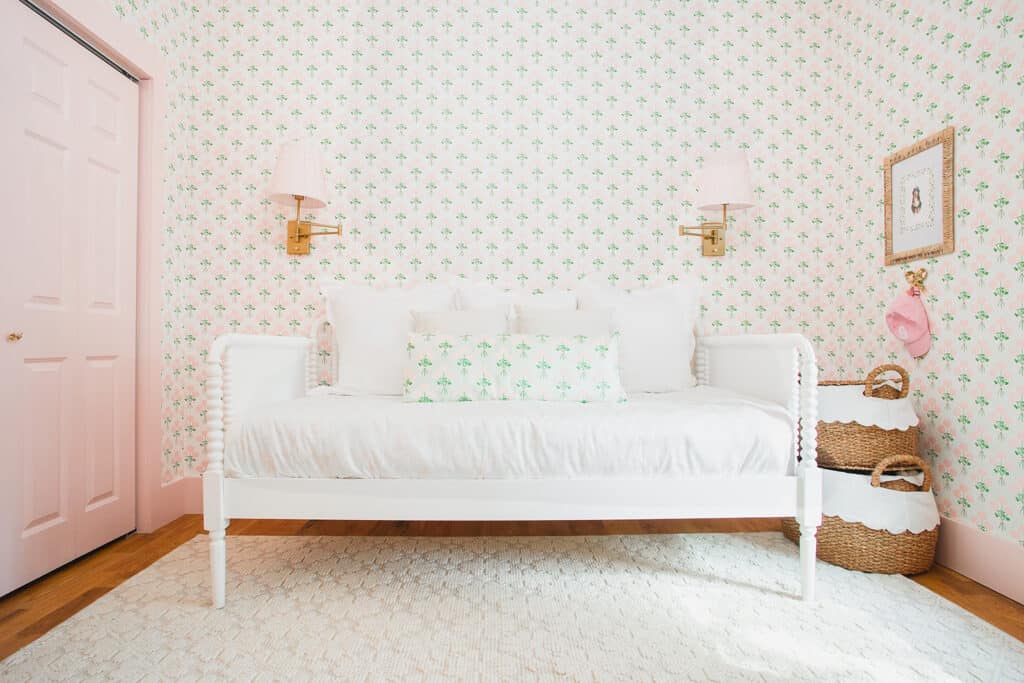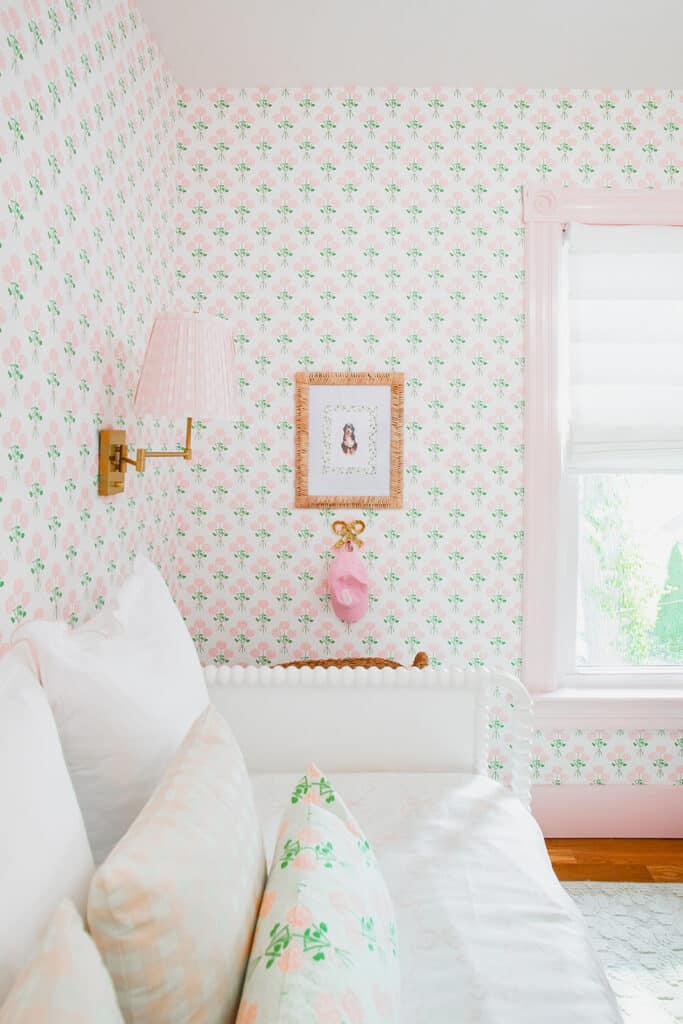 2
Wallpaper
We went with the peel and stick but have also done water activated and LOVE that too.
4
Lumbar Pillow
This is in the same print as the wallpaper and makes for the perfect Grand Millennial feel
5
Gingham Pillows
I used this gingham print on pillows, sheets, and the fabric on the DIY sconce shades.
7
Throw Blanket
I again tied in the wallpaper print here.
10
Rug
This is the same rug I have in Avé's room and I love it.
13
Swing arm Sconces
I added diy shades to these by hot glueing pleated pieces of fabric
Other Posts You'll Love
Kids rooms are by far my favorite thing to create, and Goldie was my last one in this house – so I have so many others to show you.
Check out the posts below to see the other 3 kids rooms below.
Jacks Room | Avé's Room | Walker's Room
Pin the Photo Below for Later
Thanks for Checking out my sweet Goldie's room. To see more of what I do in our house make sure you sign up for my emails, and follow me on Instagram! Her toddler Grand Millennial room is one of my favorite spaces and I hope it inspires your next space.