It is hard to believe that it has been two years since I last gave you guys a nursery decor post. Before you even think about asking, no, this is not a major baby announcement! With Goldie turning 3 years old soon and being my last baby I had to sneak in one last post on nursery decor ideas girl mamas will love before she heads into a big girl room.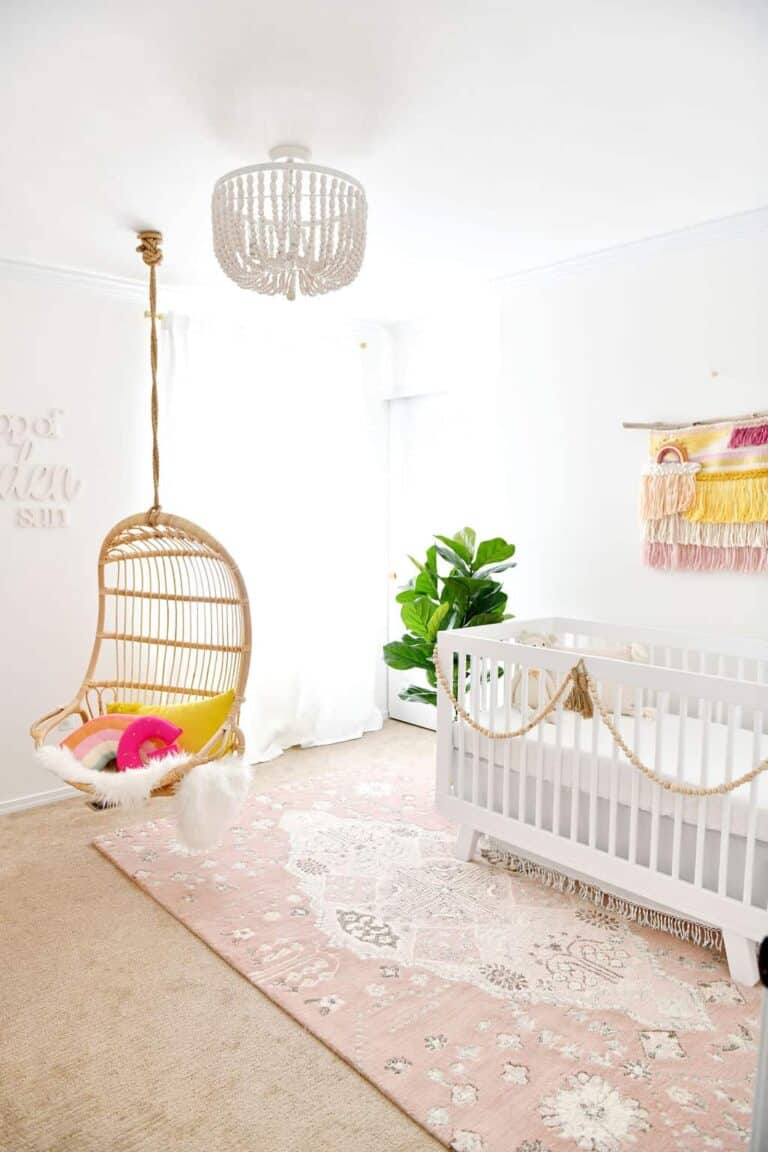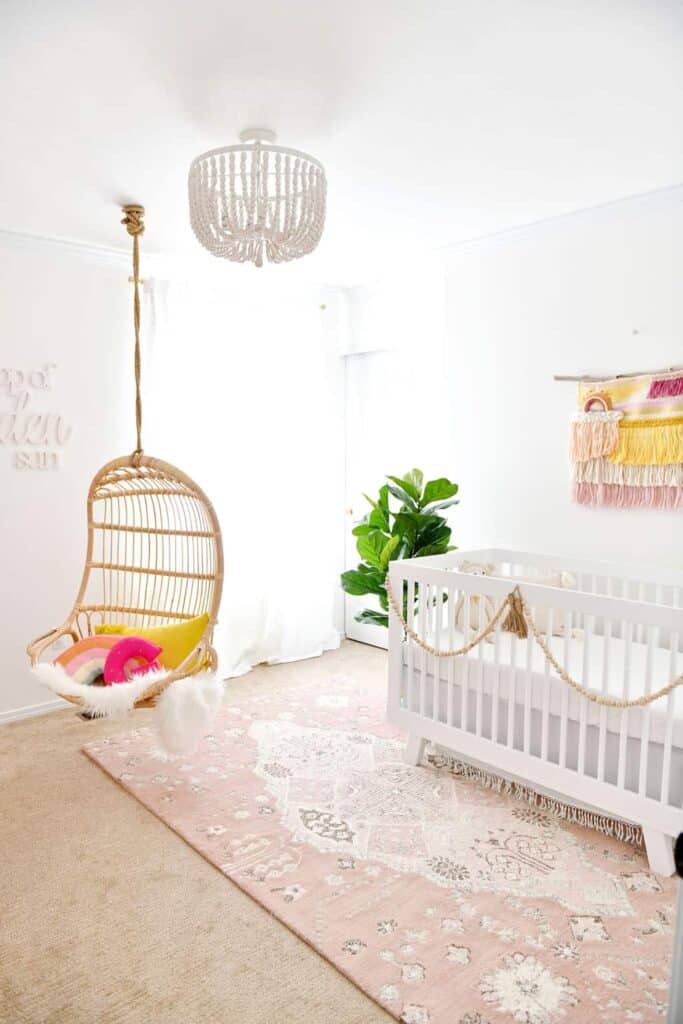 Nursery Decor Ideas Girl Mamas Will Love
I've been reminiscing about past baby girl nursery ideas. Soon, Goldie will want to have her own big girl's room and we'll say so long to our baby girl's room and hello to her little girl's room. In honor of me being an emotional mess with her impending birthday, here is a post dedicated to those of you who are looking for baby girl nursery themes!
Nursery Basics
When I originally wrote my Amazon Girl's Nursery Decor post, I had just completed Goldie's nursery. At almost 3 years old, Goldie is going to be ready to move out of her baby room and into a big girl's room.
One of my most favorite rooms to decorate in a house is a baby girl's nursery. If you are looking for inspiration for a beautiful nursery, I've gathered my favorite decorative items, nursery furniture, and wall decor that will match any design style for an adorable room for your little one.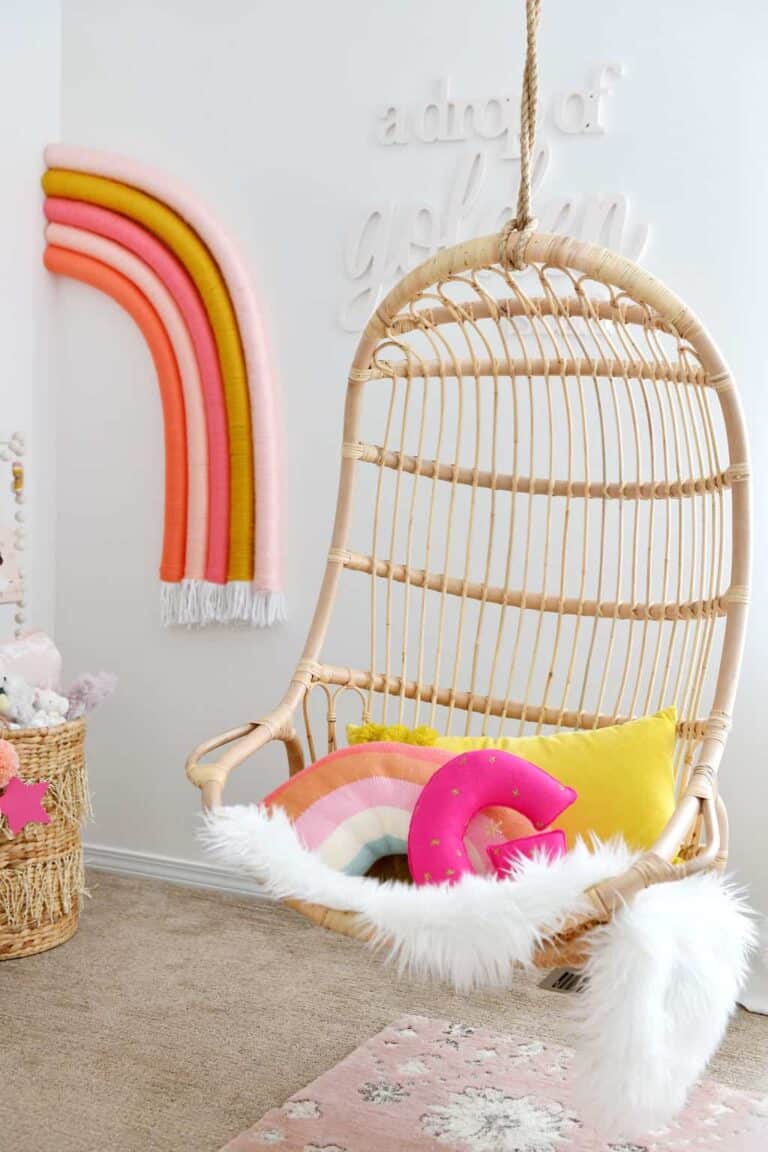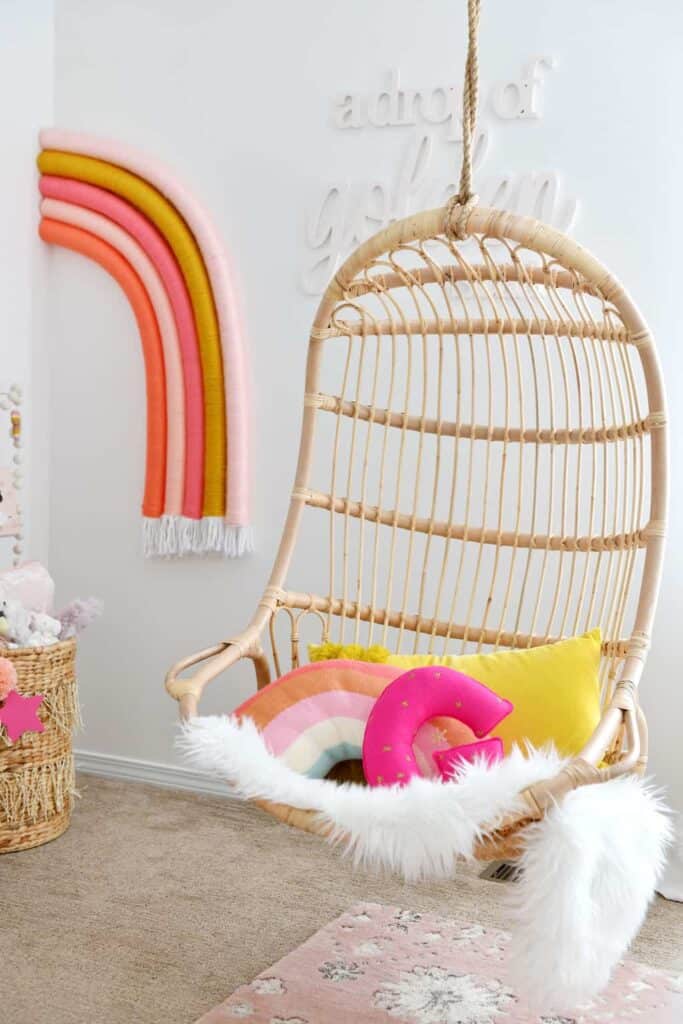 Nursery Decor Ideas – Find your Focus
Before we get into the details, let's talk about how to design your baby's room. I've always been in favor of functional yet stylish pieces. Every piece should have a purpose for the room and make your life easier, not harder.
It should be useful and pretty. One way to begin your process of designing your baby girl's room is to find a piece that piques your interest. It may be wall art, wall paper, an heirloom or even bedding.
Whatever you pick, you'll want to make sure this is your focal point for your entire design process and baby's room. This is the item that you'll build the rest of the room around for a themed nursery.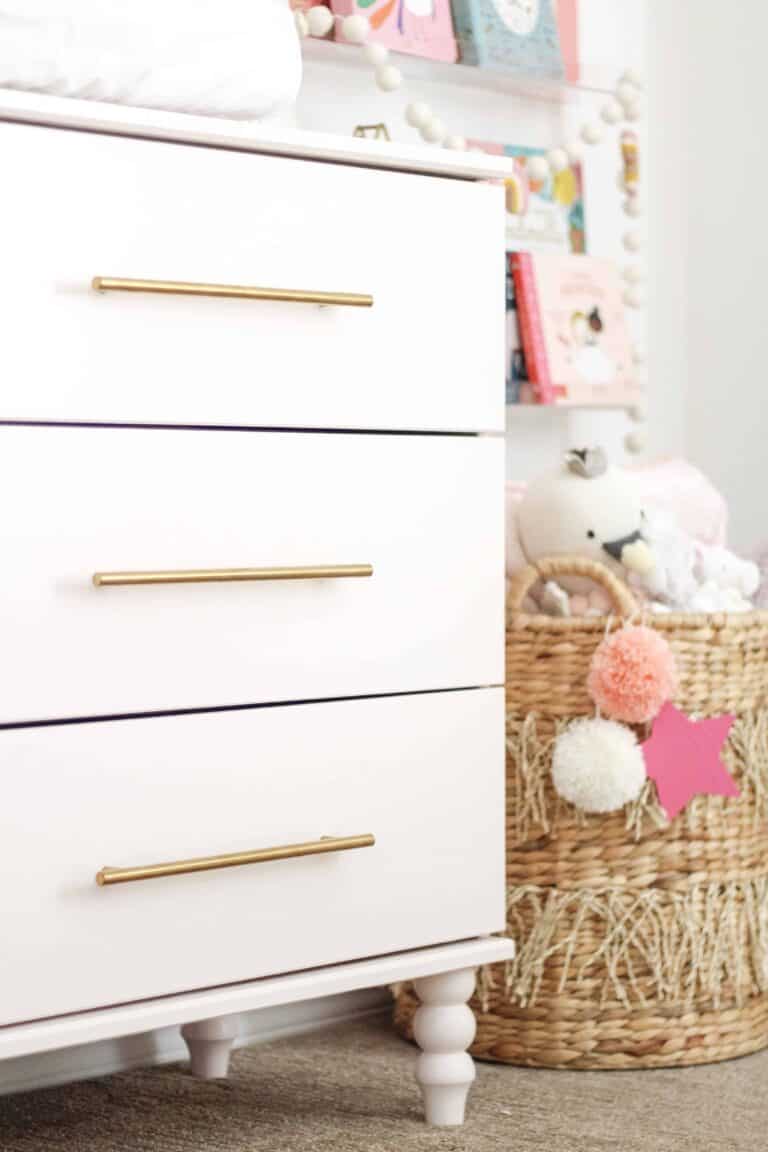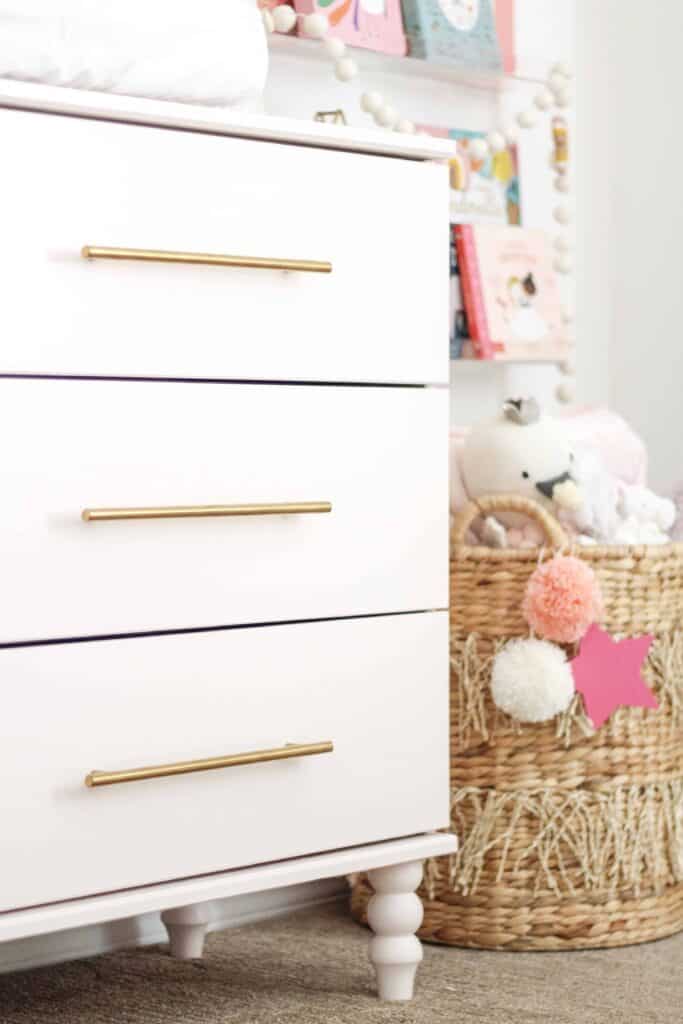 Pick a Color Scheme
Once you've found that item that piques your interest, you can decide the type of theme you want. There are tons of baby girl nurseries when you look on Pinterest. The inspiration is there, you just need to decide what you want.
Before I go over my favorite girl nursery ideas, keep in mind there are many different styles that can complement any nursery room. Do you naturally lean towards a more modern look or do you prefer traditional designs?
You'll need to pick your color scheme to complement the design and style of the room and the item of interest. From white walls to floral wallpaper, you can create a huge impact in a small space.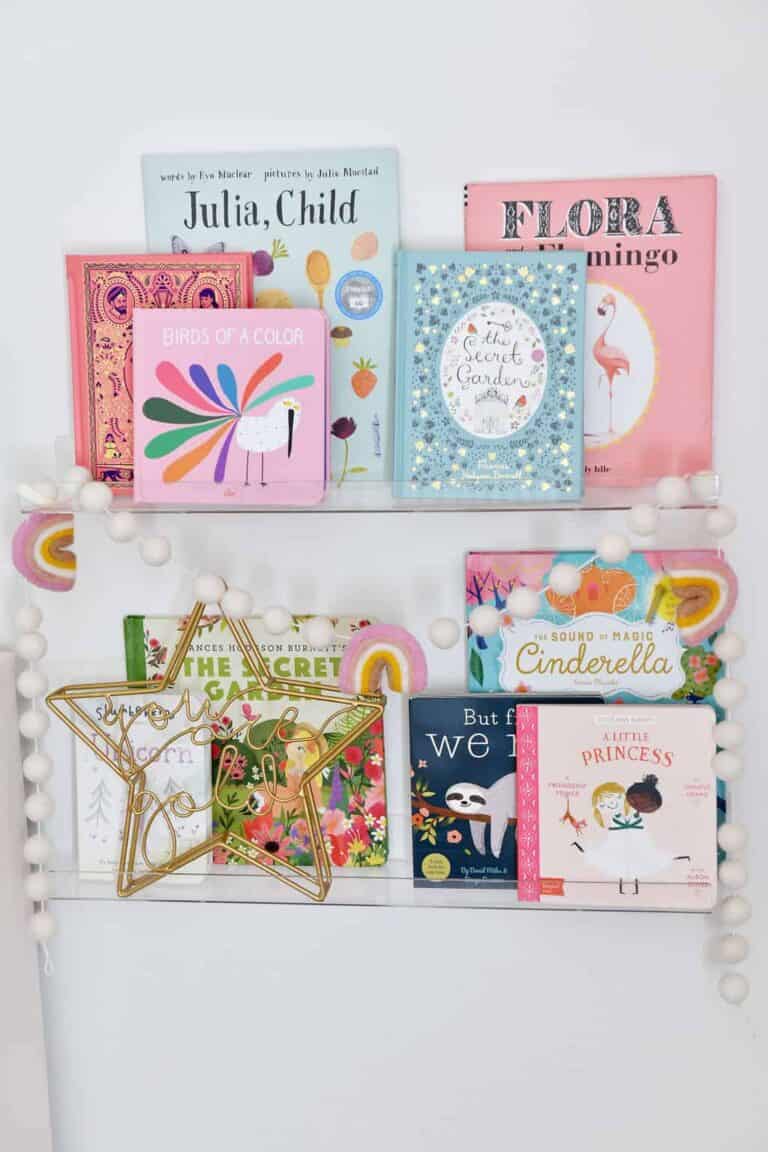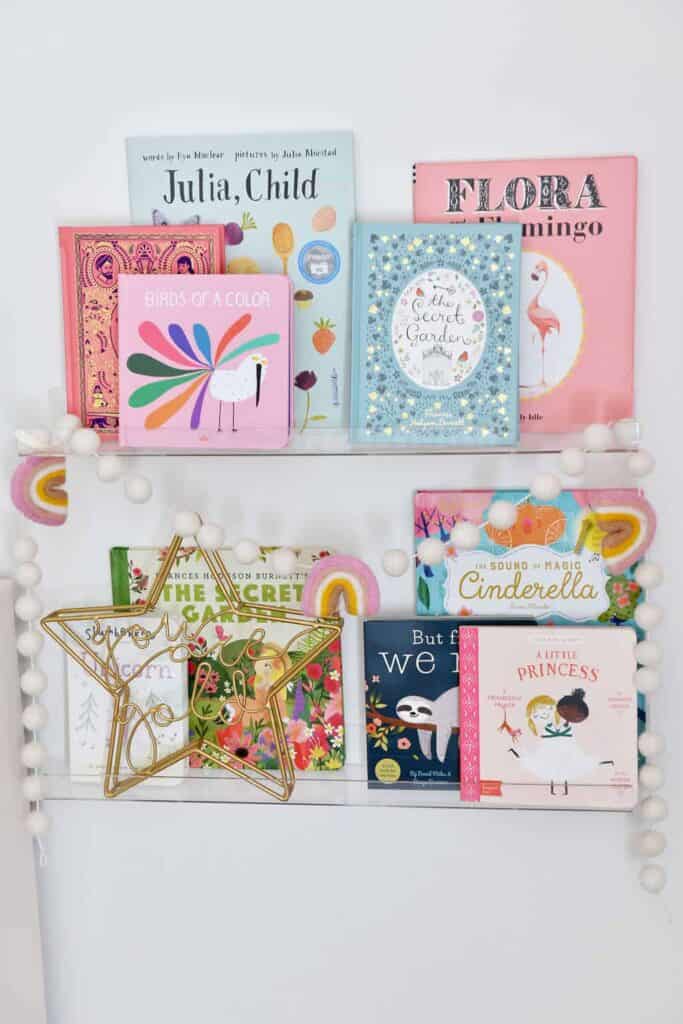 While you should pick a theme for your room, you don't need to go overly themed. Gone are the days of buying matching wallpaper, art decor, bedding, lamps, and curtains all in your favorite Winnie The Pooh print. To avoid that early 90s nightmare, you'll want to stick to your theme loosely. Pick items that complement each other, but don't necessarily match exactly. You can mix and match decor that can easily grow with your child.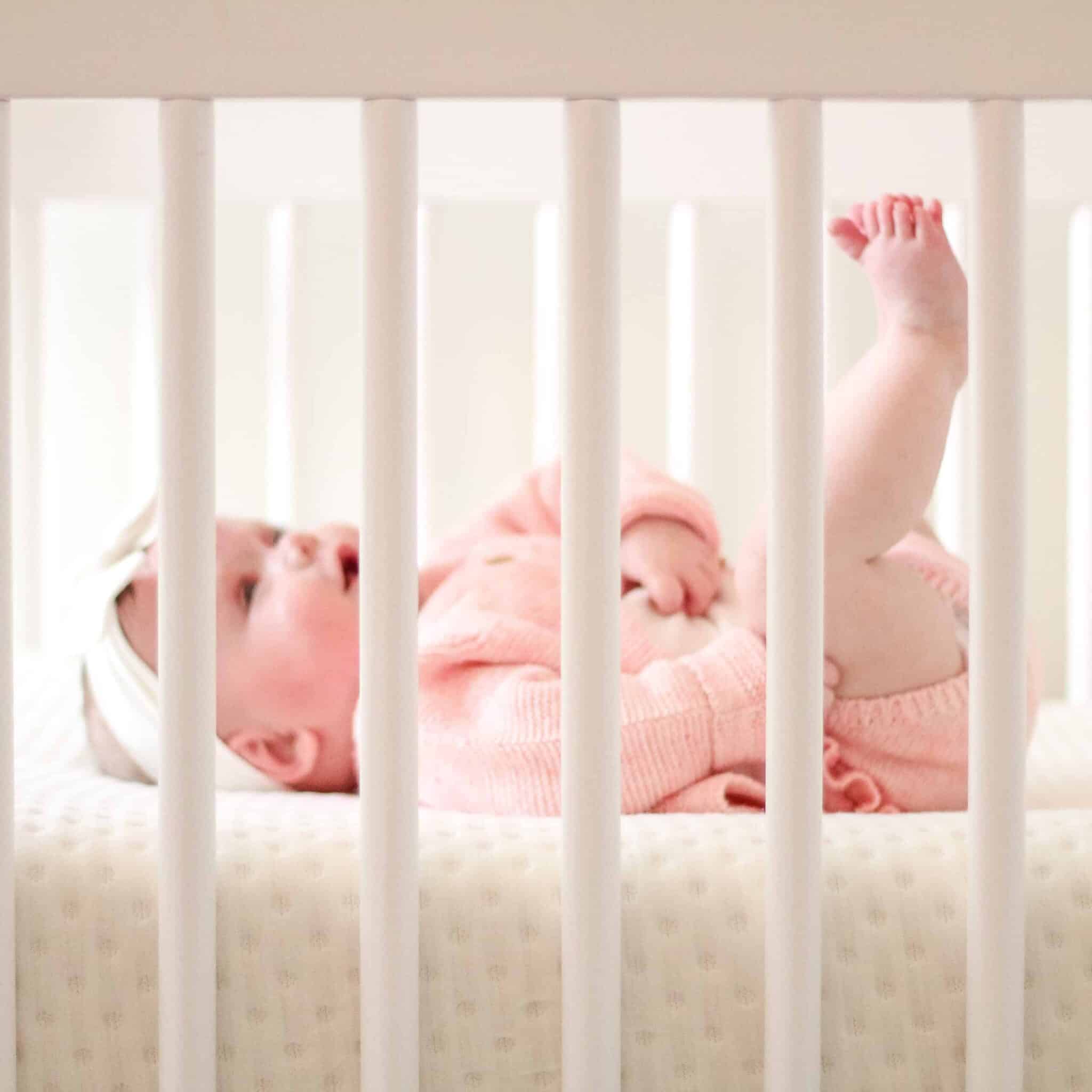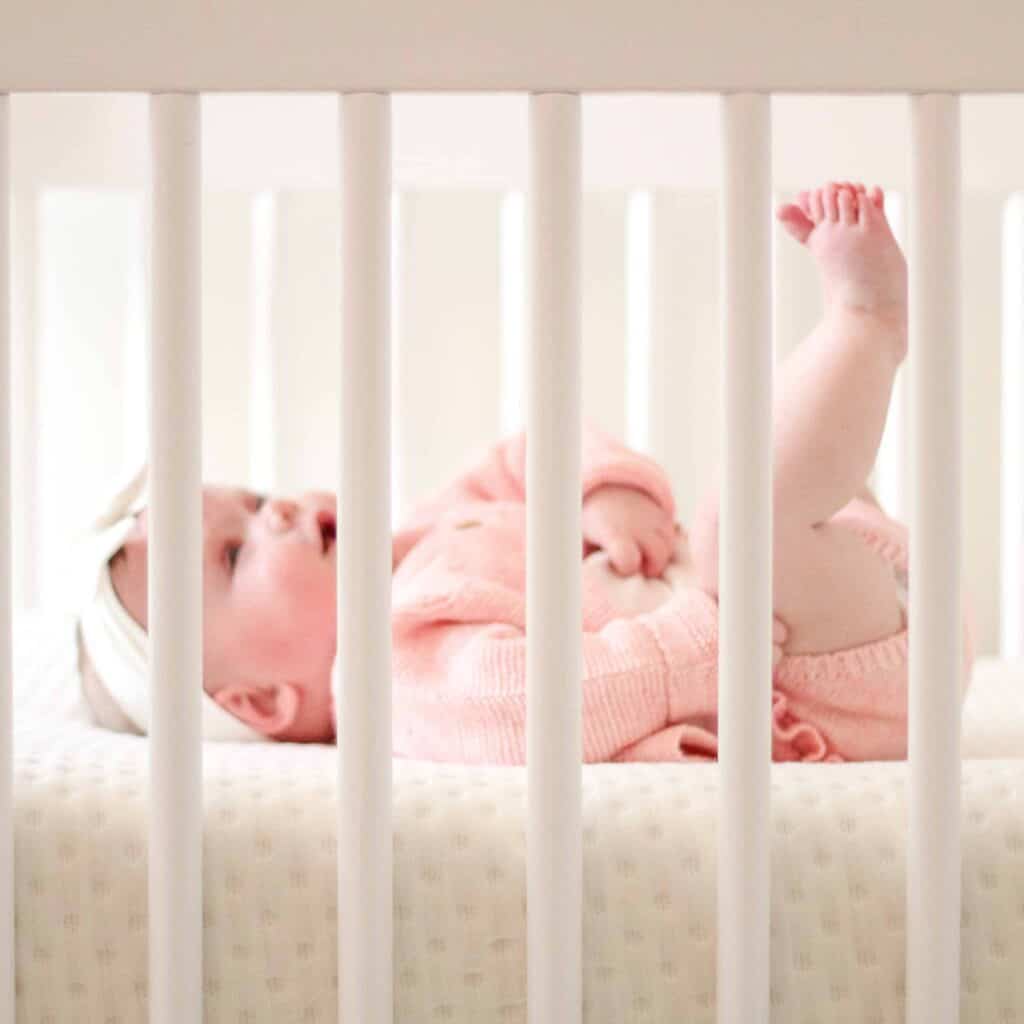 Nursery Decor Ideas Girl Mamas will Love within Budget
This brings me to my next point- your budget. While you plan your daughter's nursery, you'll want to consider your budget. We would all love to go to Pottery Barn or Restoration Hardware and buy the entire line.
If you can afford to do that, then more power to you! For those of us who need to be intentional with our budgets, it is wise to prioritize what is important for you and your nursery.
For example, if you happen to know you and your partner are planning on having more children, you may opt to go with a more gender-neutral nursery that could be used with your next child. For example earth tone accents could work in a girly boho nursery or a boy's dinosaur nursery.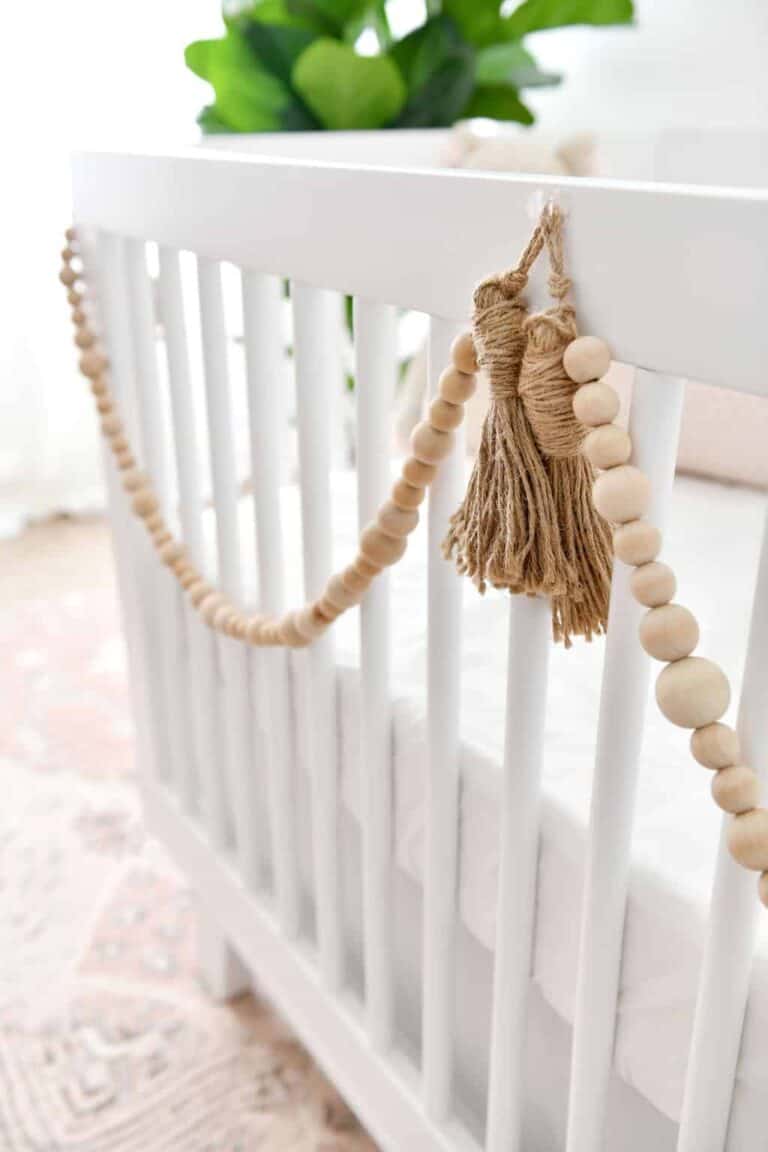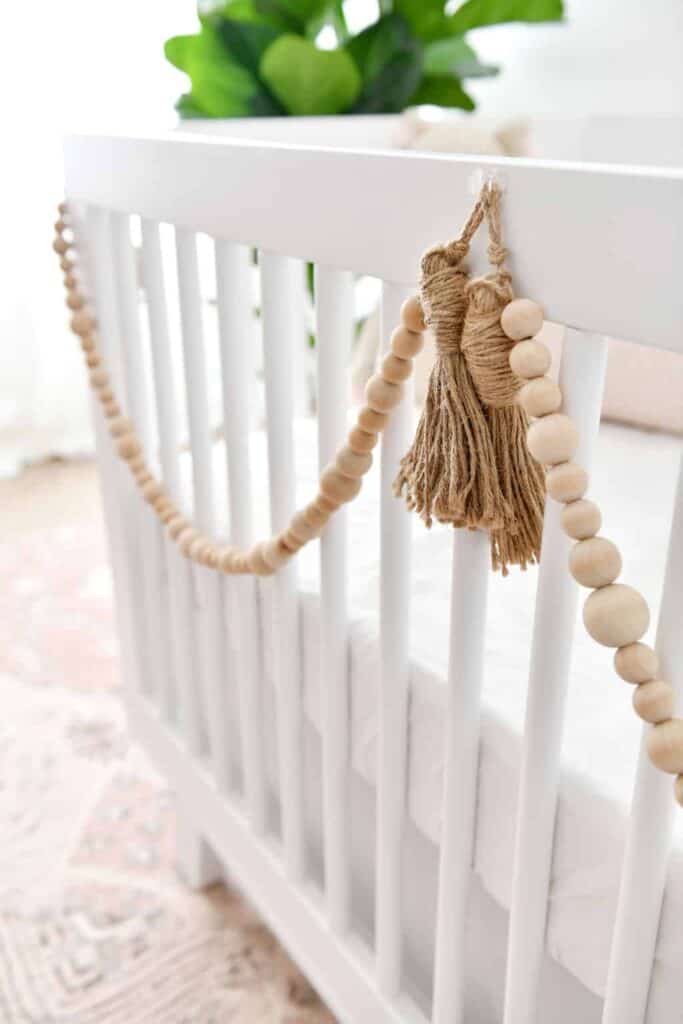 Keep in mind what you want to grow with your child. Is it more important for you to get a standard crib that your child will outgrow, or do you want to invest in a crib that can be turned into a full bed. Most convertible cribs don't convert into queen sized beds. I have many friends who opt to skip the toddler bed all together and go straight for a queen size bed. In this instance, buying a convertible crib really doesn't do you any favors.
Ultimately, I prefer to invest in pieces that my child can grow into and won't be replaced in the next 3 years. You can invest in nice lighting, curtains, and basic furnishings, and then update your wall decor, bedding, and rugs.
I also love looking for dual purpose items. For example, a doll house can double both as a bookshelf while your child is younger and then as a dollhouse once they grow older.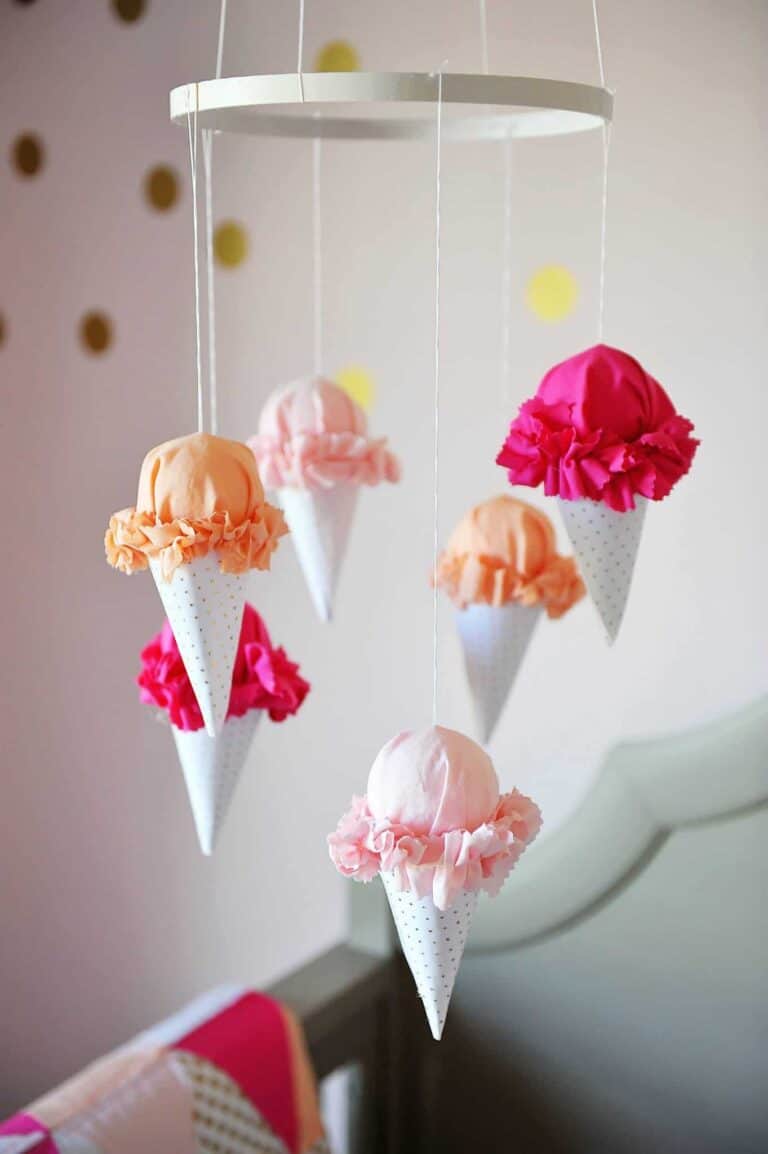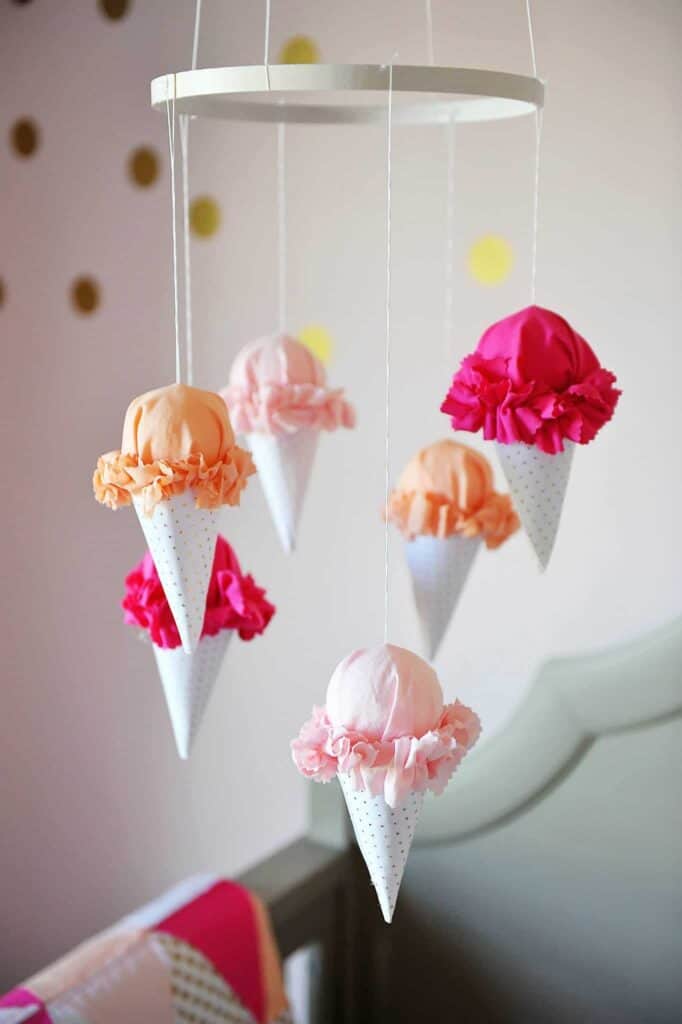 Check out my post on DIY nursery decor. This ice cream mobile I made for Ave's nursery, which seems like a lifetime ago.
One of my favorite ways to help save costs is to turn to IKEA furniture and tackle some IKEA nursery hacks. I love that IKEA furniture is durable, can be easily personalized, and is affordable.
You'll find tons of ways to create your dream nursery for less. I don't know about you, but my kids can be hard on their furniture. My boys love to jump and crash into their furniture in their room, while my girls tend to think furniture is an art canvas.
Should you decide you want to update the space with something different or if you want to avoid buying expensive pieces that your kids will ultimately use as a canvas or for target practice, then IKEA is a great idea.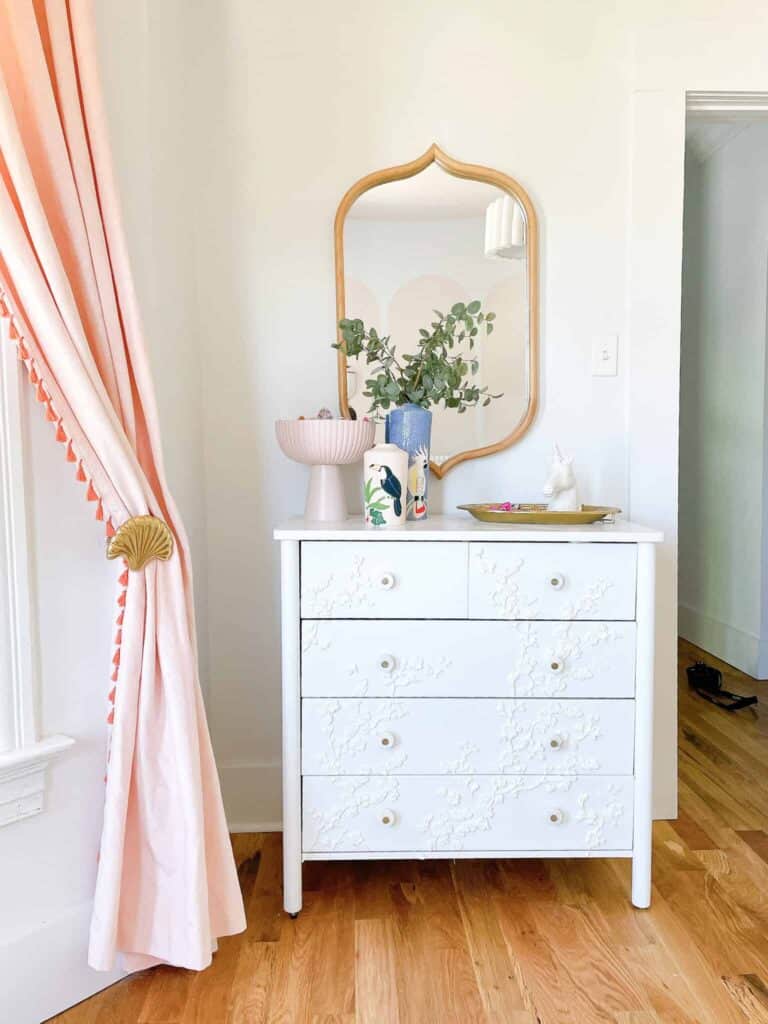 Consider The Function Of Your Space
When you are picking out furniture and decor for your nursery, you need to keep one fundamental principle in mind: consider the function of your baby's room. The overall goal of your nursery should be to promote sleep, growth, and a safe place for exploration. Keep that in mind when you go to pick out pieces for the room.
To help promote sleep, you'll want to create an environment that is calm. This ties right back into your color scheme and theme. In general, you tend to see a baby nursery with soothing tones or even an all white nursery.
While pastel colors tend to be more soothing, you can still use bright colors in accent pieces or decor, and still create a serene environment. One way you see this is in a feature wall. This is a great way to create texture and interest, while still maintaining a calming atmosphere.
By only having that one accent wall you not only create a focal point, but you also have taken care of a large part of the decor.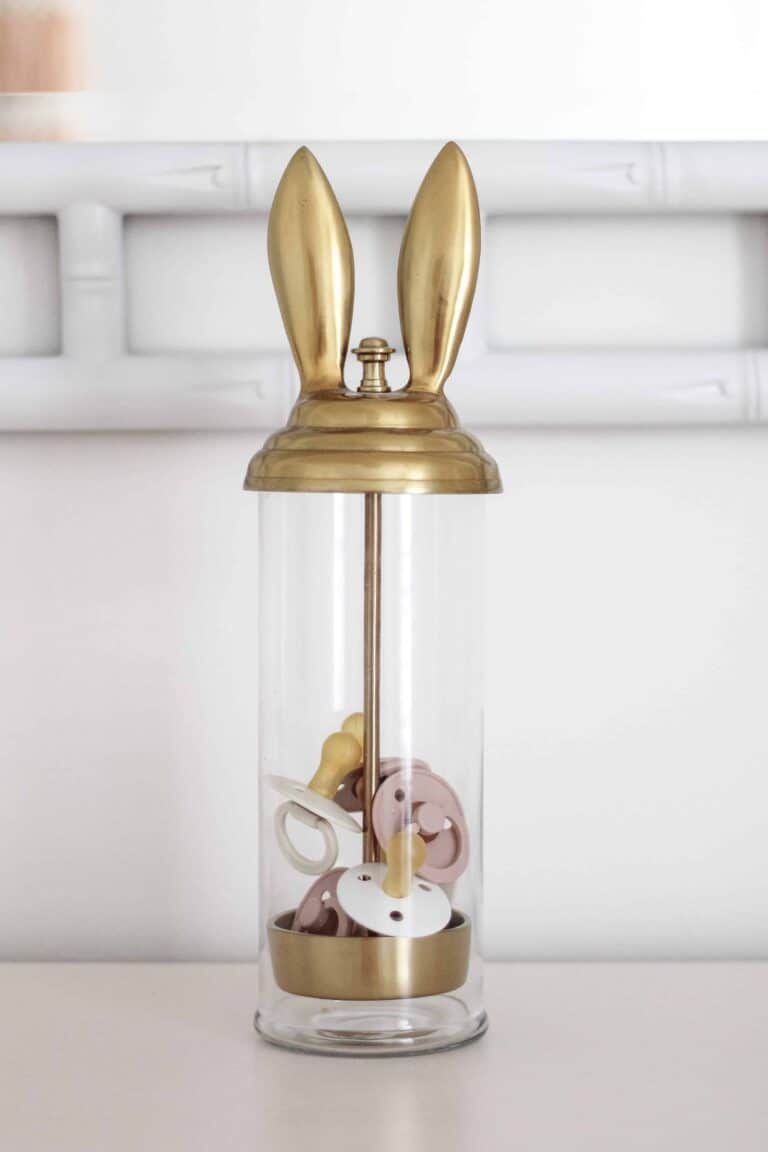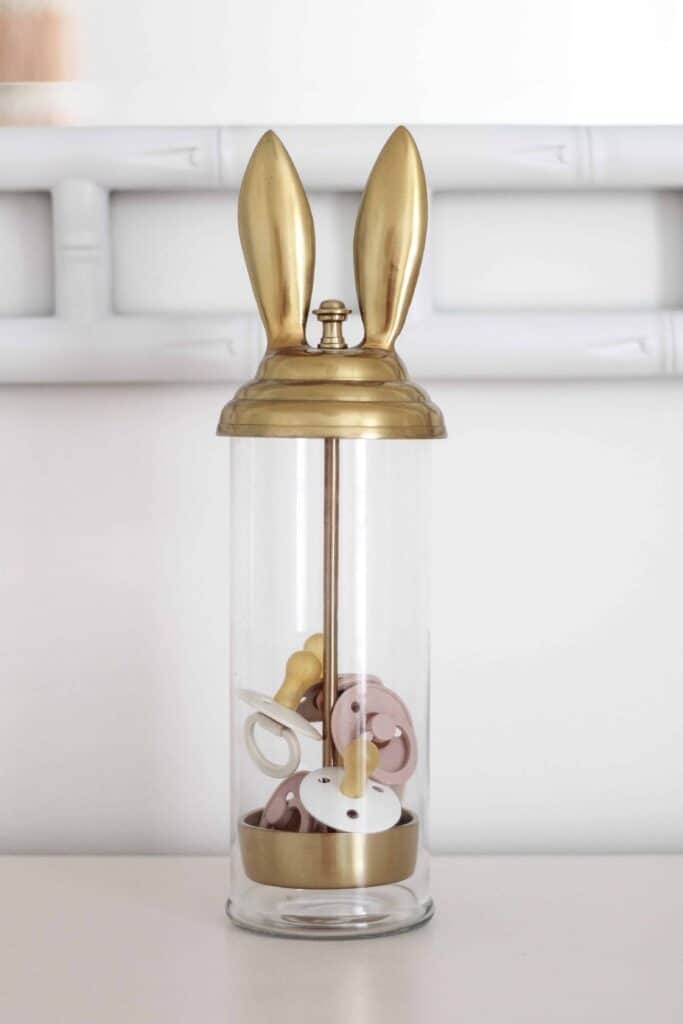 Another way to create an environment for sleep is to make sure you have curtains around your windows. Curtains are a great way to frame your windows and also provide darkness for sleep. I'm a big fan of black out shades and curtains during the early years. My kids loved having a pitch black room. While white curtains are beautiful they can also allow a lot of light to filter in.
If you have an older child who isn't sensitive to light or perhaps a unicorn baby who isn't sensitive to light then sheer curtains can be dainty and darling in a little girl's room.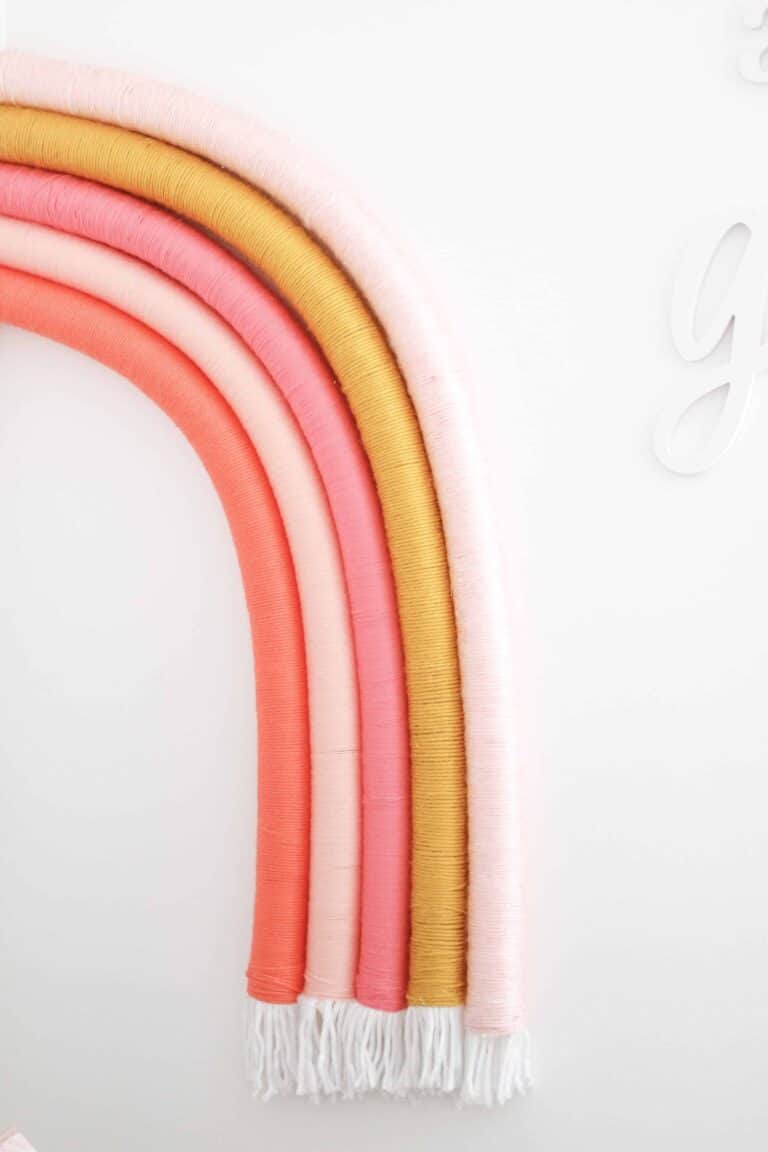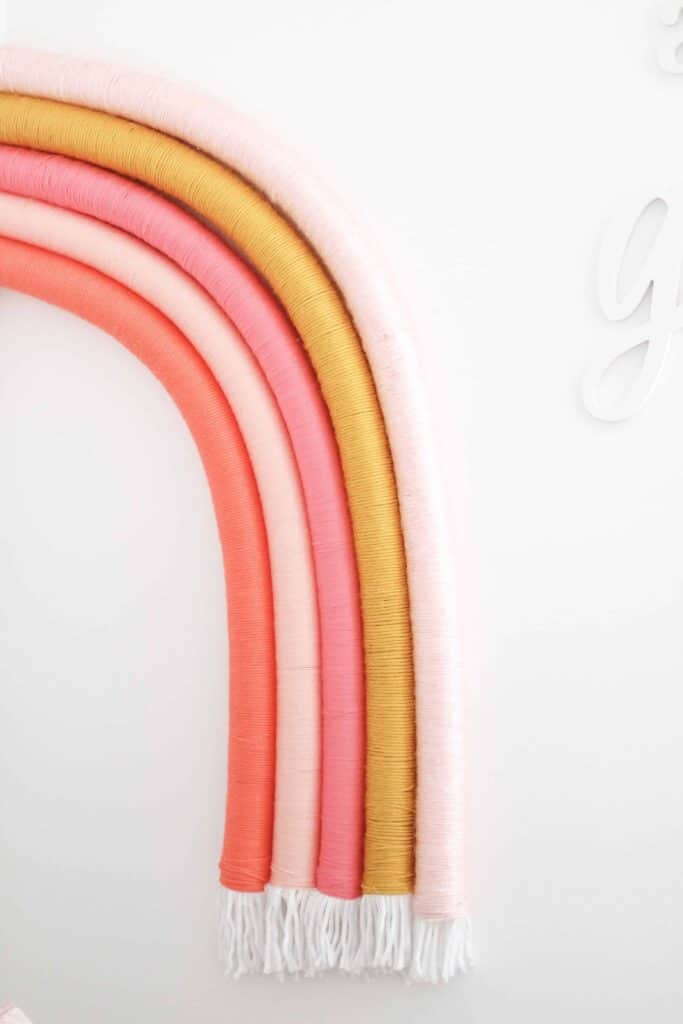 Check out how you can make your own DIY rainbow.
You'll want to make sure you take inventory of your storage space. Do you have a walk-in closet with plenty of space in your nursery or is space lacking? Make sure you check out my post on nursery closet organization tips. I have lots of tips on how to make the best use of your space for an organized and functional nursery. For small rooms, you may need to get more creative.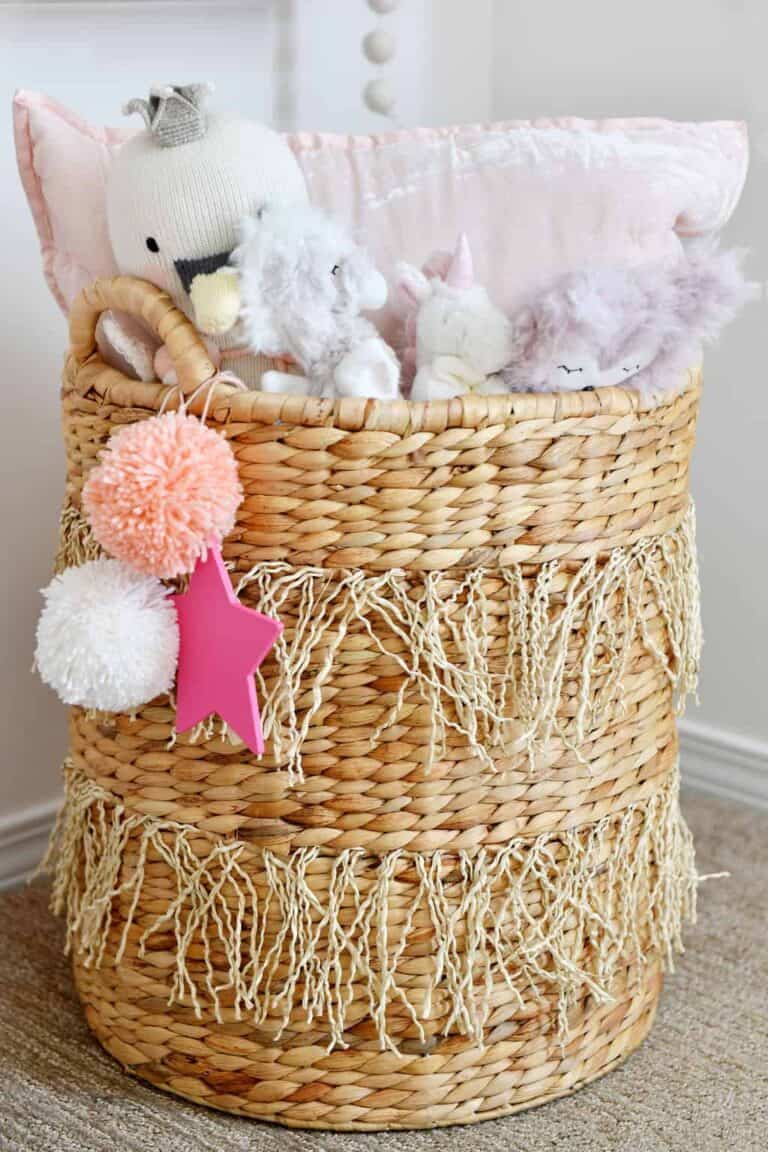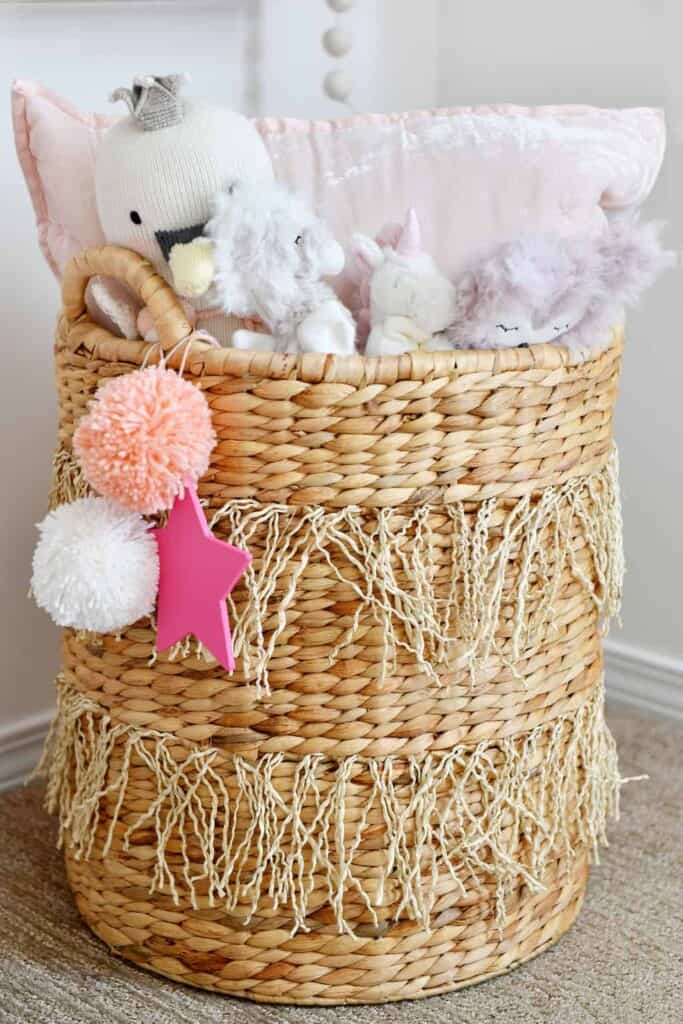 Whether you have a small room or large room, you will need a place to change your baby. My personal preference is to forgo a changing table and opt for a dresser that can be used as a changing table on top. If you need the dresser space for clothes, keep a few wicker baskets or this foldable cart on wheels nearby for essentials like diapers, wipes, and creams or create your own portable station.
My go to dresser is the IKEA Bjorksnas dresser, but really you can't go wrong with any of the IKEA products. To get some great ideas on setting up your changing space, check out my post on the best IKEA dressers for your nursery.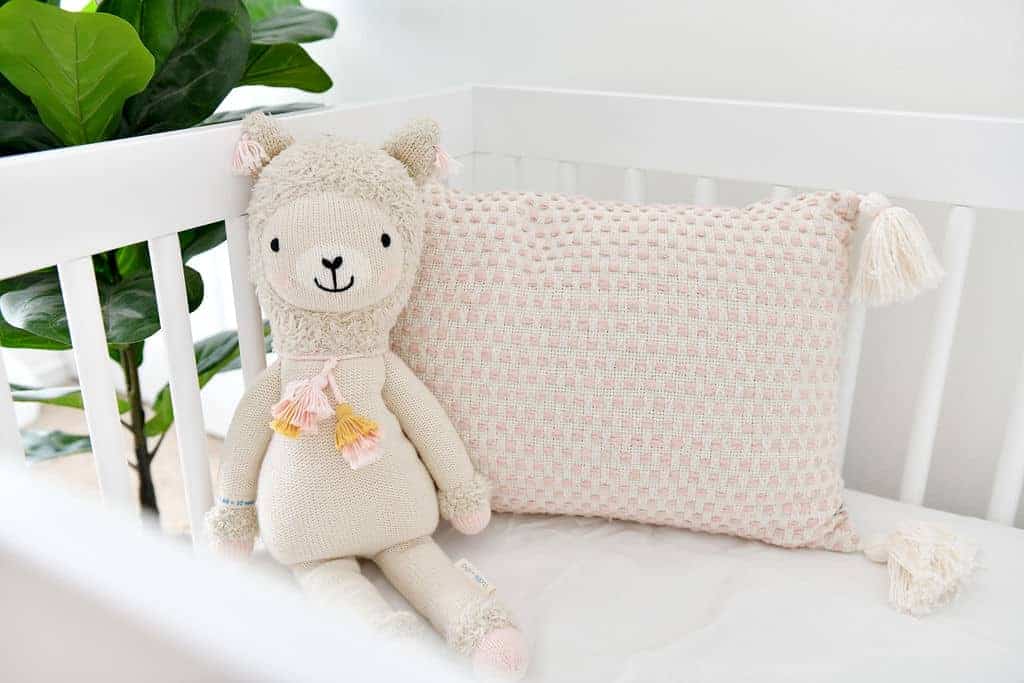 Along with a changing station, you'll need to have a place for rocking and feeding your little one. Again, if space is an issue, creating a portable feeding and changing cart is a good choice to help maximize space.
I love the use of a cart that has essentials and can still be decorated with a nice lamp and other decor pieces. The cart can be stationed next to a rocking chair and then can be placed in your closet to hold smaller toys once they've outgrown the diaper stage.
Rocking chairs not only provide a place to fall asleep during those long nights, but also is another way to tie in your decor. Throw pillows can bring a pop of color or provide texture to your room.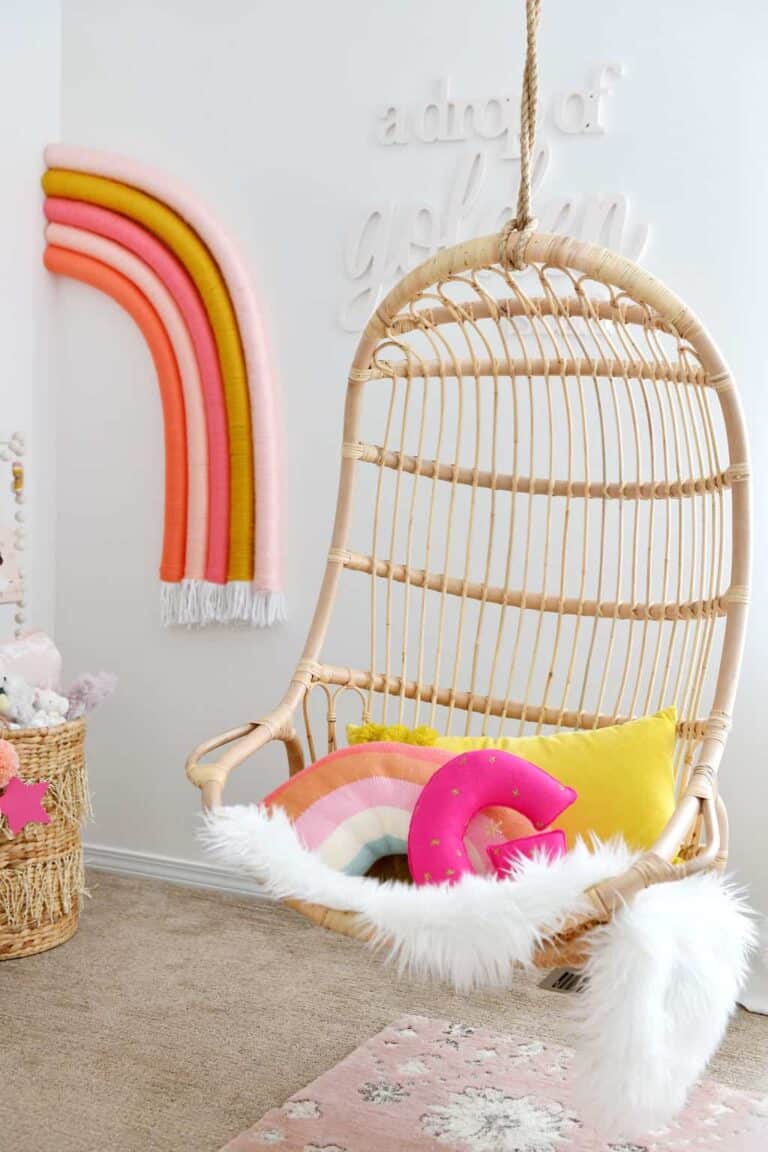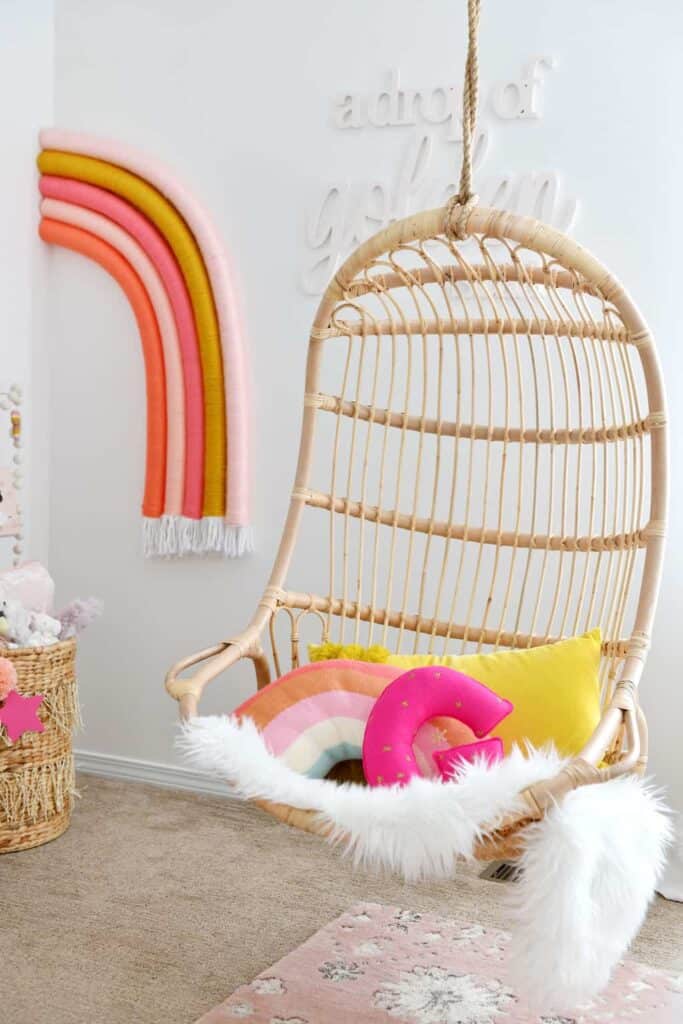 While your nursery should promote sleep, it should also allow your child to grow and explore. As your child grows, you'll want to set aside some space for them to explore and play safely. I love bringing in different textures, patterns, and colors to help stimulate their brains.
To incorporate texture, a good idea is to bring in different sensory experiences. A nice plush rug provides a great surface for sensory exploration and enhances your nursery's decor. Mirrors and lighting can also serve as sensory items as well.
I love the effect that a crystal chandelier has on a room. Not only is it beautiful, but it creates light and different shadows as the sun hits it. If you don't love the look of a crystal chandelier and still want to have a fun lighting effect, the good news is you can buy rainbow catchers for your windows and get the same effect.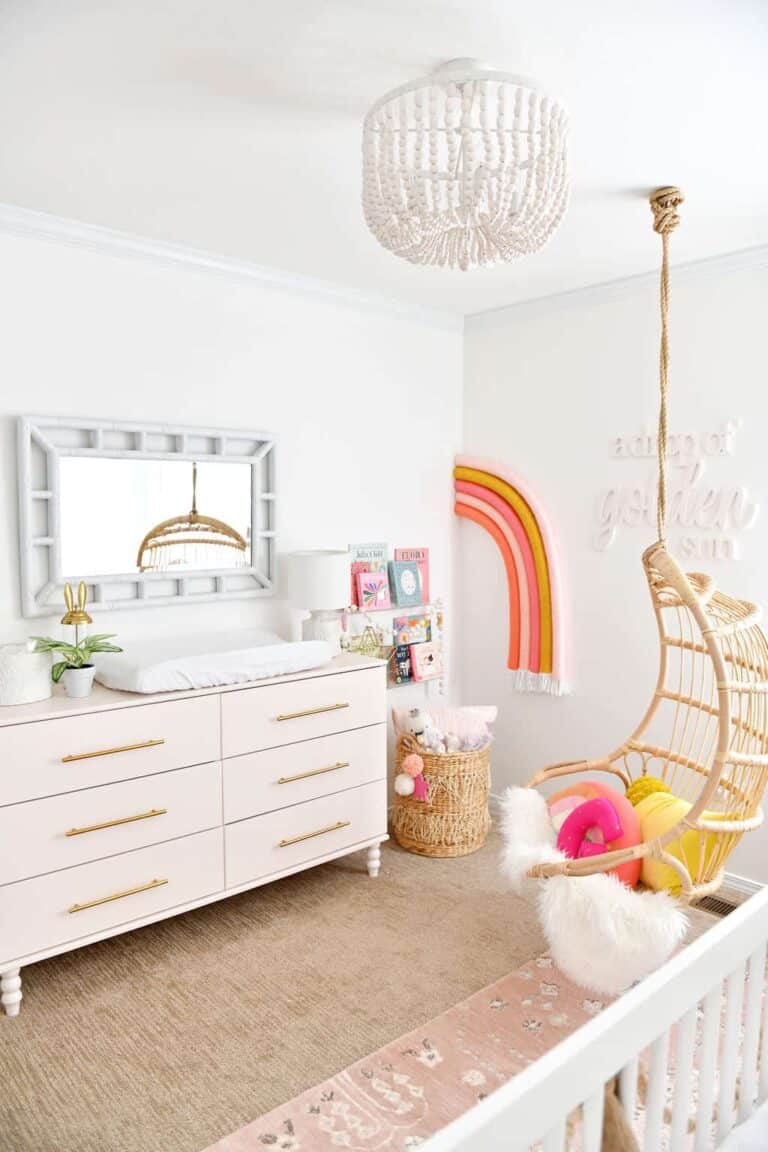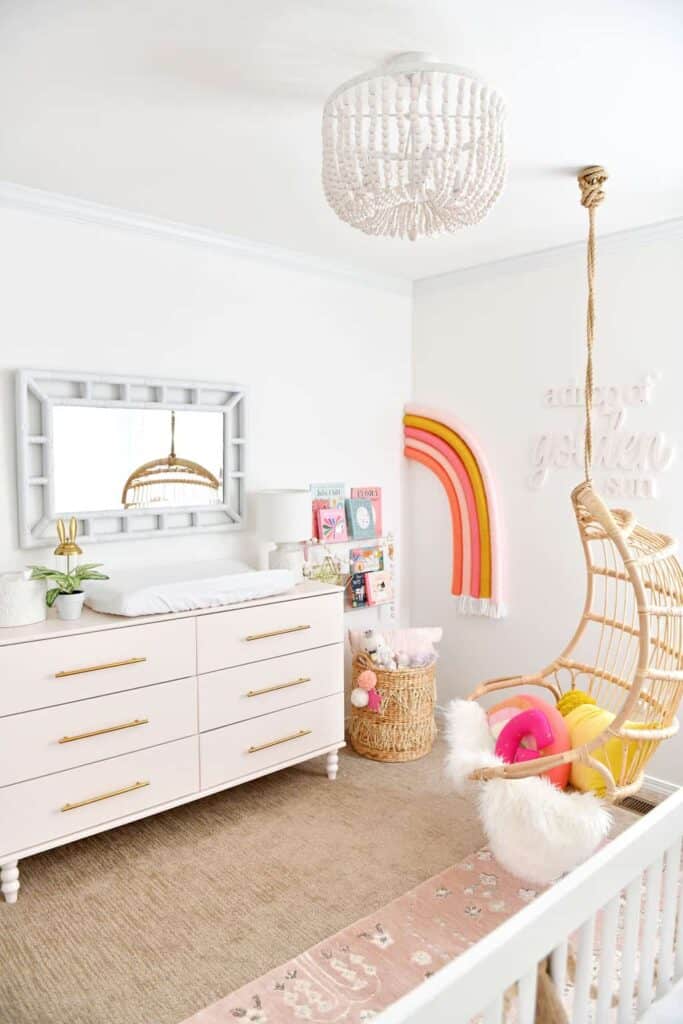 Now that you've acquired all of your essential furniture pieces you'll need to ensure that you set up the nursery in a manner that makes sense and is safe. Putting the crib on the wall directly in front of the window may look nice in pictures, but do you really want sunlight pouring in when your baby is trying to sleep?
Don't forget to check out the arrangement of your furniture and accessories. For example, your diaper pail should be within reach of your changing station. Ultimately, you should have separate areas for sleep, changing, feeding or snuggling, and playing.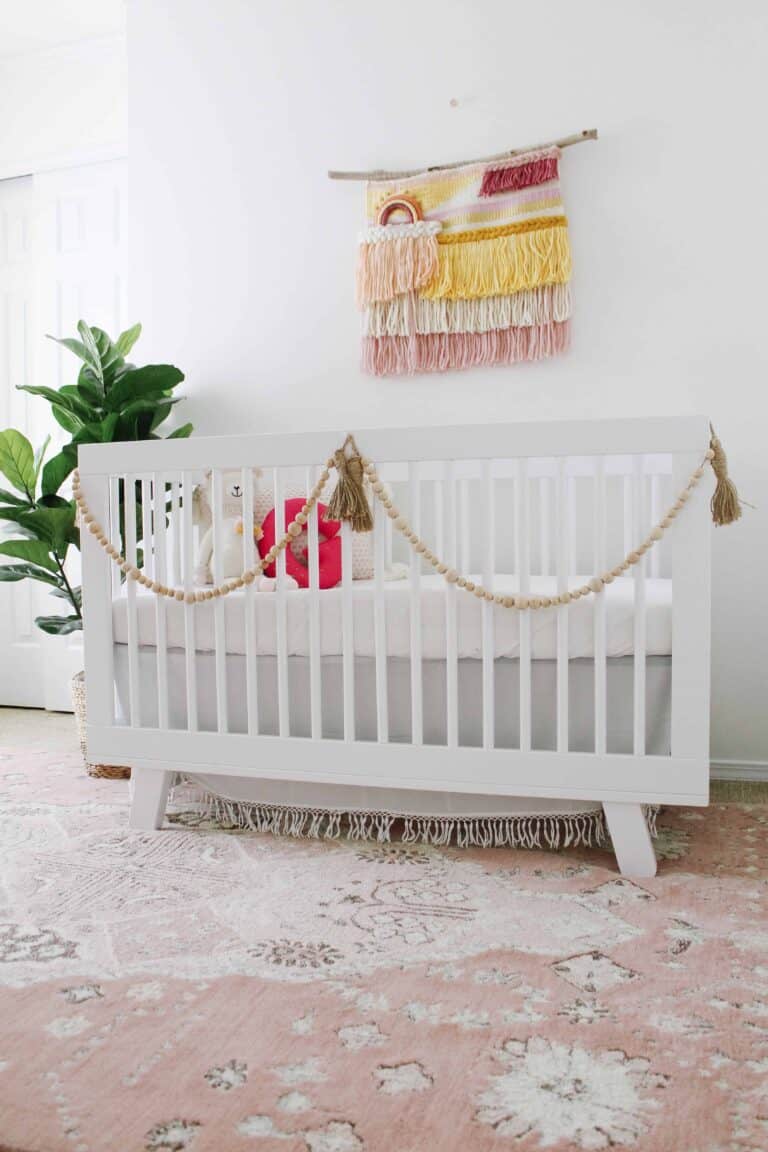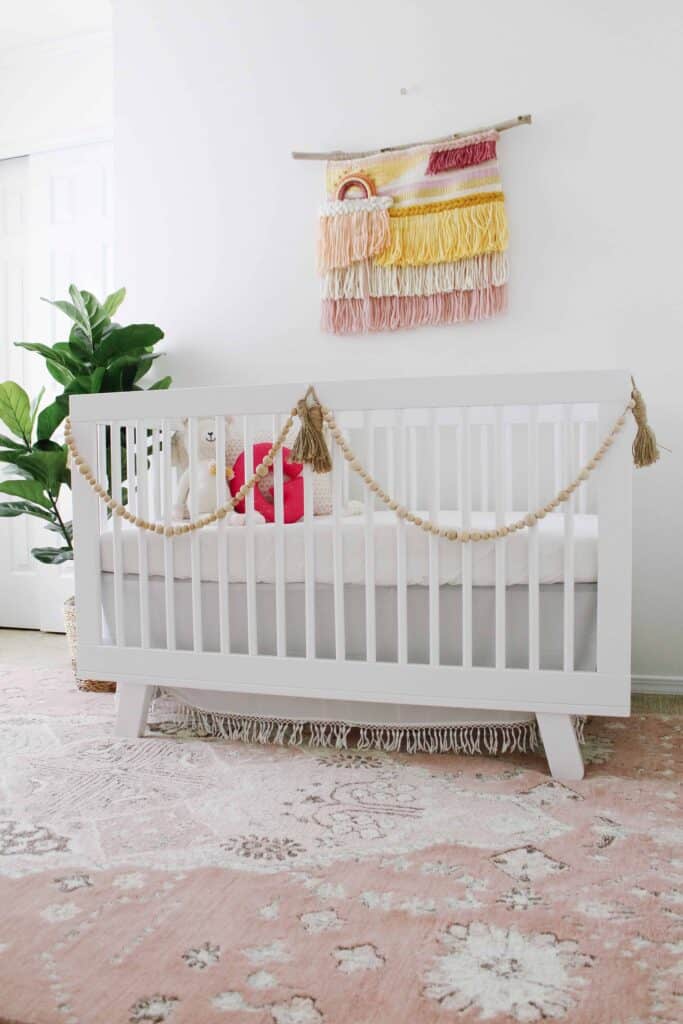 Once you've set up your space, you can now fill in the gaps with textiles and accent decor pieces. These accent pieces should complement the theme of your nursery. Consider the decor you put up around the room. You may opt to have a name sign, birth statistics, or paintings. I love the idea of having something from your own childhood to incorporate into your own child's nursery.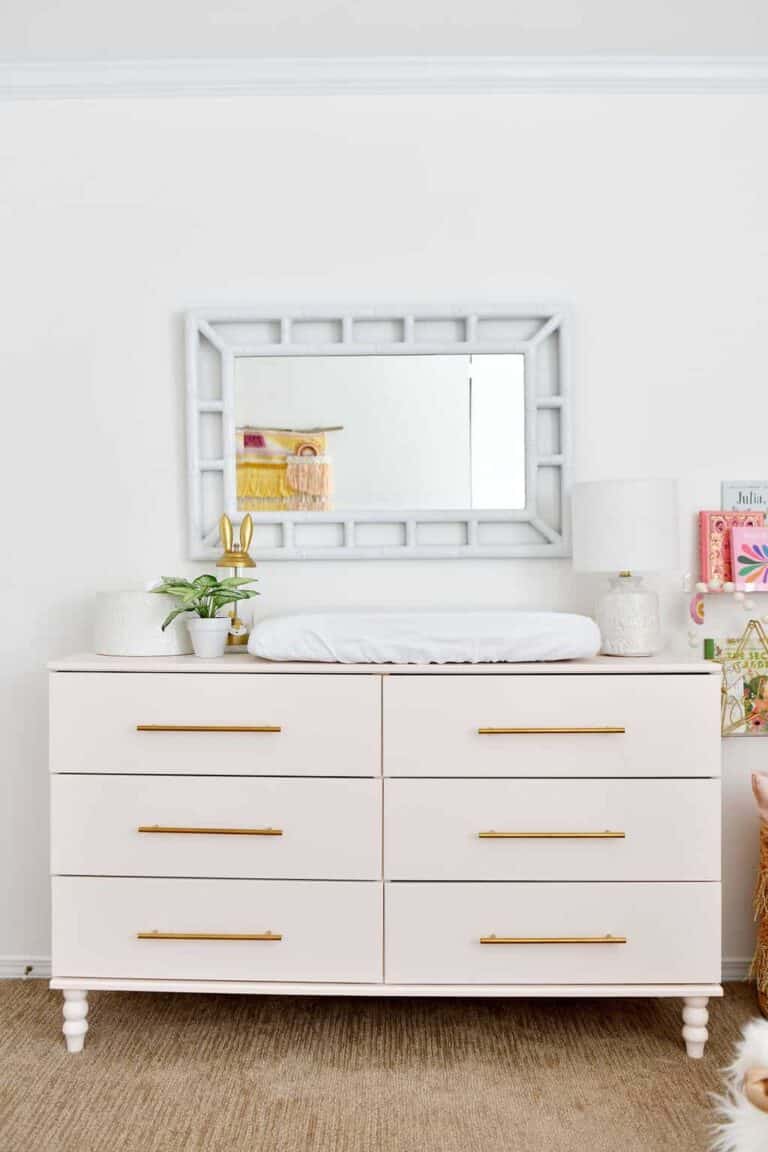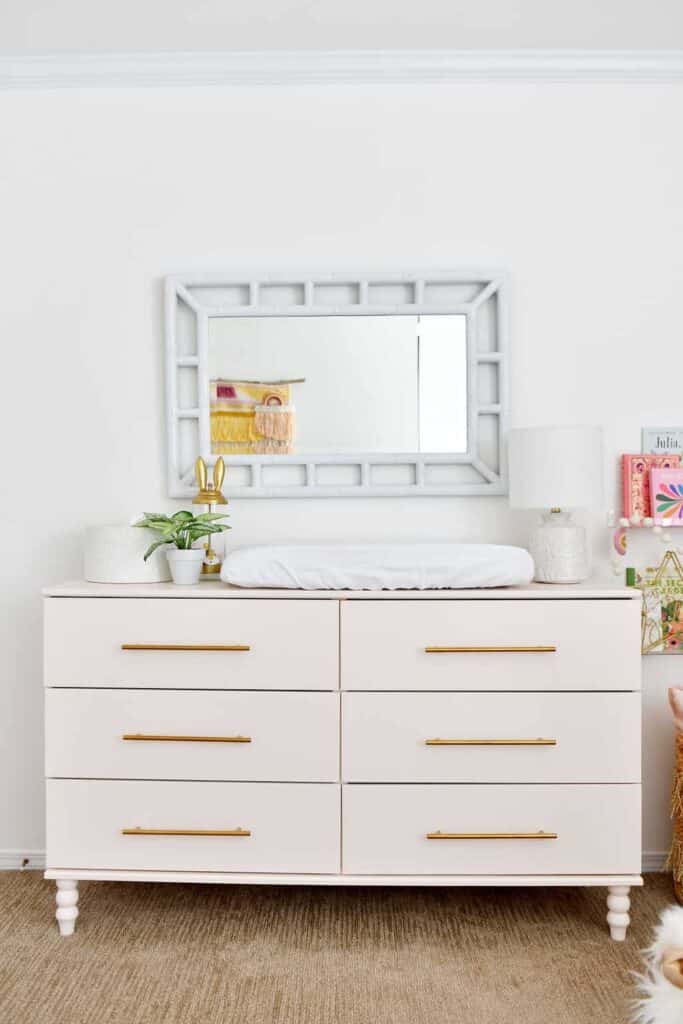 Shop some Favorite Girls Nursery Decor Ideas
Below are some of my favorite Nursery decor ideas girl mamas will love when putting together your own nursery. These are great options that when put together would make a gorgeous nursery, or pick and choose and add your own elements to create your own perfect room!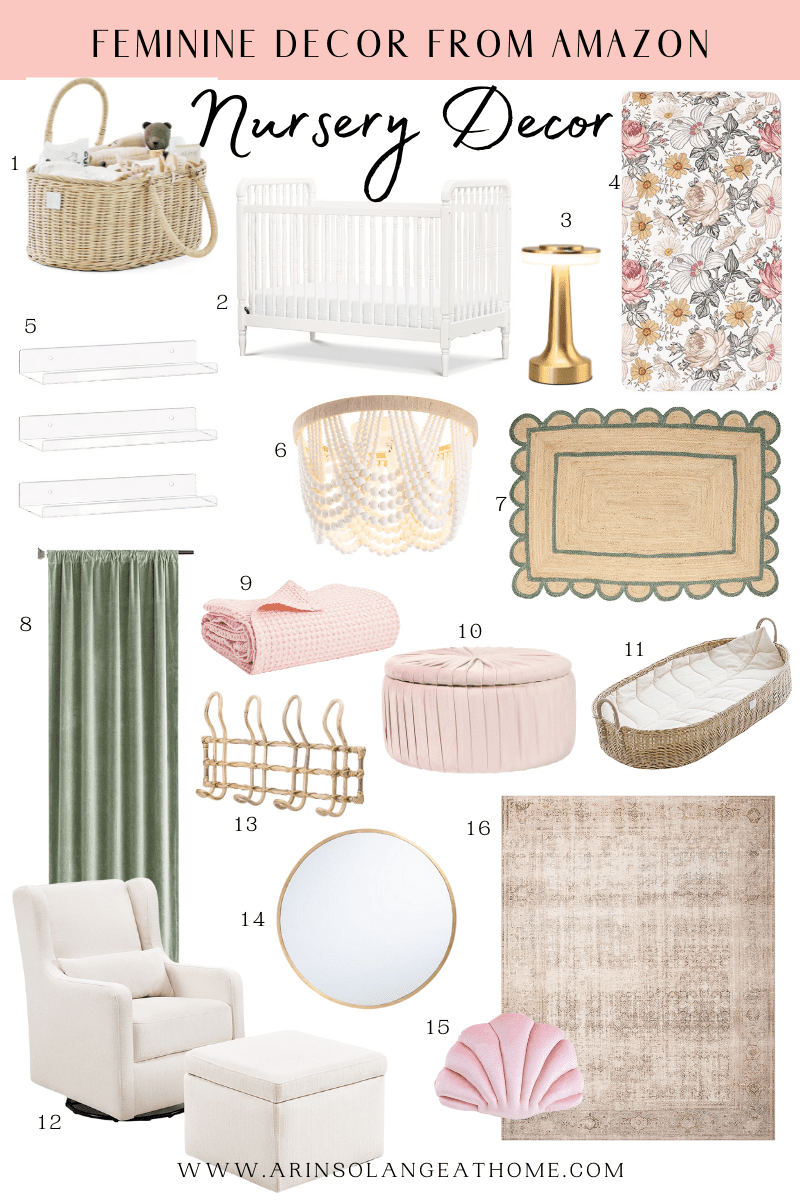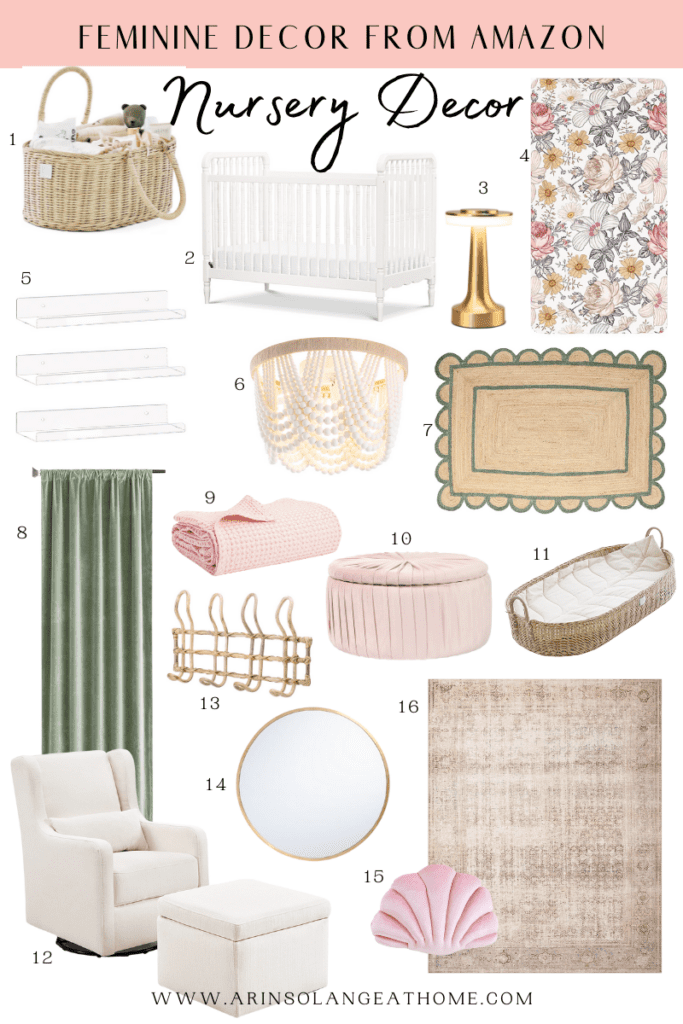 1 | 2 | 3 | 4 | 5 | 6 | 7 | 8 | 9 | 10 | 11 | 12 | 13 | 14 | 15 | 16
Shop Nursery Ideas Girl Mamas Will Love
Favorite Nursery Decor Ideas Girl Addition
Now that we've covered the basics around putting your nursery together, let's take a look at some of my favorite baby girl room ideas.
Neutral & Natural
This gorgeous neutral nursery gives off major natural inspiration vibes. With lots of light, gold accents, and natural materials, it easily achieved a calming environment. I love the greenery throughout which gives the space a touch of color and highlights the natural elements.
The natural wood crib complements the side table, footrest, curtains, and wallpaper. Speaking of wallpaper, this is a great example of nursery wallpaper that isn't too busy and adds the perfect amount of depth and texture to a space. I love that they kept the decor simple on the walls to highlight the wallpaper.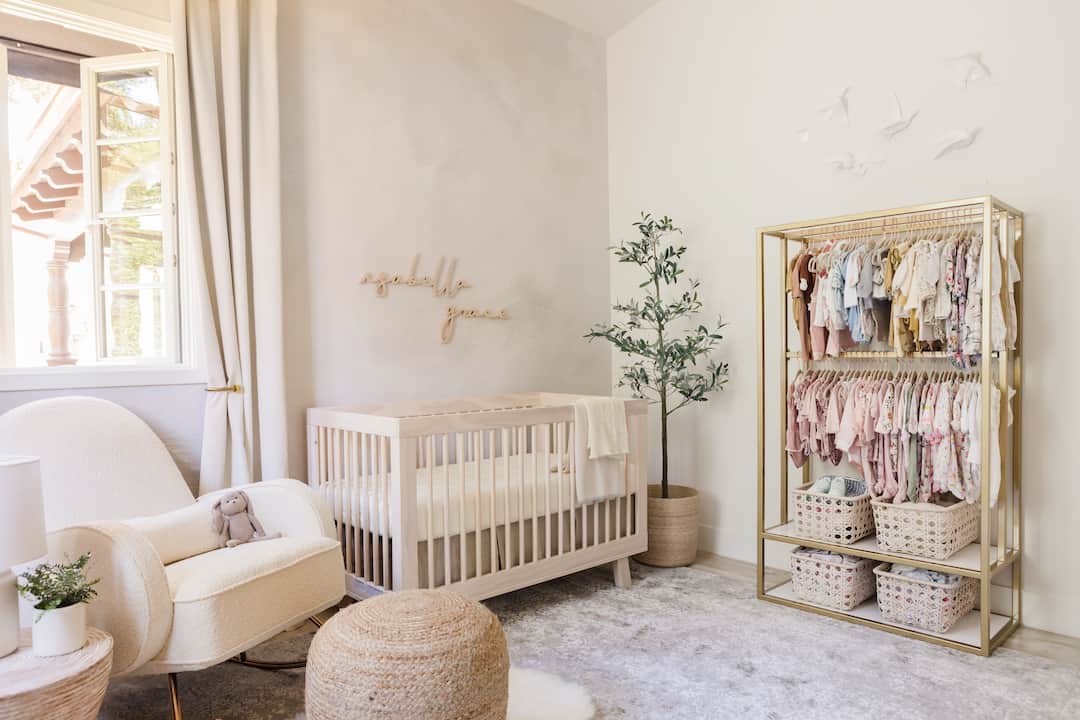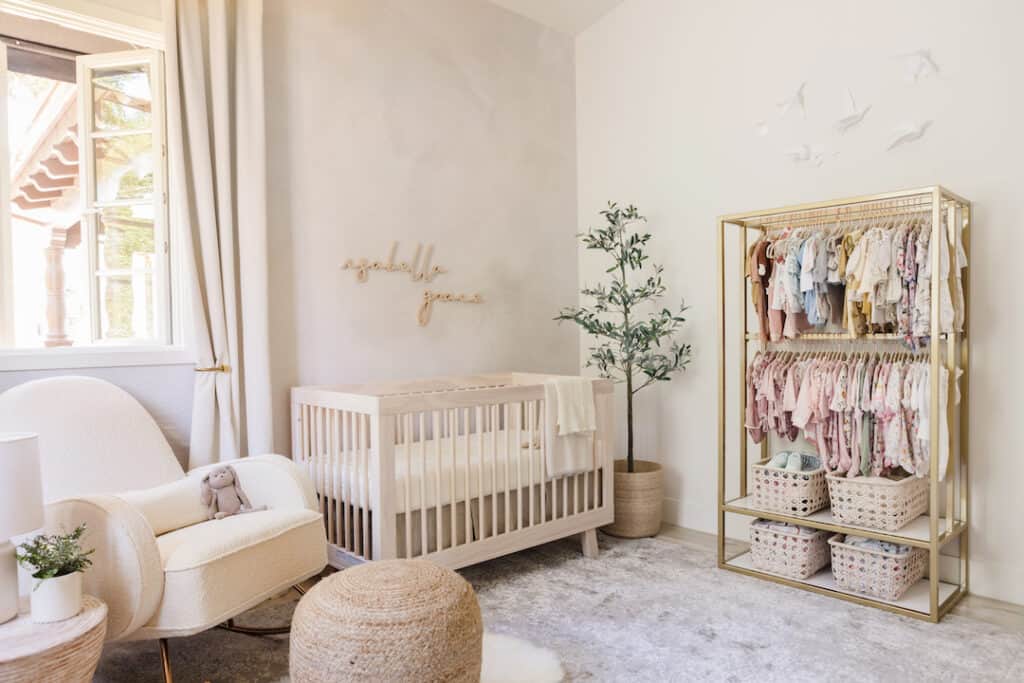 Check out this neutral nursery.
A Gender Neutral Boho Room
While this next nursery is technically a little boy's nursery, I couldn't help but feature it. I love that it isn't your typical girls nursery. This would work for both a girl or boy and would be a great space your little one can grow into as they get older. The rattan lighting, mirror, rug, crib, and footrest all tie in so nicely with this coastal boho themed nursery. I also love that this area rug is a great space for sensory exploration and safe play.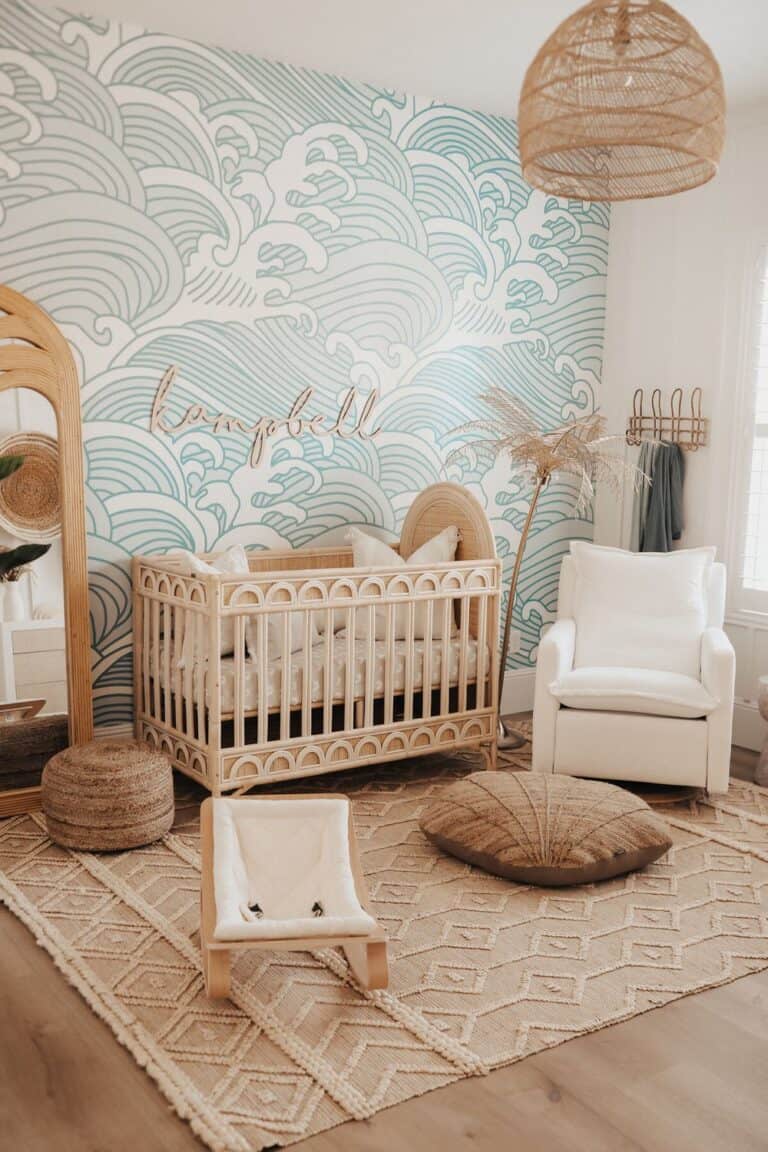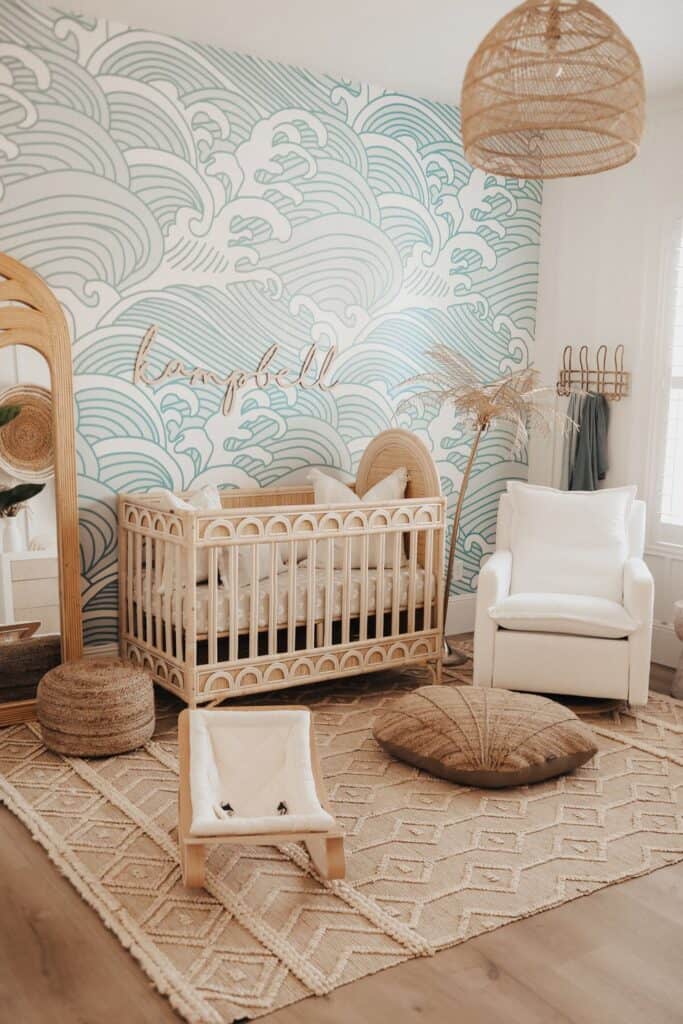 Read more about this organic coastal nursery.
Mature & Modern
This is a great example of a modern nursery that a little girl can easily grow into. The best thing in this room is the built-in bookcase and window seat. What a smart and functional way of keeping this small space organized. Rather than having a very girly pink color, there are shades of pink ranging from blush to rust.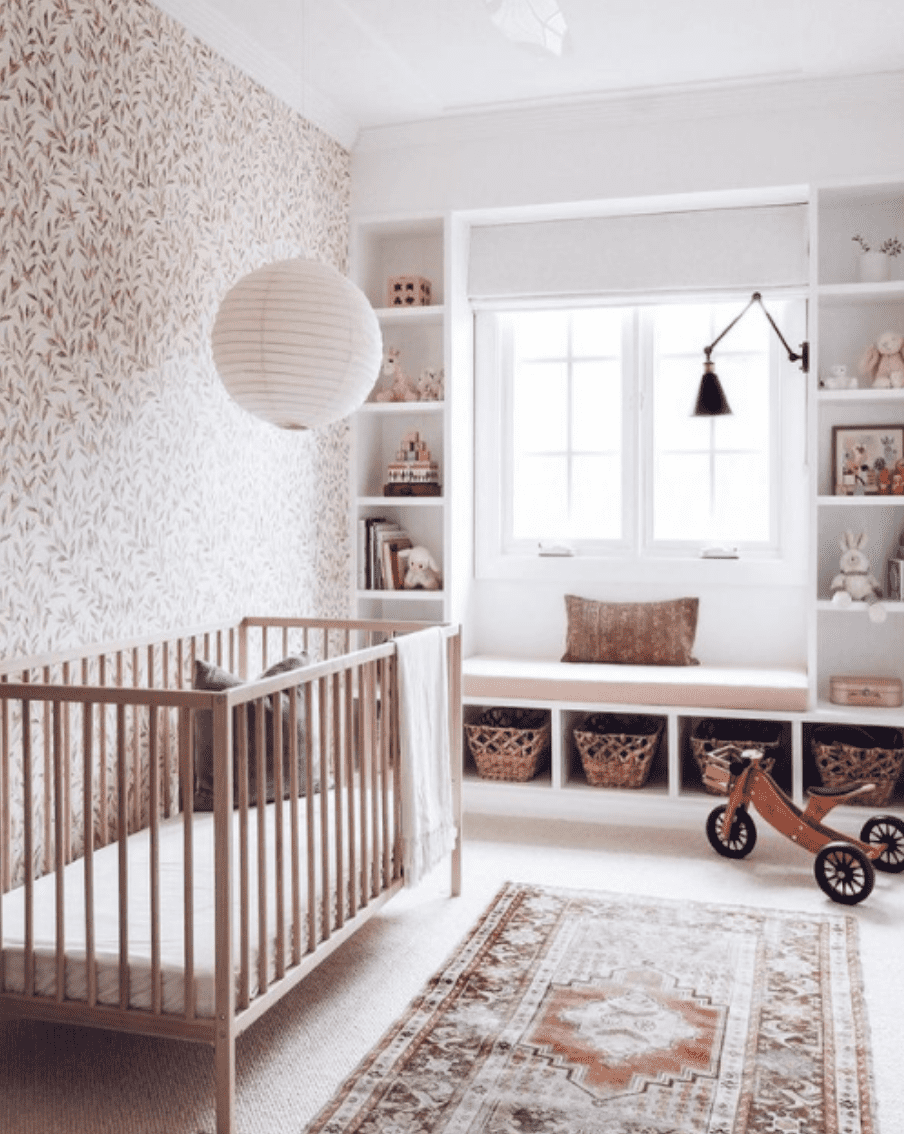 A perfectly simple modern nursery
Minimalist Tiny House
Contrary to popular belief, babies don't need a whole lot of space. This minimalist nursery was once a closet. If you are limited on space, this is a great example of just how much you can do in a small area.
The white baby furniture brings in plenty of light which makes the space feel roomier. Greenery adds a natural element and ties in nicely with the french doors nearby to the outside. Plenty of storage baskets and a whimsical mural complete the look.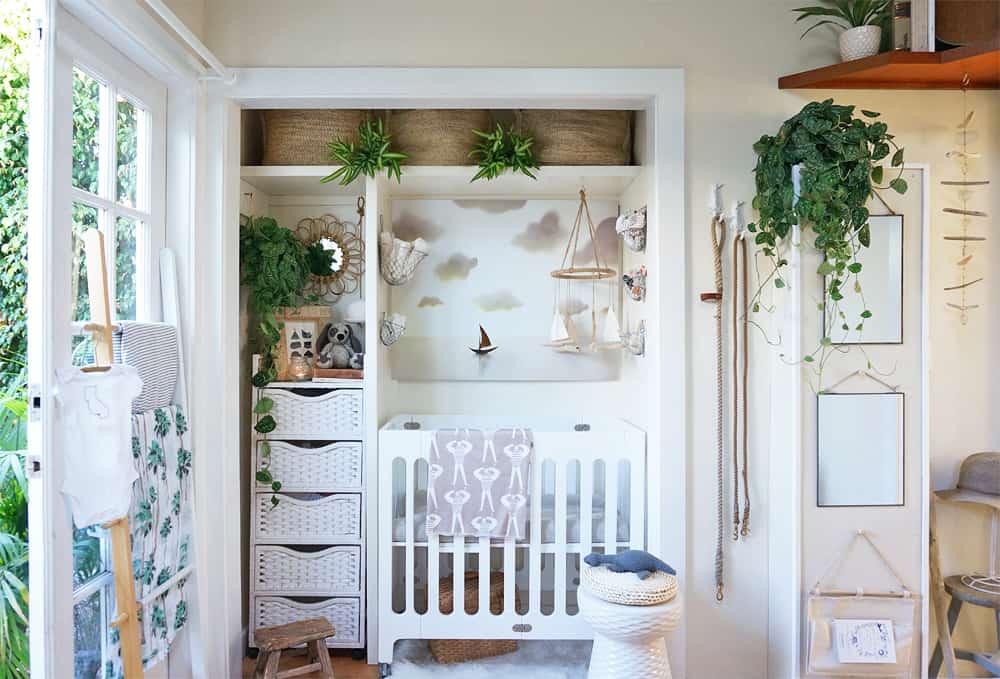 The smartest solution to a nursery in a small space
Floral Motifs
Floral themed nurseries are a trend I don't see stopping anytime soon. Between floral accent walls, floral wallpaper, and floral decor, there are plenty of ways to bring this theme to life.
The floral accent wall can be tricky. You'll need a space that is large enough, as smaller spaces can feel even smaller by the large mural. This nursery tied in the floral mural with touches of vintage decor ranging from the crystal chandelier to the brass mirror and silver vase.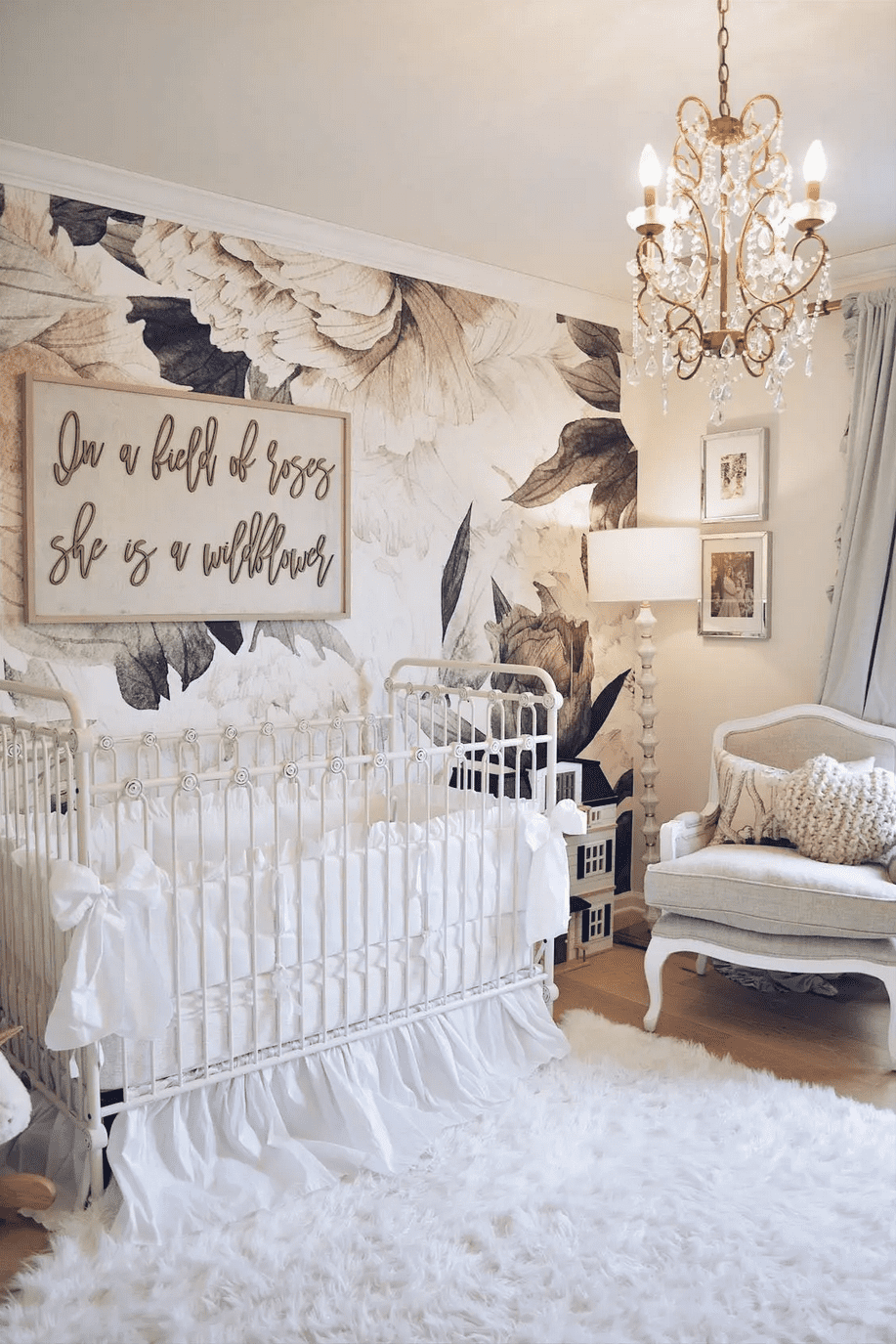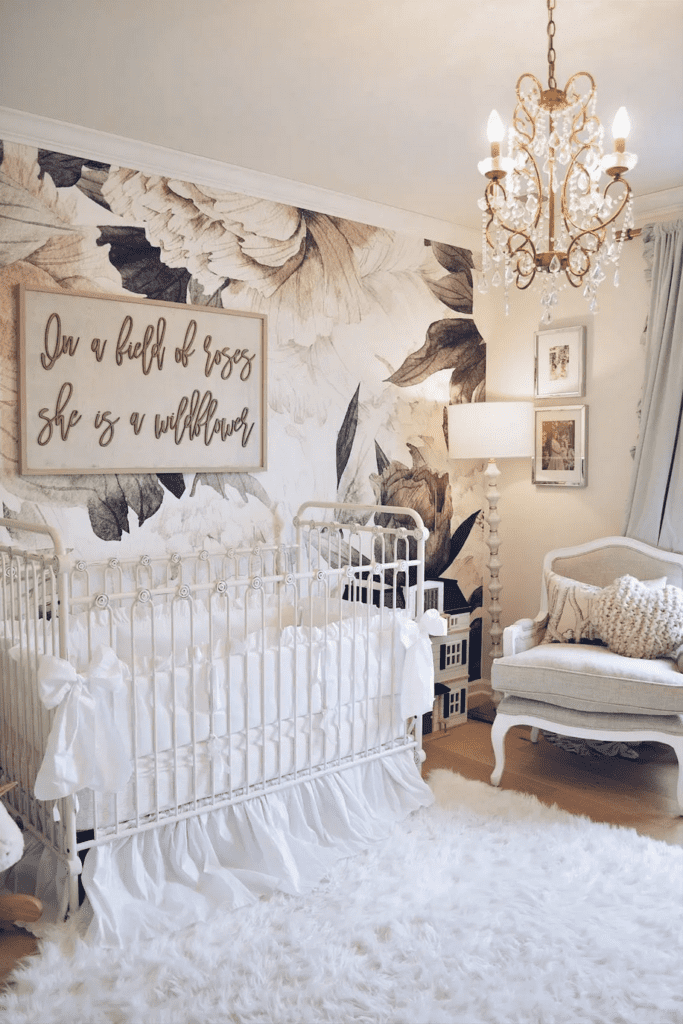 I can't talk about floral themes and not mention my sweet Ave's daisy room in our last house. I absolutely loved this wallpaper! I also created the daisy mural from yarn and pom pom balls. Check out the full details in my post to find out how you can recreate this same look. Simply swap out the bed for a crib and you have the perfect little girl's nursery.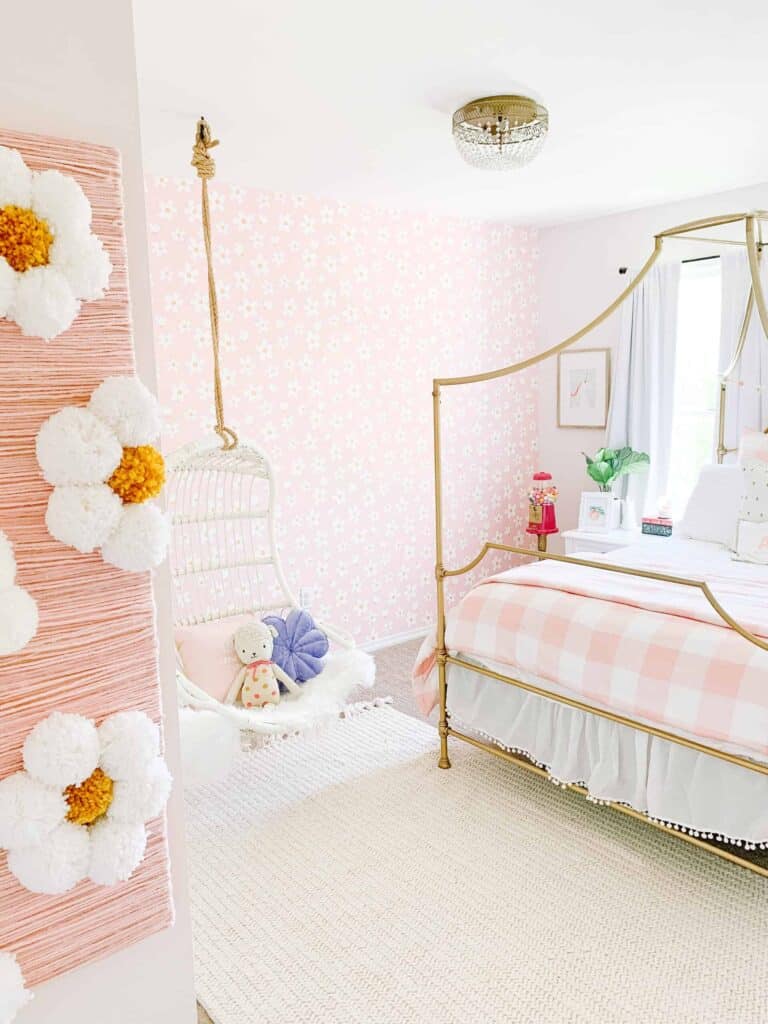 Earth Toned
Pink and gray nurseries have had their moment. Moving into popularity are earth toned nurseries. I love the rich colors, natural elements, and modern design. You can create such a serene environment with inspiration from nature.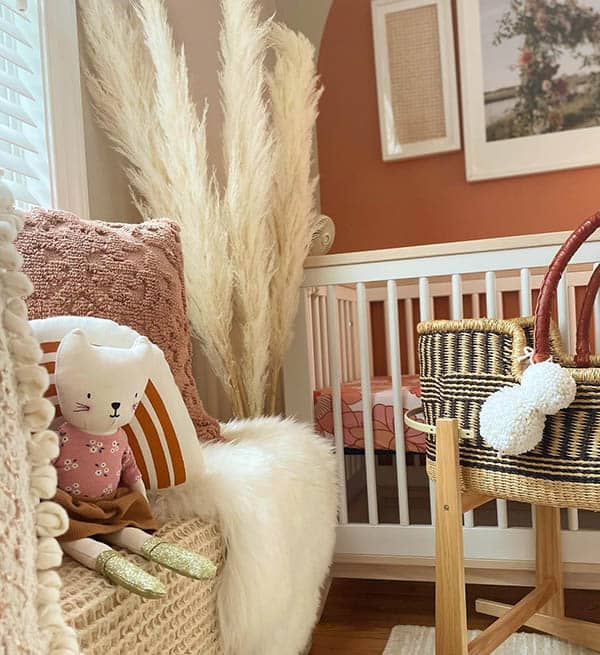 Make sure to check out all the details in this earthy nursery.
Ceiling Details
This retro modern nursery is full of personality and details. From the wallpapered ceiling to the neon sign of her little girl's name, Stella; Dani Austin hit it out of the park with this nursery. The wooden crib, light rug, curtains, and furniture are all more subtle which allows for the lighting and ceiling to take center stage.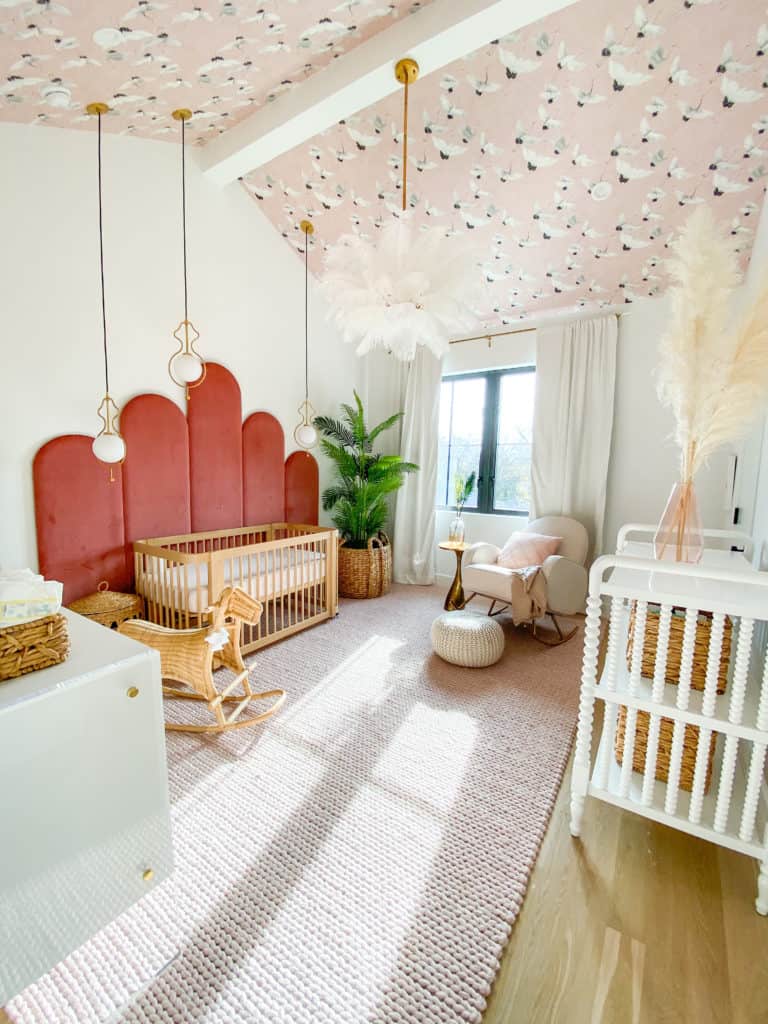 A ceiling statement in the nursery
Other Posts You'll Love
Amazon Girl's Nursery Decor | Best IKEA Nursery Hacks | Nursery Closet Organization | DIY Flower Wall
Pin This Photo Below For Later
I hope this post gave you some great nursery decor ideas girl mamas will love so you can start on your own sweet nursery. Decide what you like and enjoy the process of picking out items to make the space your own. Remember, you don't need to go overboard on the theme. Mix and match materials, textiles, and decor to can create a room that will grow with your little girl. Be sure to pin the photo below for later, and if you don't already – follow me on Instagram (@arinsolange) and Tik Tok (@arinsolange) for more fun!