Putting together a beautiful nursery takes a lot of work. From deciding on a theme to finding decor and nursery furniture that fits with that theme, you want your baby's room to be perfect. Today I am going to share some great nursery shelf decor ideas that will be both functional and beautiful!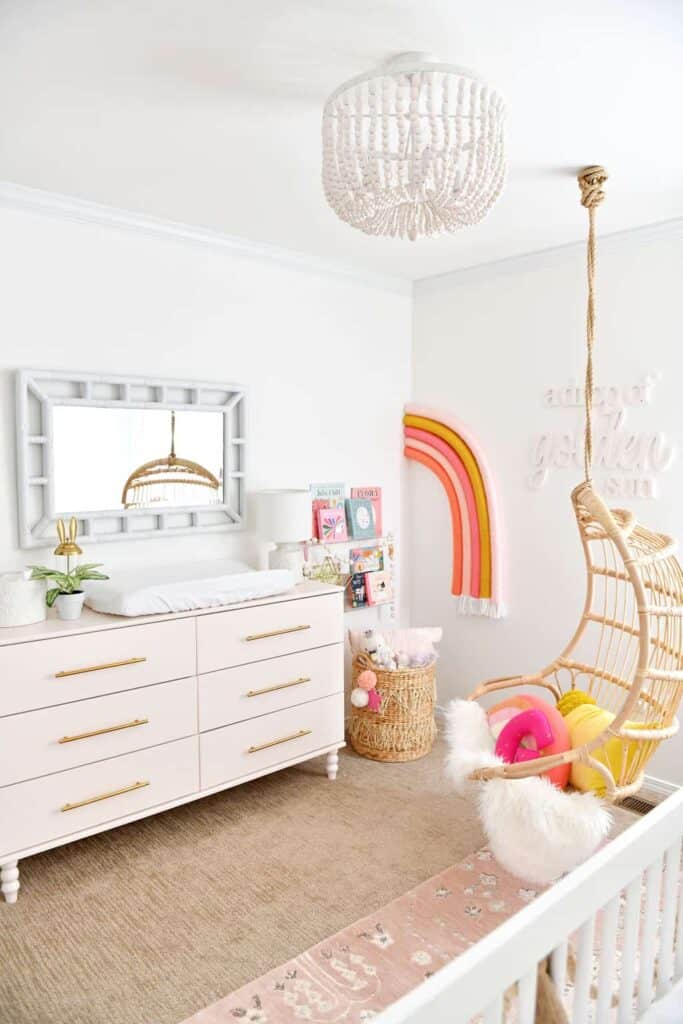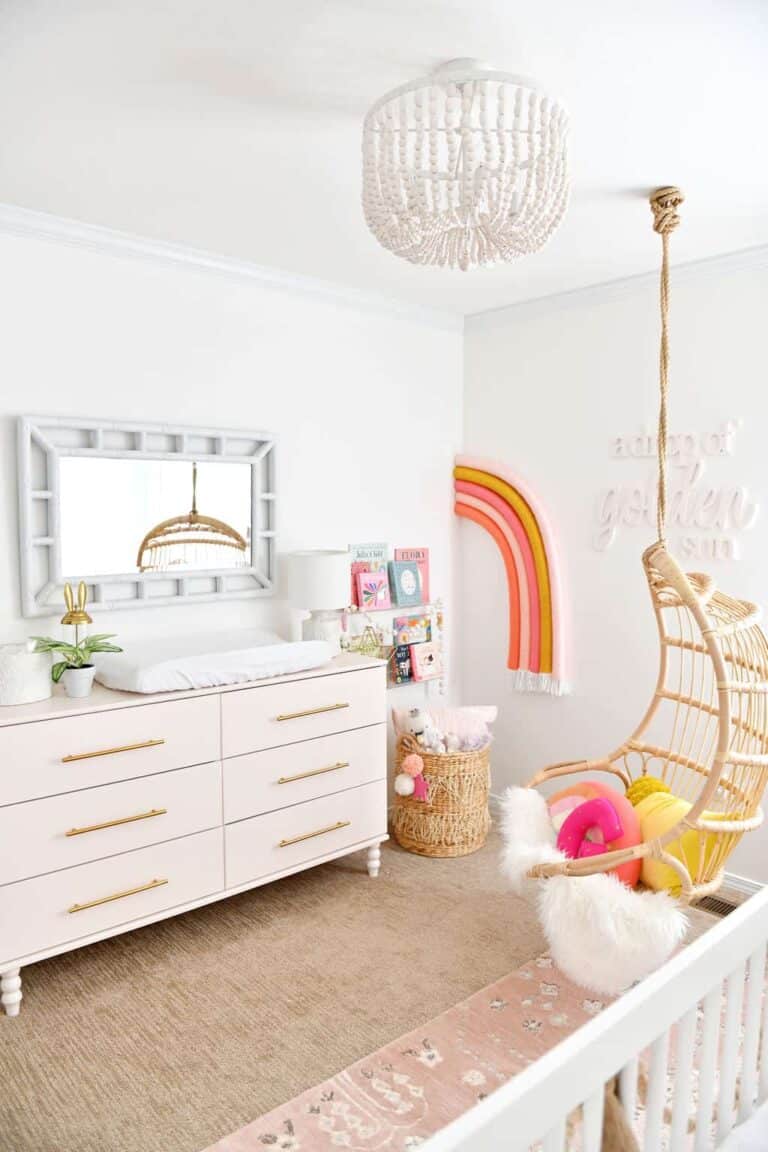 This post may contain affiliate links.
Nursery Shelf Decor Ideas You'll Love
Babies may be small but they come with a lot of gear. You'll need to make sure you have a well organized nursery to keep up with your little one's ever-growing collection of small items.
Nursery shelves are the perfect solution to help keep your nursery functional, but also are a unique way to display nursery decor and can enhance the visual interest of your baby's room. I'll go over my favorite nursery shelving ideas and how to display those beloved items for a personal touch.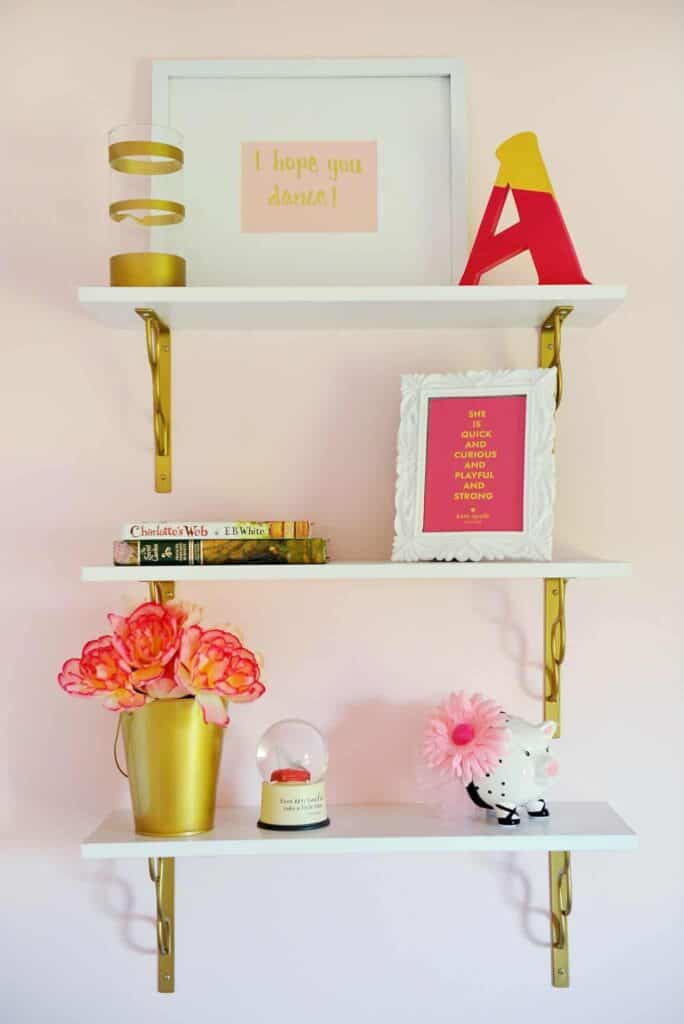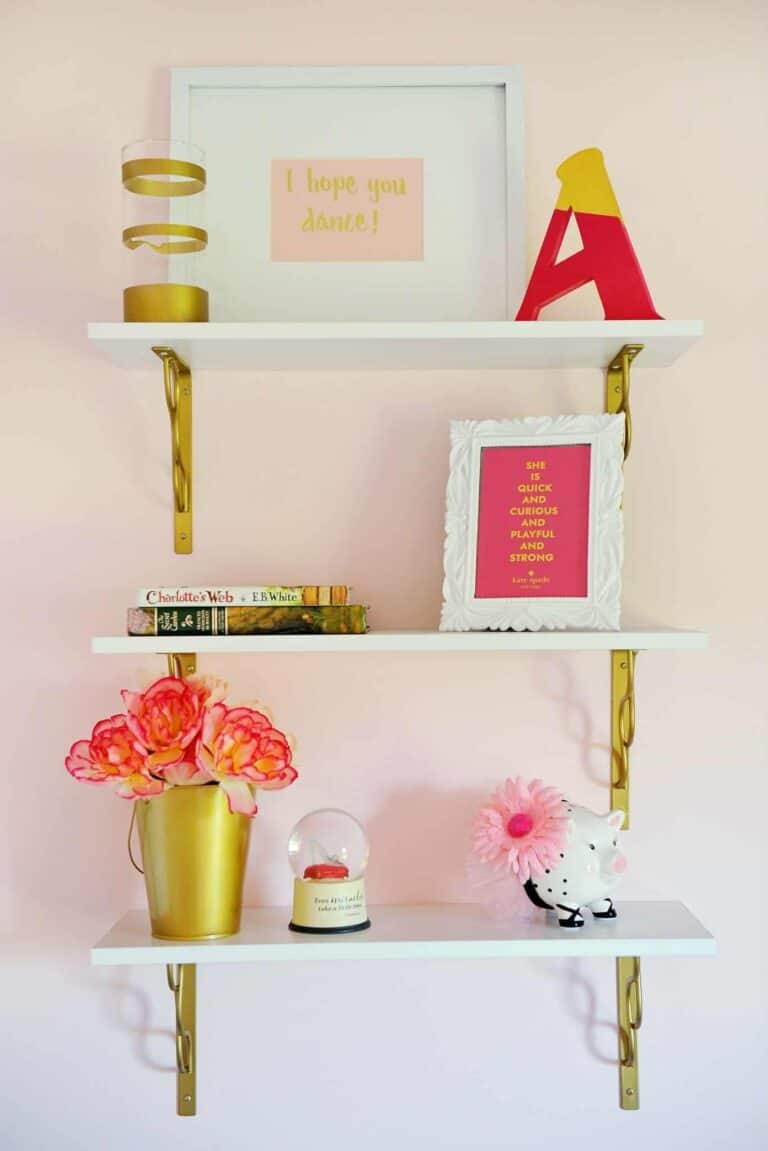 If you are in the process of designing your baby's nursery you may feel a bit overwhelmed with all of the options out there. To get a good idea of where to begin, check out my blog post on nursery decor ideas.
Once you've decided on the theme of your child's room, you can get into decorating. Decorating isn't just about adding different colors to the room. Your decor should be intentional and purposeful.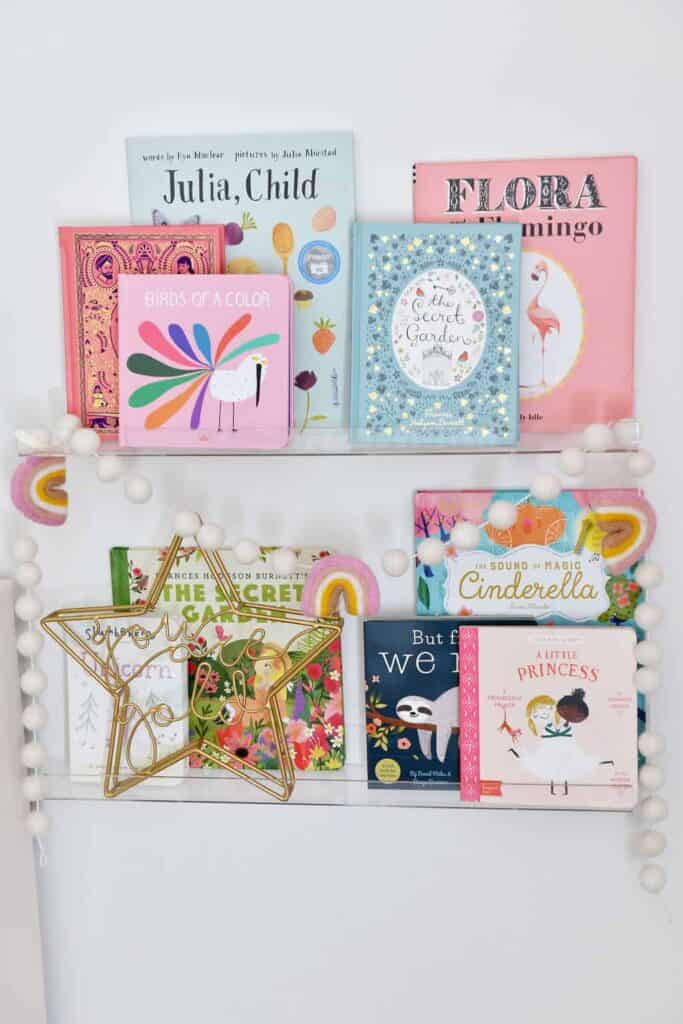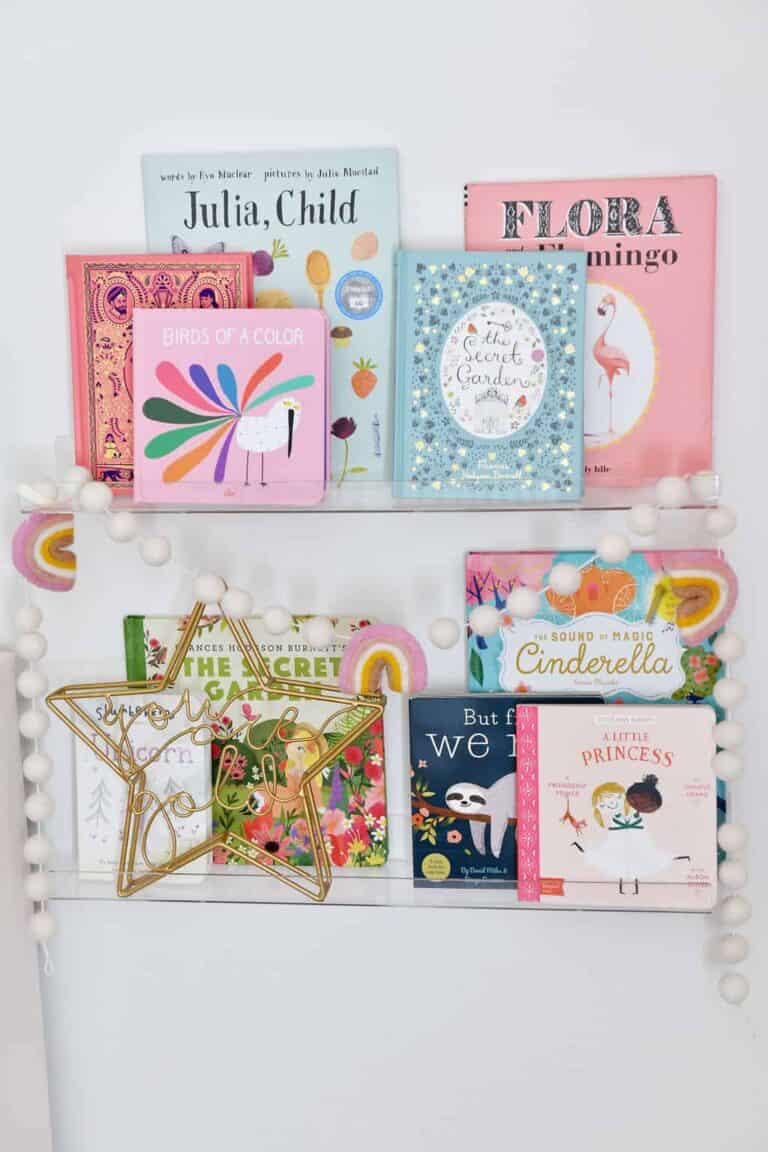 Tips for Styling Nursery Shelves
A great way to add to your nursery design and keep your space organized is by investing in different types of shelves. Whether you have a full nursery bookshelf, floating wall shelves, or small shelves, there are many creative ways to display those cute details you've acquired and further enhance your nursery's' color scheme.
Before we get into ideas on nursery shelf decor, we need to know some basic information on how to style your shelves.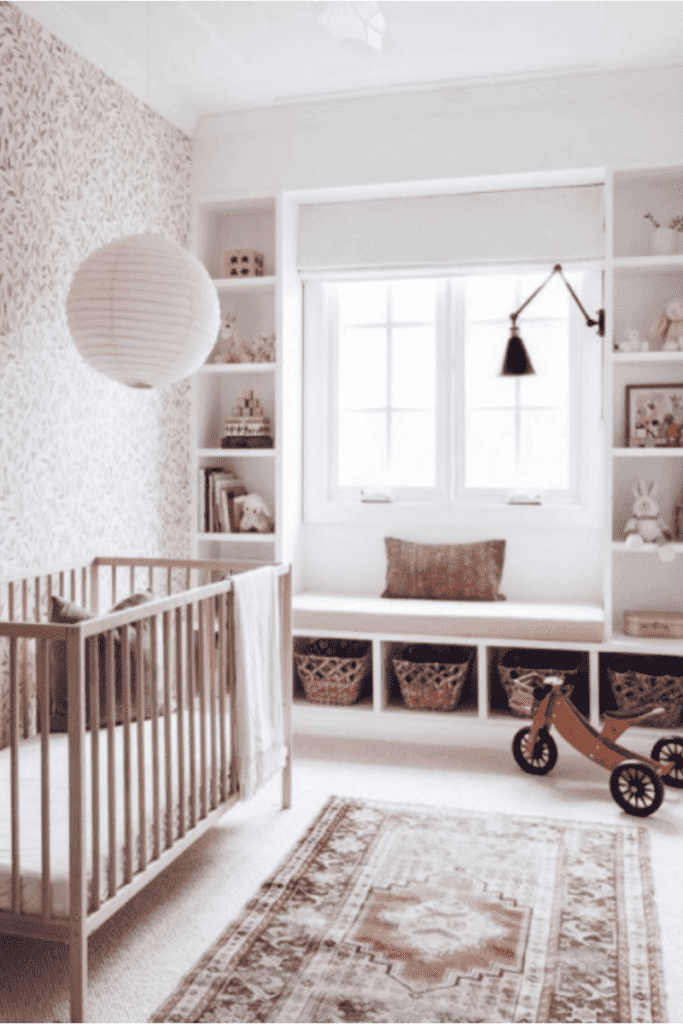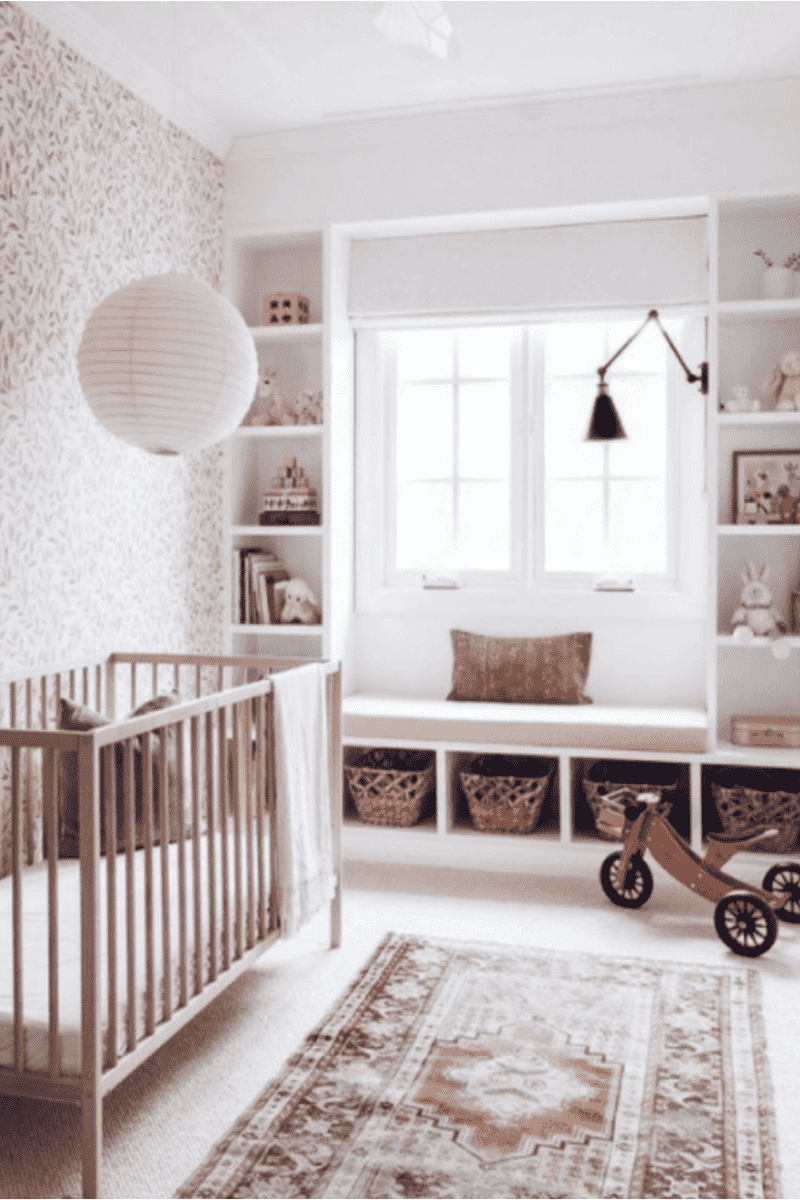 These built-ins are the perfect place to showcase all of your decor.
Start With An Empty Space
Before you begin, you need to start with an empty space. Clear out anything on your shelf. This will give you a good idea of how much space you are working with and will give you a sense of the space.
Take Inventory
Next, you'll want to take inventory of what you have already acquired. Perhaps you have some family heirlooms that are important to you to have on display in your little one's room.
Your nursery is the perfect backdrop to display family heirlooms and meaningful items you want passed down to your child. Put what you have acquired aside and we'll come back to it.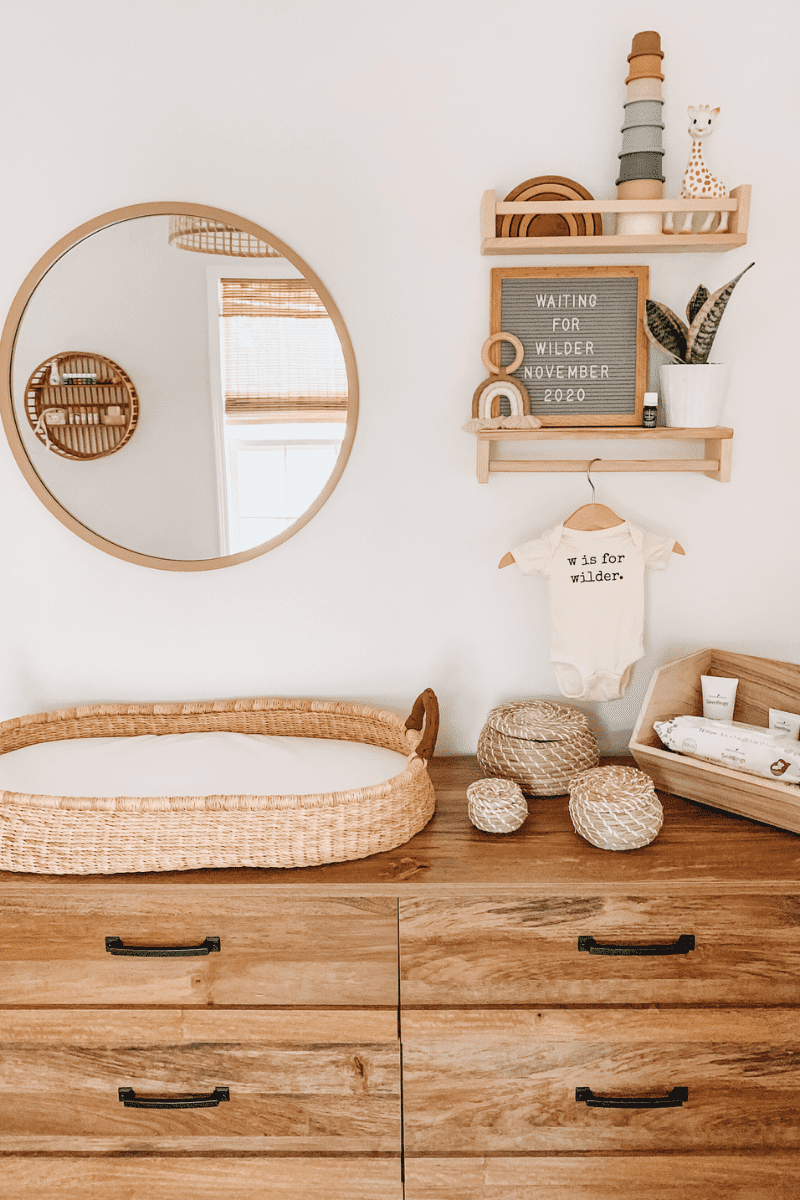 Check out this boho nursery.
Have Fun with Color
Since your shelves are empty, now is a great time to do some maintenance. You may need to dust or add touch up paint to any shelves that have been in use. You may even decide to enhance your nursery's color scheme. You can paint your shelves a color within the color palette of your space.
For a whimsical touch, consider a bold wallpaper pattern for added depth, texture, and fun. I love the look of a fun wallpaper design added to the back of shelves or even lining shelves. This is an easy way to create visual appeal and if large enough can serve as a feature wall within your nursery.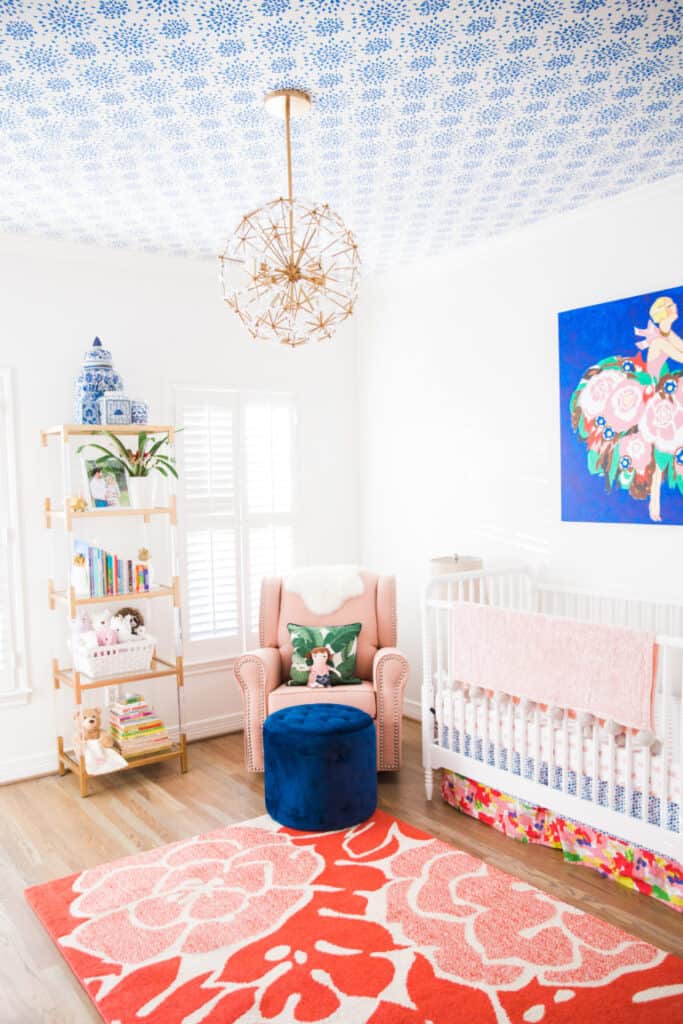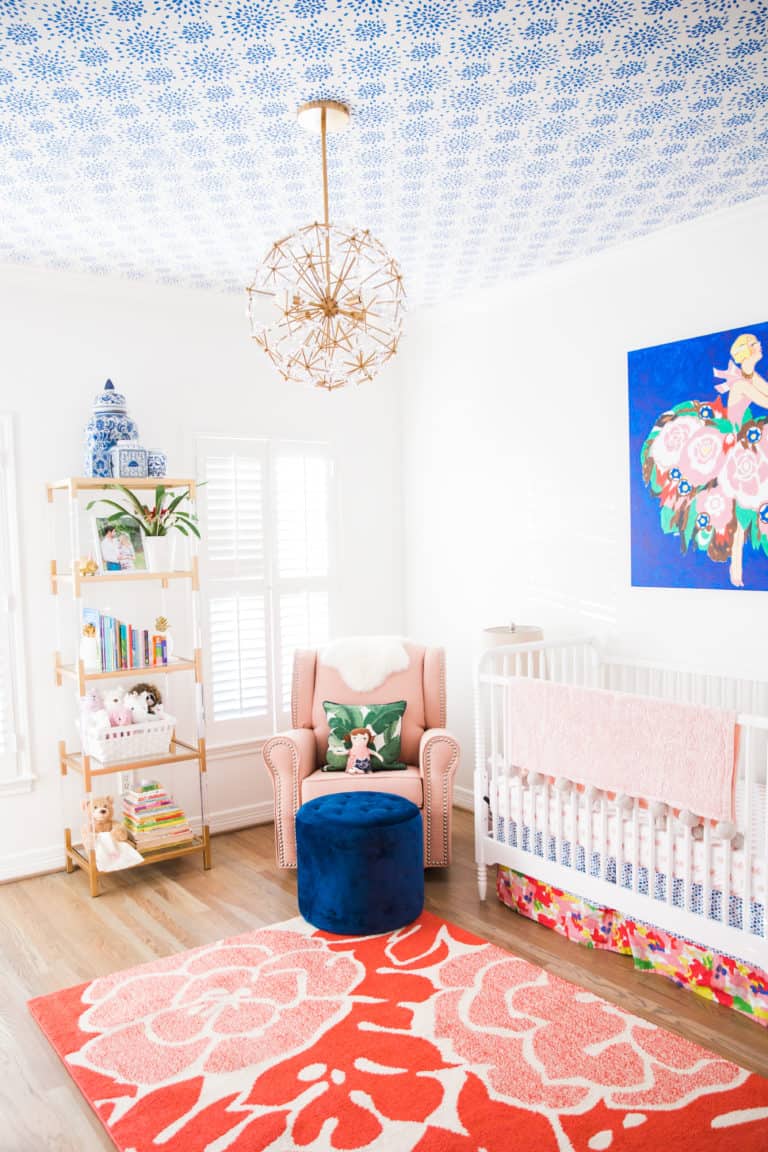 This is such a fun and bright nursery!
Accumulate Items Slowly
You don't need to go overboard on buying decor ideas for your space. While I love places like HomeGoods and Hobby Lobby for knick knacks, you don't need to buy your shelving decor in one shopping trip.
Instead, try to take your time finding pieces that speak to you. It may be an item that has meaning or reminds you of something meaningful. I love checking out antique malls for unique one of a kind finds.
Sometimes I find pieces that I love, but the finish or final color leaves me less than excited. You can always change the finishing or paint to make the decor your own.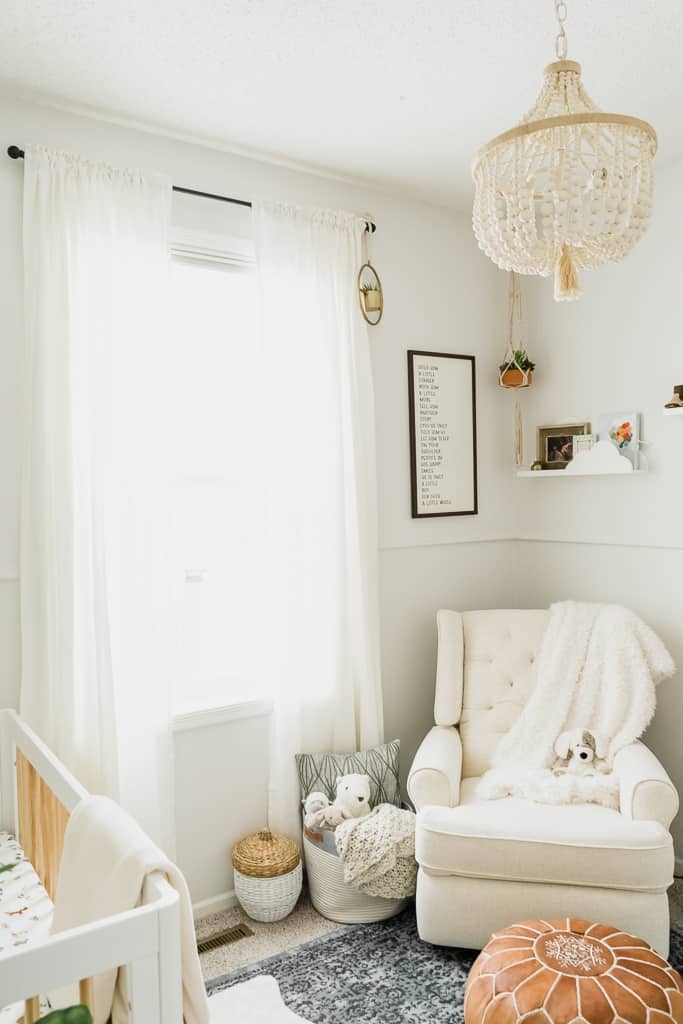 A simple and neutral nursery for a little boy.
If you are fortunate enough to have built-in storage shelves, you'll have a lot of space to fill in. This doesn't mean you need to fill in all of the space.
This will be a process and it is okay to not have it fully finished by the time your baby girl or boy arrives. You can have fun adding pieces together as you experience different adventures.
Use Books
No matter what type of shelving unit you have, books are a great way to add height and depth. A fun way to incorporate your childhood is by adding some of your favorite books from when you were a kid.
If you are lucky, you may even still have some of those titles. Check out antique malls and used book shops for some of your favorite children's books. I love the look of vintage items and books are a great conversation piece to\ add to the decor.
When adding your child's favorite books to your shelves, make sure you play with the height and arrangements. Feel free to stack multiple baby books to create different heights. You can also place them vertically and add decorative bookends.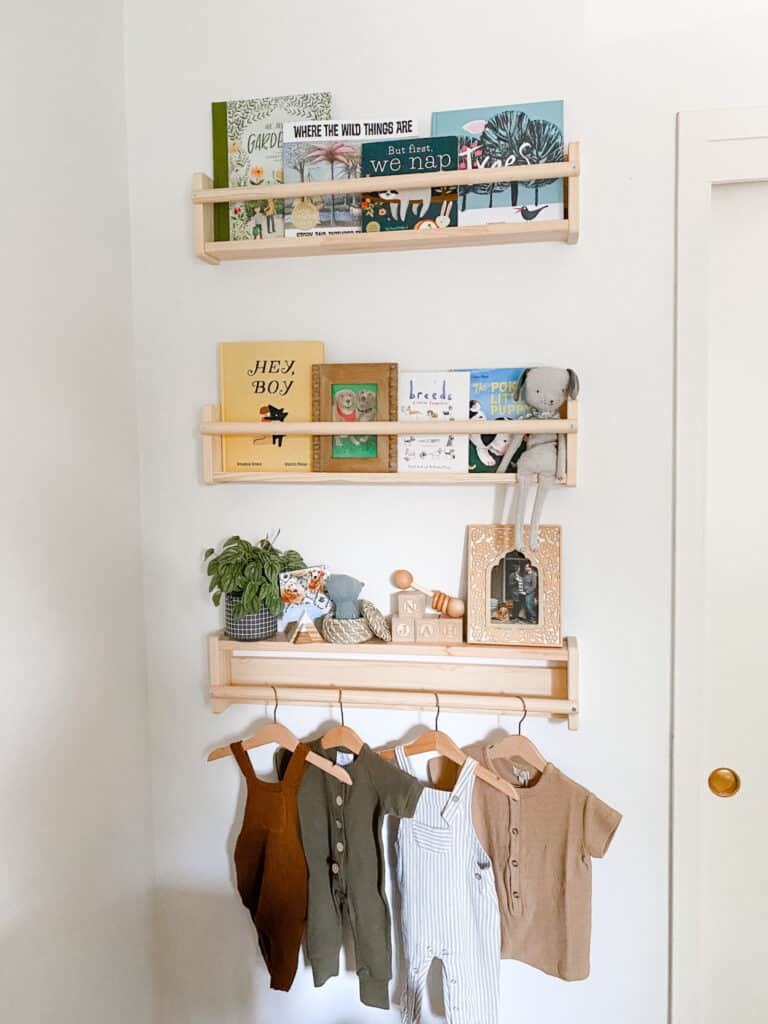 Such a sweet and simple gender neutral nursery.
For my baby showers, guests brought Sam and I their favorite book with a sweet message inside in lieu of cards. I love this idea and love that we still have books from our family and friends that we get to share with our children. I plan on keeping these for each of my kids so that they have these books when they have children of their own.
Add Personalized Items
I love featuring your child's name somewhere within your nursery. If you remember Goldie's sweet and subtle rainbow nursery post, I added an homage to Goldie's name with a sign that read "A Drop of Golden Sun."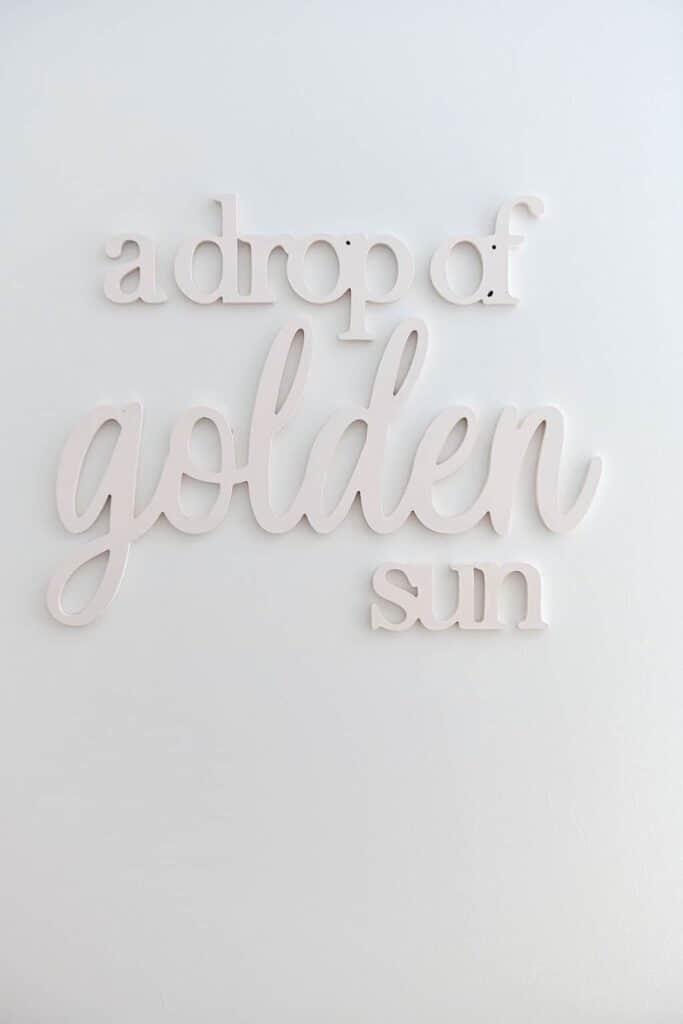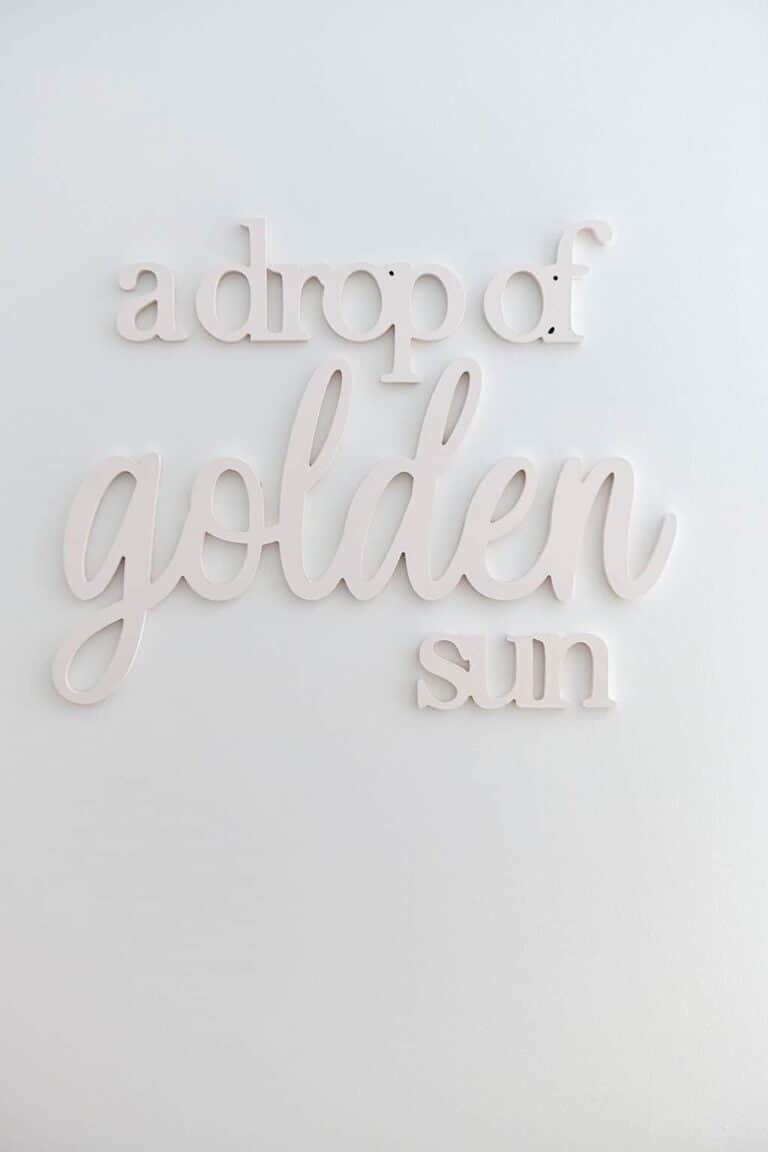 Add those personalized items to your shelves. You can get some cute personalized puzzles, embroidered hoop art, piggy banks, and art on Amazon and Etsy. A great idea is to use wooden initials as bookends. I also love those rainbow baby's nurseries which feature wooden rainbows. With these personal and meaningful items, you can share your child's story with them as they grow.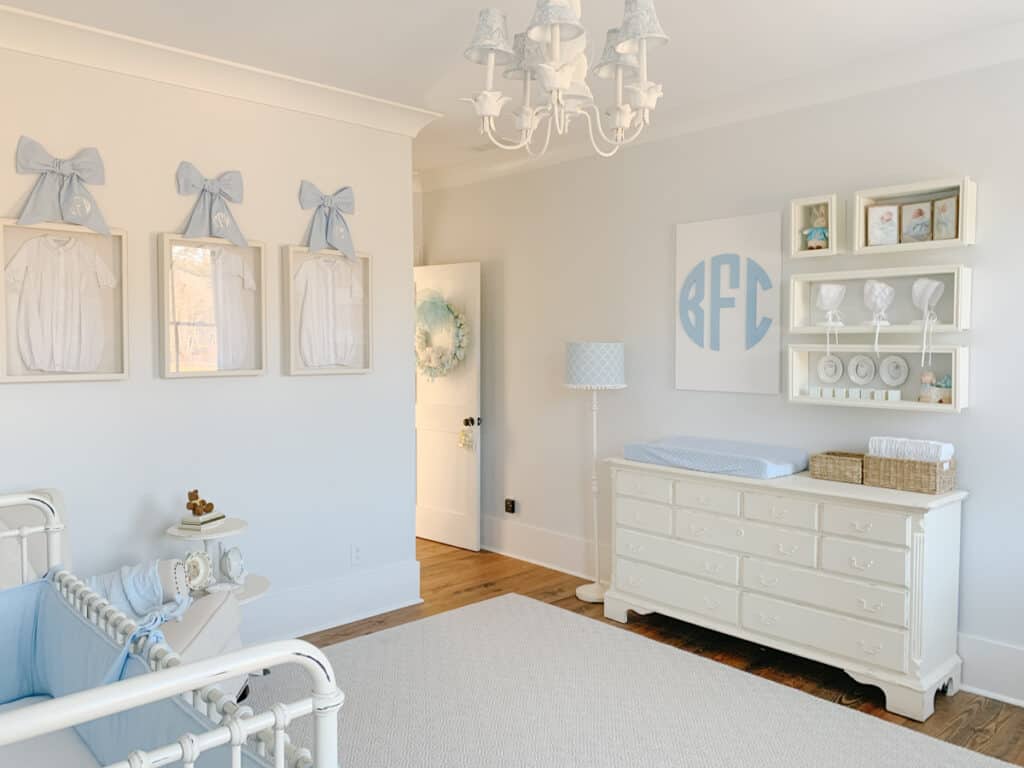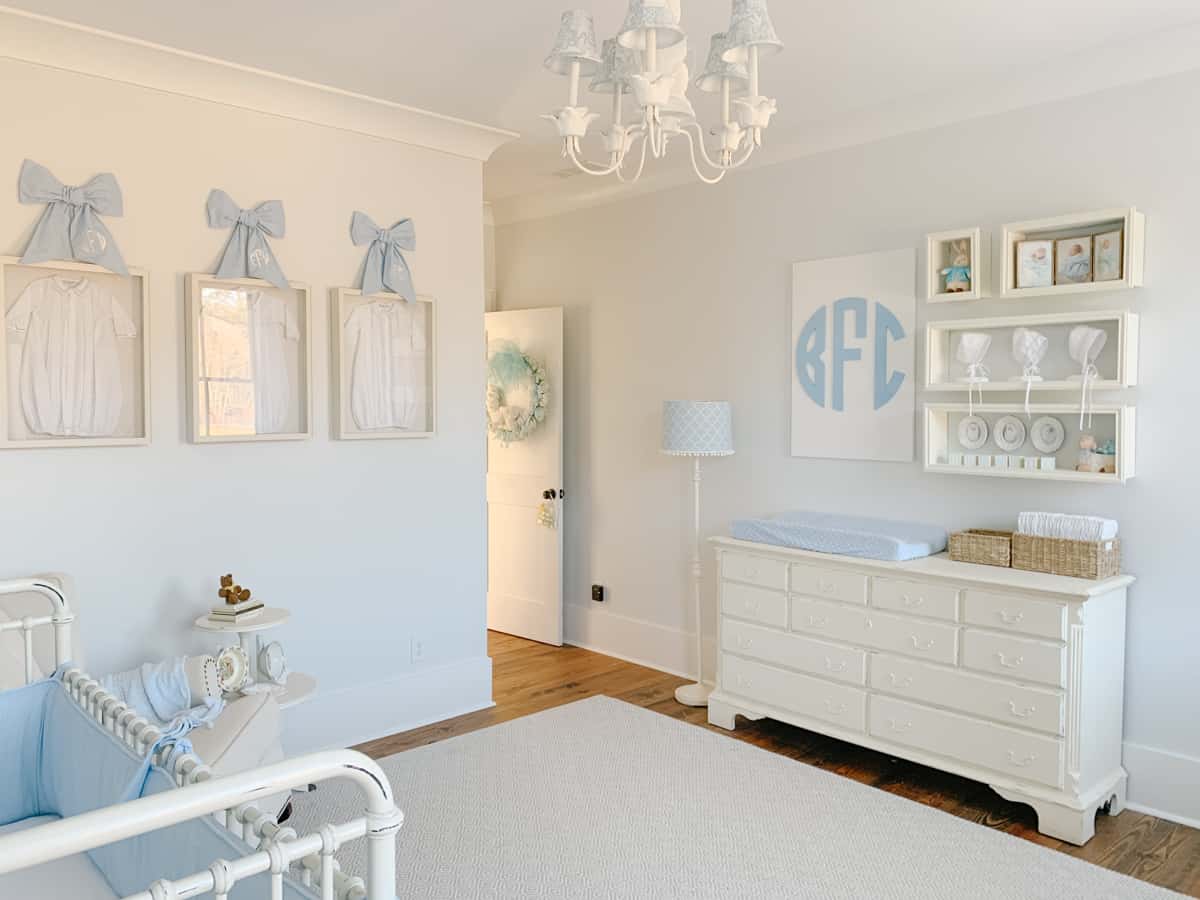 This little boy's nursery is filled with family heirlooms.
Add In Greenery
I am a big fan of using greenery in every space of your house. Not only does greenery improve mental health, but it also improves the air quality of your home. Greenery is a great way to break up neutral colors and add texture to your space.
If you opt for live plants, you get the benefits of air purification and noise reduction. While I love greenery, I definitely don't have a green thumb, so I stick to faux plants.
Use Stuffed Animals Sparingly
I don't know about you, but my kids have approximately three billion stuffed animals. While I tend to shove plush toys into baskets and storage cubes, I do think that displaying a few favorites (one to two) is a great way to add warmth to the space.
While they are young, they will love looking over at them during diaper changes or before falling asleep. As they get older, they can take them off the shelf and snuggle.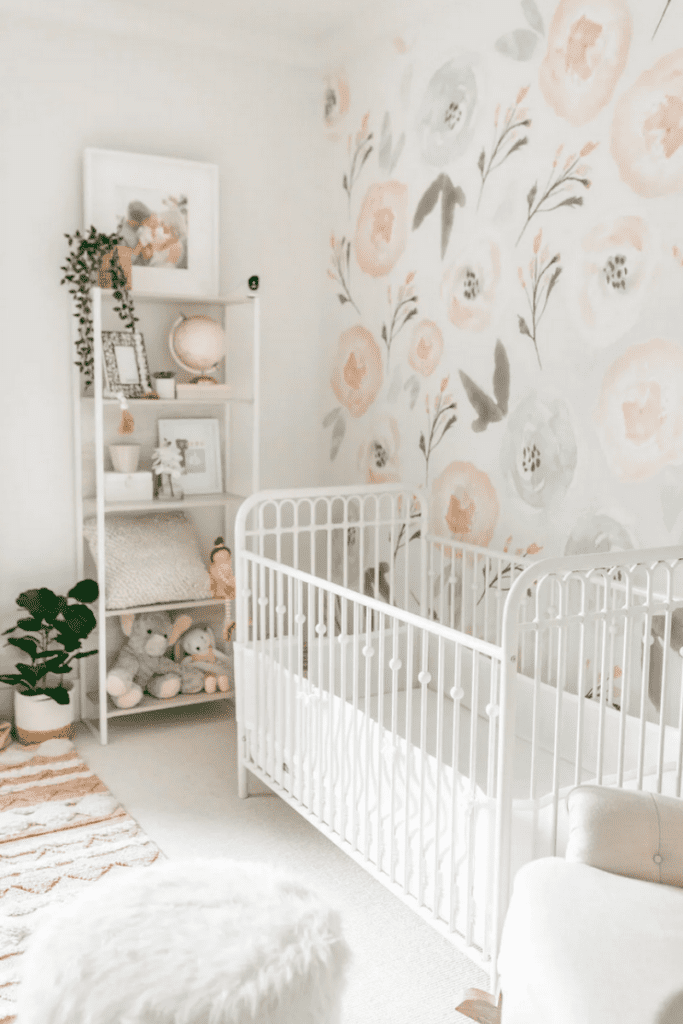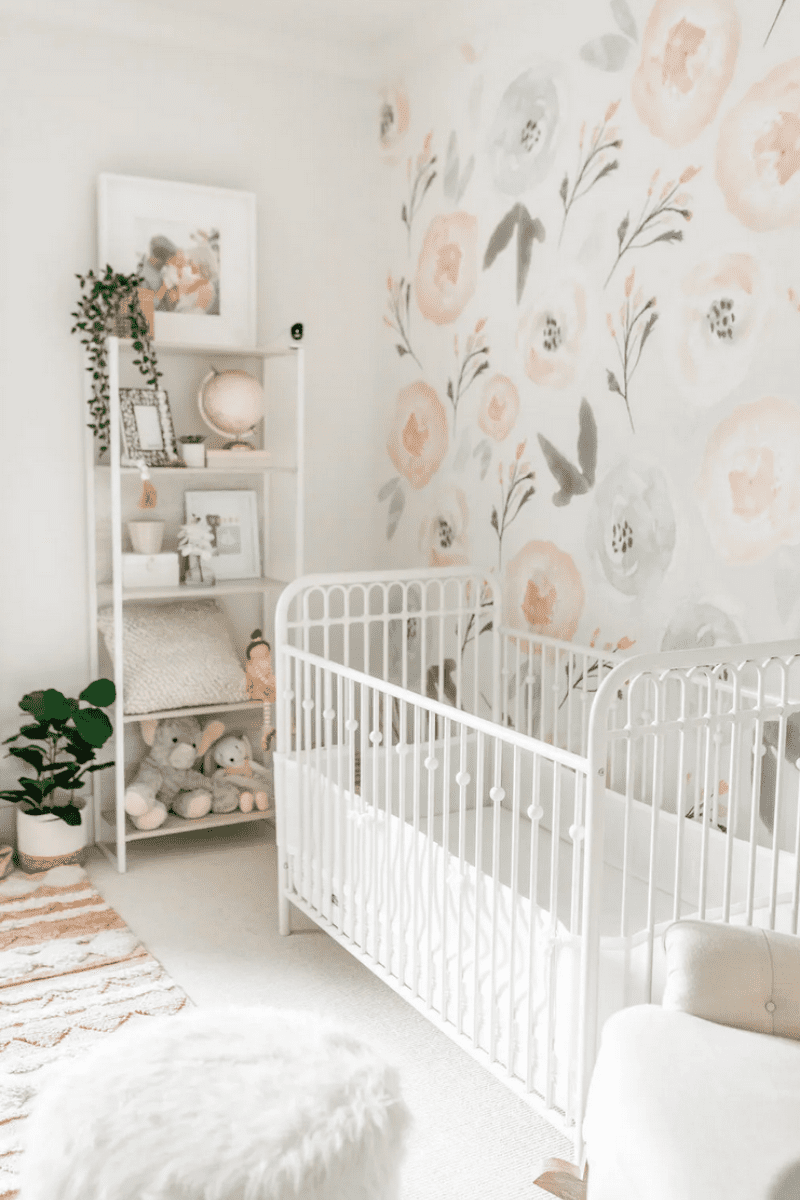 Super sweet nursery reveal.
Keep It Organized
If you have a full set of nursery bookshelves or built-ins, a good use of the space is to incorporate baskets towards the bottom of the shelves. By keeping these baskets on the bottom shelf, they are easily accessible and can help organize all those small items like toys, socks, diapers, books, stuffed animals, etc.
Keeping your nursery room organized is essential for a functional space for you and your baby. If you tend to throw items into closets as a way to 'cleaning, make sure to keep an organized closet following some of my favorite nursery organization tips.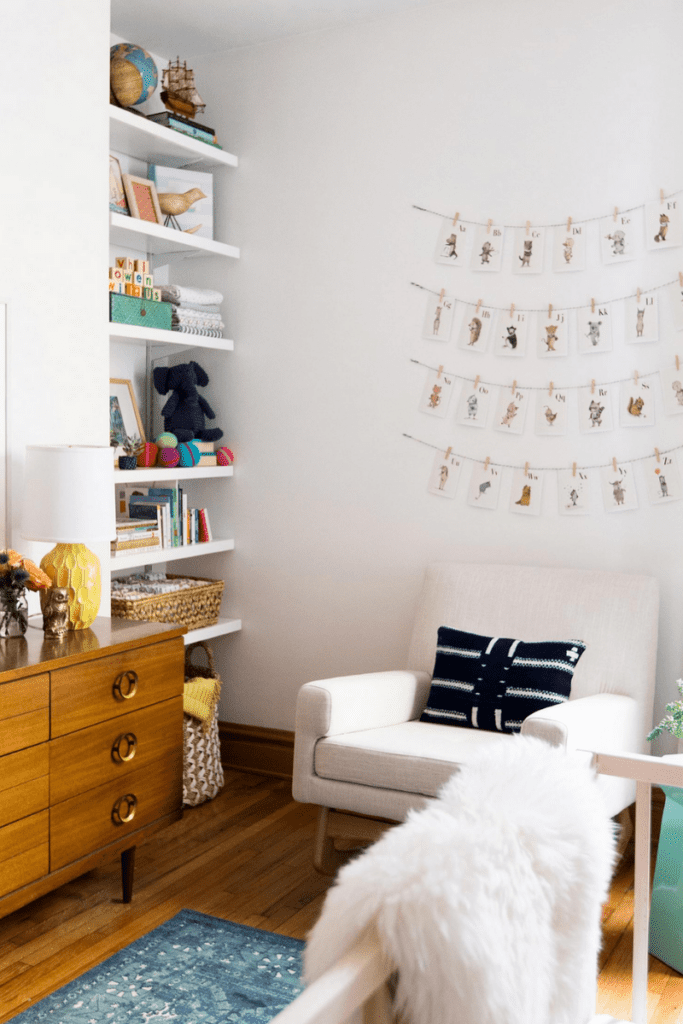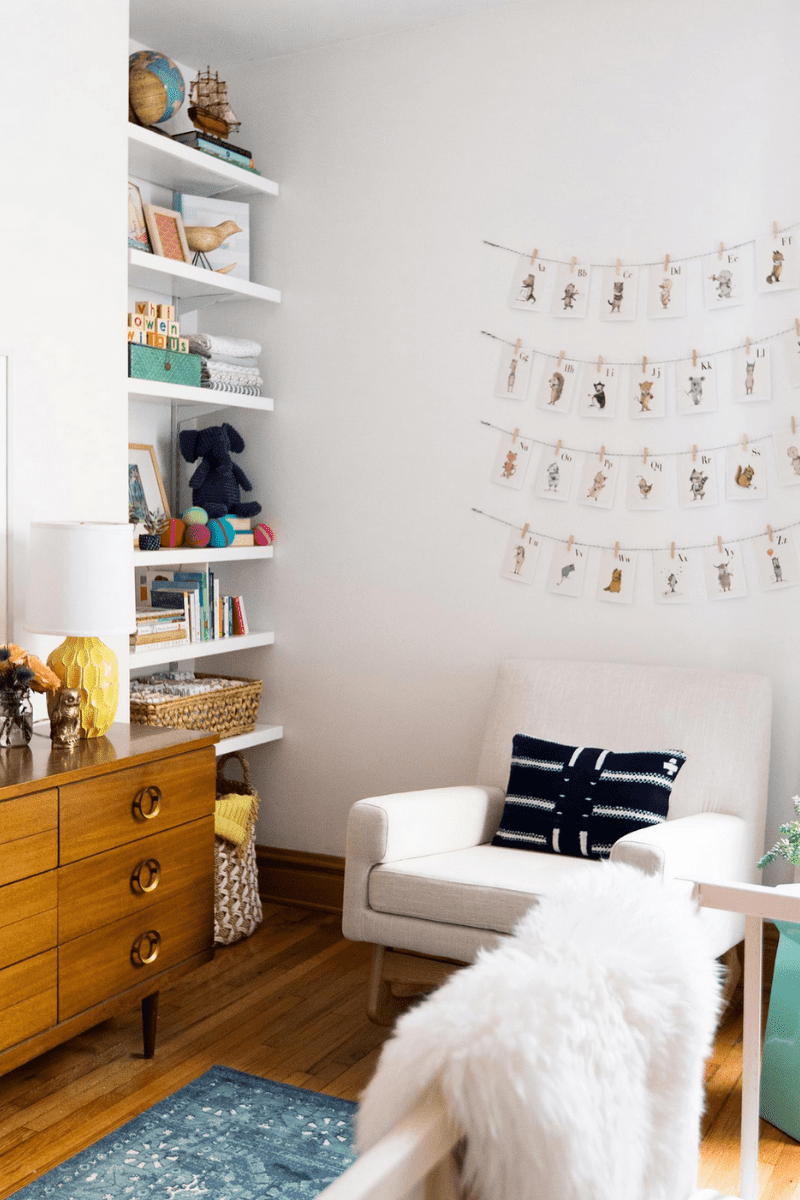 This is such a fun mid century modern nursery reveal.
Keep Weight and Decor In Mind
If you have any decor made out of glass, ceramic, or anything breakable, you'll want to have it reserved for the top shelf. This is still your child's room and tempting a toddler to not break a glass vase is just not fair to your toddler.
Breakable items are like catnip to them and the first time they throw a ceramic llama at your head, you'll be ready to rearrange.
Keep in mind that items that appear heavier or bulkier should stay close to the bottom of the shelf. This is not only from a practicality standpoint, but it is also more aesthetically pleasing.
Symmetry
Another great idea is to remember to keep your shelves balanced and symmetrical. If you have multiple shelves, you should make sure that you are balancing both the weight and height of your shelves.
That doesn't mean you have to have a perfectly symmetrical shelf. Rather, start with your larger objects. If you place an object on one side of a shelf, place the next larger object on the opposite side of the next shelf. Similarly, keep this in mind while you are placing items both horizontally and vertically.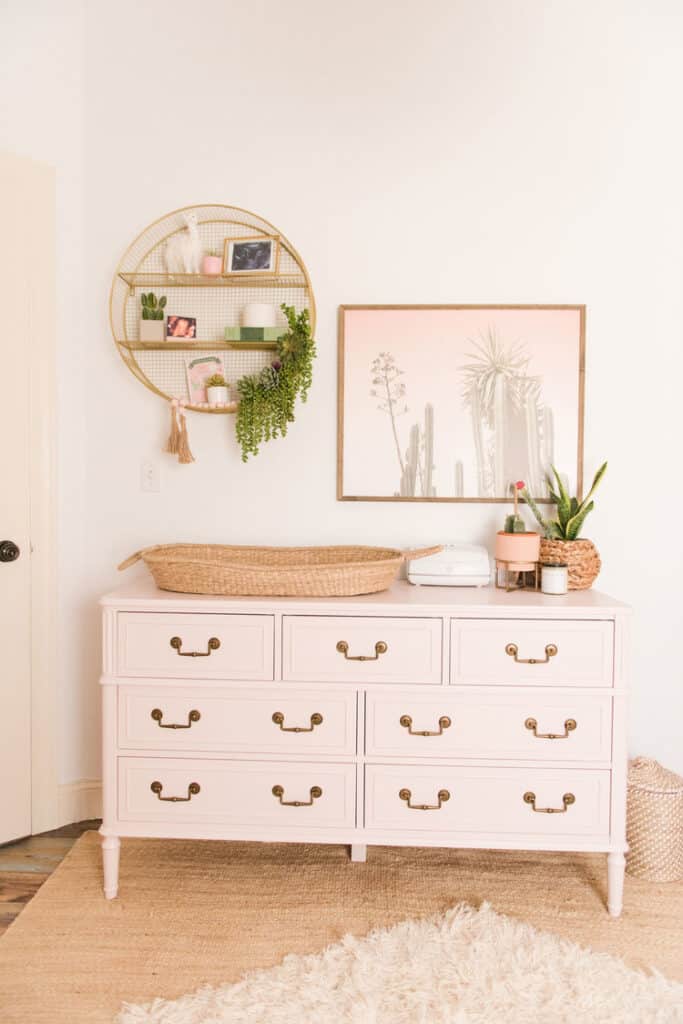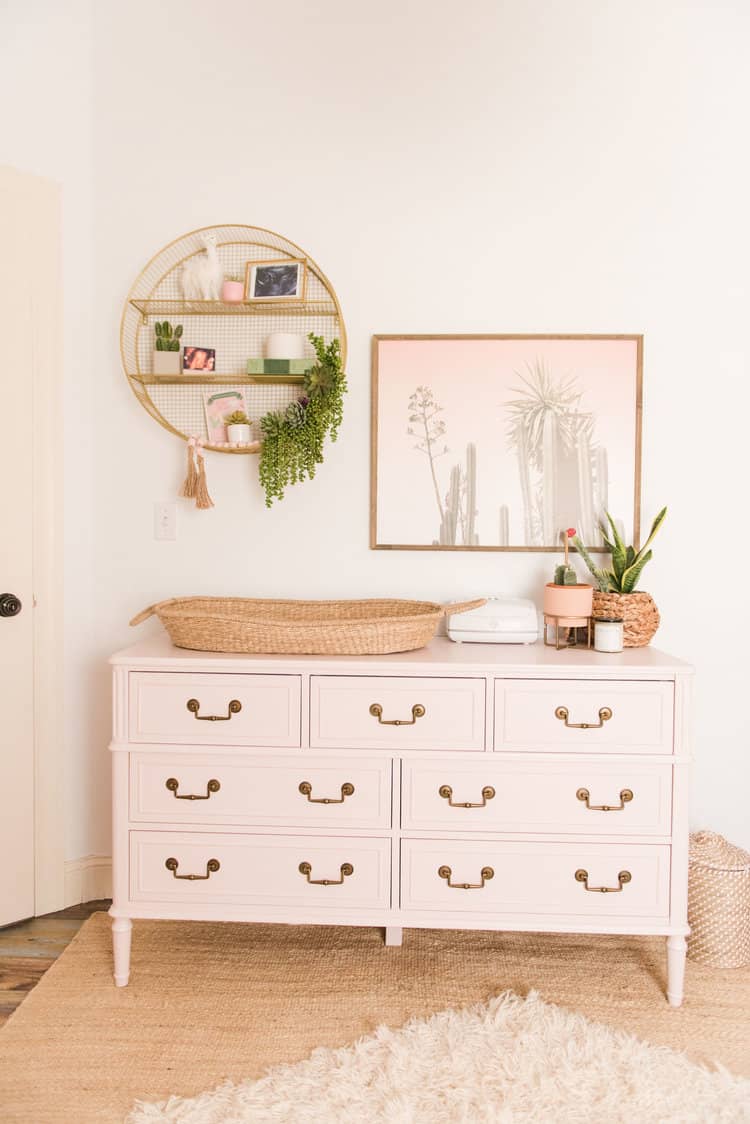 This is a fun way to use a geometric shape as a shelf.
Layer Framed Art
Use framed art to help enhance your nursery's theme. I love tying in the personalized aspect with your art to display something meaningful about your child. While you can frame their birth statistics or name, I love the idea of something less obvious.
You could frame their birth flower, constellations on the night of their birth, the sound waves from the first time you heard their heartbeat, or a custom watercolor of their ultrasound. You don't need to go overboard on family pictures. Stick to more classic decor and reserve the family photos for your scrapbook.
You can layer your picture frames on the shelf to create dimension. Start with larger frames towards the back of the shelf and display smaller frames towards the front. The artwork should be complementary and not compete with the rest of your decor.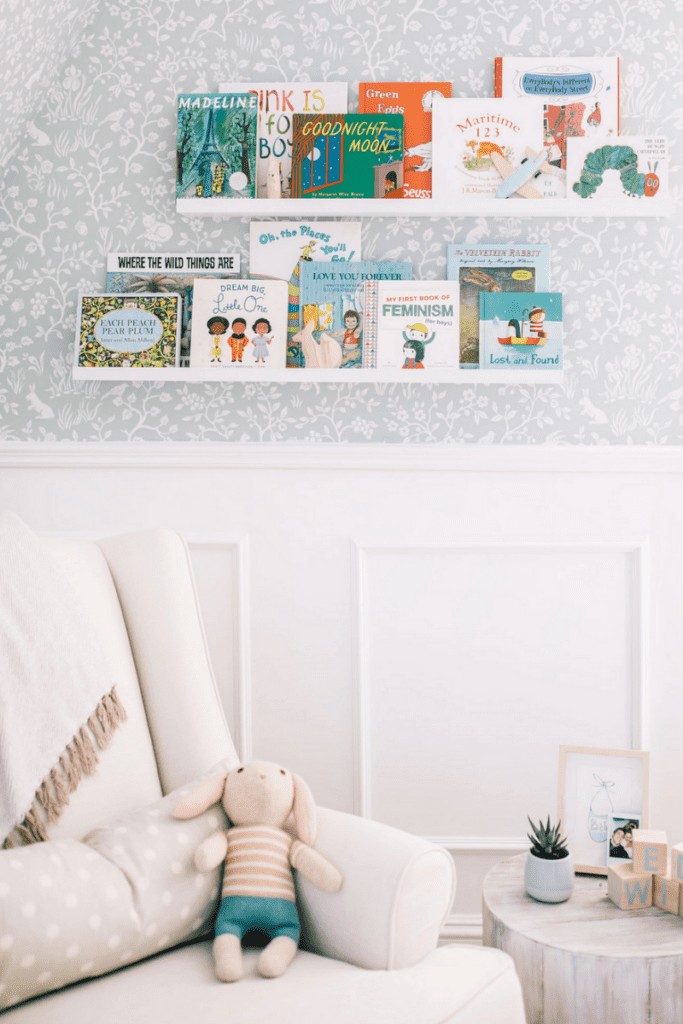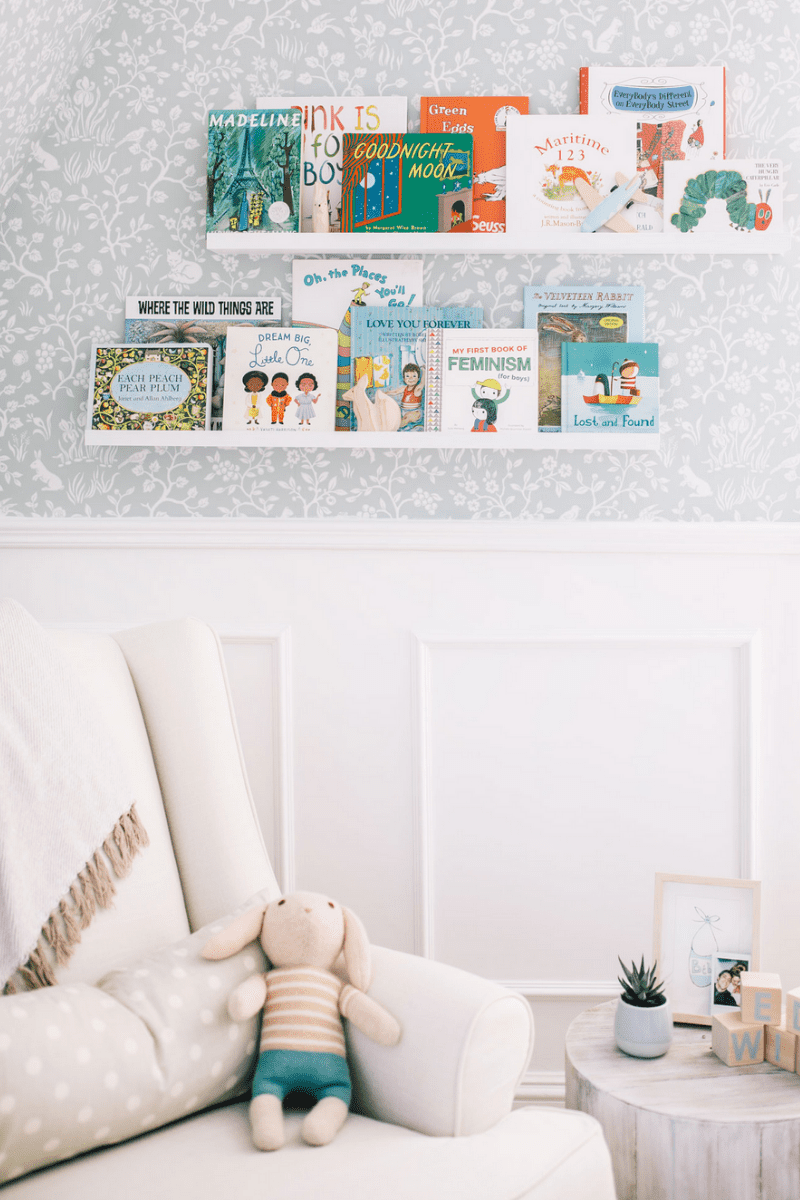 This serene nursery is filled with personal touches.
My Favorite Nursery Shelf Decor Ideas
Now that you have an idea on how to style the shelves in your nursery, let's take a look at some of my favorite nursery shelf ideas. You may decide you want only a bookshelf or you may have a whole wall dedicated to shelf space.
Regardless of the size of your shelf space, you need to first decide what you want to display on your shelves. Once you determine whether you want a traditional bookshelf versus a shelf to display vintage treasures, you can then begin to map out how you intend to style it.
To help you with some inspiration, I've rounded up some of my favorite nursery shelf decor ideas.
DIY Shelves
You know I love nothing more than a good DIY. The best part is I've already done this DIY and I can attest that this DIY arched built in would be perfect for a nursery. You would not only get amazing storage space, but also a great display of nursery shelf decor.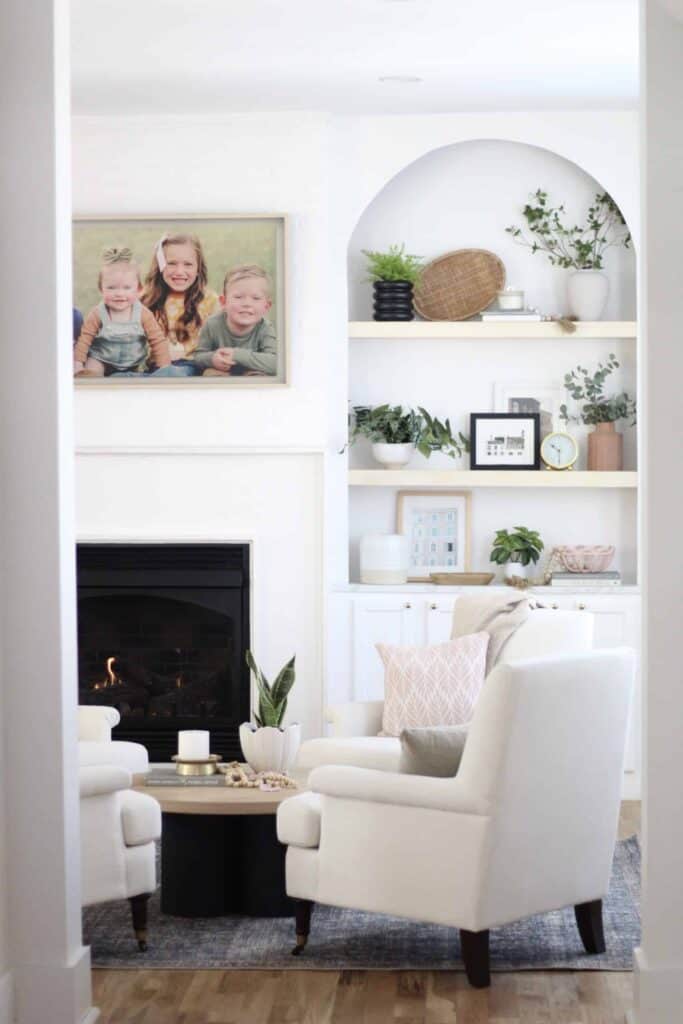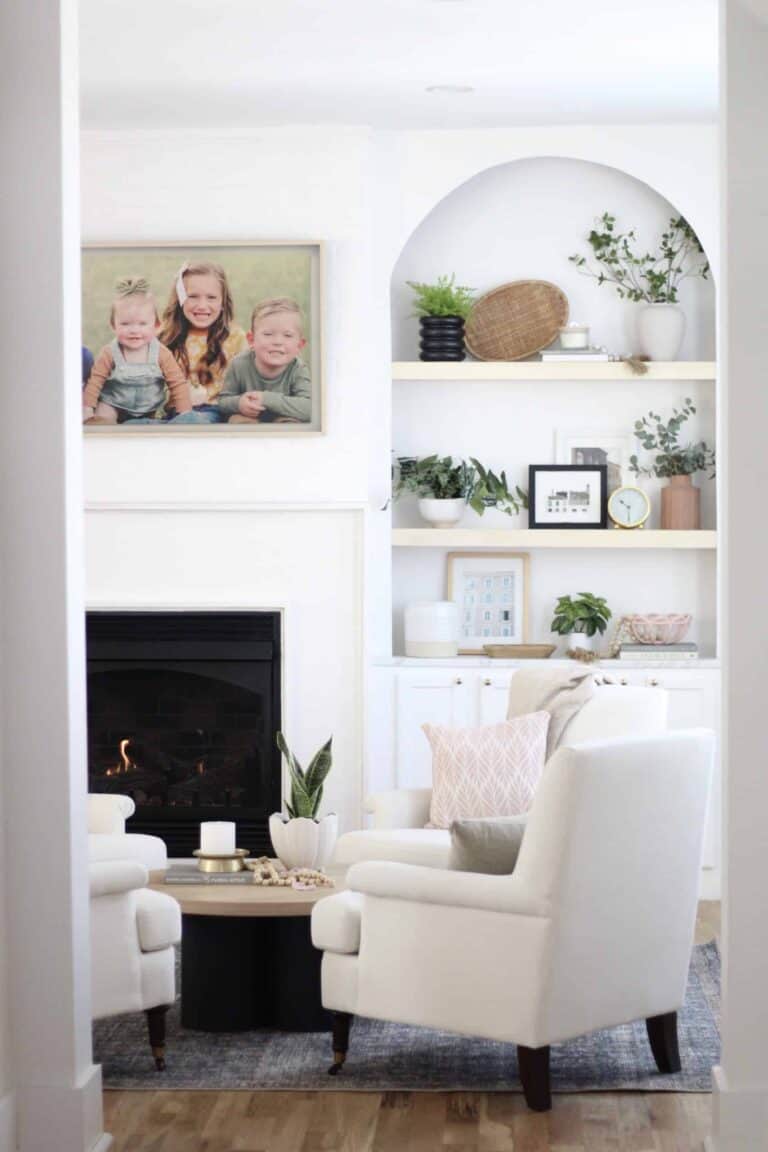 Similarly, I've already made DIY floating shelves and they would be the perfect addition to a nursery!
Along with DIY, you know I also love a good IKEA hack! An IKEA DIY dollhouse hack is a great idea! You can use the dollhouse to display books, stuffed animals, and other favorite items that you'd like your baby to be able to reach, and then transition to a traditional dollhouse once they get older.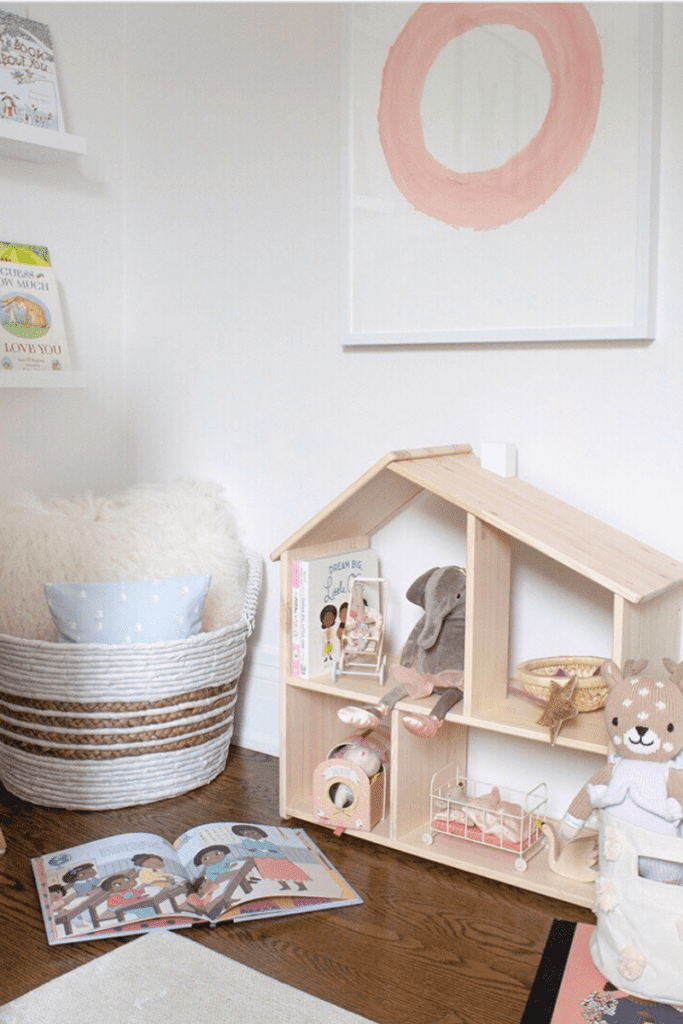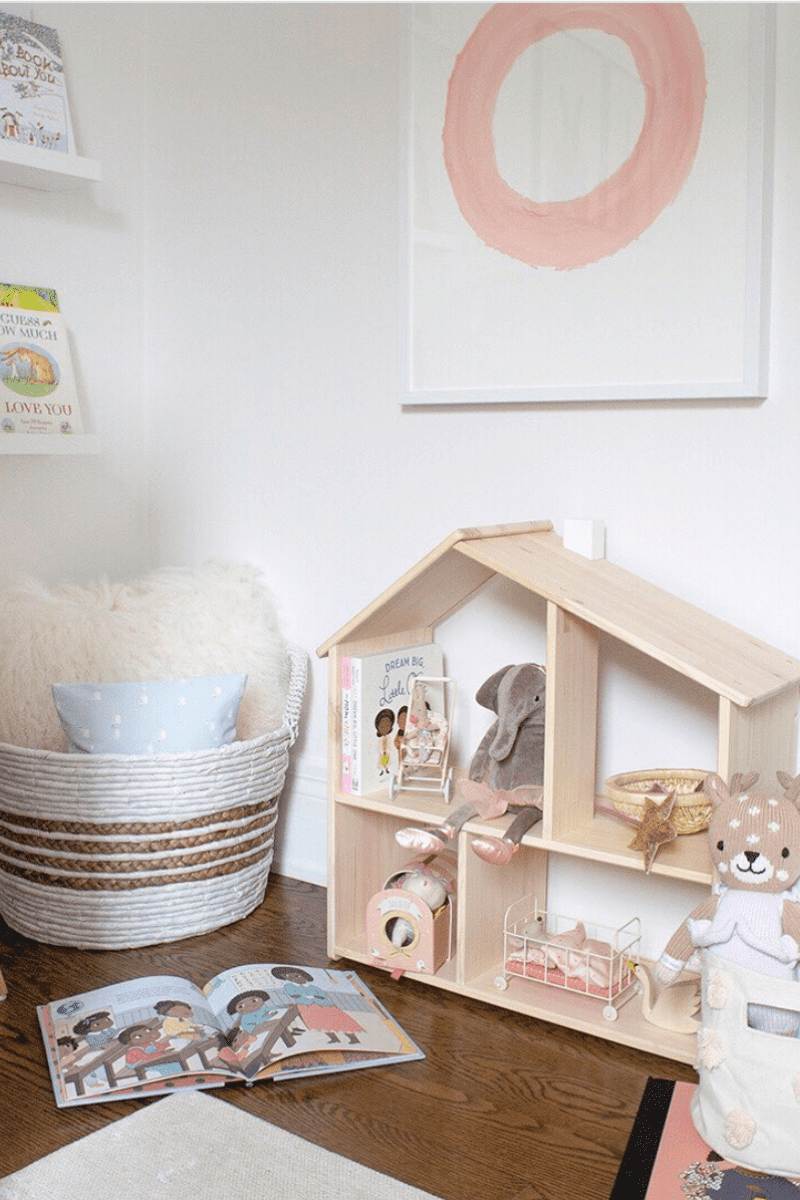 A dollhouse used as shelving is a great way for form to meet function.
For small spaces, adding shelves may be necessary to keep your space organized. I love the idea of creating a DIY ladder shelf to your space to help display sentimental items and house baskets for organization. I created this DIY ladder in Walker's nursery and loved how functional it was for his space.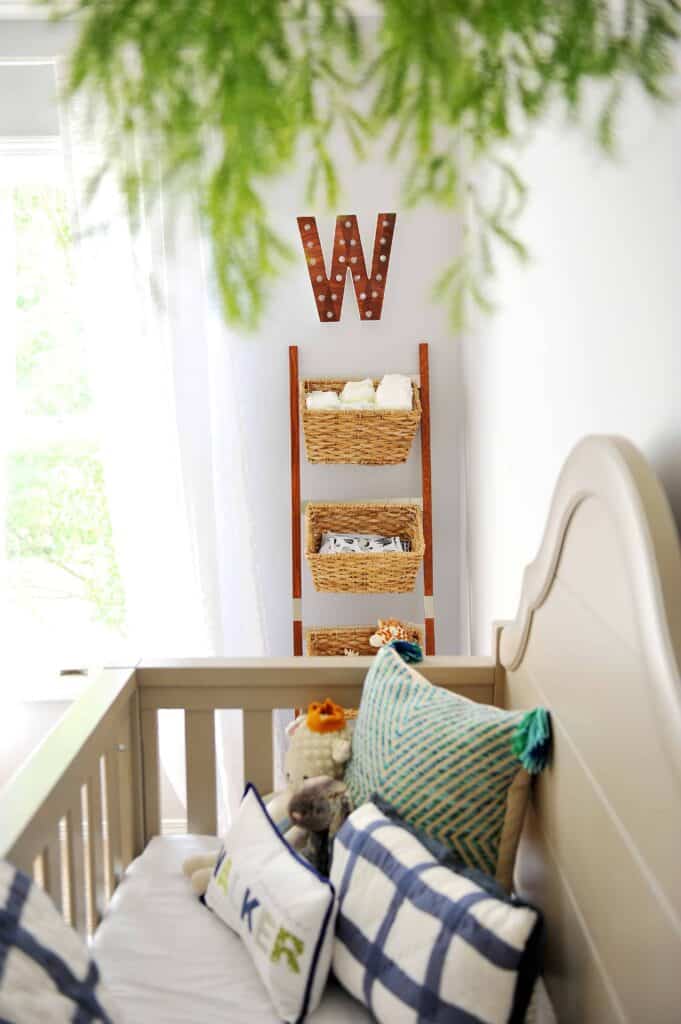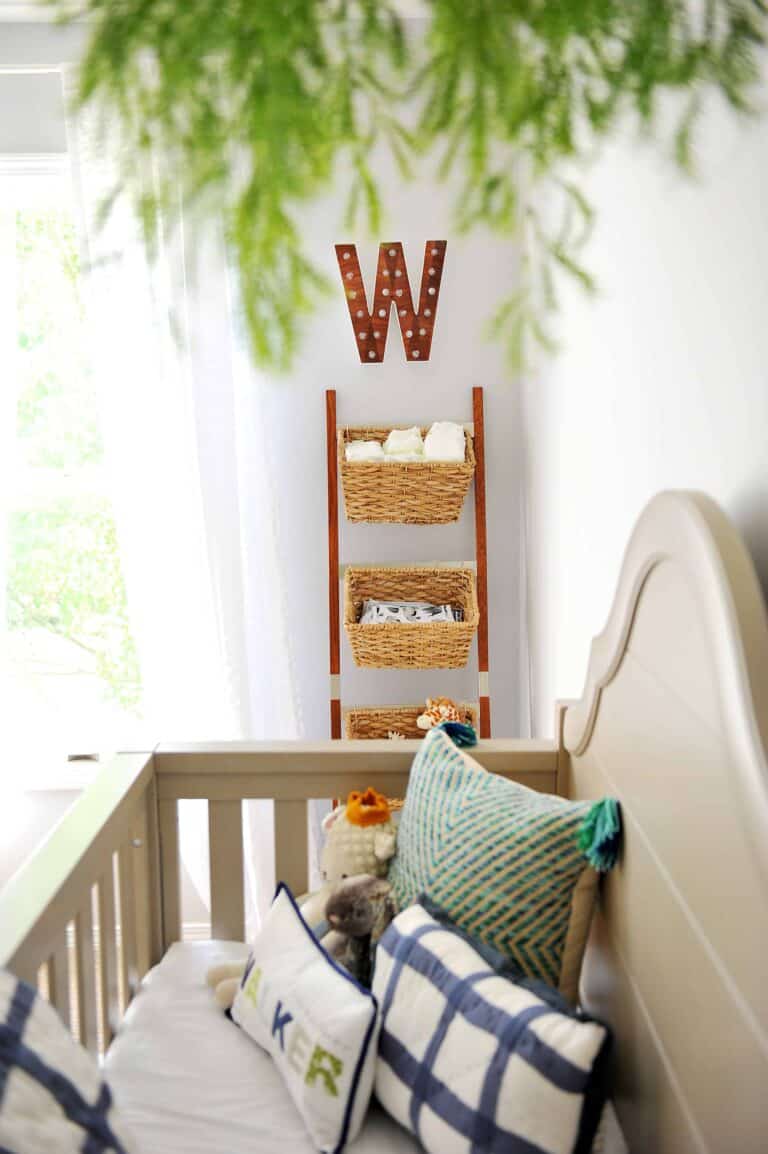 Below is another great example of a ladder shelf that can be utilized in small spaces. You'll notice that baskets are along the bottom two shelves, with lighter and more breakable items along the top shelves out of the way from little hands.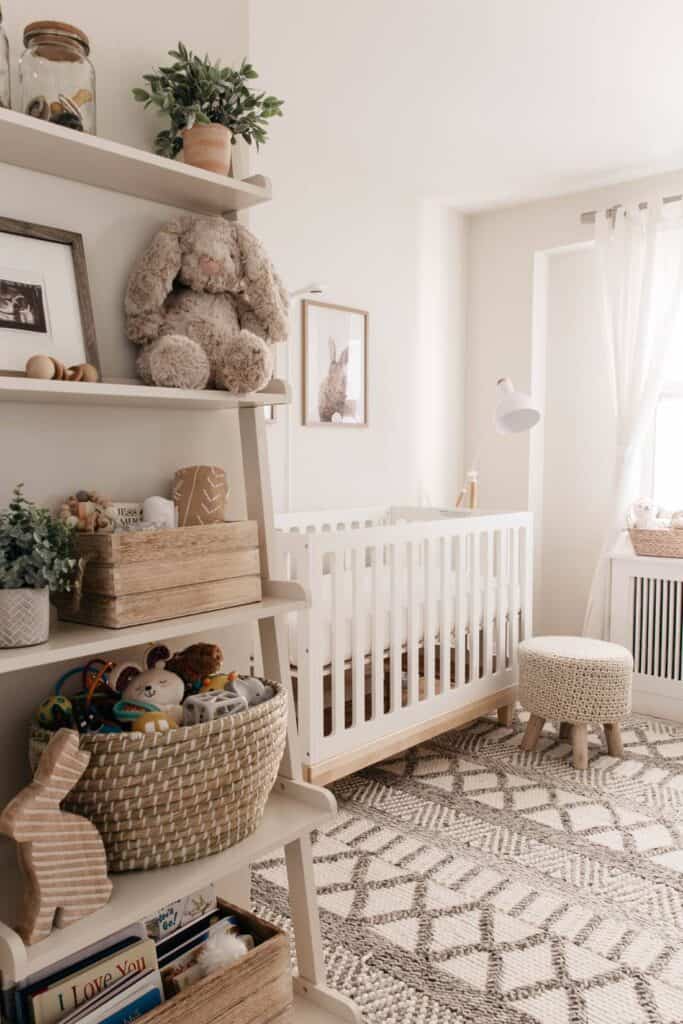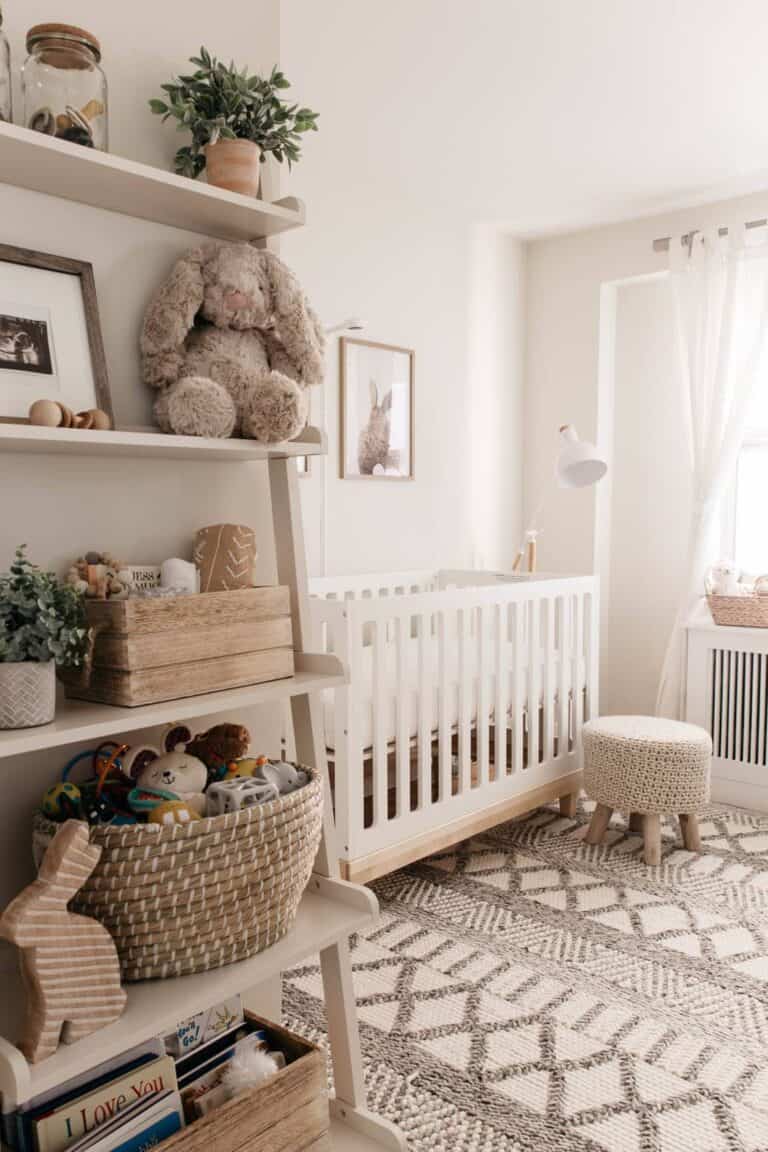 Book Shelves
If you opt to have a reading nook in your kid's room, you are going to need space to display all the books they'll collect. I love using clear ledges to display books in our kids' rooms. The clear ledge gives the appearance of floating shelves and allow the books with beautiful covers to shine as the work of art.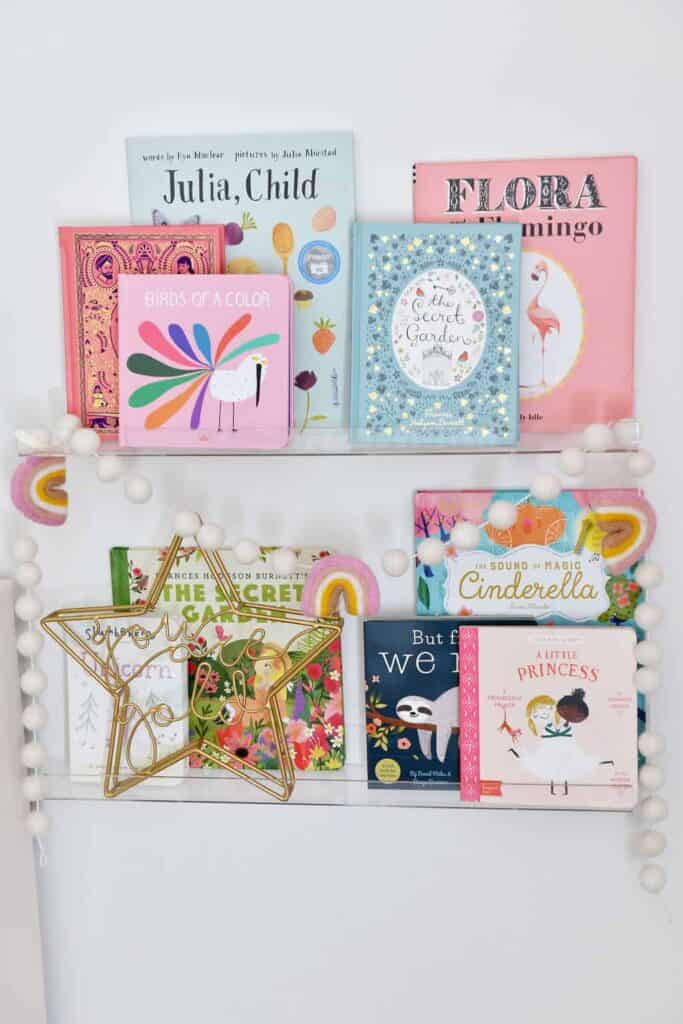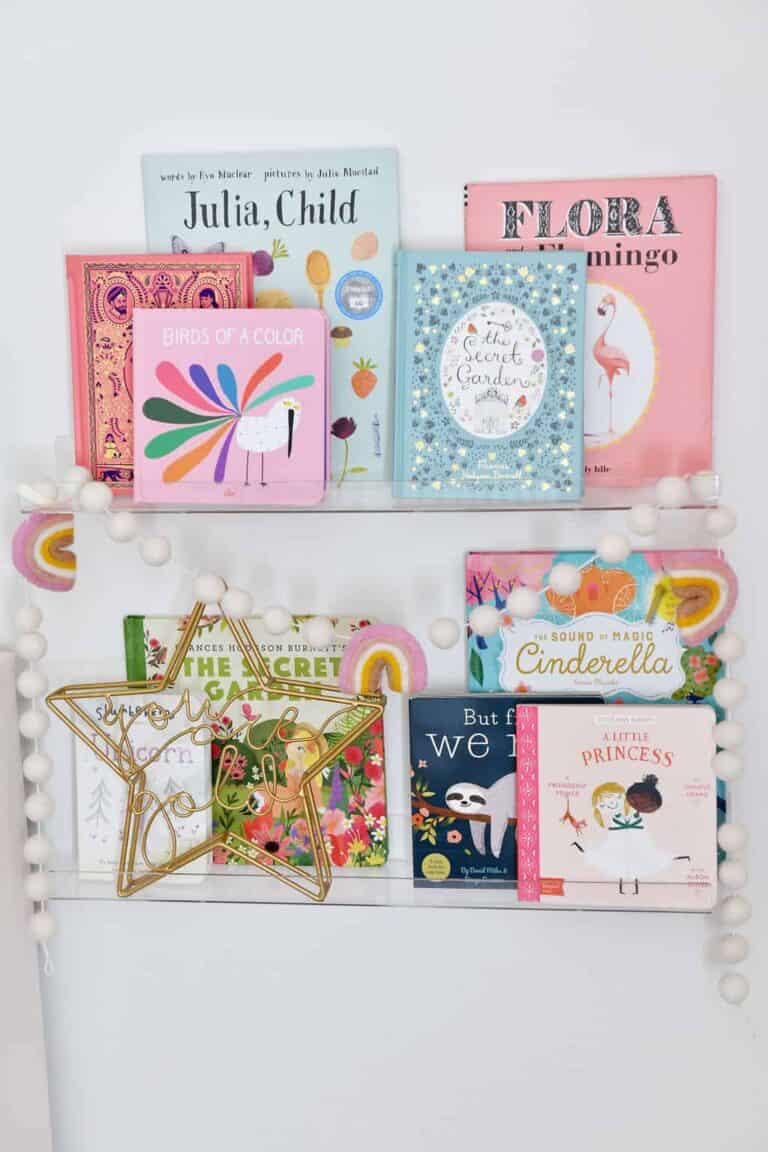 If you'd like to have something a bit brighter and that adds a lot of color, try a rainbow bookshelf. I love how the bright colors pop off the white walls. This is a great use of color in an otherwise neutral corner.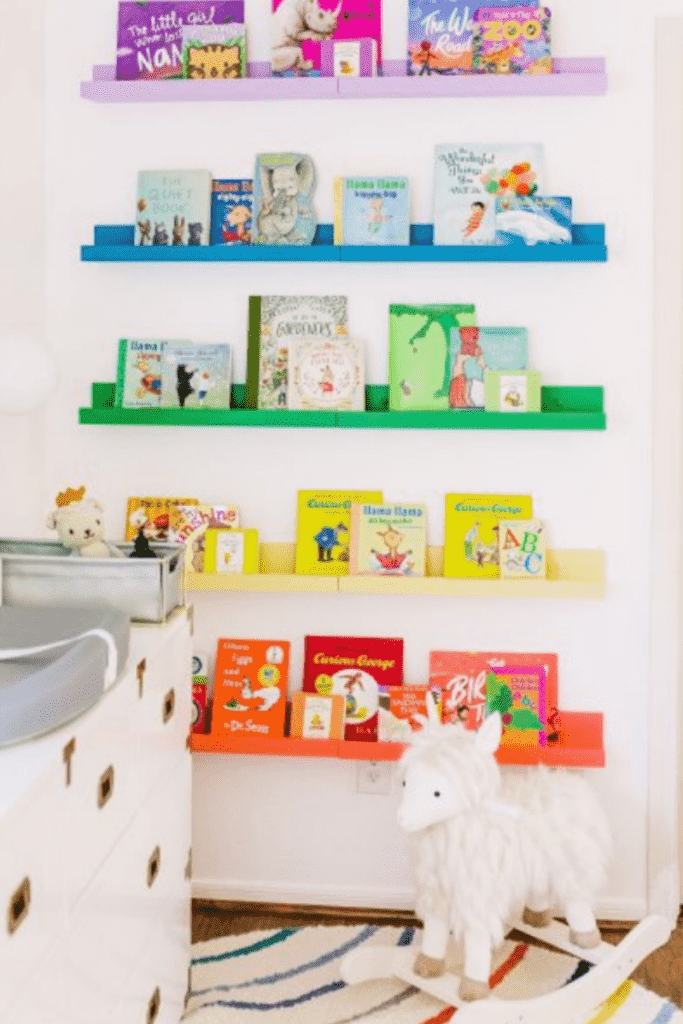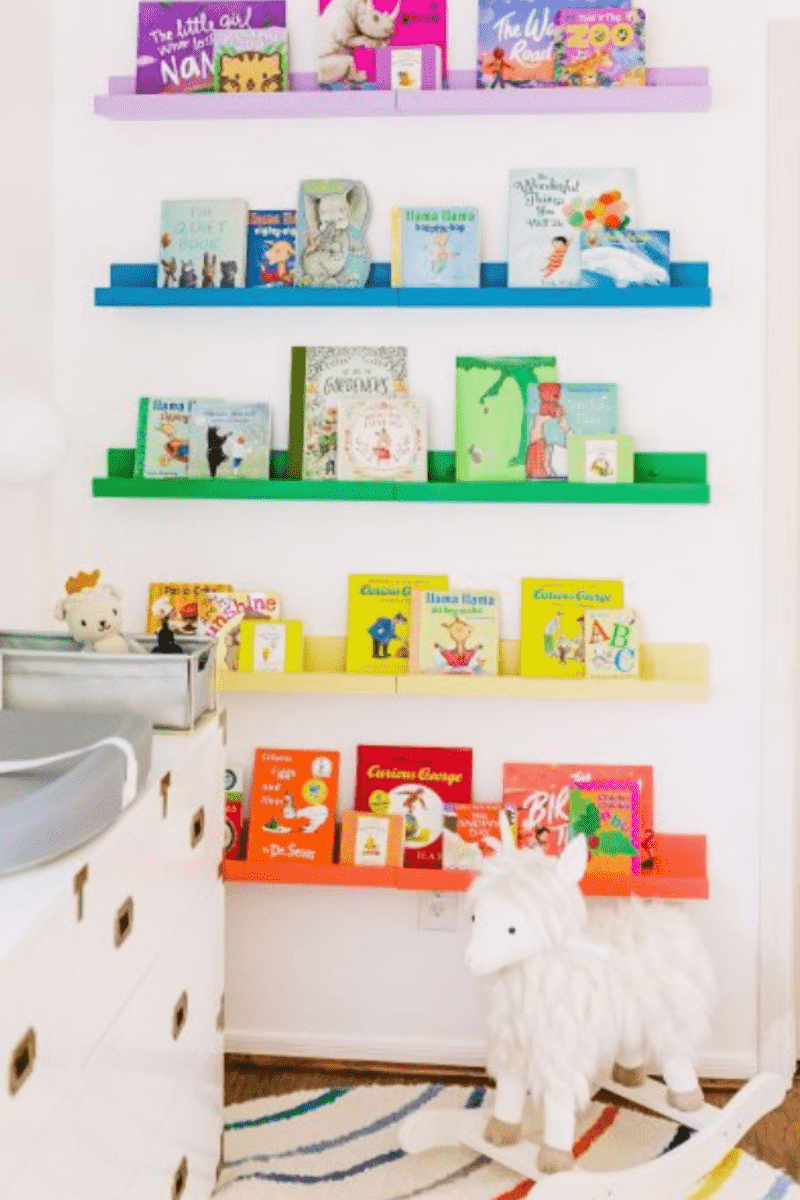 Simple rainbow shelves make a big impact
Boho Shelves
Boho is having a moment and I am here for it. I love the neutral undertones and earthy elements that create this look.
This dollhouse shaped shelf has tons of personalized items to complete the look. From a personalized name sign, a wooden letter "M", a birth flower embroidered hoop, and dried flowers; this is a shelf that tells a story.
I also love how there is a hint of color incorporated with the wallpaper that lines one of the shelves.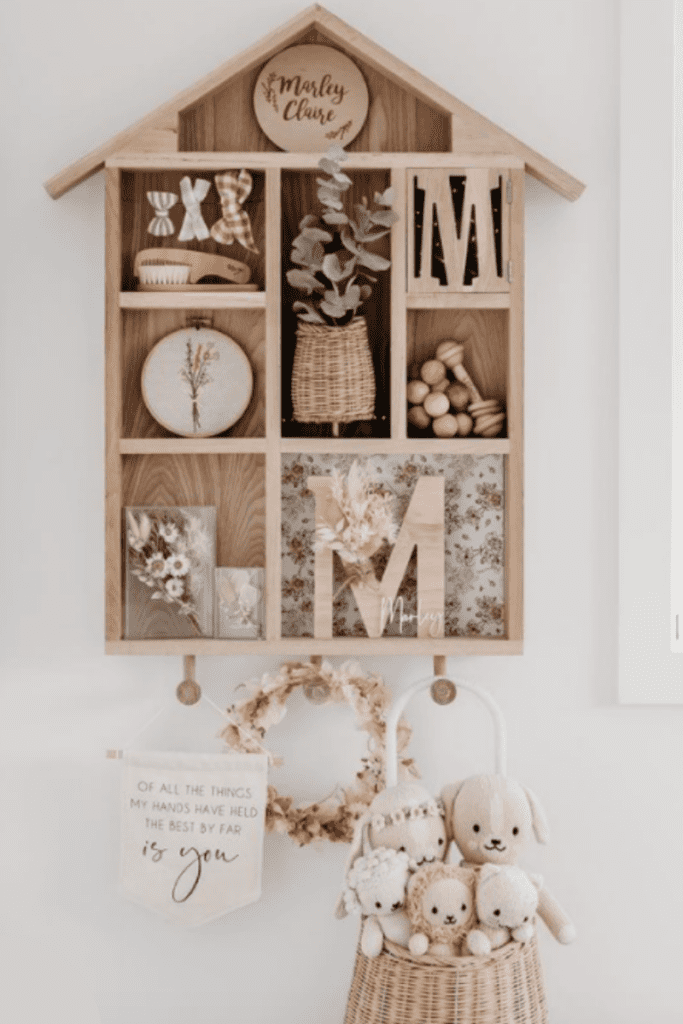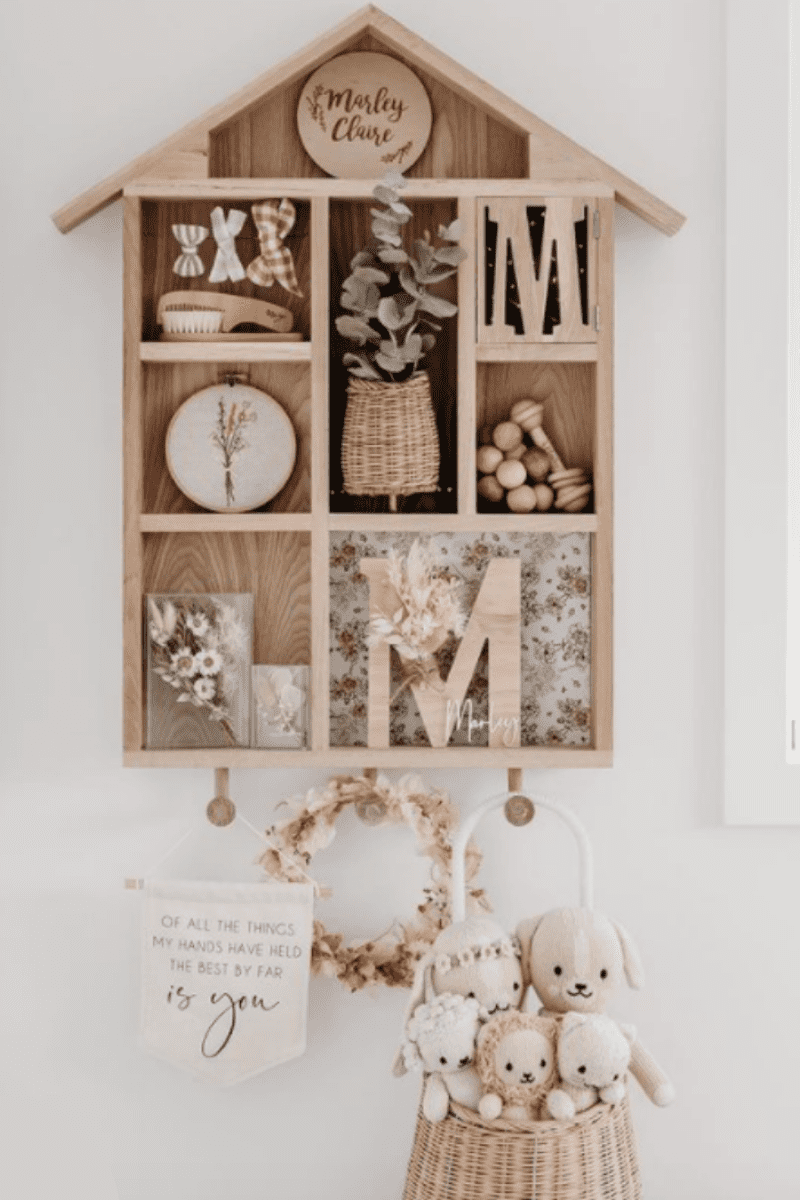 Personalized shaped shelves never looked so good!
This same room has staggered wall shelves above the changing table. This mama repurposed some of the decor from her dollhouse shelf and moved items above the changing table. This is a great example of repurposing items. You are never truly finished designing a room and this is a prime example of how spaces can evolve and change.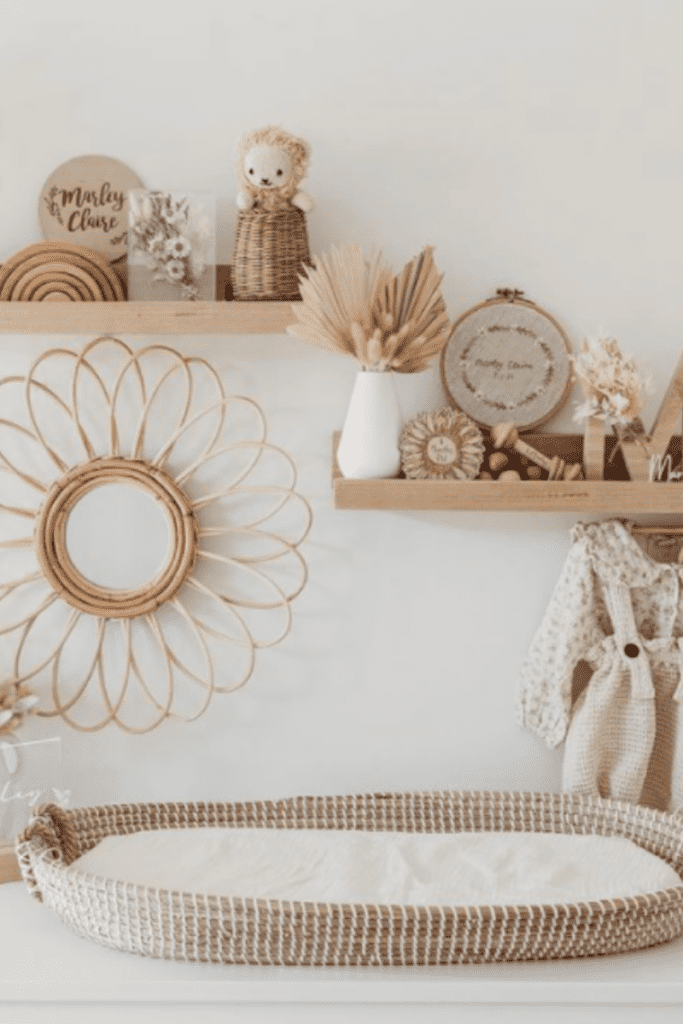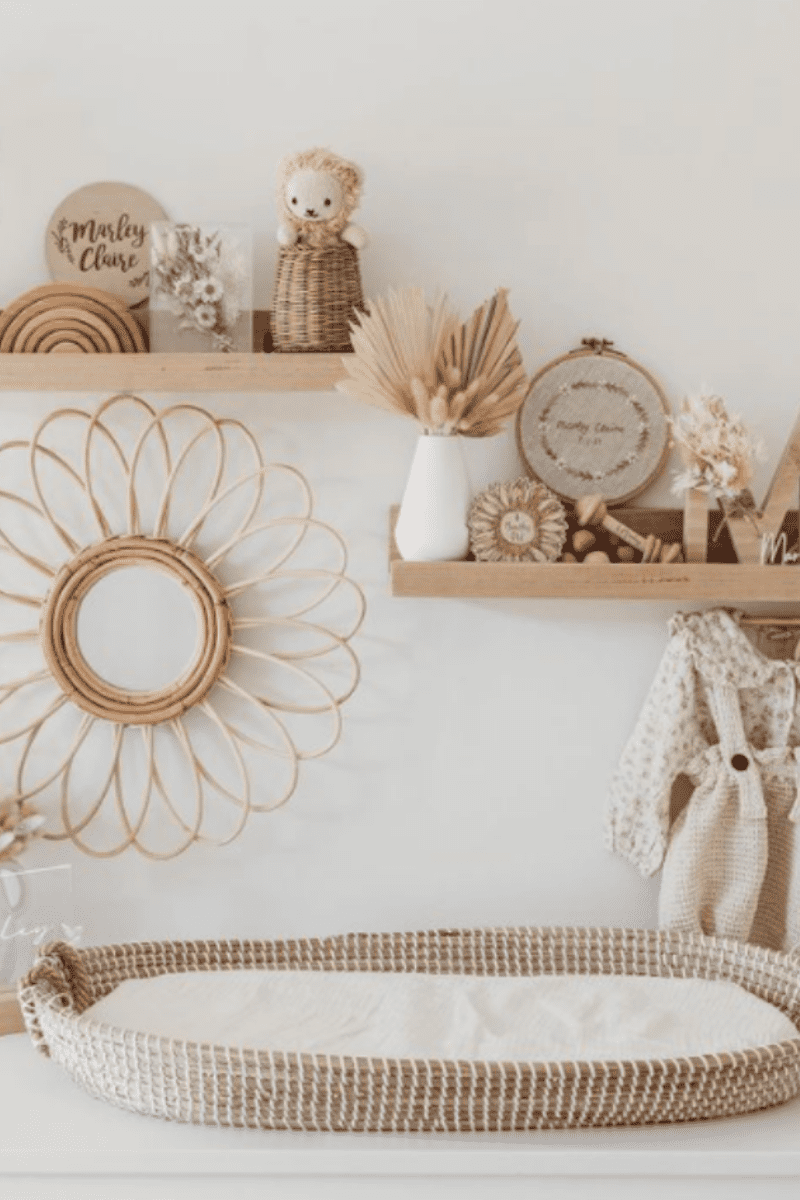 White Shelves
White shelves are classic for a reason. They go with almost any decor and it is a traditional look that can be used to display more whimsical or sentimental items. I love the look of this next shelfie. The shelf is well balanced with large and small items. The wrapped pink books are a great example of adding symmetry to your shelves.
You'll also notice that the framed mirror is balanced by the larger plant with smaller items sprinkled throughout the shelf. What makes this shelf even more amazing is the toddler sized full length gold mirror.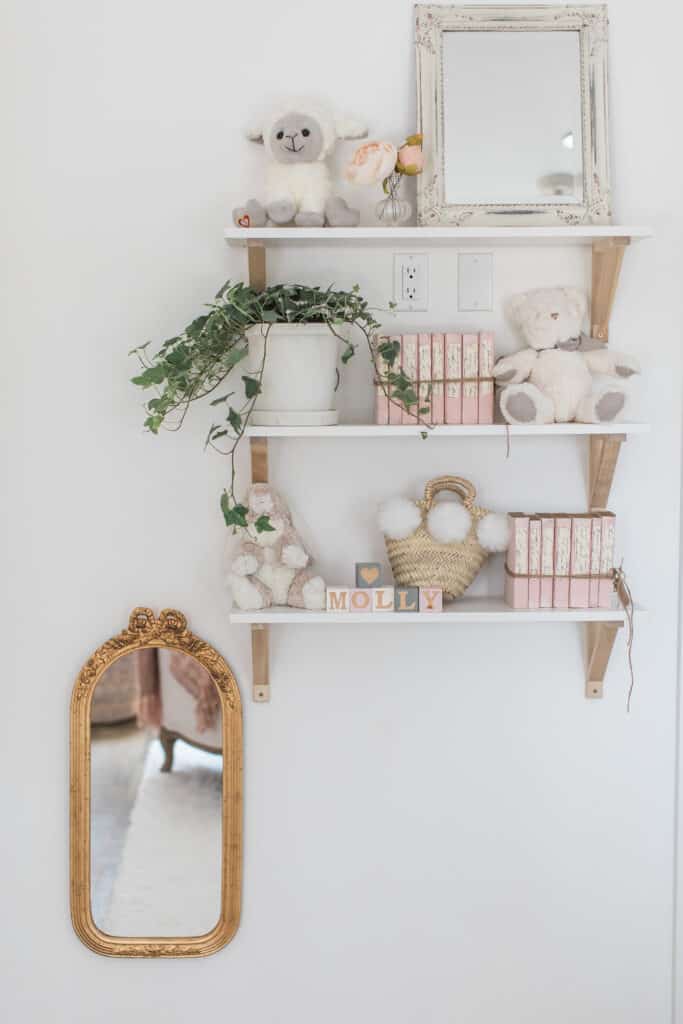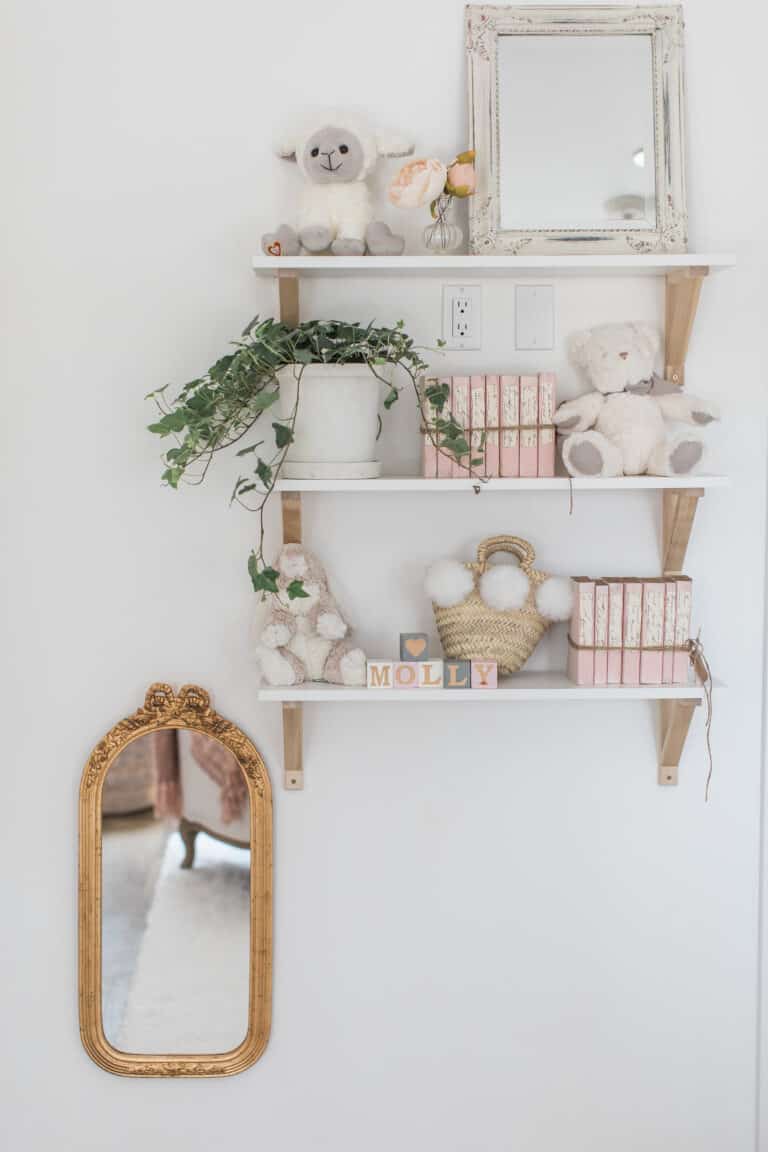 Simple white shelves work in nearly every nursery
Multipurpose Shelves
Talk about function! This pegboard shelf idea is genius for moms with multiples. Sometimes you need something that is both functional and stylish. I love that you can quickly grab items you need like burp cloths, bows, a ring sling, teethers, or diaper bag. At the same there are elements of personalized decor from the rainbow stackers to the greenery.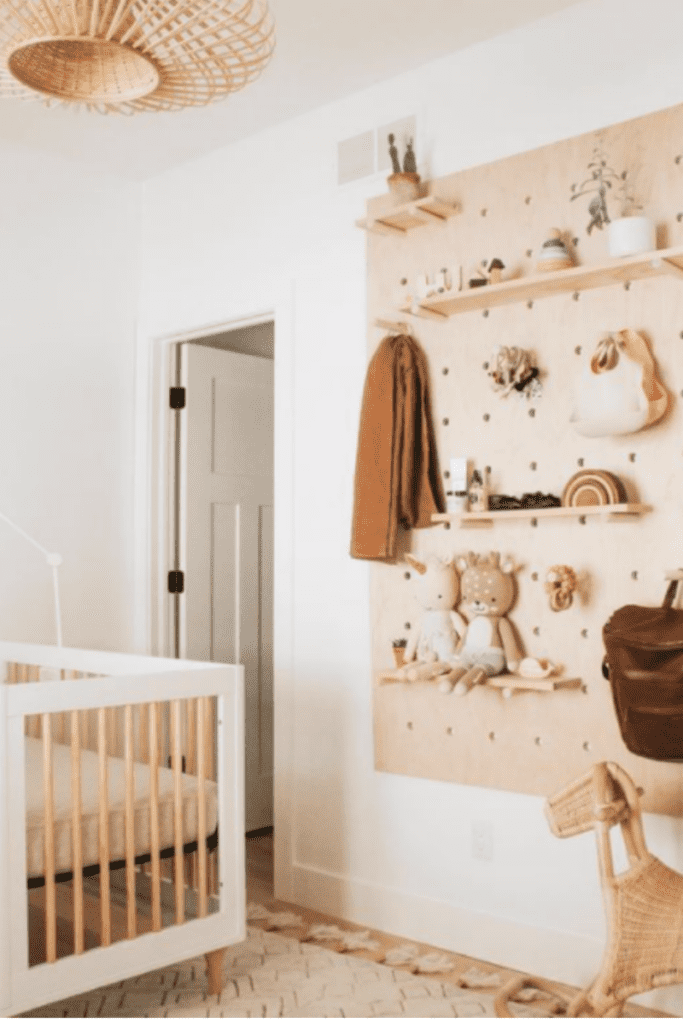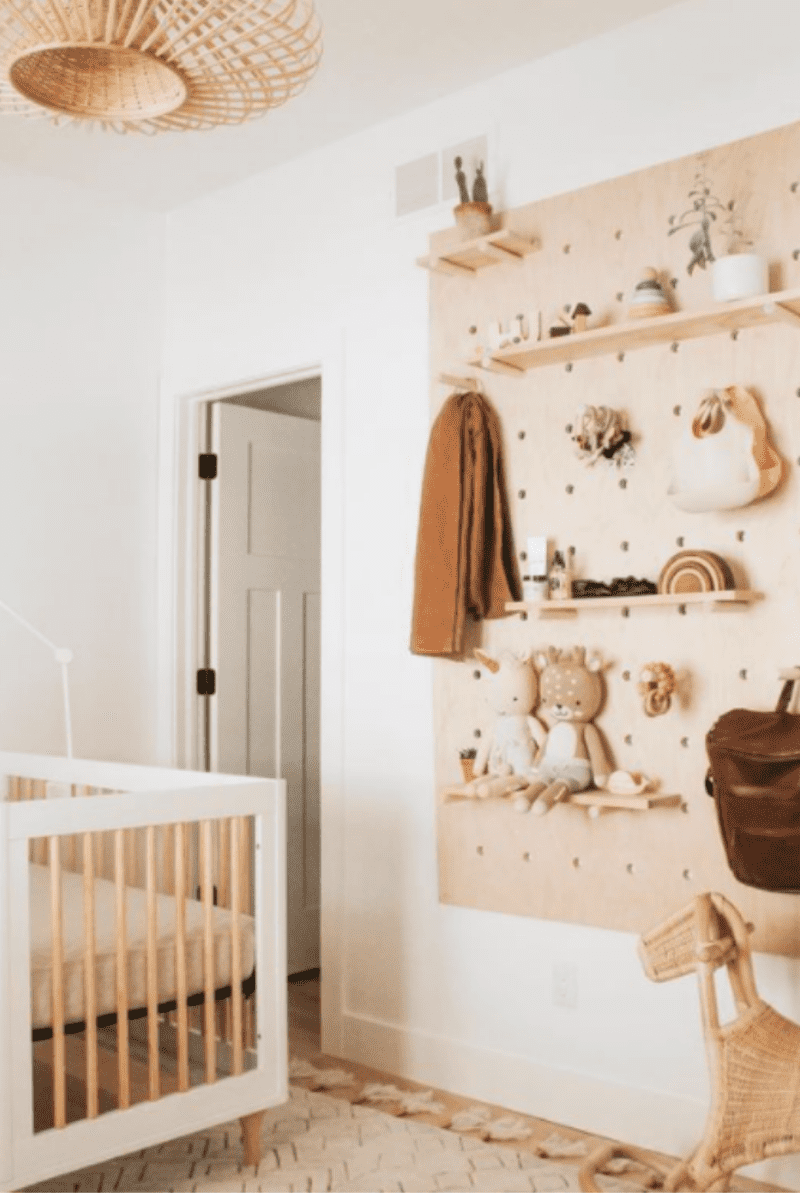 A pegboard wall is a great piece of 'grow with me' decor
Sometimes it just makes sense to display items you use on a daily basis. You may have clothes that you wore as a baby that you want to frame to display on a shelf or hang to display below a shelf. In this instance, this shelf is complete with a row of bows that are easily accessible and can be grabbed on the way out the door.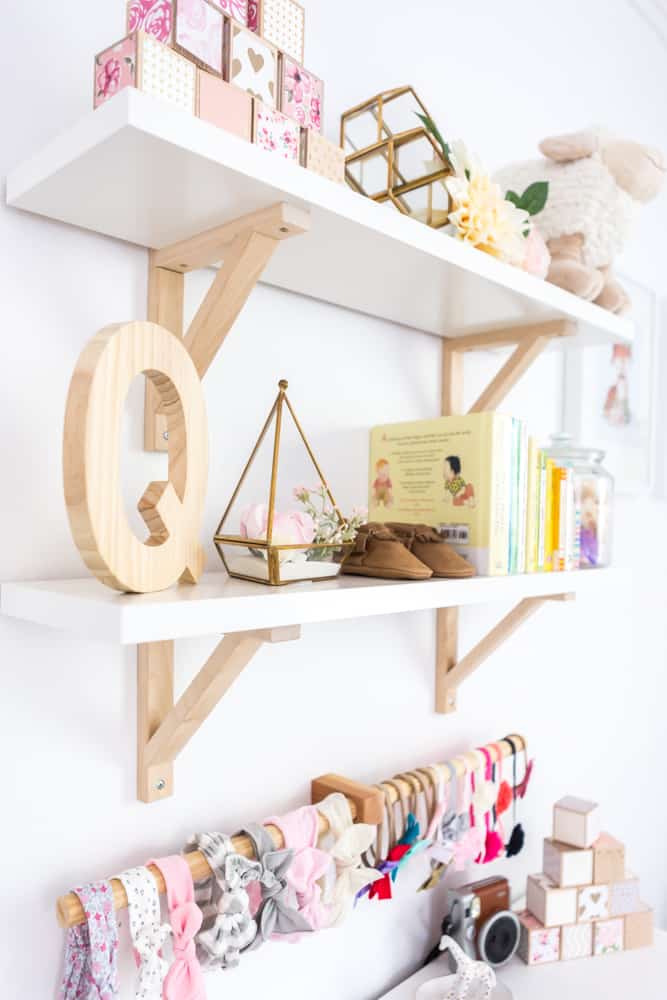 Don't forget to use beautiful outfits and accessories as decor when you can
Shaped Shelves
Geometric patterns and different shaped shelves are a great alternative to traditional flat shelves. Not only is it a great focal point, but it also adds depth to a room by varying shapes.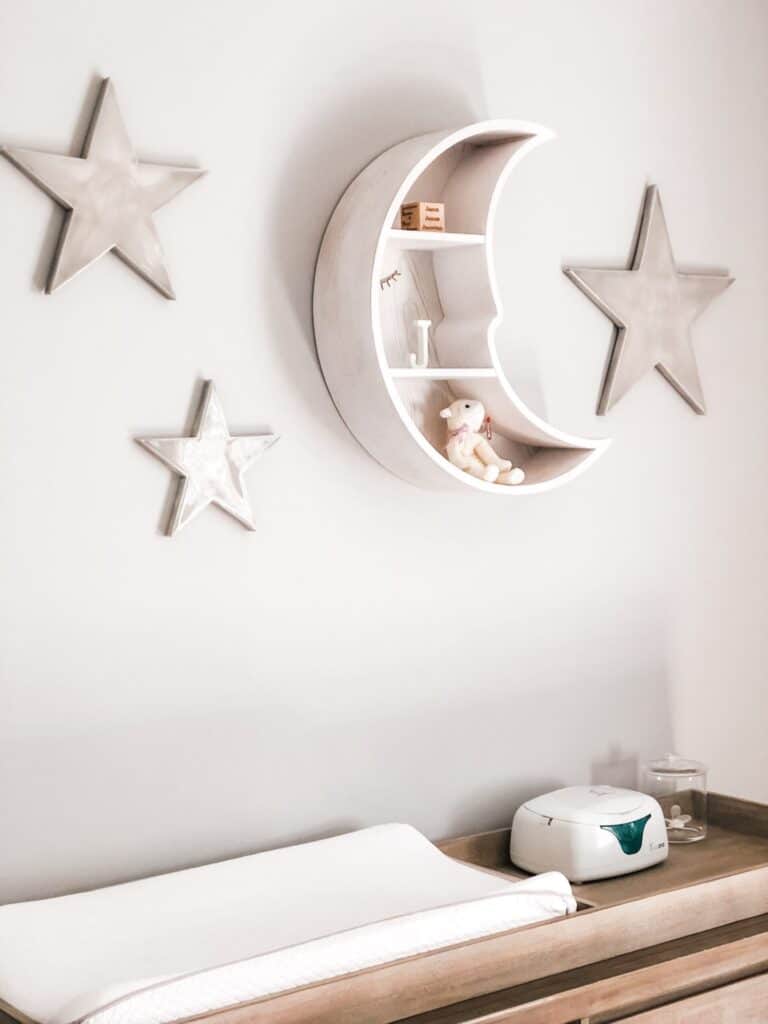 Geometric shaped shelves are also great for babies to look at while changing
I will always love dollhouse shaped shelves and you can't change my mind! This dollhouse shelf is larger and has plenty of space for organized baskets, books, and some personal touches.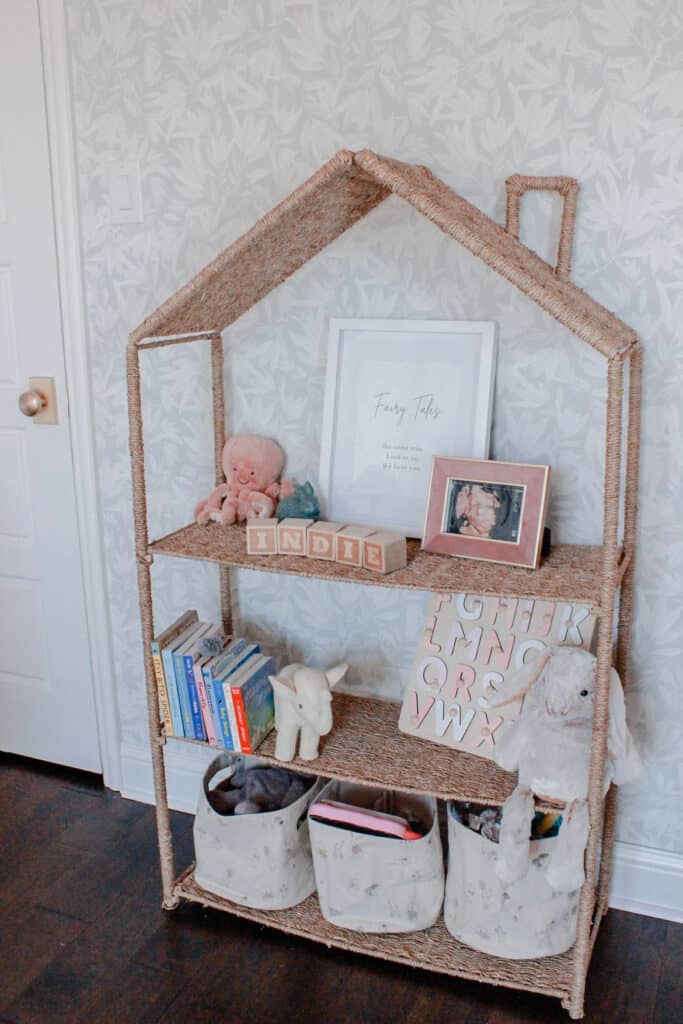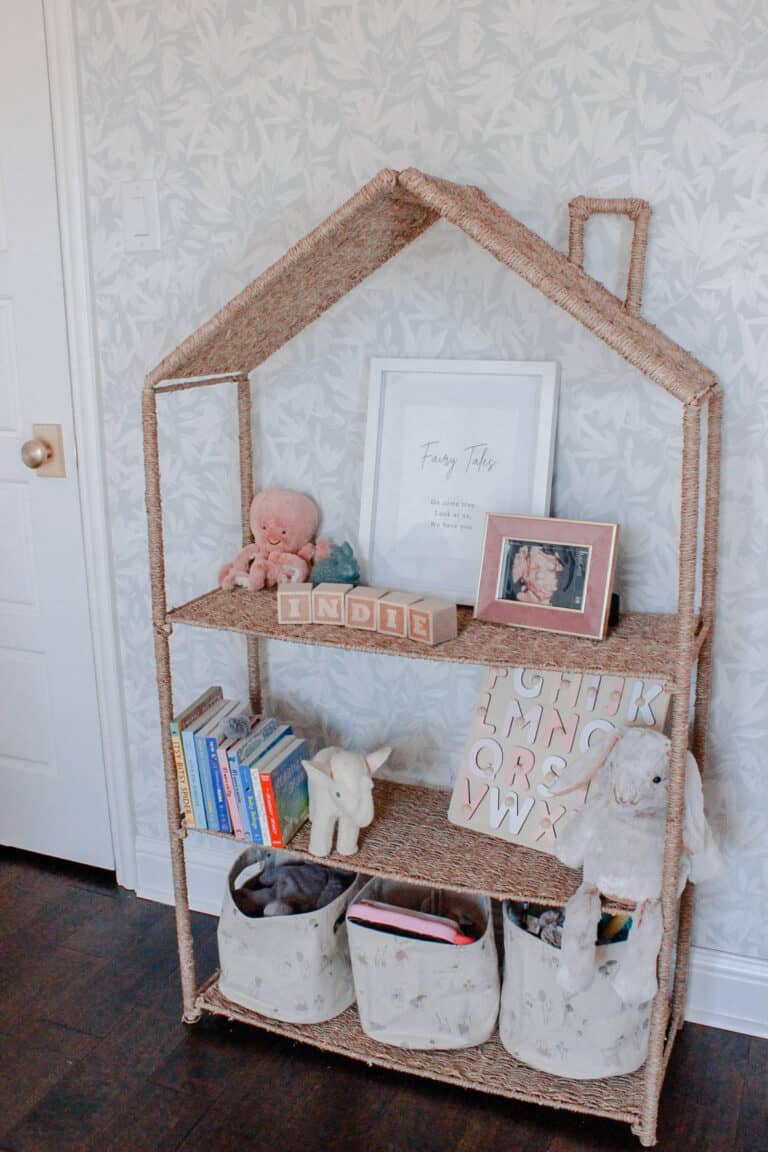 Dollhouse shelves are great for pretend play and toy storage.
This little boy's nursery shelf is complete with personalized items and decor that perfectly complements his nursery. I love that cacti were included and as a bonus they take very little watering to keep alive.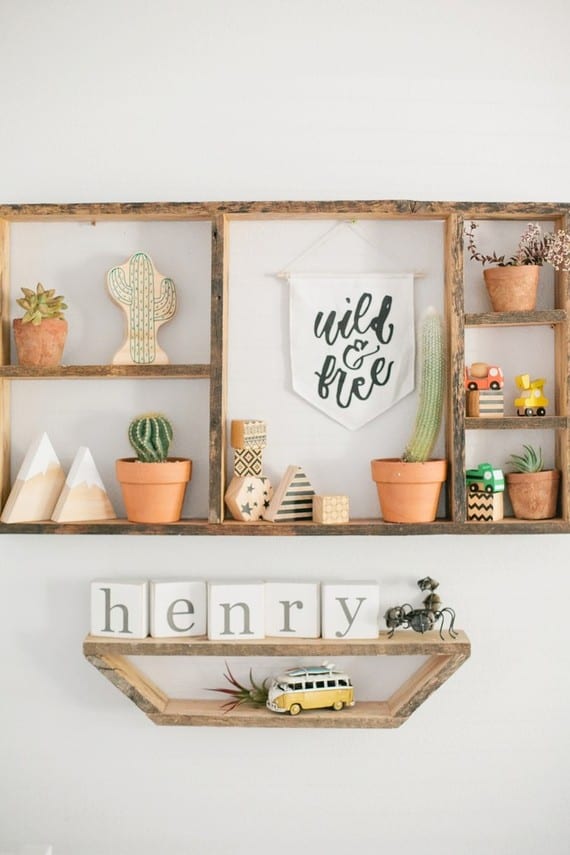 Shop My Favorite Items To Decorate Your Nursery Shelf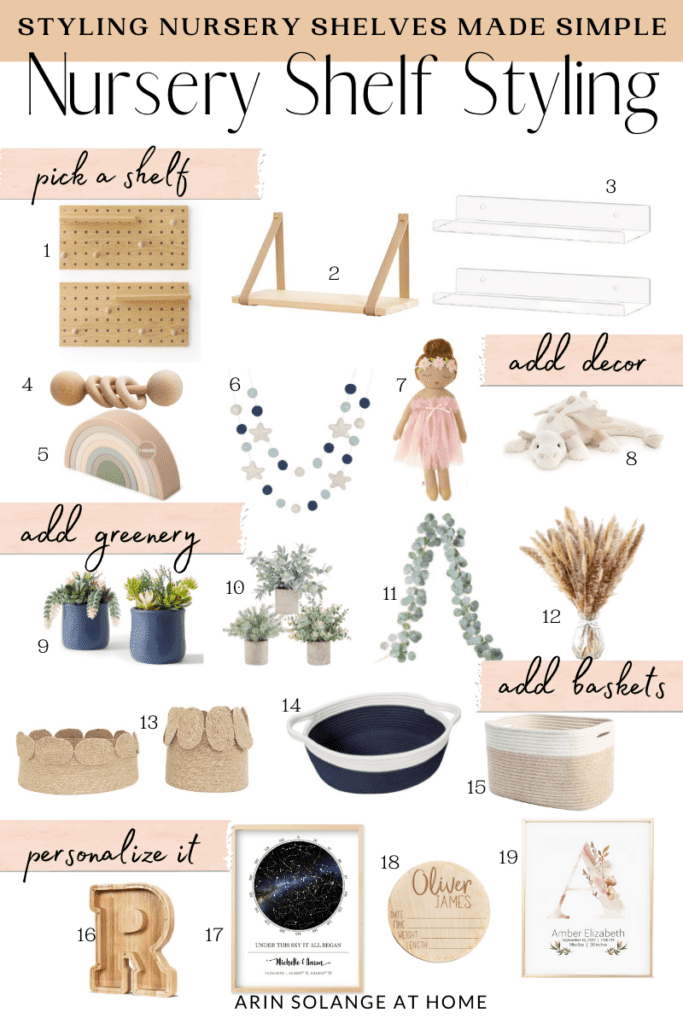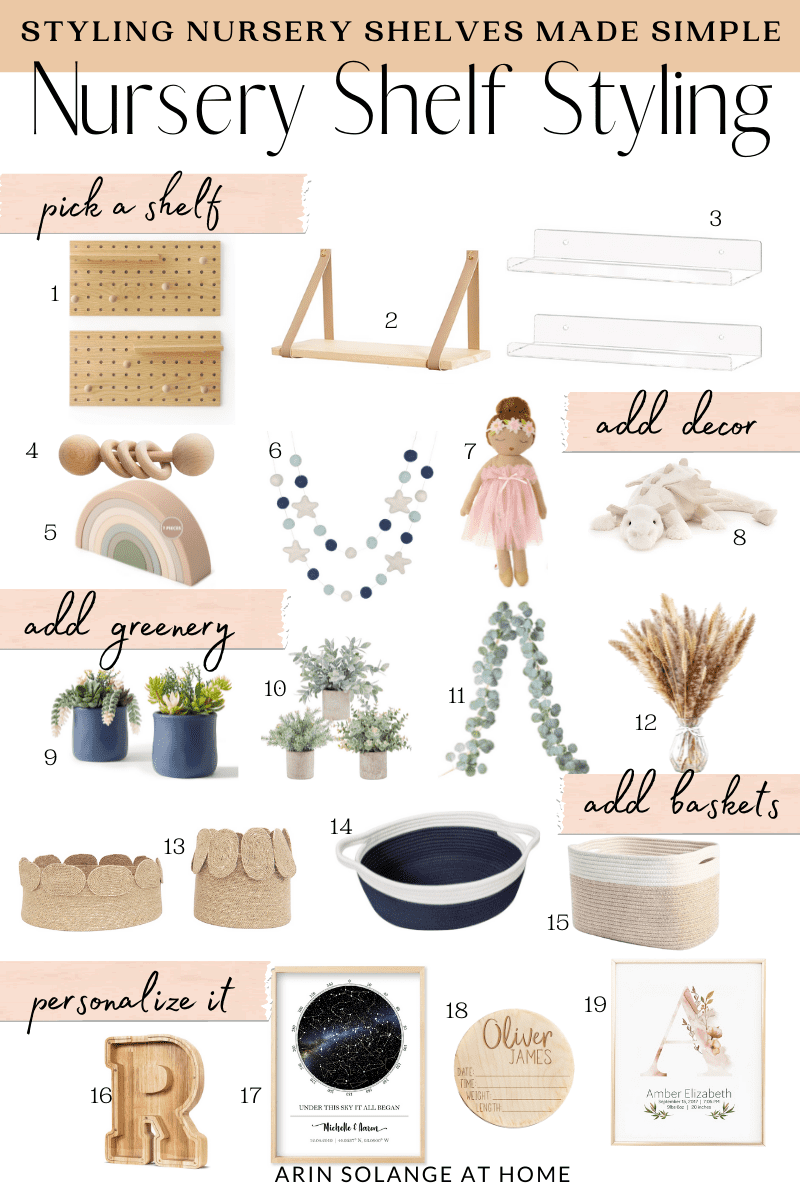 1 | 2 | 3 | 4 | 5 | 6 | 7 | 8 | 9 | 10 | 11 | 12 | 13 | 14 | 15 | 16 | 17 | 18 | 19
Shelves can be a place to not only display personal and meaningful items, but also can be key for your room organization. Pick out some of your favorite items that you find meaningful to display in your little one's nursery.
Remember you don't need to have a completed shelf by the time your baby arrives. Take your time to acquire items that tell a story. As your baby grows, you'll change out those items over time with other pieces that tell a new story.
Other Posts You'll Love
Nursery Decor Ideas | Goldie's Rainbow Nursery | Nursery Closet Organization | Best IKEA Nursery Hacks
Pin This Photo Below For Later
Hopefully this post gave you some great nursery shelf decor ideas. Be sure to pin the photo below for later, and if you don't already – follow me on Instagram (@arinsolange) and Tik Tok (@arinsolange) for more decor tips!