How about a little patriotic boys room to start off this Friday? Having my boys share a room has been both a joy when it comes to decor but also sometimes I get so bummed I only have one room to decorate.  Because of that I end up decorating it twice as often ha!
this post may contain affiliate links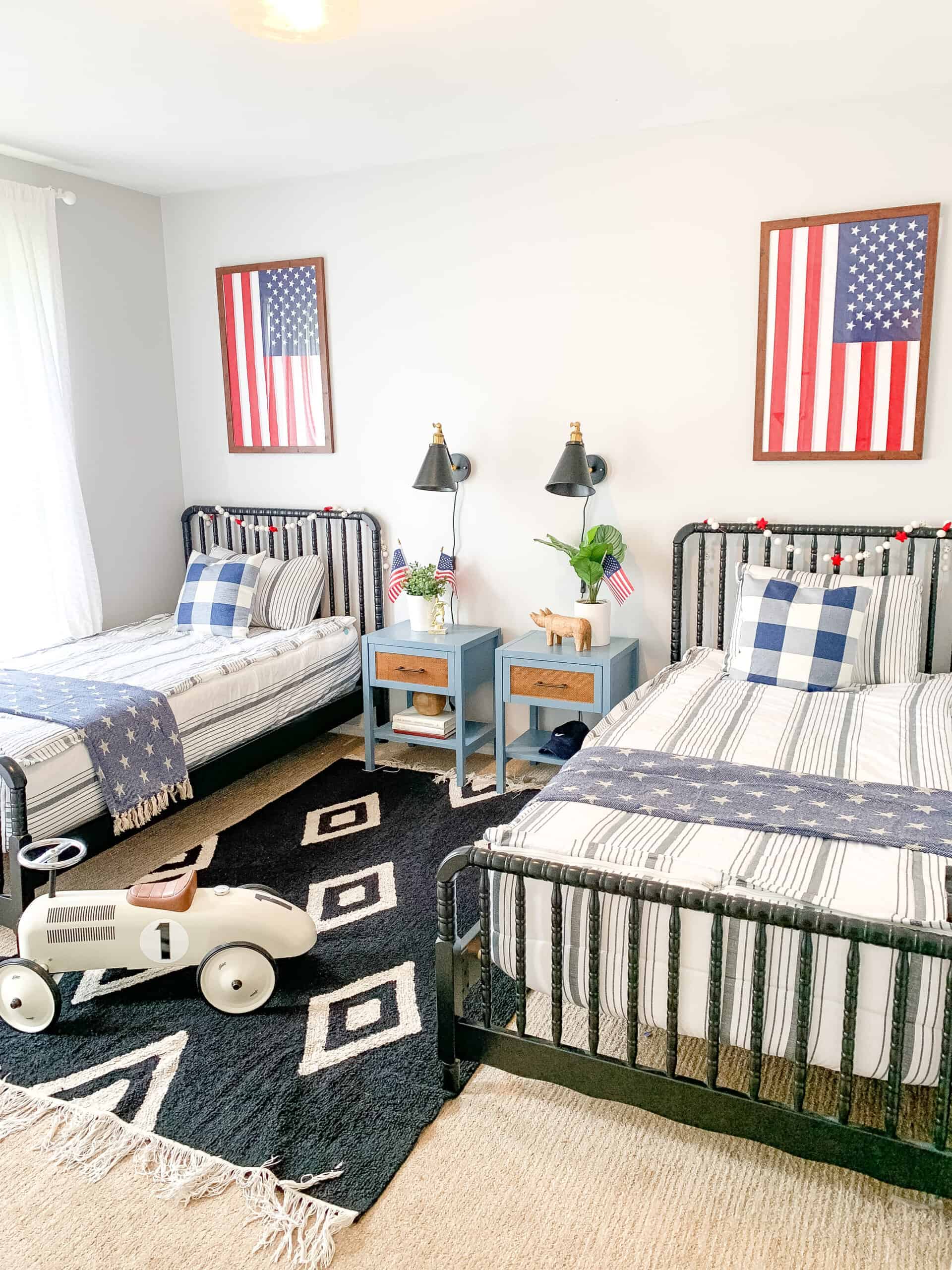 Patriotic Boys Room
I have two boys – 2 and 7 – that share a bedroom.  It has been such a joy and a lot of fun decorating a room for double the kids.  But I will not lie – sometimes I get bummed not getting to change up boy decor as often because of it.
I have gotten creative with ways to change up their room often, and this little summer refresh is no exception.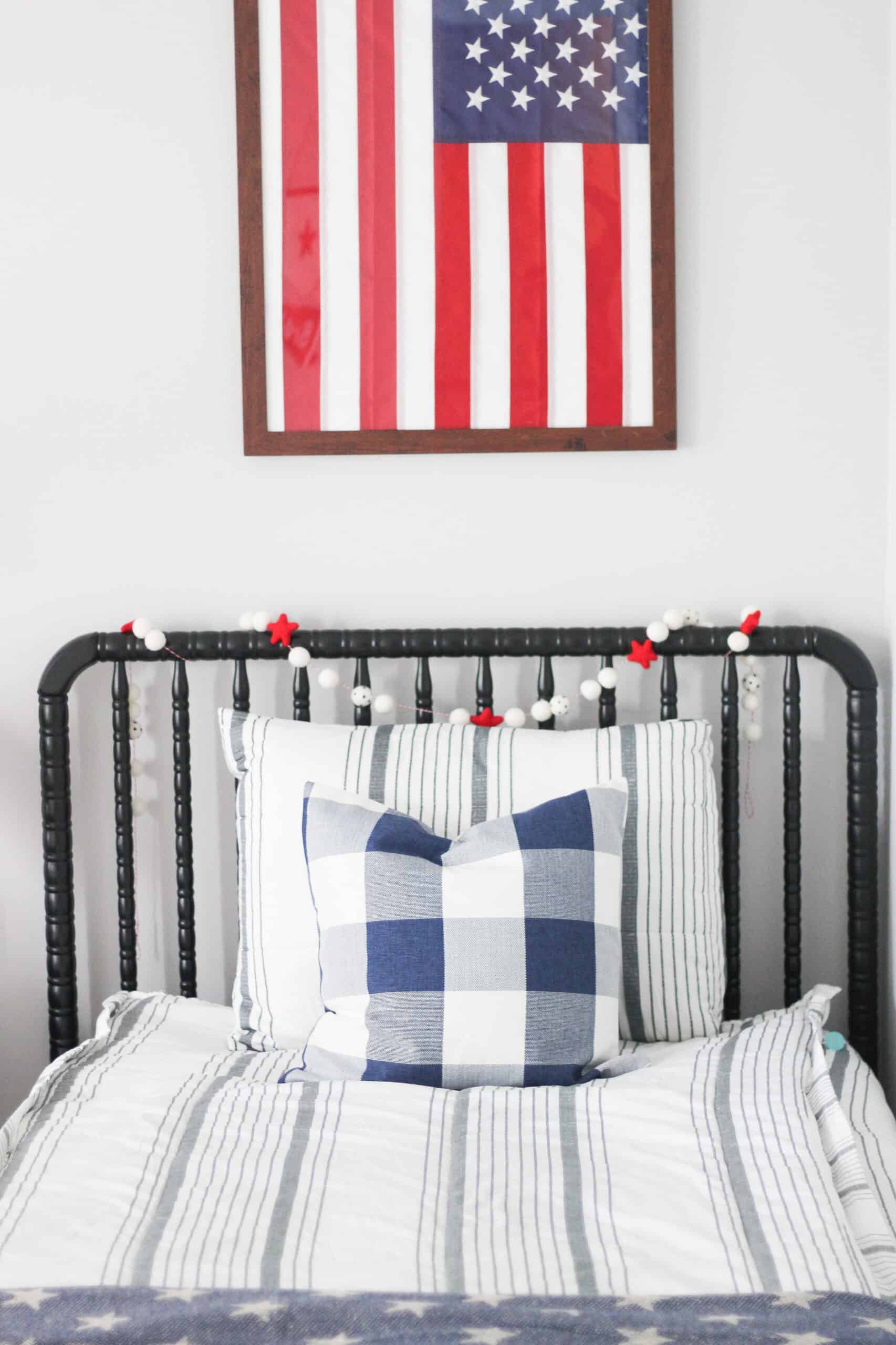 A Video Tour of The Room Below
Where the Room Started …and Where it has been
Part of the reason my boys room has been so fun, and easy to transform is due to the ease of changing things out.  I am very simple with my decor, and their room allows me to just add a throw blanket and pillow and change out large prints for a huge impact.
Last year around Christmas I redecorated the room for the holiday and we loved it, and so did you all.  It was so fun to transform their space on a small budget to be so ready for the holiday season.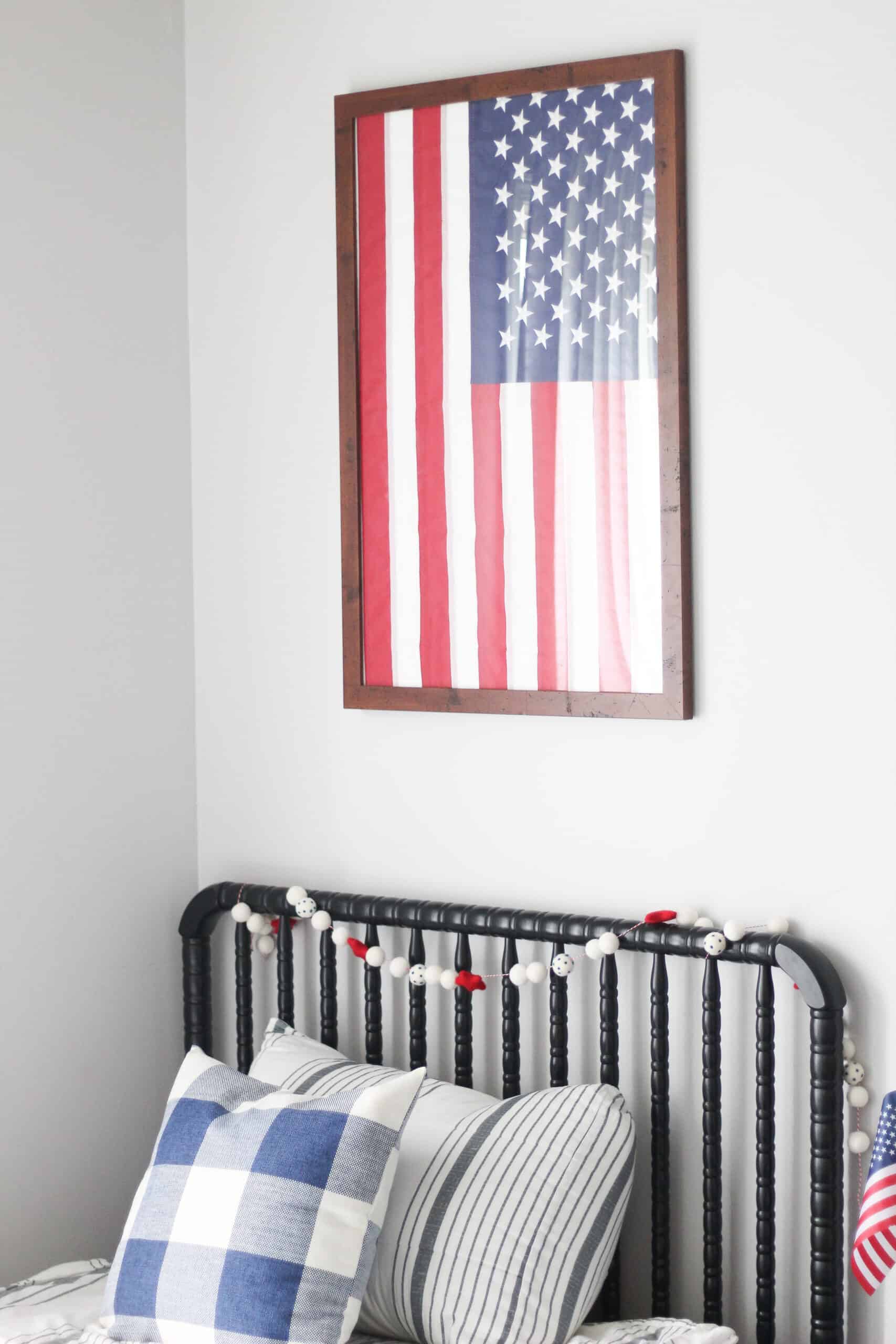 If changing things up for holidays is your thing I recommend having some frames that are easily changed, as well as some neutral bedding that can be added to.  Bedding – especially with two beds in one room adds up really quickly.
For their room I personally have Beddys bedding and am obsessed – if you decide to get that, be sure to check out this review, and use my discount code in the post. 
Beddys Bedding Discount Code: ARINSOLANGE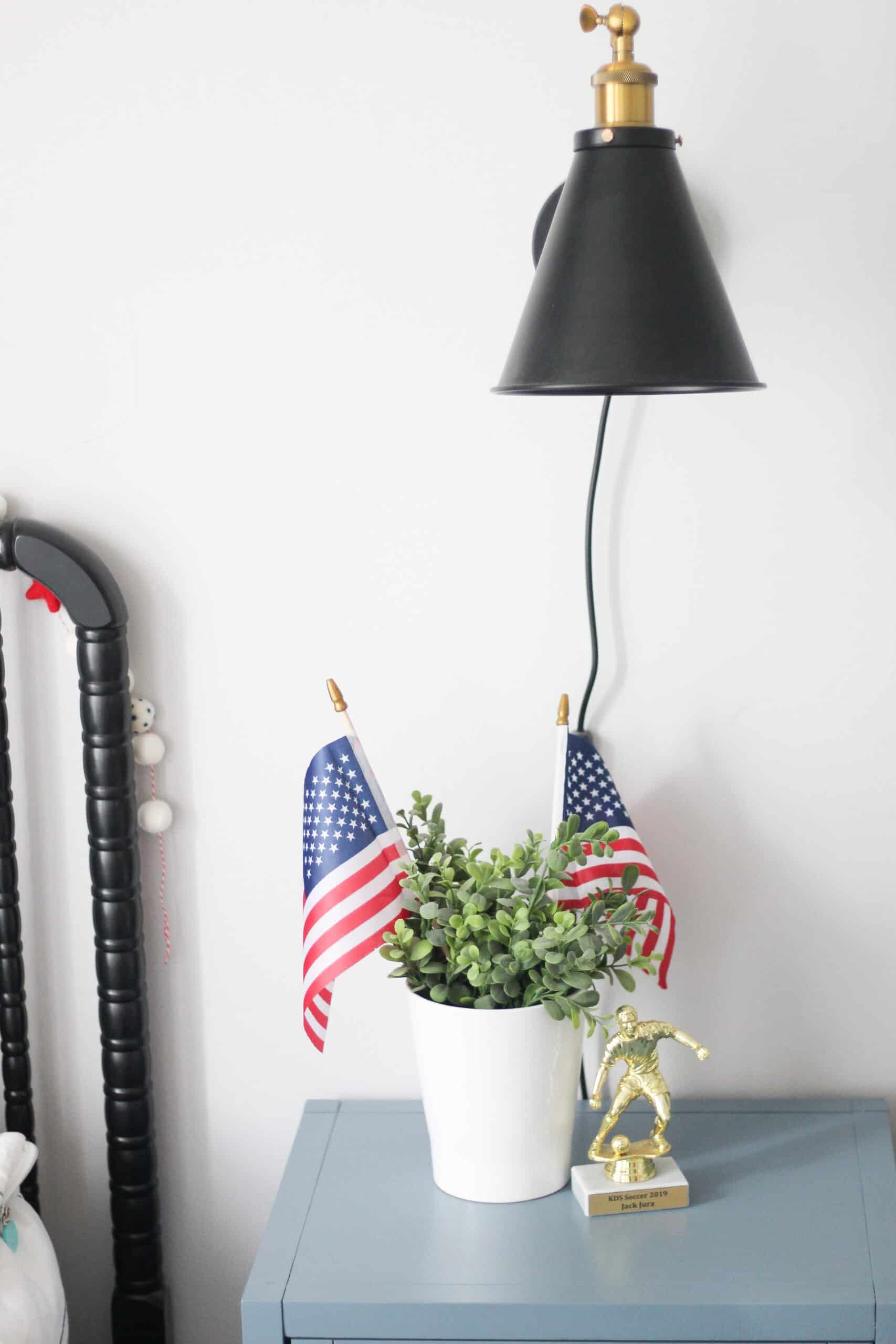 The Patriotic Space
So like I said I did very minor changes for the most part to their room for this post.  I had already changed out their rug – this one isn't staying but its a place holder until I decide whats next in their little bro cave.
Overall – I didn't want the space to be tacky, so tried to be as minimal as I could with the actual red white and blue, and I think I accomplished keeping it simple.  I overall wanted a Patriotic theme with some frat boy nods.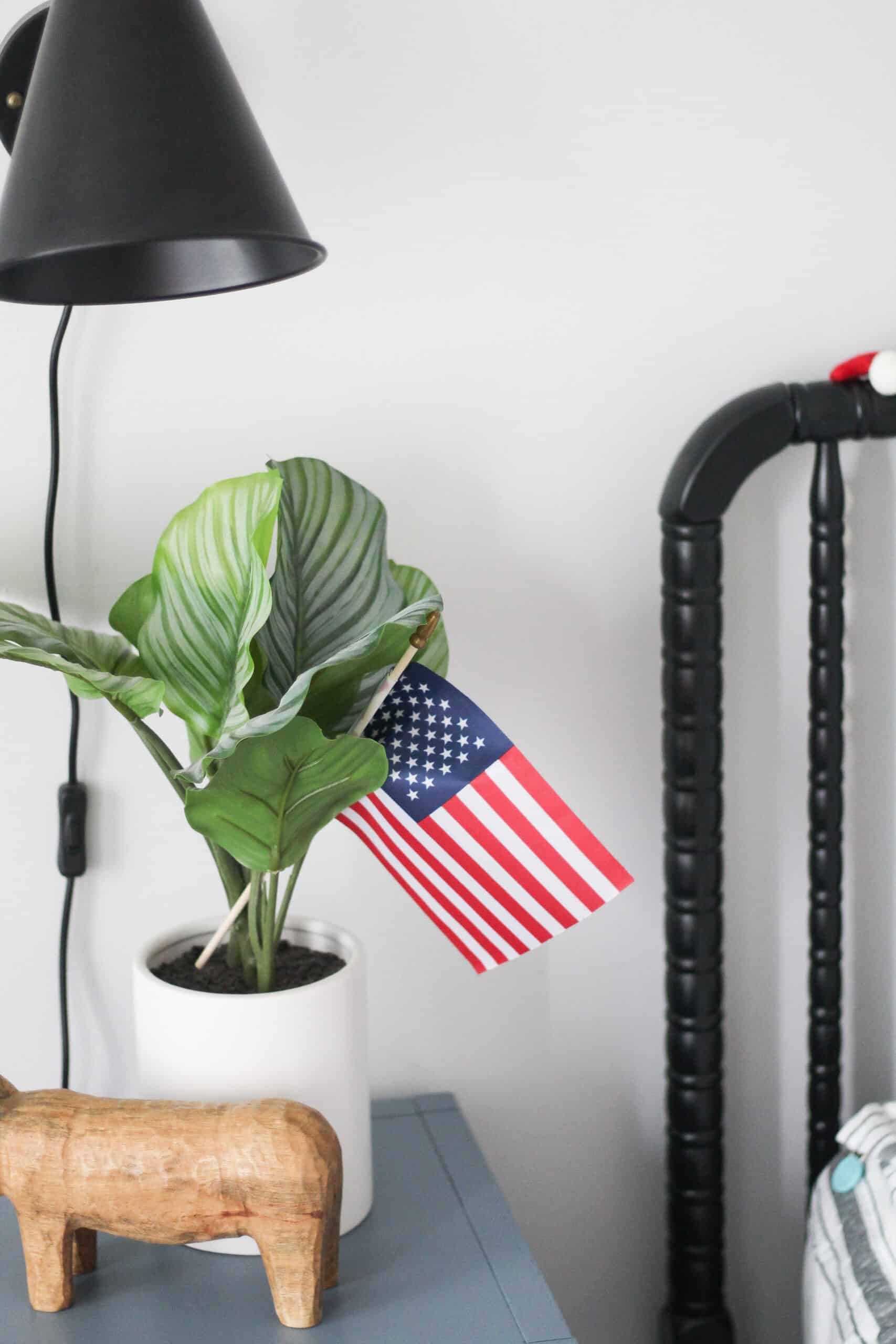 Adding a few things like their hats, trophies, and some books to the nightstands added that neutral fun – 'boy' look, while having to spend no money!
What I purchased
For the frames above the beds I framed these flags.  I have used one of the frames over the boys bed in Walker's room since he was born.  It was such a great, simple piece that I added the second one when the boys joined rooms and it has allowed such easy decor changes.
I literally just added them to the frame – then I used painters tape to tape down the excess.  I didn't want to cut the flags, and didn't want any hanging out.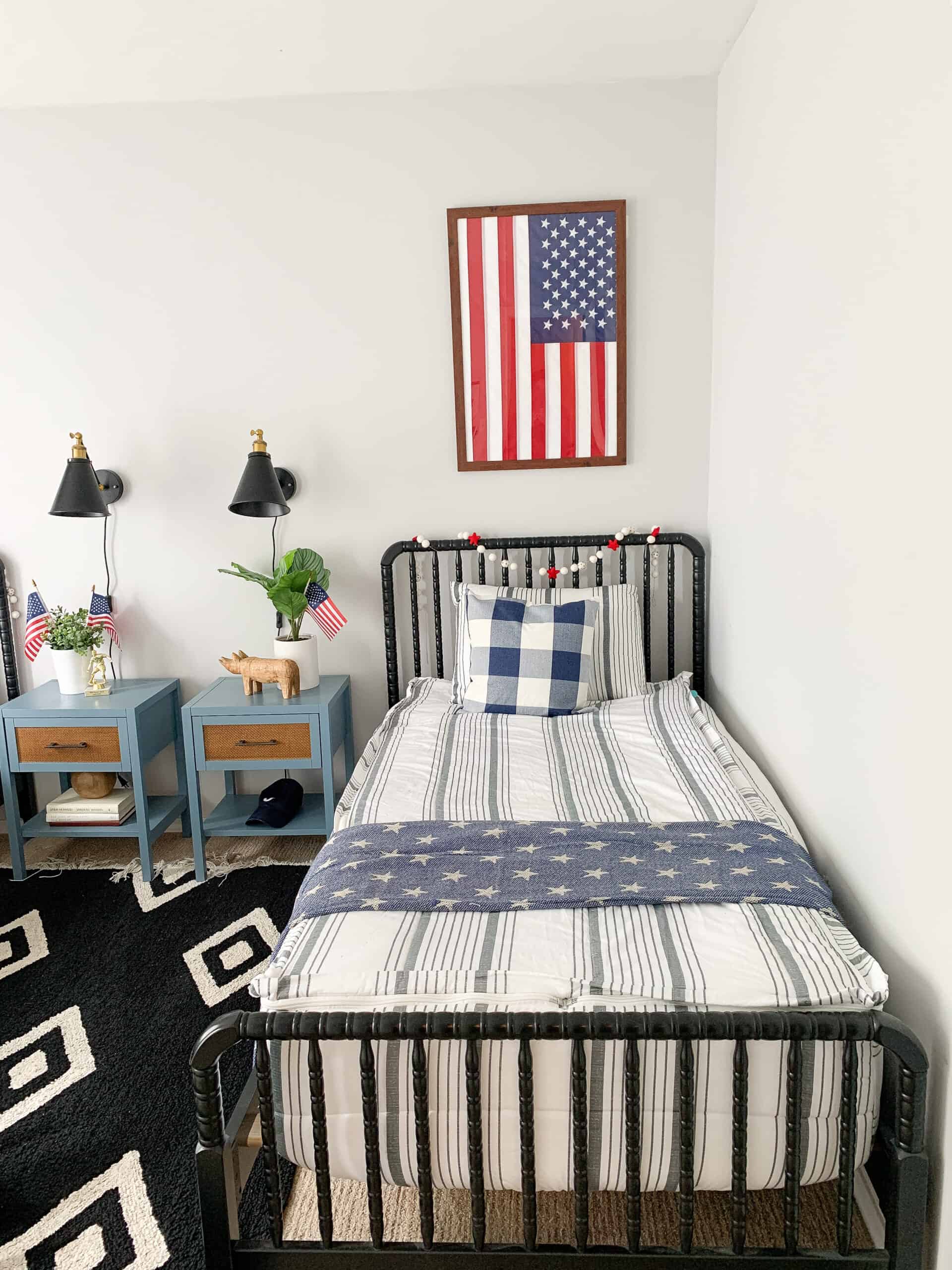 I added some fun throw pillows and blankets to the bed which I loved.  (full disclosure I thought I ordered the star blanket in red…don't wine and shop people haha!)
I also used a pack of small American flags to add to some greenery.  If you have been following me for very long then you are not shocked that greenery is alway a go to for me in any room.
On the empty wall I hung a few diy pennant banners that I made – I originally wanted them to go on the wall with the frames but changed my mind.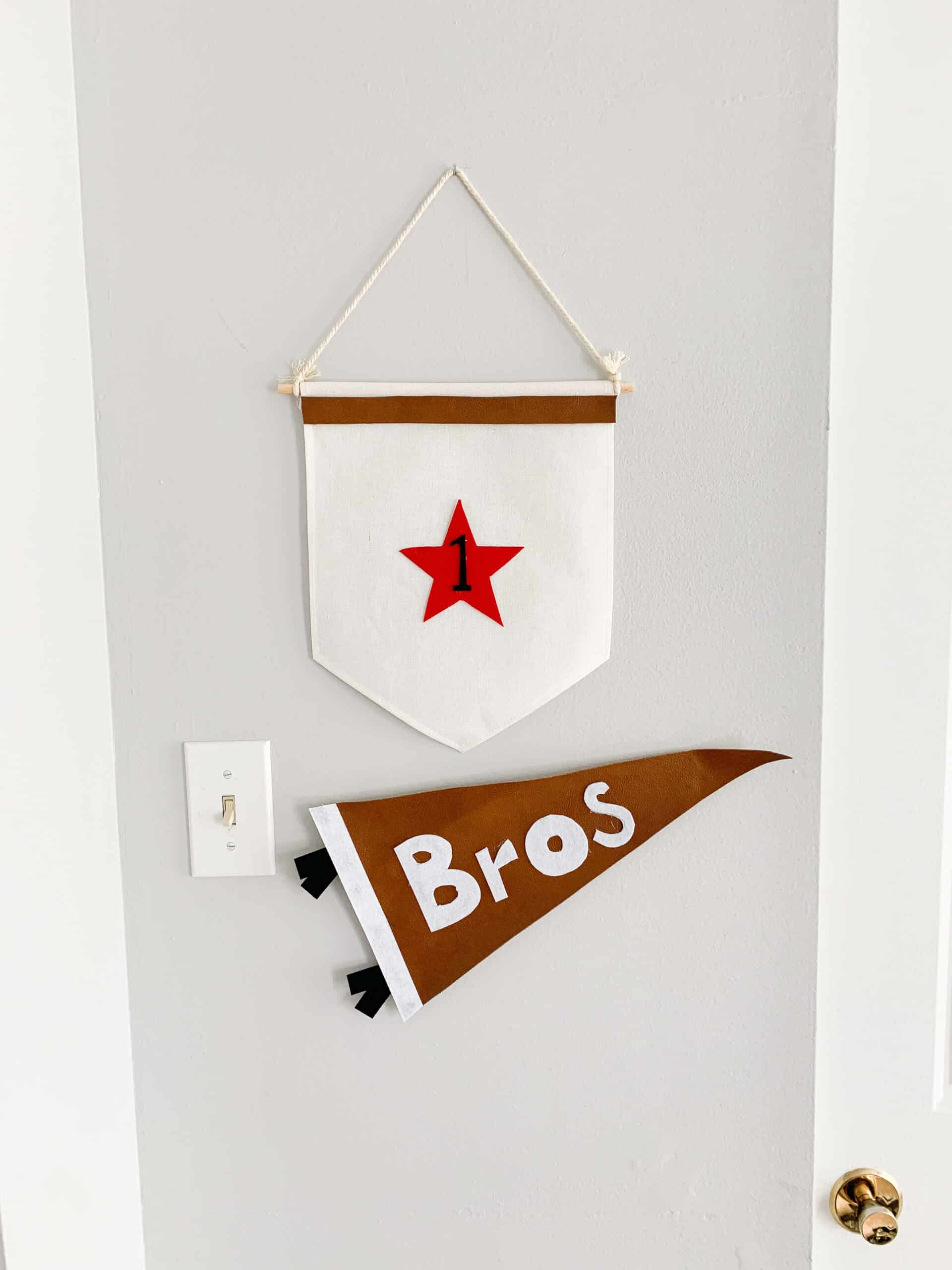 Last but not least was the felt ball banners that I draped over the headboards – I have added these to each of my kids rooms and love the fun, playful feel they add!
Shop These Items Below
Felt Ball Banners  |  Big Flags  |  Small Flags  |  Nightstands  |  Blankets  |  Throw Pillows  |  Frames  | Beds  (full review here) |  Rug
The Nightstands
One big change I made was the nightstands – I saw these nightstands and loved them, but wasn't about to spend that price for my boys room.  (My two year old is seriously destructive haha).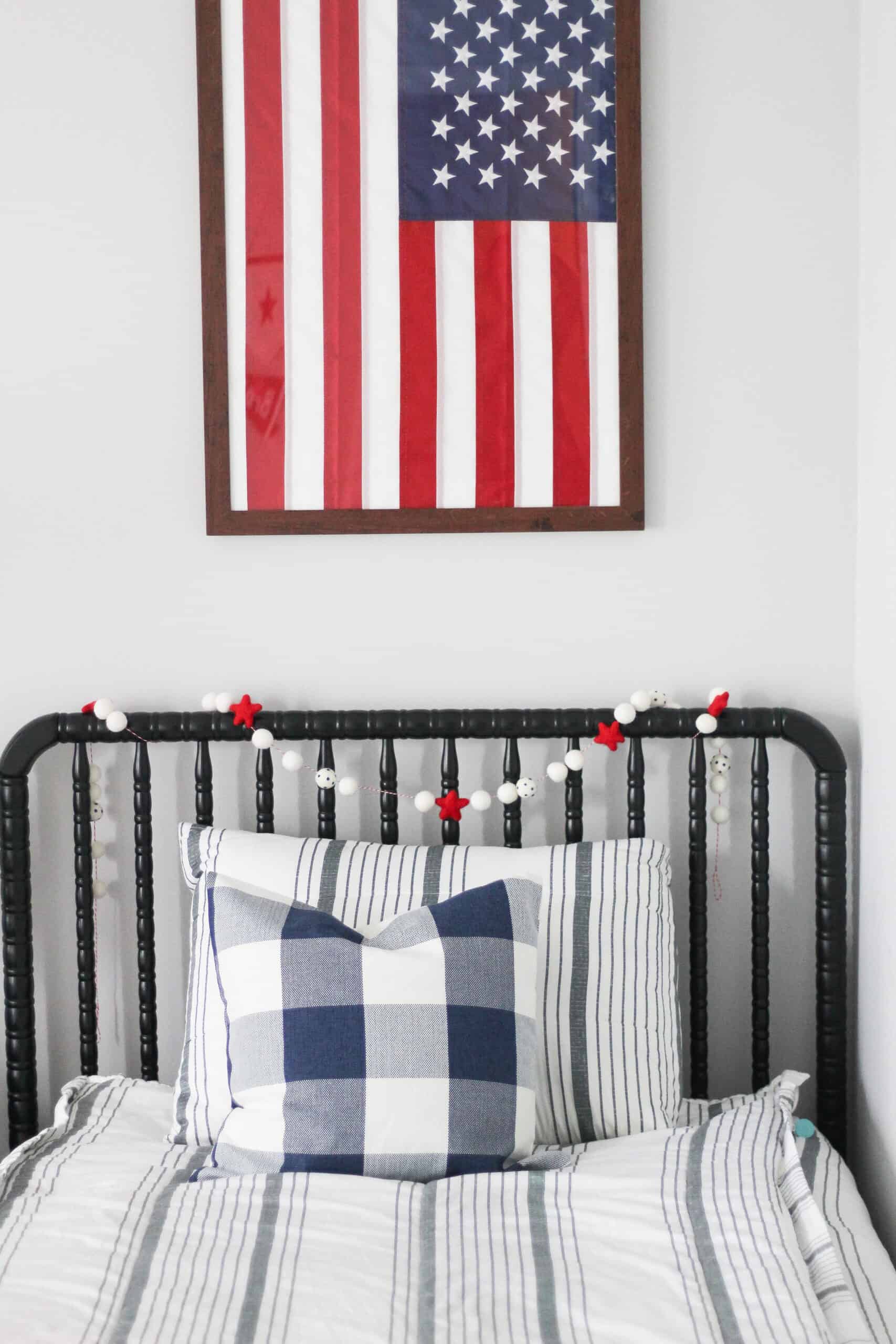 I found a great alternative at Target and used this spray paint to paint them. When you are painting them give them a really light sand, take off the drawer pull, and use painters tape to cover  the rattan section on the drawer front.
The process was really easy and fast.  I don't know if it was just the cans I purchased, of it's the brand of paint overall, but the spray paint was AGGRESSIVE, so be forewarned haha.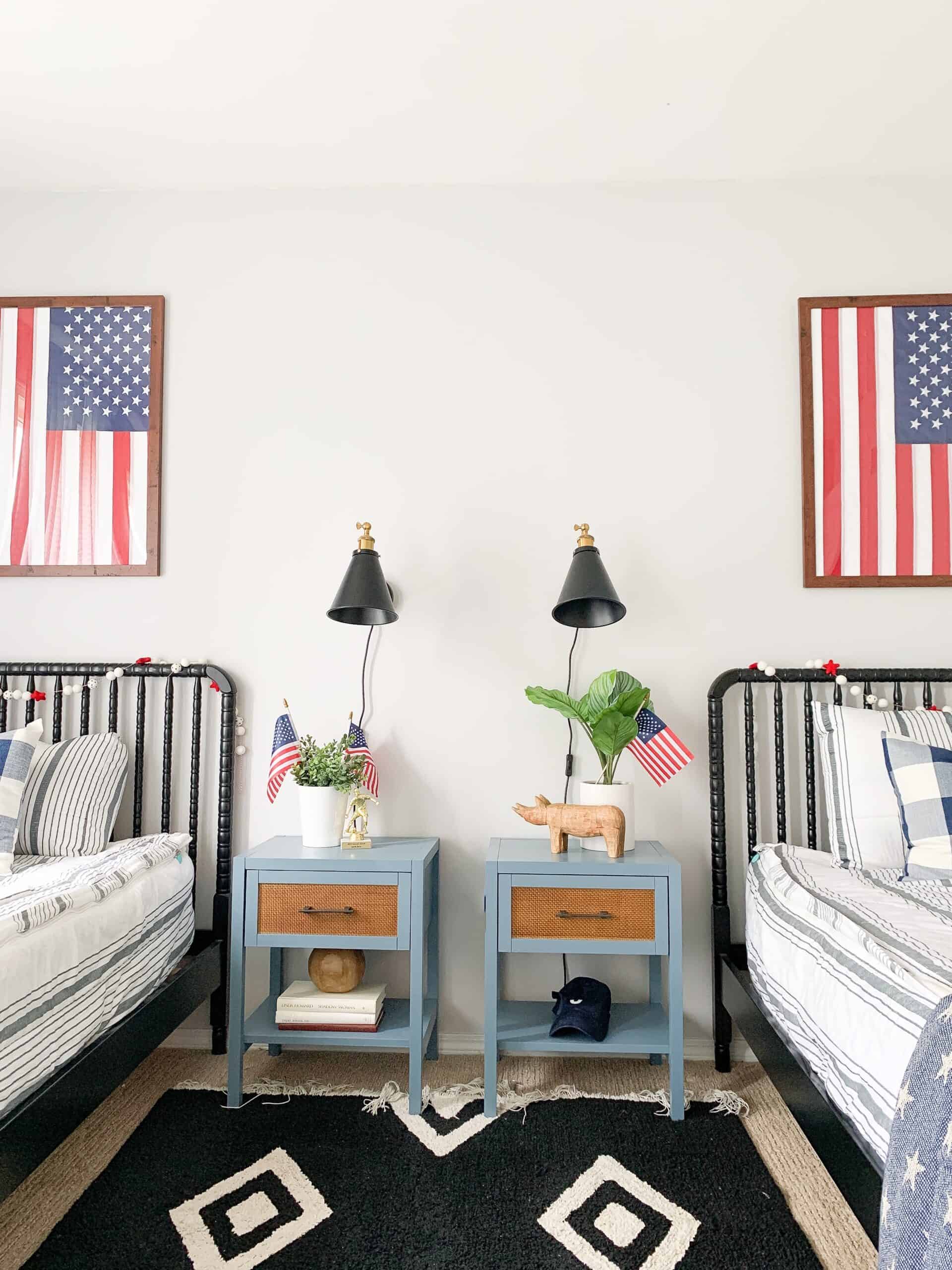 These nightstands won't be a forever item in the space – I will move them to our guest room soon, where I plan to tie in the blues as well, so it was sort of a win win on incorporating the color for now.
Overall – I set the room up in just a couple of hours and am absolutely thrilled with the end outcome.  The boys were so excited to see it when they came in, and they have been loving me changing things up for them from time to time.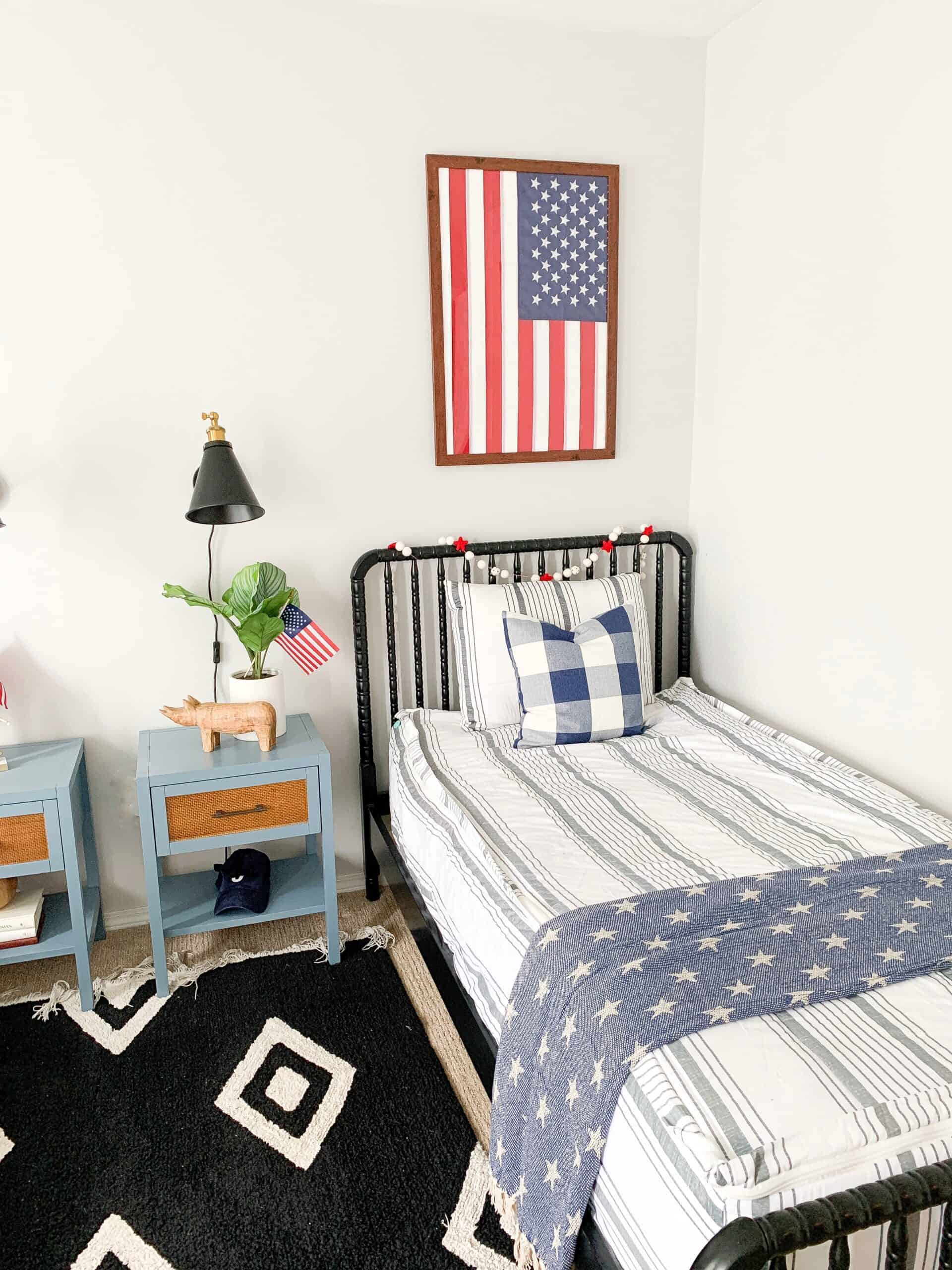 We have some other big changes coming in their room in the nearish future, but for now are loving spending just a little time and effort showing them some love in their simple little space.
Other Posts you Might Love
Boys Shared Bedroom  |  Amazon Boys Room Finds  |  Christmas Shared Room  |  Modern Boys Room
If you have any questions on their patriotic boys room feel free to leave me a comment below or DM me on Instagram. I always love connecting with my readers over there and chatting with you more!
Pin the Photo Below for Later